GRASSROOTS: Pat's Acres March Event
With drivers such as former Formula Drift contender Kyle Pollard and his S13 missile, Pat's Acres Racing Complex (PARC) was the place to be on 2 March. However, no matter how stoked I was to attend this event, luck was not on my side. Due to difficulty finding a ride to PARC, I arrived two hours late. Upon finally arriving, things got worse when I found out that the event organisers had run out of media vests. Not having a media vest meant that I was missing out on capturing some killer drifting action. With a positive attitude in mind, I did not let my shortage of luck bring me down. I am glad I stayed and waited because the lineup was great. There was a substantial amount of people who showed up to drift, have fun, and appreciate each other's rides.
Since I had time to kill as I waited for the media vest, I walked around and took photographs of some cars that were there. I could not help but appreciate this sweet Scion FR-S that is owned by Ryan Davis the owner of YAER Productions. It was great seeing it burn through the track later on that day.
Another ride that caught my attention was this RB25det 240sx. The exposed intercooler and engine bay made the car look super-mean; the purple HIDs added a nice touch. I have seen it attend before at PARC, but never got the chance to witness it hit the track until this event.
Mark Panic likes his 2JZ Cressida to look rough and ready; but don't let the absence of stickers and fitment fool you. This car can pull off some serious business.
Mark handles this car beautifully around the corners; earning himself a unique drifting style that makes him stand out from the others.
I guess the art of going sideways must be in the genes! Mark Panic's brother Matt Panic is the owner of this classic 70's Toyota Celica. Matt's car is well done and puts a new meaning to 'respecting the classics'.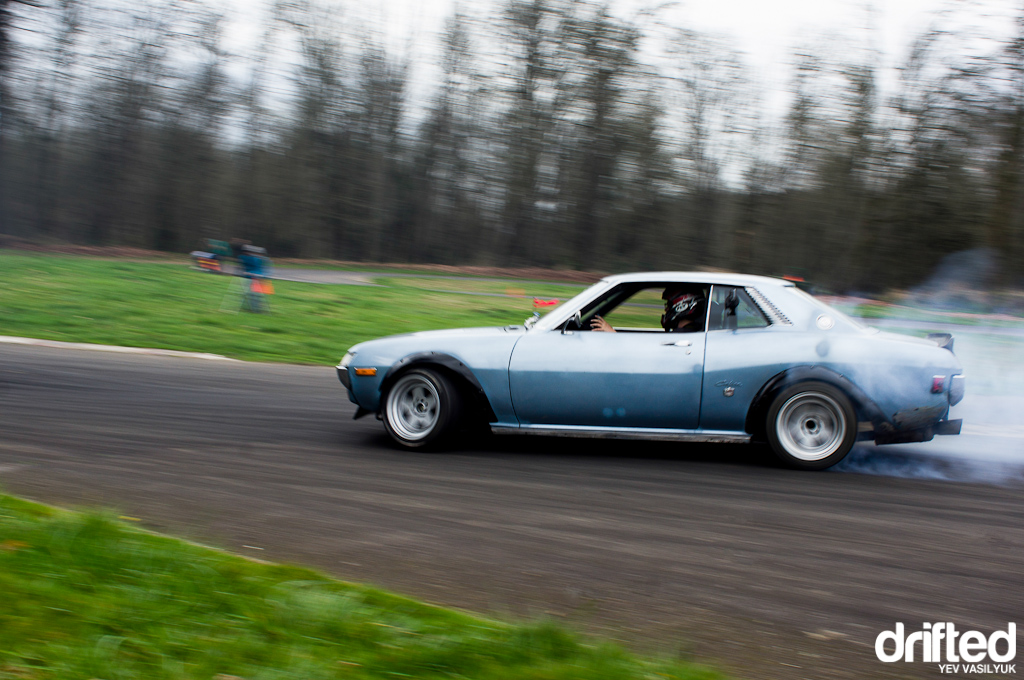 Watching this car go around corners is indescribable. However, I can see drifting ending up a Panic legacy; a family tree of drifters with great style.
In this unpainted 240sx was Dustin King. In a conversation with him I learned that King wouldn't paint this car because he liked the way his 240sx looked. What do you think?
Turbo'd Cressida? Nah, the thing is supercharged. The driver and owner is Justin Lucas.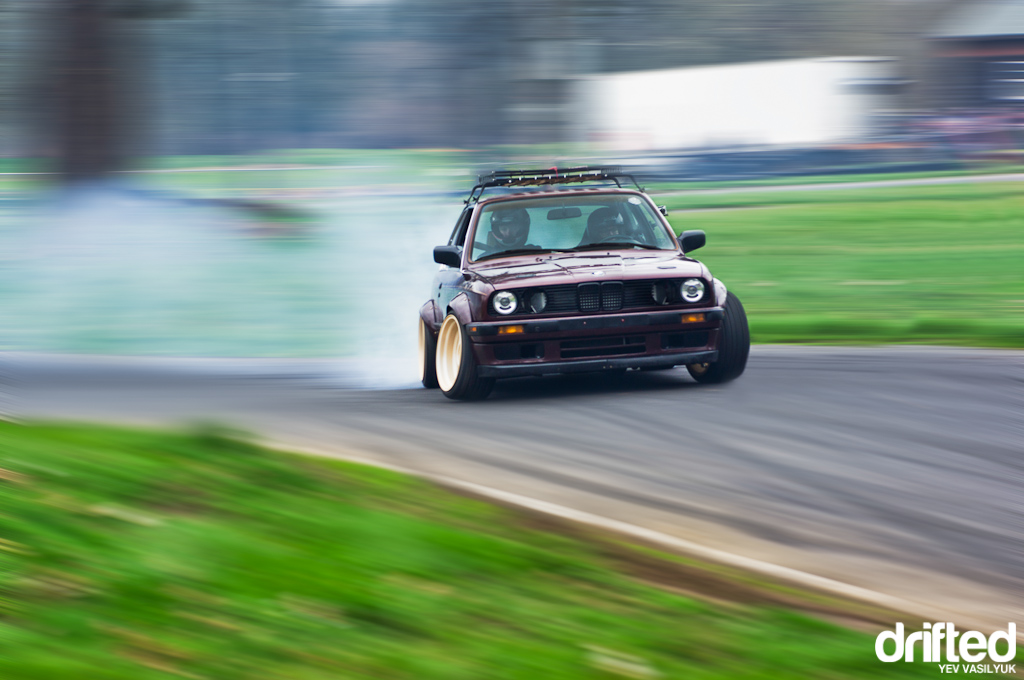 This brown BMW E30 with tan wheels belongs to Brad Vedez. Watching him drift is mind blowing. He killed the track.
After totaling his previous silfourty and spending nearly 2 months working on a brand new machine for the season, James Wiklund seemed more than happy to be back in the game. Glad to see him out and about!
Likewise, James' S14.5 was a crowd pleaser. Many people stopped by to observe and awe over this awesome build. I could not disagree with them for it is easy to appreciate such a clean looking ride.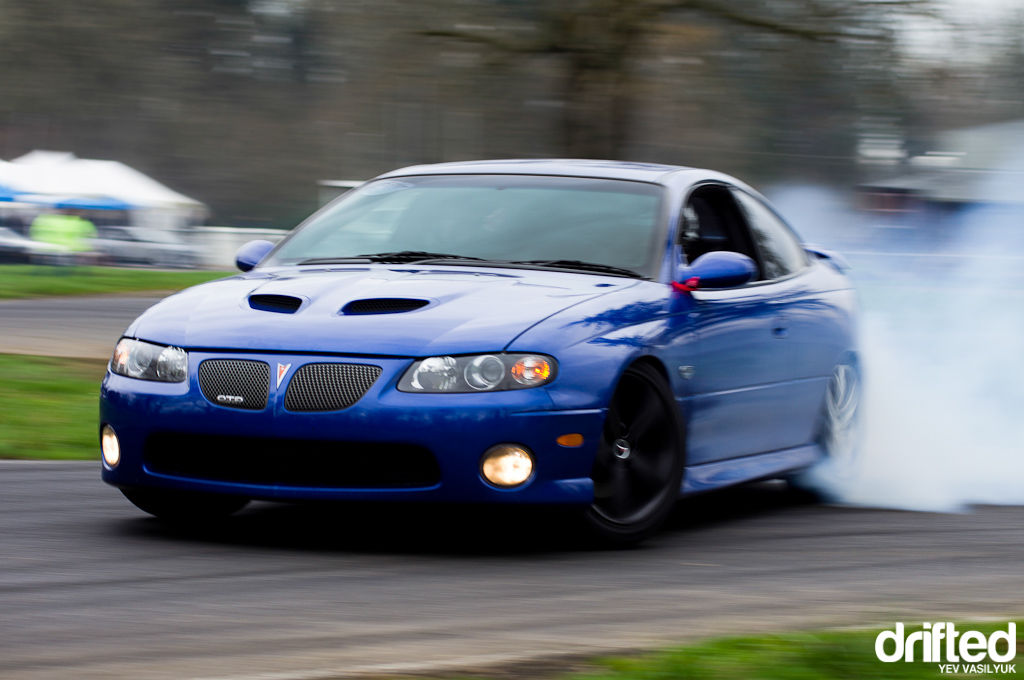 A modern American Muscle is not something that people see drifting on regular bases. However, this is PARC and unique rides are welcomed. Drifting is about having fun, and having cars such as the Pontiac GTO drifting around the corners showed how one does not need a specific Japanese car in order to enjoy this art form.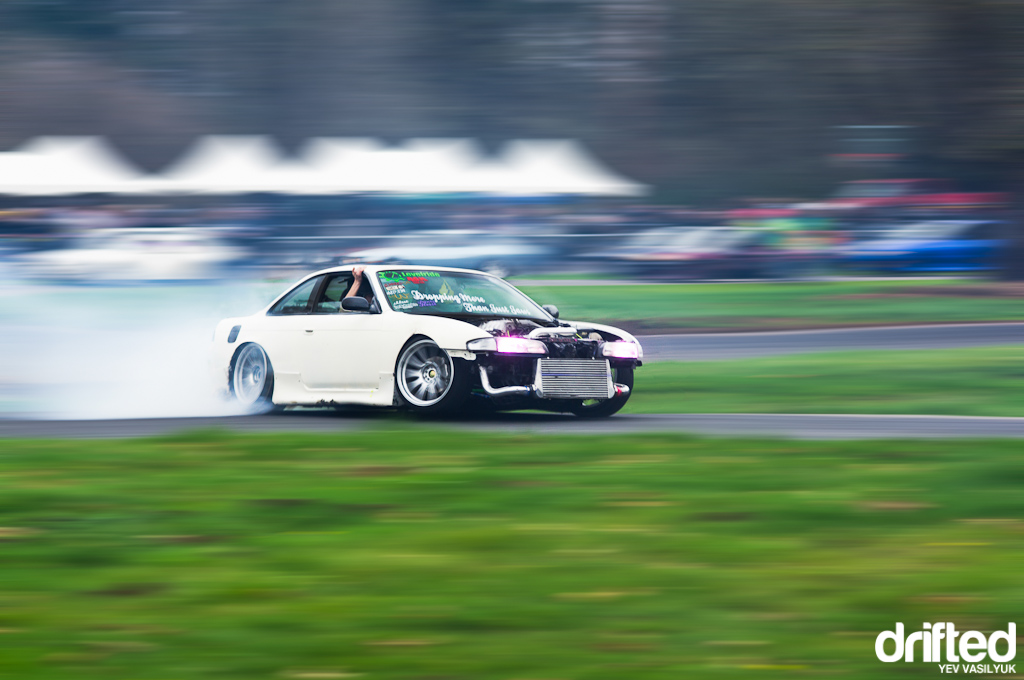 My promise is fulfilled. Wesley Wade is getting sideways on 3 wheels in his RB25det 240sx. I enjoyed watching this car drift itself away around the track and hope to see it again!
PARC is a place for everyone. This BMW M3 is an example of that. The owner of this M3 and a couple of his friends came all the way out from Idaho just to have fun during this event and drift under the Oregon weather!
Bryce May was running a bone stock Ka24de and tandeming with cars that had almost twice the power. Bryce is definitely a talented drifter and I hope to see more of him at upcoming events.
As a last gift to you, here is another photo of Matt Panic's 70's Celica
I would like to take this time and thank PARC and everyone who came out and contributed to this event. The variety of cars and people really made this event special. There was a 40 year history of cars that showed up; from Matt's 70's Celica to the new 2013 Scion FR-S. Likewise there were a variety of drifters from different parts of Oregon, Washington, and even Idaho. And even with this variety, there was a common trait among the attendees, which is they all came to PARC to have fun. PARC succeeded at providing the Pacific Northwest drifting community with memories and a great time. As for those who missed the event, do not panic or feel guilty for PARC holds drifting events almost every month!
::Words and pictures – Yev Vasilyuk