EVENT: Cody's D1NZ 2013 Round Four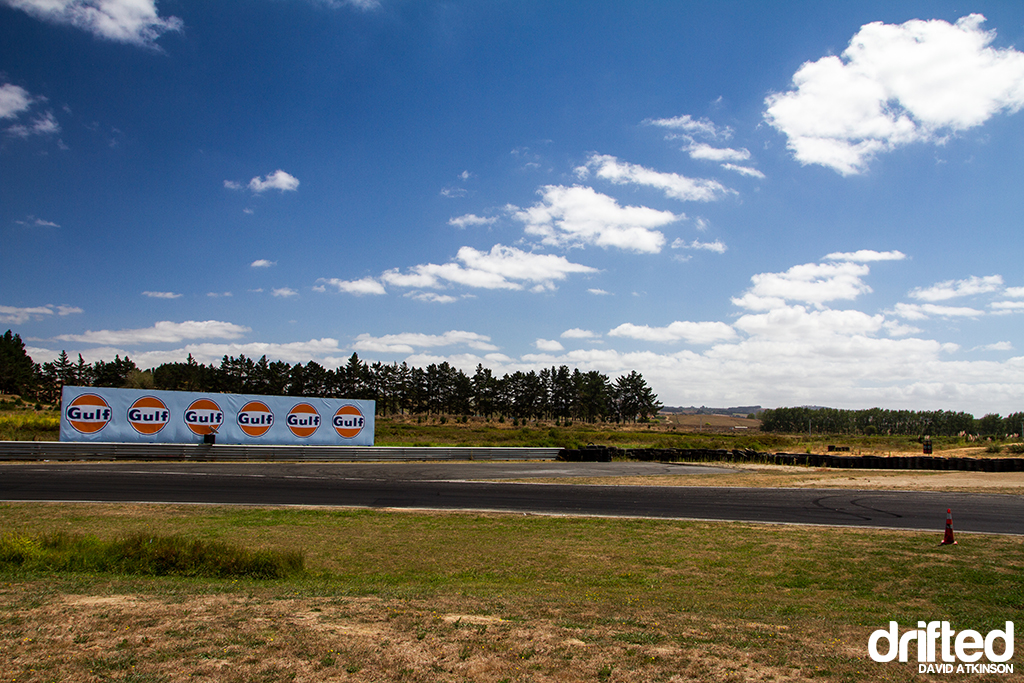 Hampton Downs has got to be one circuit that everyone looks forward to on the Cody's D1NZ season calendar. With its convenient location near NZ's largest city this brand new track is used frequently as a testing ground for all kinds of motorsport. All the drivers are very familiar with the right-hand entry, switching up and over the hill to a larger left turn and finally a manji style exit on the straight.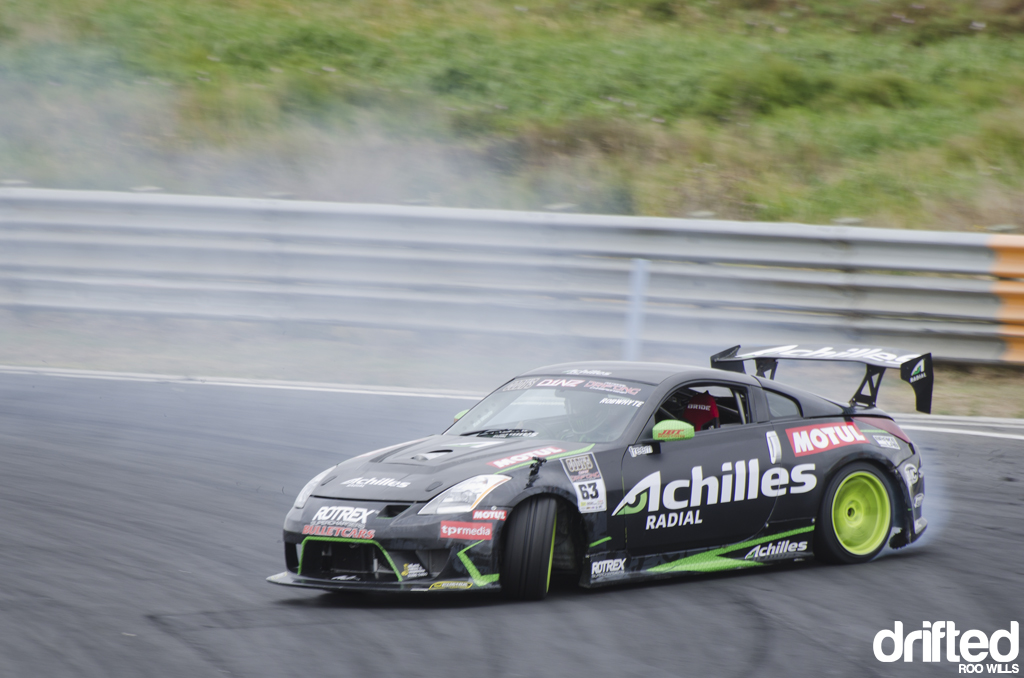 Along with the fourth round of the season came some new competition! ADGP drivers Rob Whyte and Andreas "Agges" Paraskevas made the trip over from Australia to check out how the kiwis do it! Rob Whyte would also be competing in a battle for Oceanic glory against D1NZ championship holder Curt Whittaker.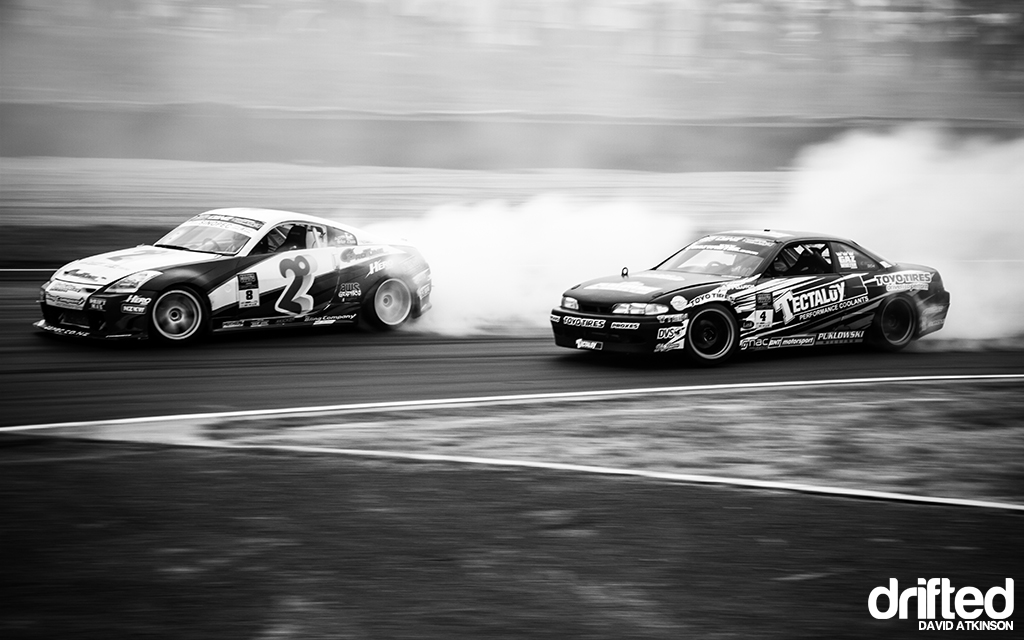 Over the weekend we saw some pretty wild entries into the drift section, but it always impresses me to see close battles continuing up and over the hill as thats where most spectators stand.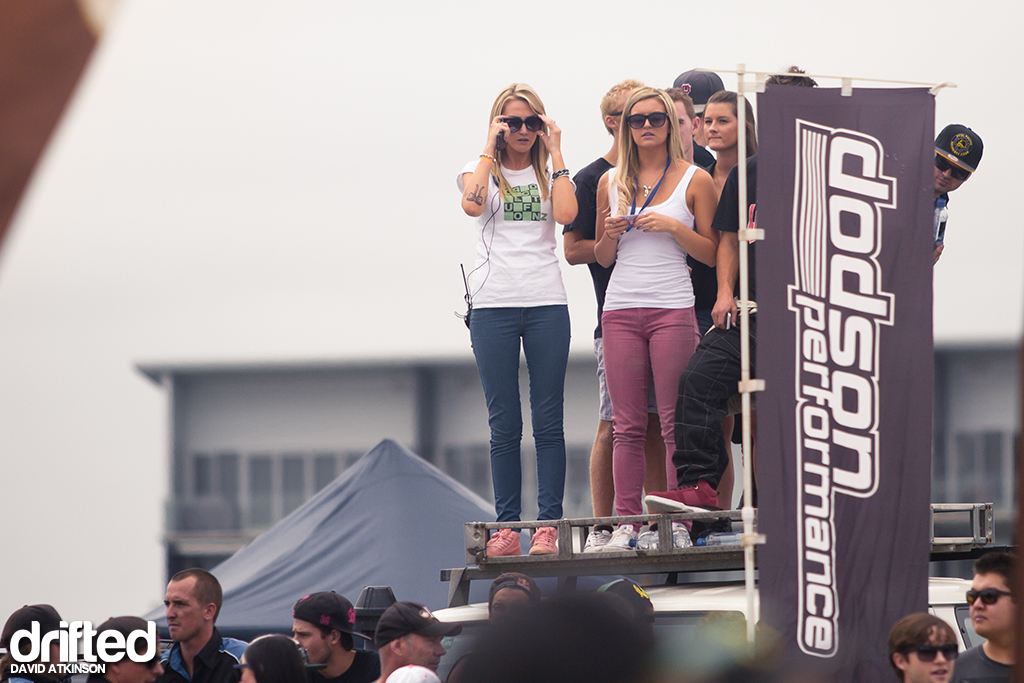 I did say 'most' spectators…Hugo Macleans crew decided to get a better viewpoint from up on his truck.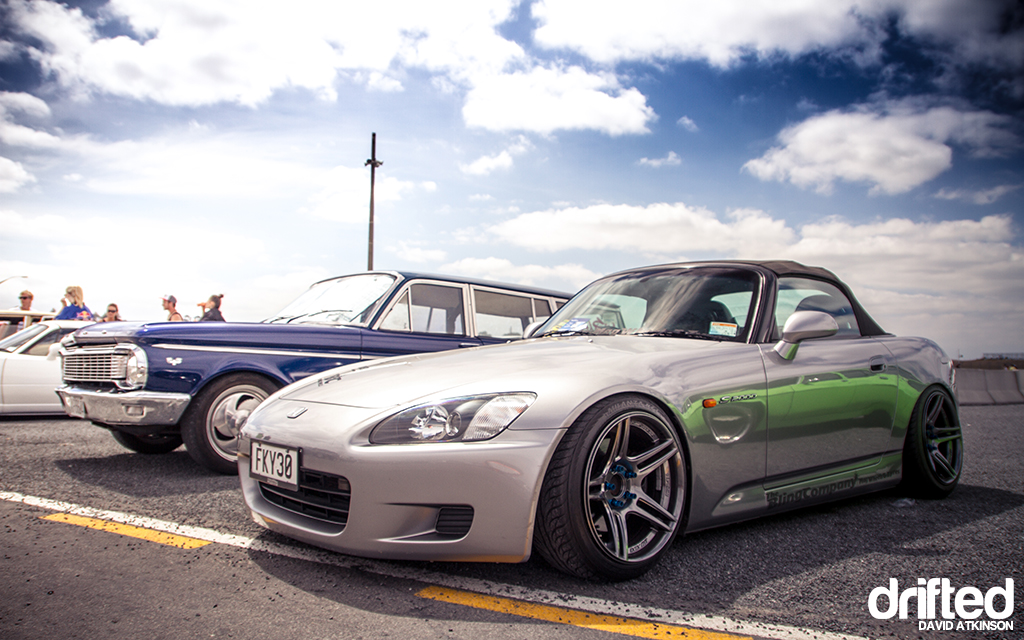 Another attraction for the crowds was the hardpark happening on the inside of the track. This S2000 was rocking some wide, TBC DC5 wheels in 17×9 for that aggressive look.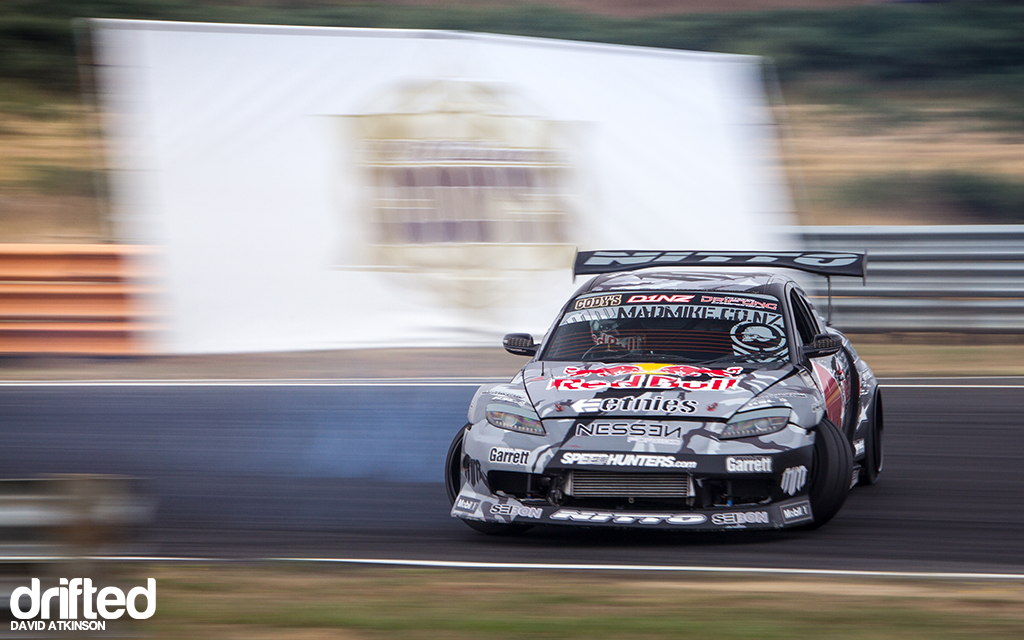 Mad Mike Whiddett was on form all weekend in the Red Bull RX8, practicing big 90 degree plus entries and getting big speed throughout the section.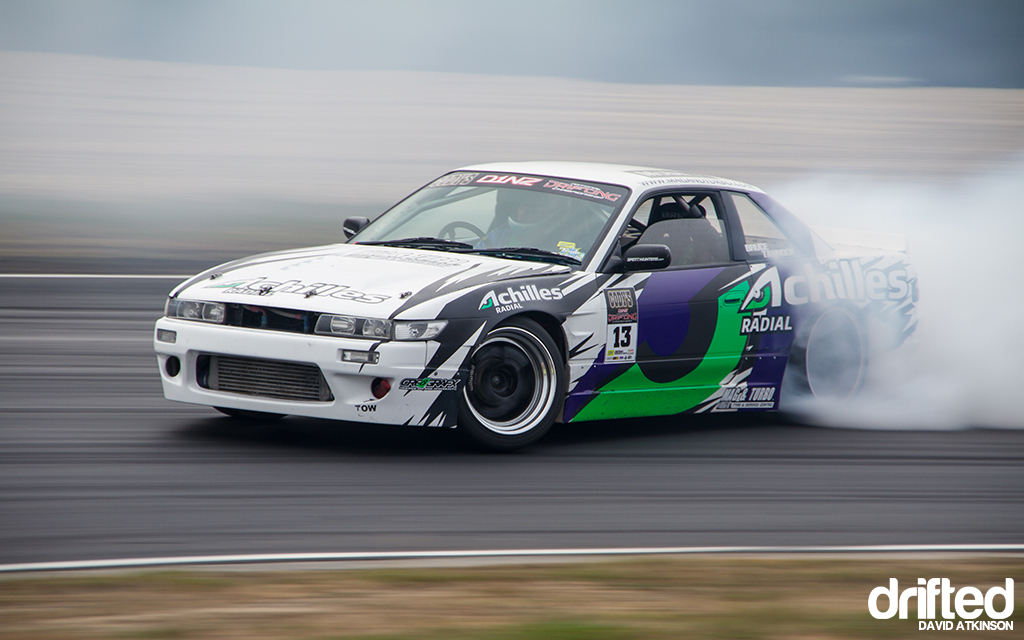 Another crowd favourite has got to be Bruce Tannock's Rocket Bunny S13. After hugging the wall last round and damaging the coveted JDM body kit, Bruce was back with the car looking like new again. In fact he even put on a brand new set of Work Meister's to celebrate.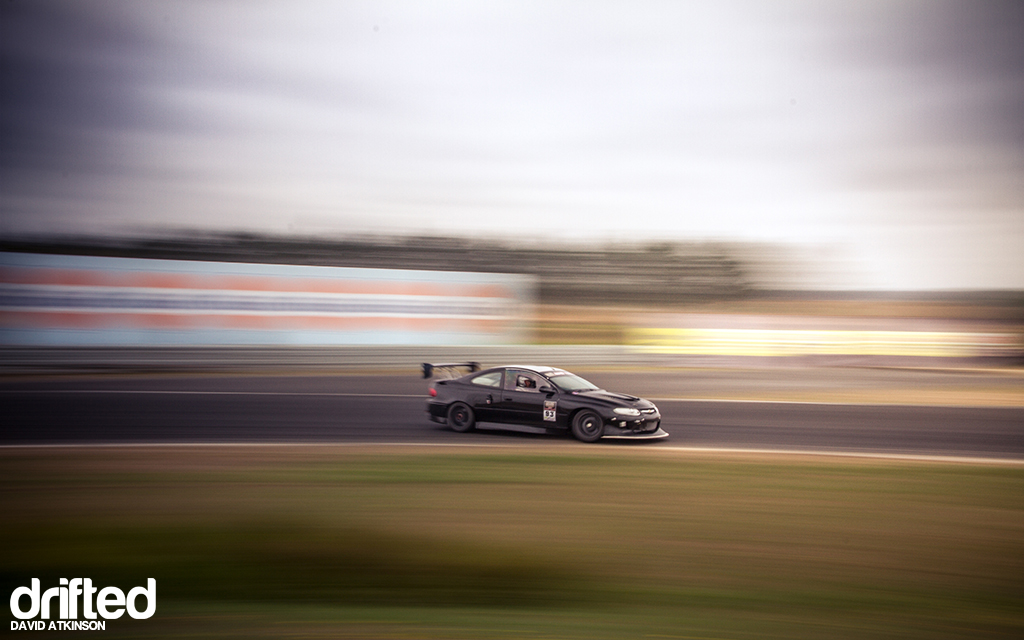 Johnny Udy is another returning D1NZ driver from back in '09. He did well in the Monaro which had almost no steering lock modification.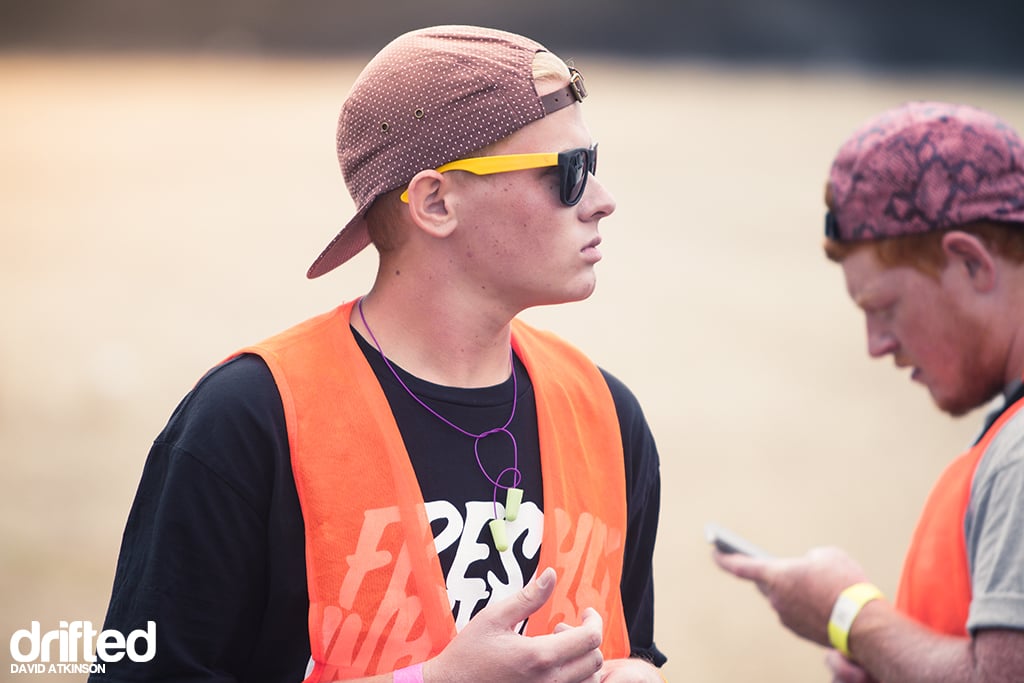 Photographer Chris Smith was in place, grabbing shots for his site Freshly Whipped.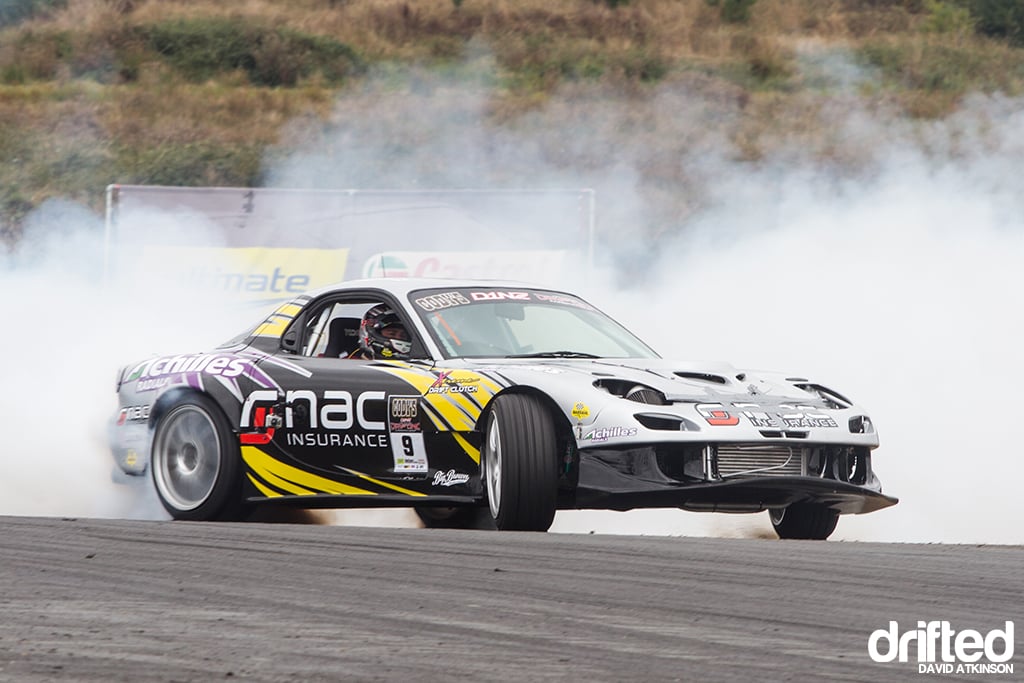 Daynom Templeman had been busy between rounds, swapping a 2JZ engine into the NAC RX7. Missing practice day the car wasn't dialed in as much as Templeman would have liked, but was still capable of massive smoke and speed.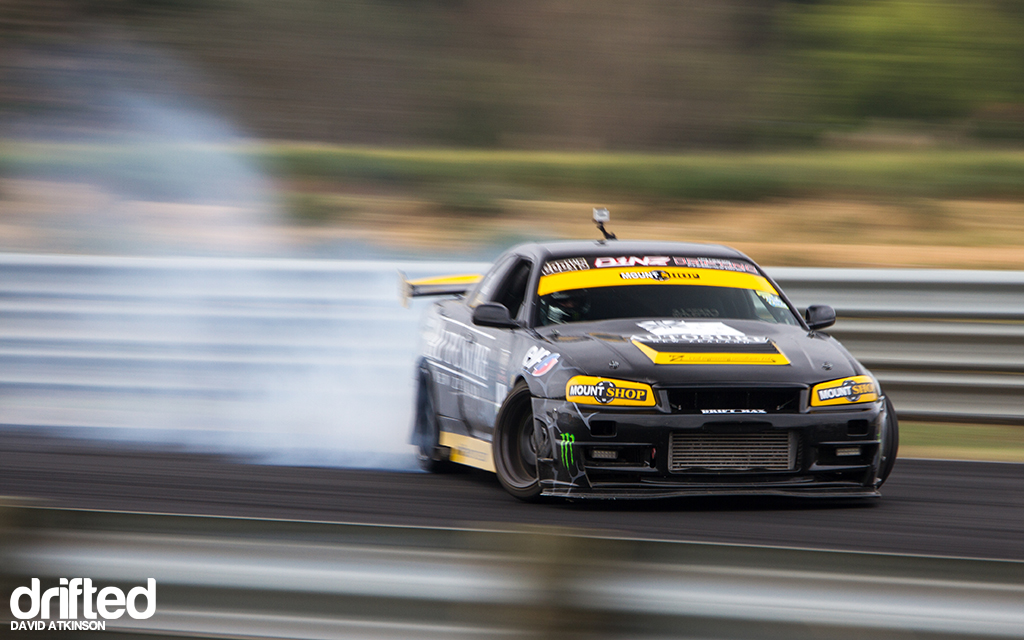 Another 2JZ powered machine – Curt Whittaker's Autosure R34 was showing off a freshly updated livery. I'm liking the black and yellow!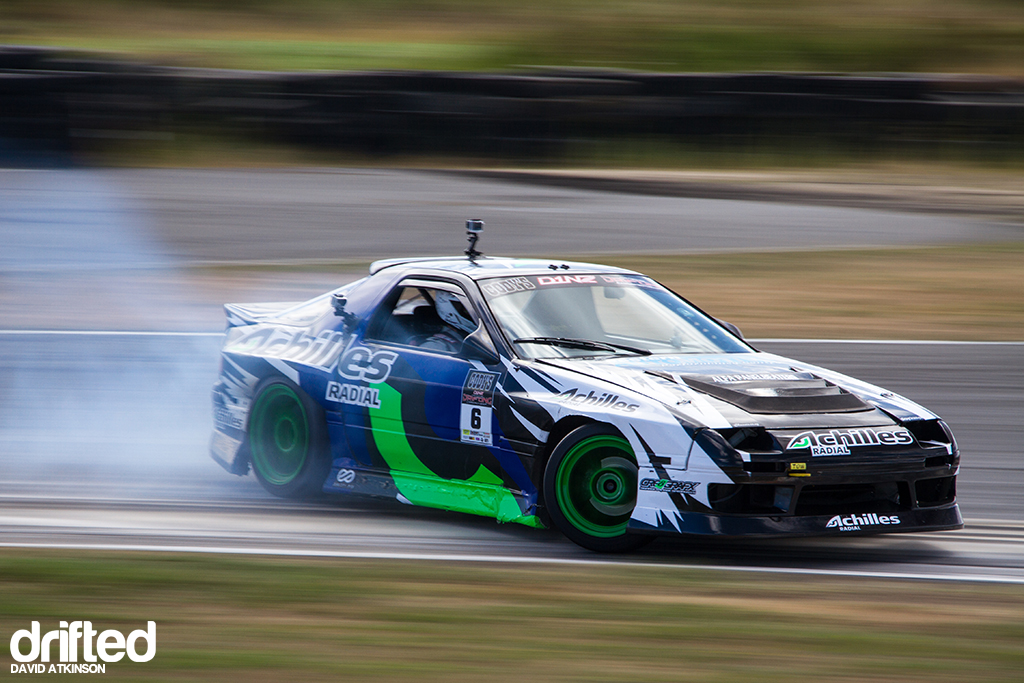 The spill kits had to be deployed after a collision between Mad Mike and Agges Paraskevas left oil all over the inside of the first corner. Unfortunately this cut short Mikes practice time, but it made for some cool shots as the cars drifted over the kitty litter.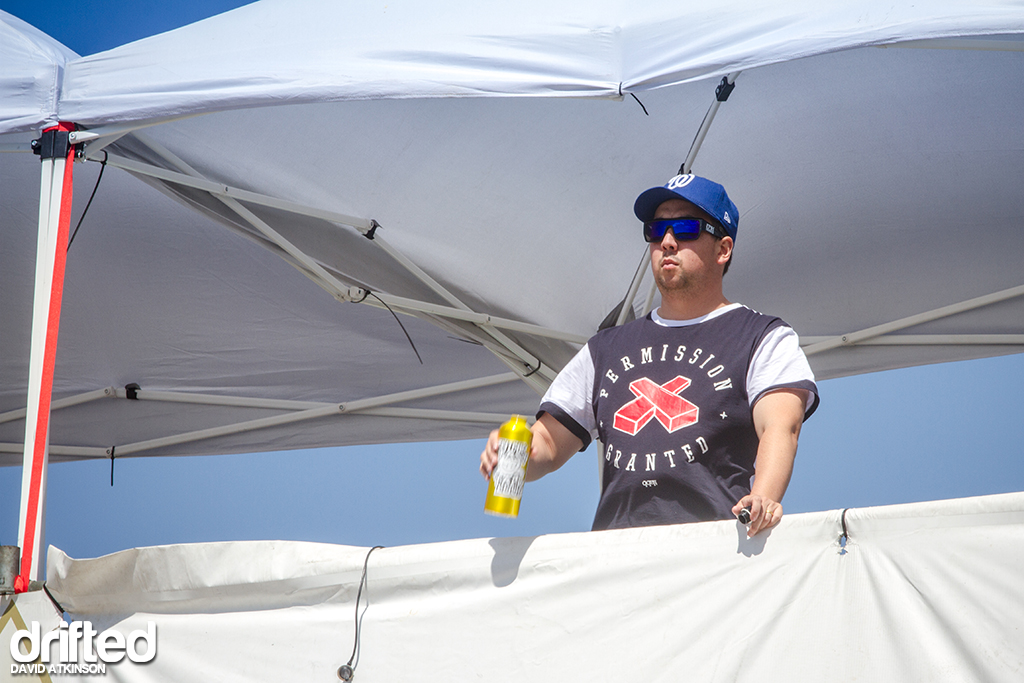 Warren Sare aka "the Simon Cowell of NZ drifting" was keeping an eye on things from the judges tower. When he isn't commentating, he's probably taking notes for his blog MGN.
Qualifying in first place with an impressive run was Nico Reid. Lots of angle and smooth transitions earned Reid his first ever number 1 spot.
Cole Armstrong grabbed number 2 qualifying position in the V Energy R34 Skyline.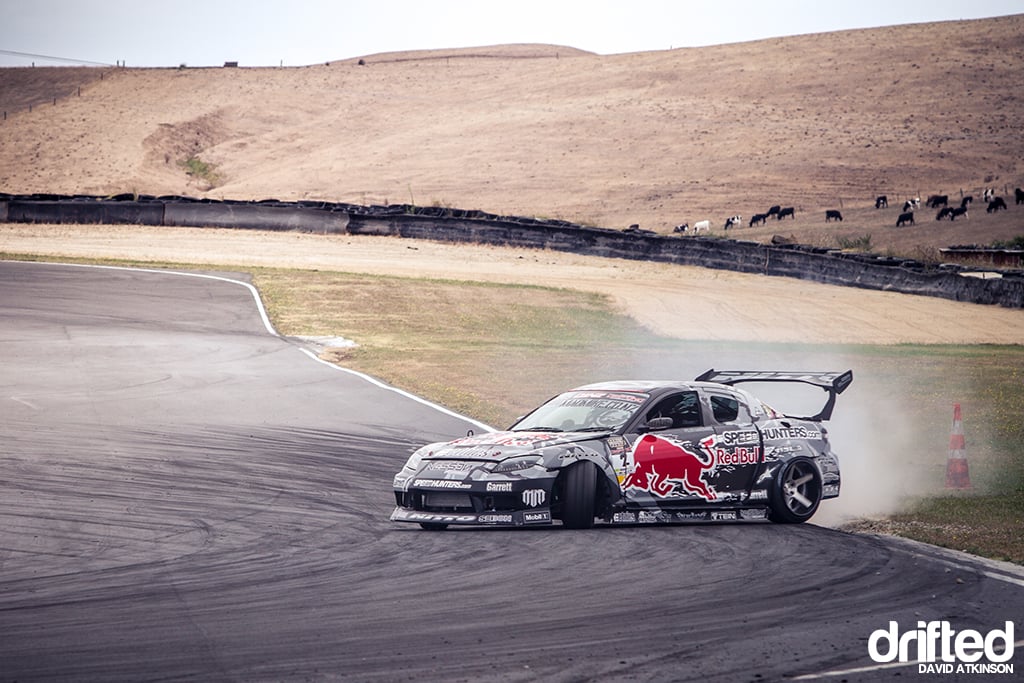 Third spot was claimed by Mike Whiddett with the 20B turbo RX8 pushing out over 800hp!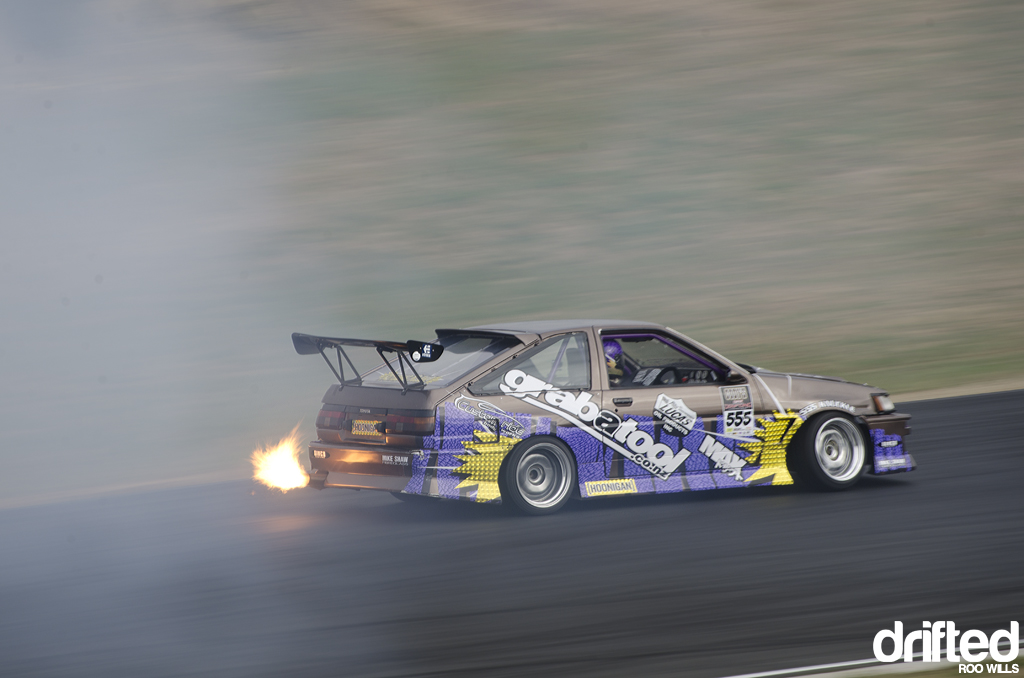 Another 20B machine – Hugo Macleans Grabatool AE85 was spitting flames near the end of the section, making for a good capture by Roo Wills.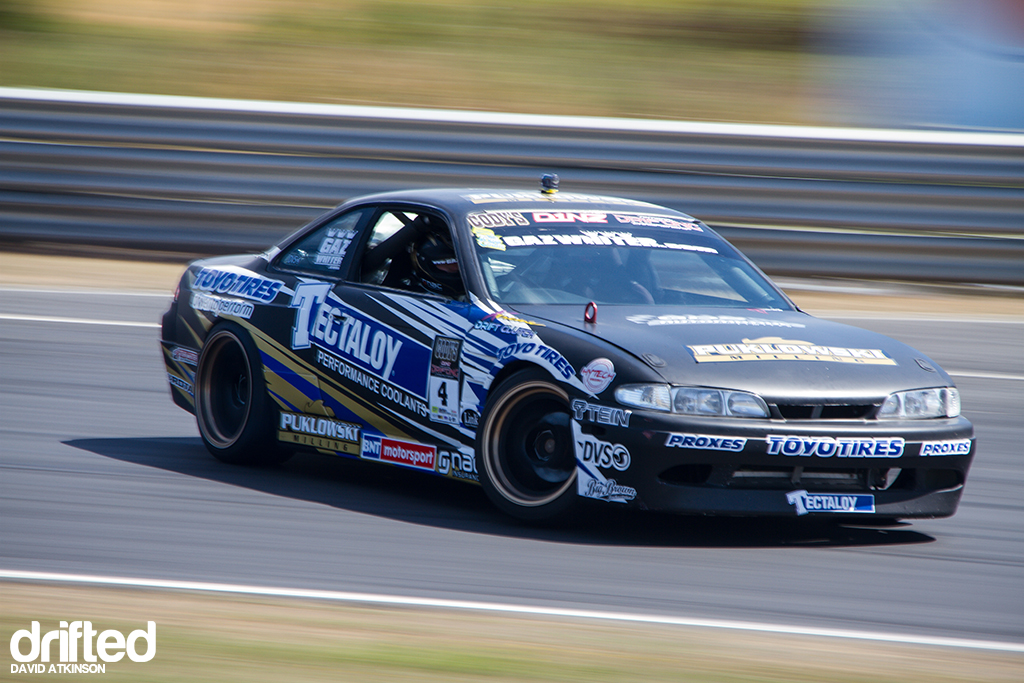 The damage to Gaz Whiter's Tectaloy S14 after its big impact at Tauranga looked to be all fixed. Unfortunately disaster struck again for Whiter early Saturday morning when the engine blew a hole in the block, leaving him looking for a donor car.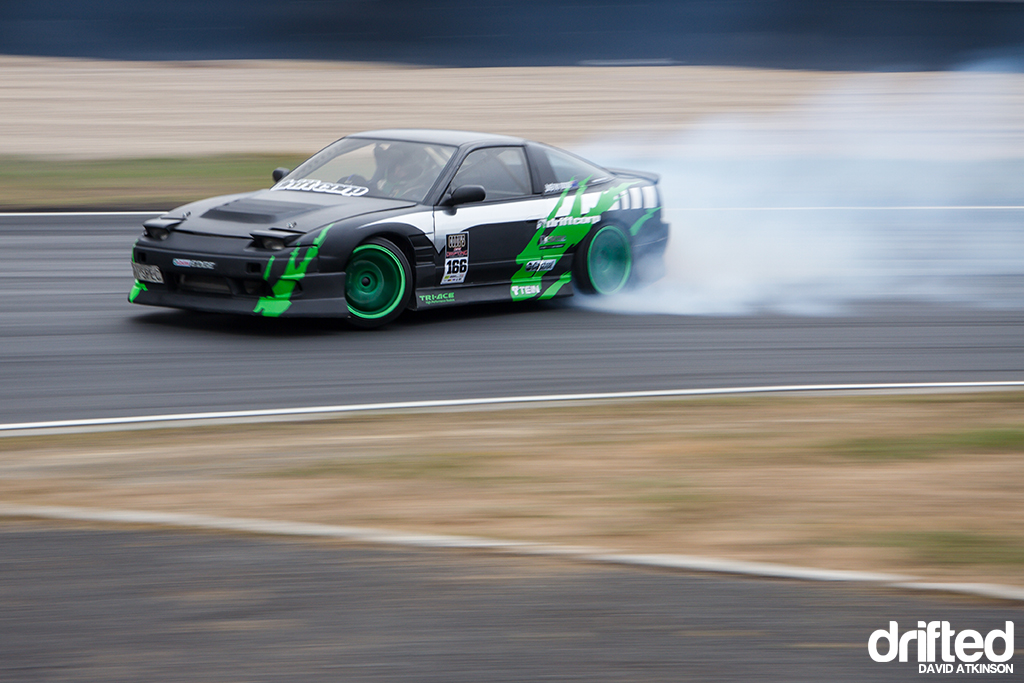 Judge and ex competitor Justin Rood lent his 180sx to Whiter which was being used for the 'Drift Legends' mini series. Stepping straight into qualifying with an unfamiliar and low powered car meant two zero laps for Whiter. However on his third run he managed to complete a lap to enter the battles.
The pit walk is a good chance for fans to meet their favourite drivers before the battles commence. Mad Mike was busy signing all kinds of things.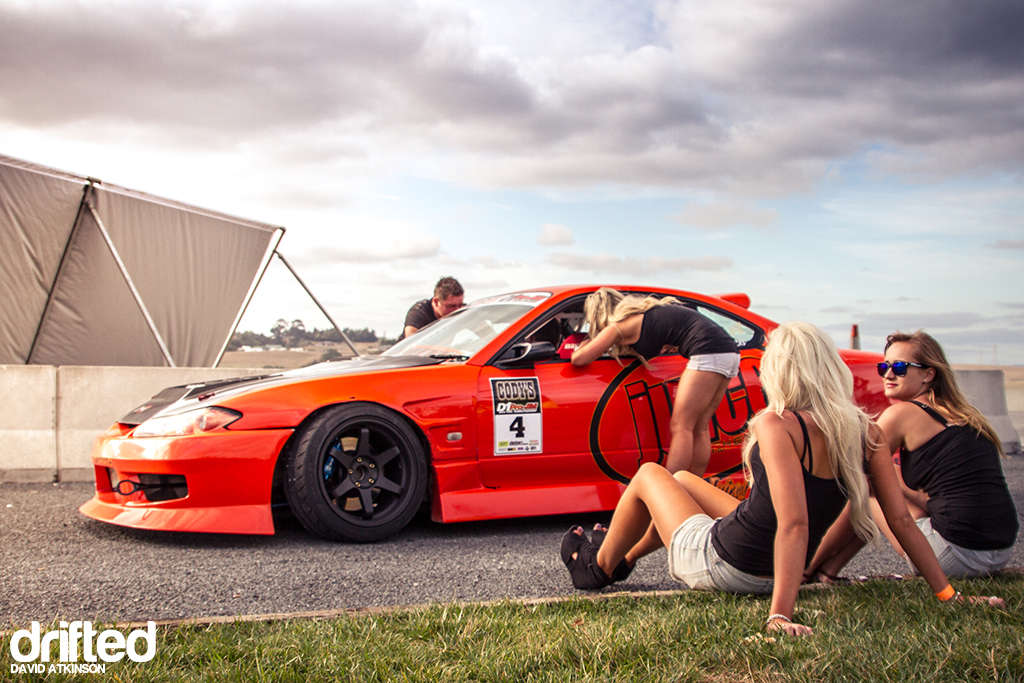 I spotted one of the cleanest Pro-Am cars taking a break near the skid pan – Troy Jenkins' S15 Silvia.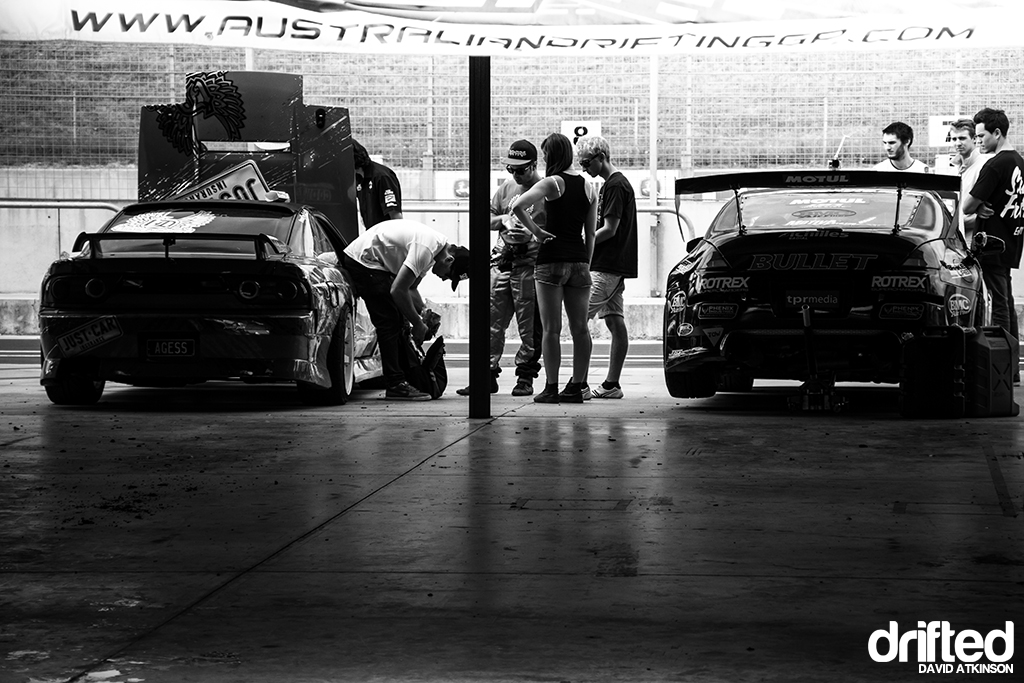 Our Australian guests were all set up in the pits, no doubt planning the best way to take down as many Kiwis as possible!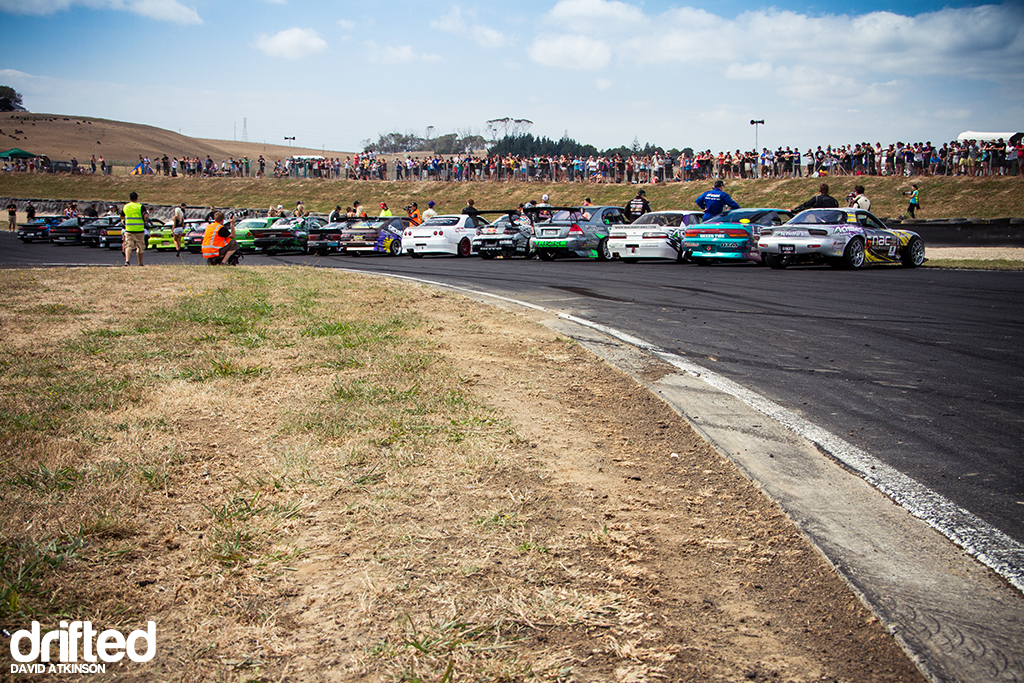 The top 16 line up was looking very promising and a large crowd was lining the track fence to view all the action.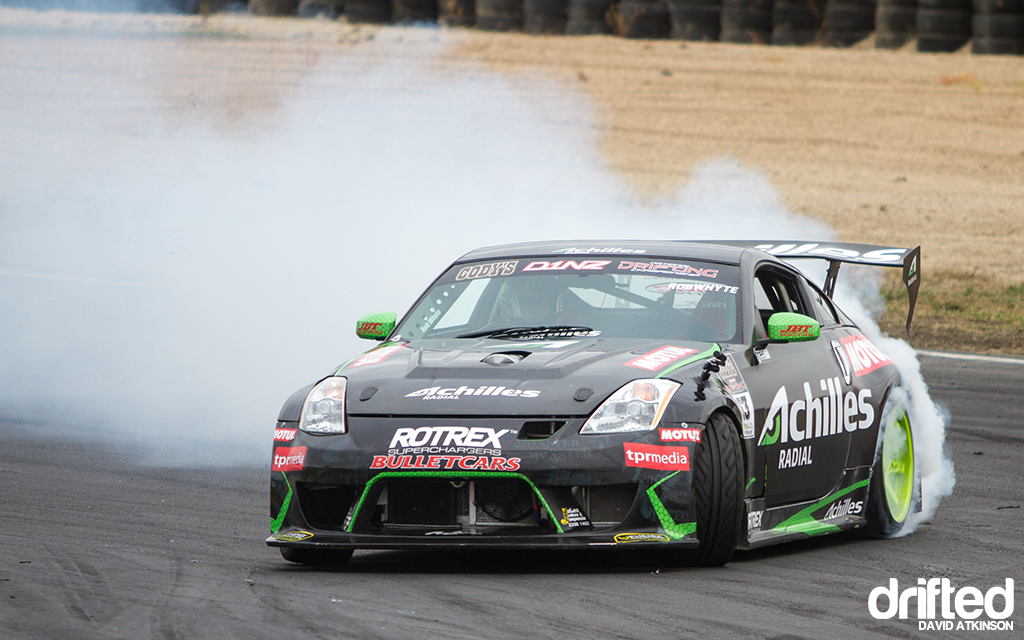 Rob Whyte was looking strong, beating Gary Tenana and then meeting Troy Forsythe. A very close battle that ended with Forsythe going through. I really hope we see Rob Whyte back here again, that supercharged VQ35 is amazing!
Rotary Hoonigan Hugo Maclean came up against 7th place qualifier Zak Pole in the R33. It was a close battle that ended up going one more time. However on Hugo's lead run he overcooked the entry and spun off the track, allowing Pole to move on.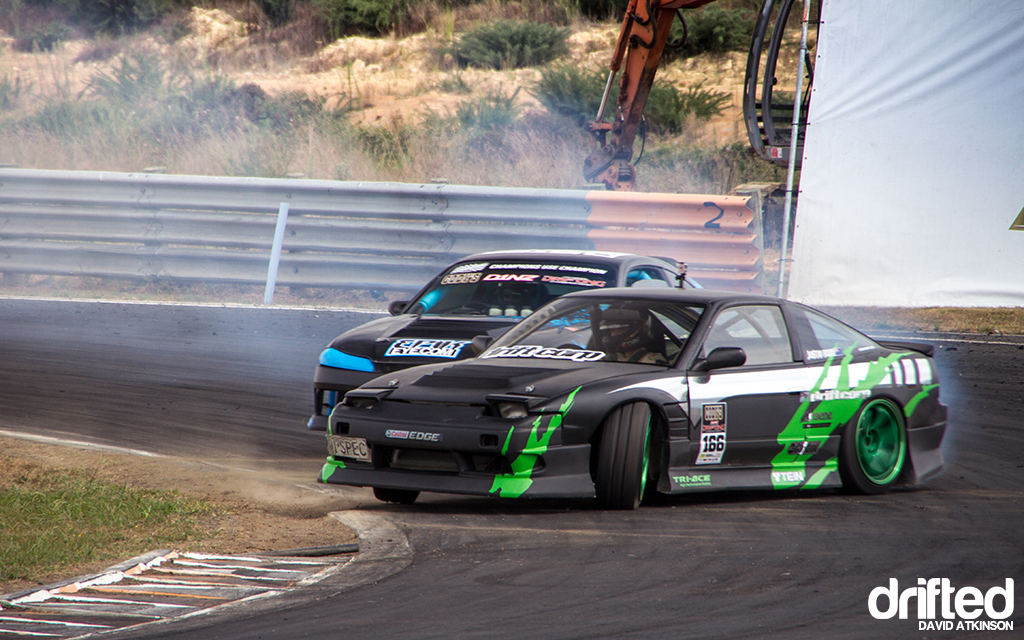 After taking out Cody Collis in only his 4th lap in the unfamiliar 180sx, Gaz Whiter moved on to battle Nico Reid. Surprisingly Gaz was able to keep up with the charging S15 on his chase run, but it was Nico Reid that was unable to adjust to the slower speed of the little SR20. A controversial battle that saw Whiter going through once more.
An early repeat battle of last rounds final was sure to shake things up a bit this time, with Fanga Dan coming up against "The Flying Avocado" Andrew Redward. A great chase run from Redward who then created a gap on the lead run, earning him the win.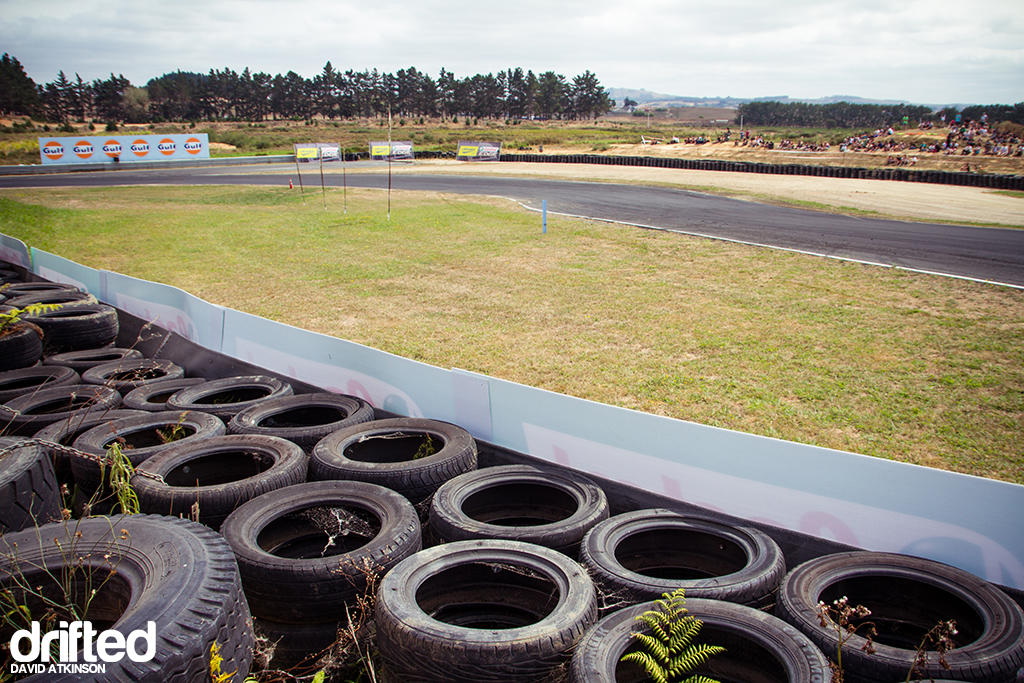 The elevation change can make it more difficult to match the lead cars speed and in turn, some of the battles can be won or lost here.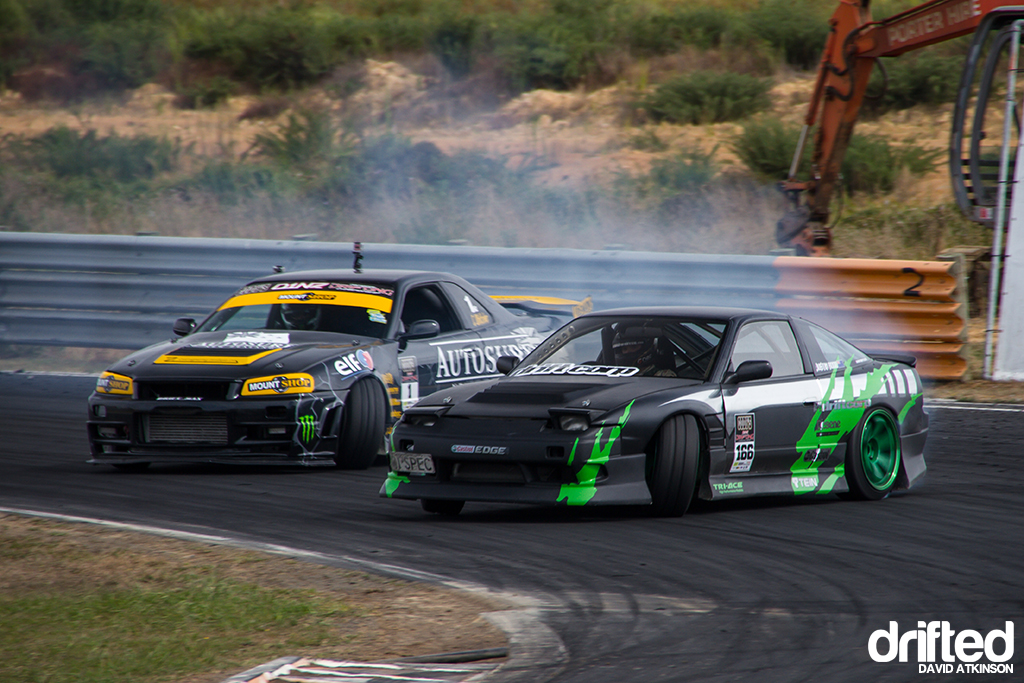 It was a matter of David vs Goliath when Gaz Whiter met Curt Whittaker in the top 8. Whiter managed to unsettle the reigning champ however as he simply couldn't adjust to the lower speed of the 180sx.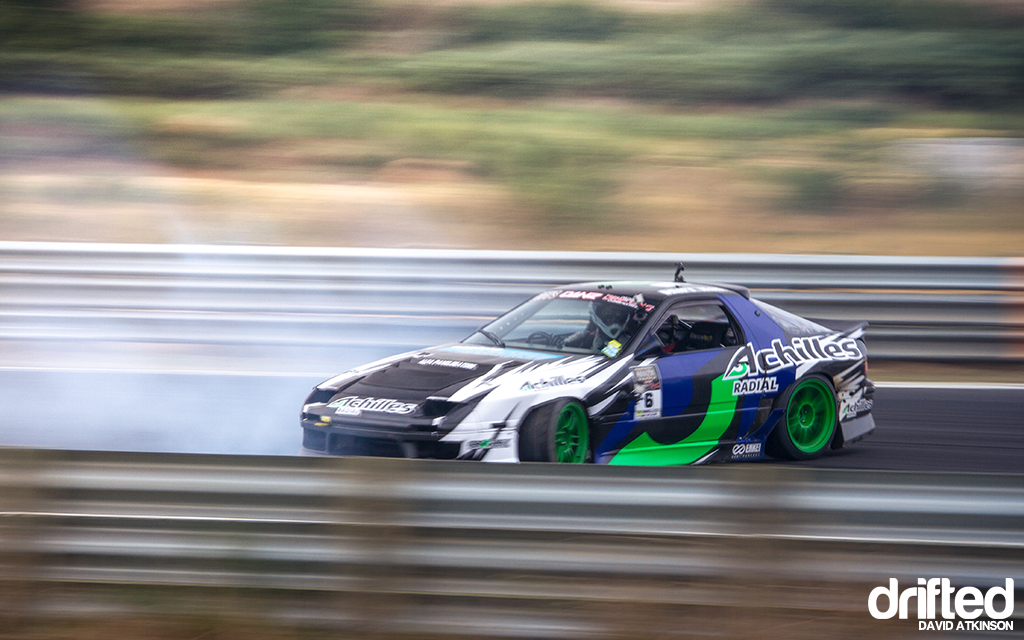 Andrew Redward was looking unstoppable – pulling off reverse entries all day like it was no big deal. He met Troy Forsythe in the top 8 and promptly sent him home.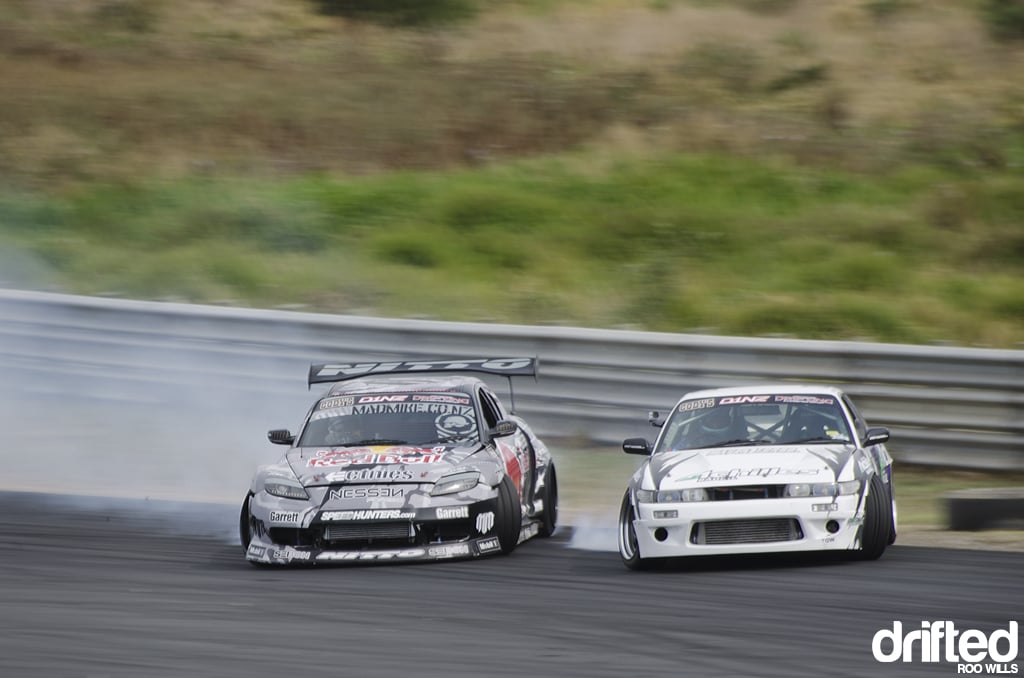 Mad Mike quickly eliminated Daynom Templeman who was still becoming accustomed to the new 2JZ power, moving on to battle Bruce Tannock.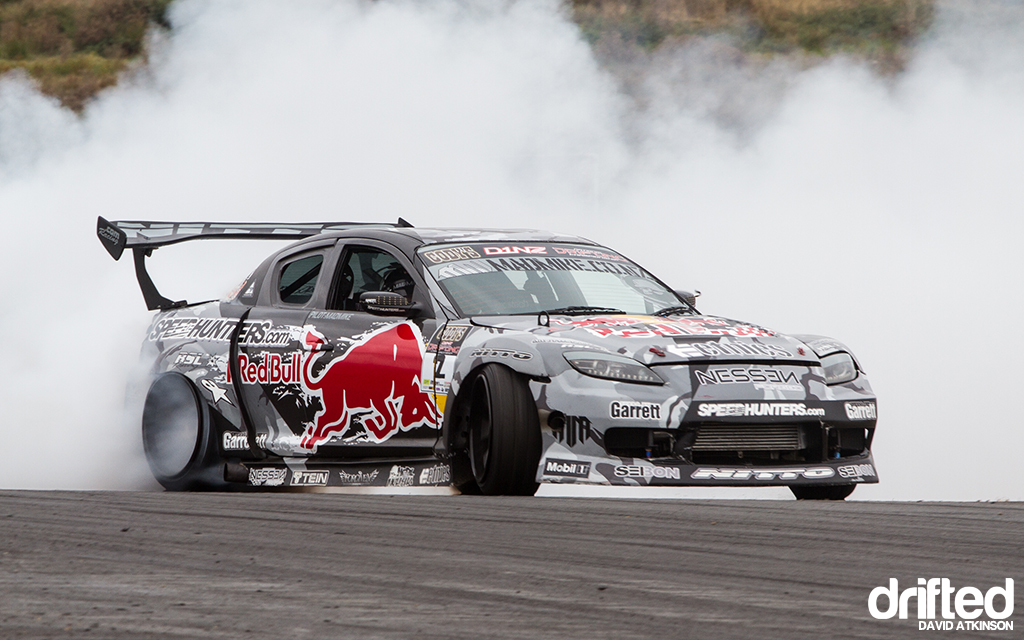 The Rocket Bunny Silvia did well to fend off the charging bull but was simply nowhere to be seen on the chase run. Mike emerged from the smoke with victory in hand.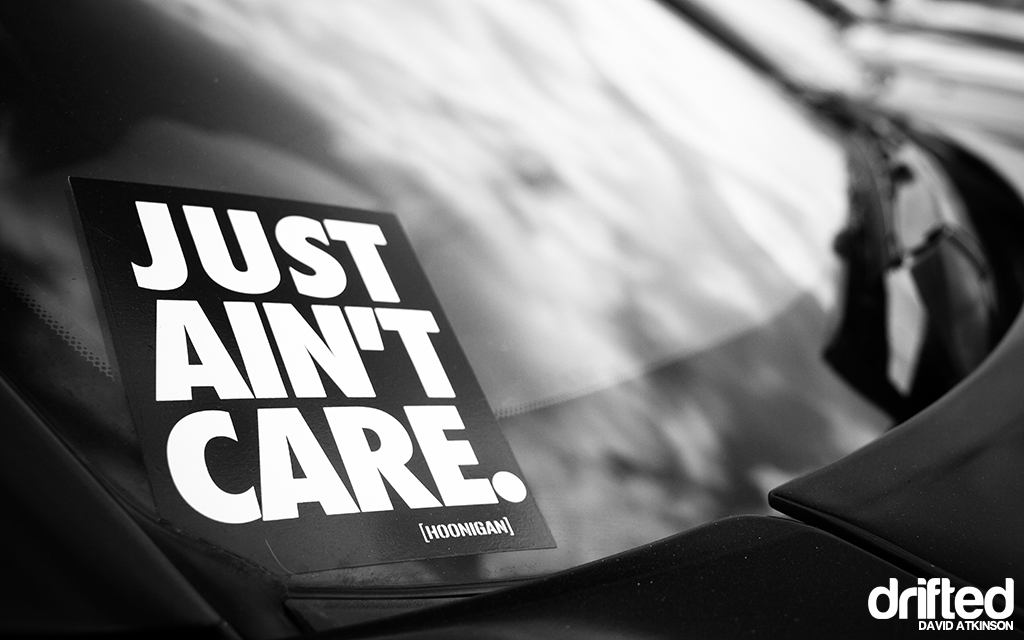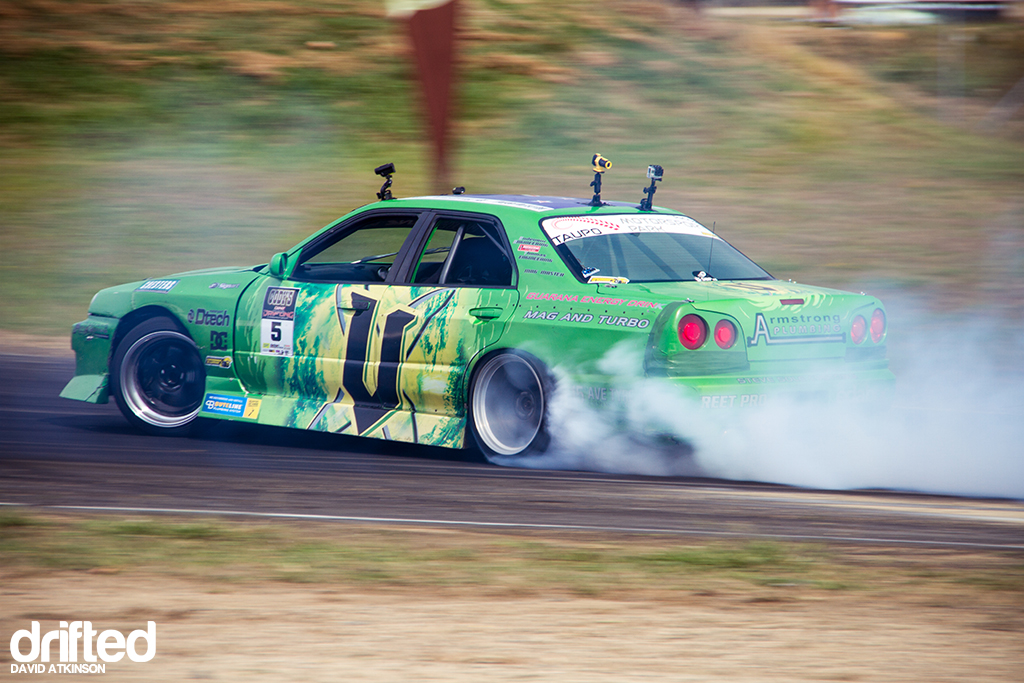 R34 battled the older R33 when Cole Armstrong met Zak Pole. The chase run caused problems for Pole – running too wide of a line and losing proximity.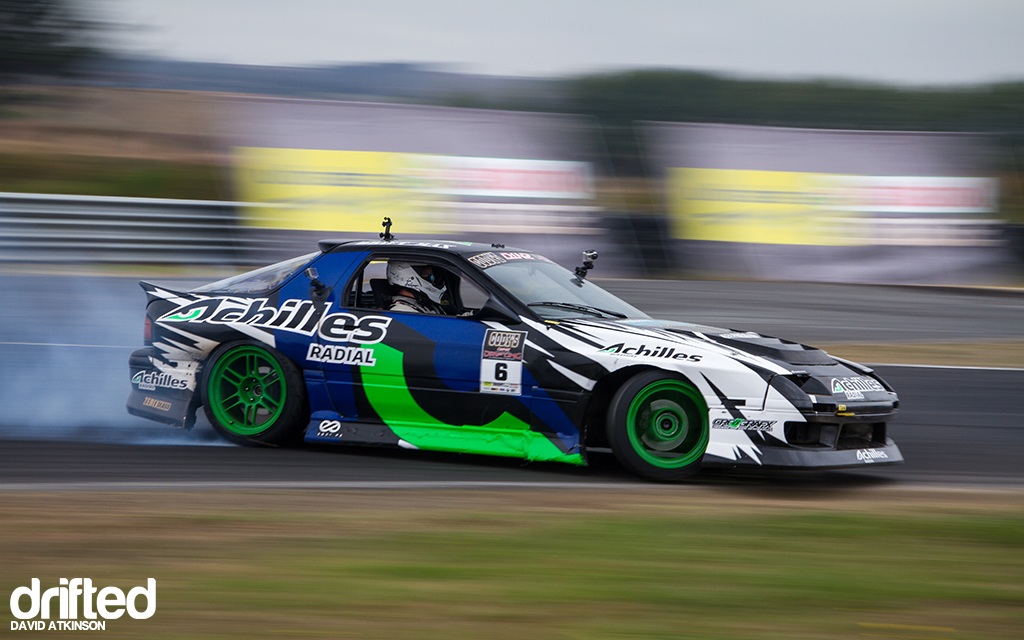 Achilles driver Andrew Redward was next in line to take on the underdog 180sx piloted by Gaz Whiter in the top 4. Having already accounted for two top tier drivers, everyone was wondering if he could knock out the big LS2 V8 as well. But Redward was simply too fast on the lead run creating a sizable gap that Whiter couldn't come back from. Redward secures his place in the final.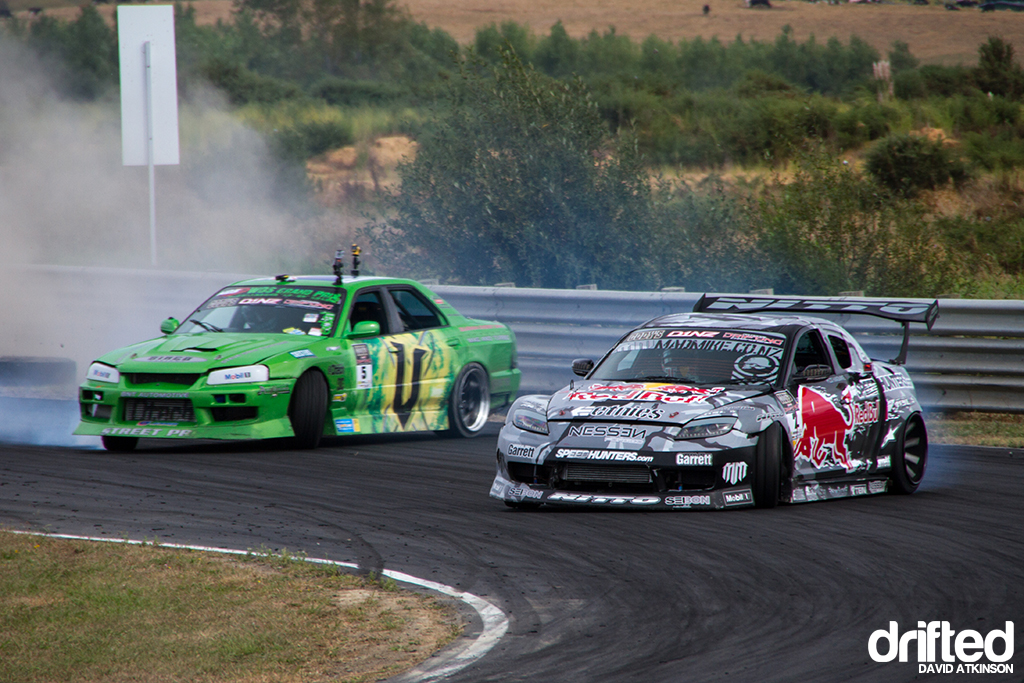 The other top 4 battle was of course Mad Mike vs Cole Armstrong. Both drivers had dismissed their fair share of opponents and were not likely to make mistakes at this point. Definitely a hard run to judge. Mike's chase run was ridiculously close and no doubt earned him the advantage and in the end, a spot in the final.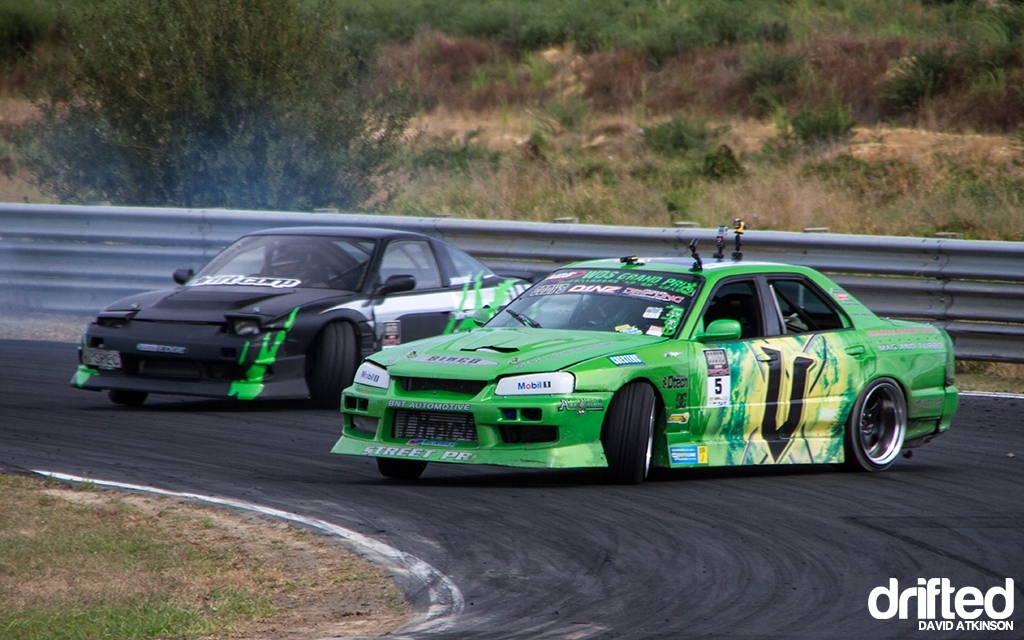 The battle for 3rd place followed a similar story to Redward vs Whiter, with Cole Armstrong simply having better speed on the lead run and not making any mistakes on the chase. Full credit to Gaz though, he exceeded everyones expectations by getting so far in a borrowed car. It reminds you that these guys are true professionals and are great drivers no matter what car they're in.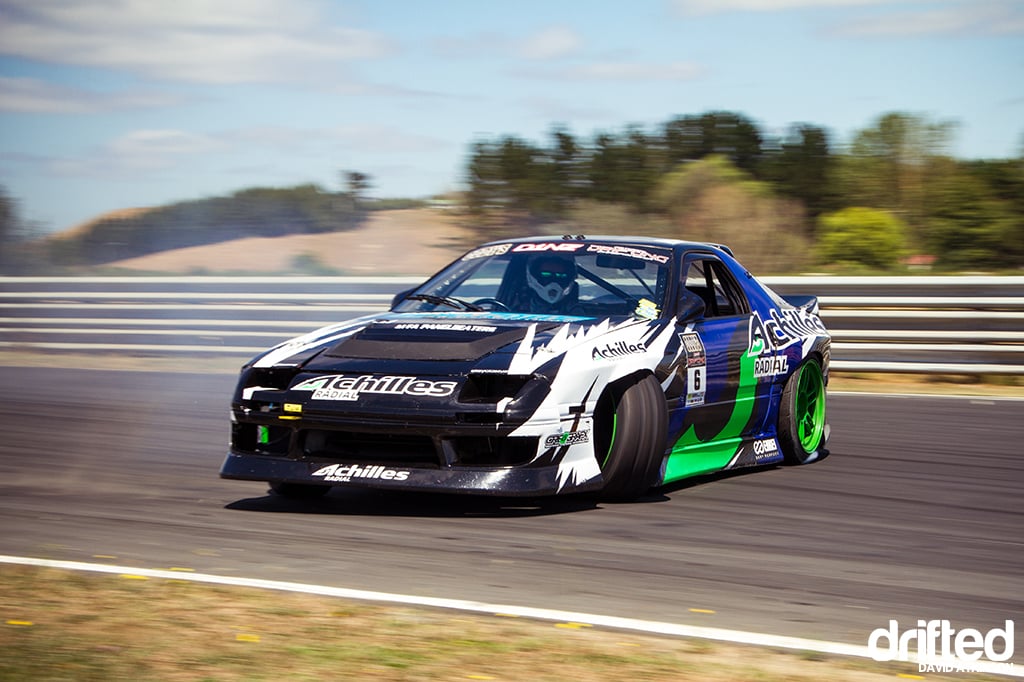 Onto the final battle now – Mad Mike vs Andrew Redward. Crazy entries were being thrown down from both rotary and V8 powered machines. The winner would most likely be decided from the quality and proximity of each chase run.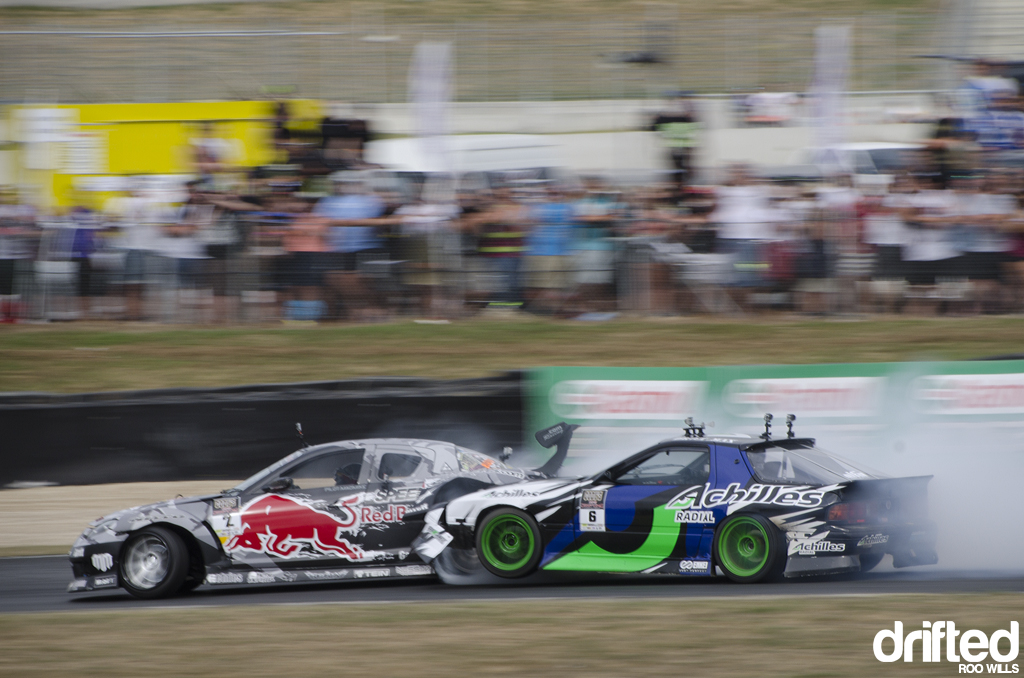 Unfortunately for Redward he got too close to Mike coming up over the hill and made big contact with the rear of Mike's car, lifting the front off the ground and ripping some bodywork from both cars. This resulted in another spin for Redward in the last battle, which caused a 0-10 run and gave Mike the advantage.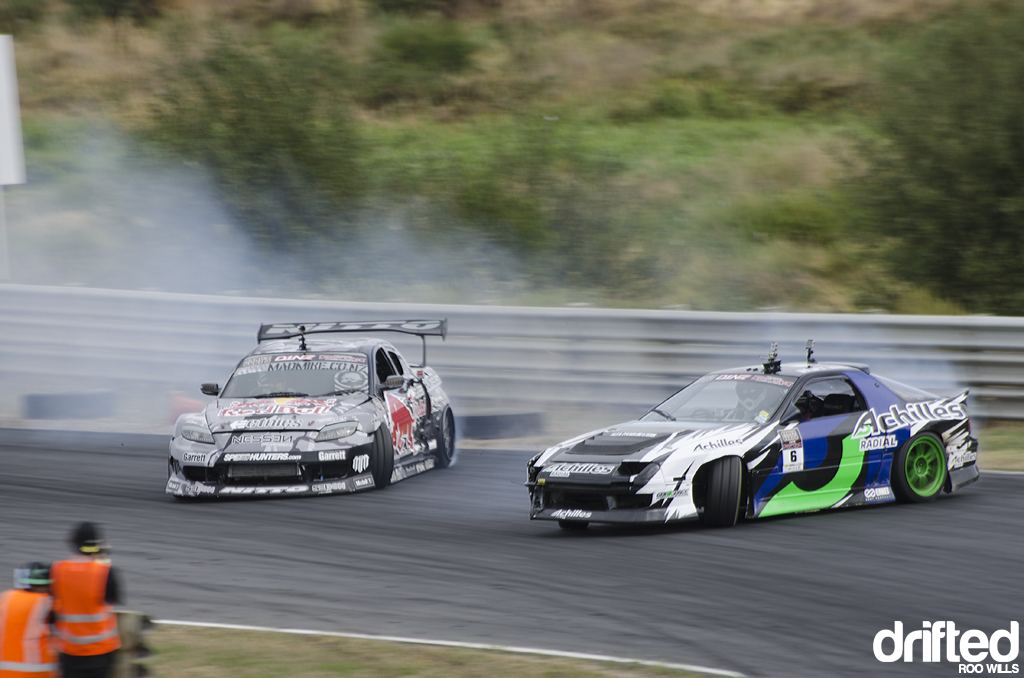 Entitled to 5 minutes to make repairs, both cars made it back out for another insanely close battle. Mad Mike would not be forced into making an error though, laying down a textbook chase run and claiming the round victory!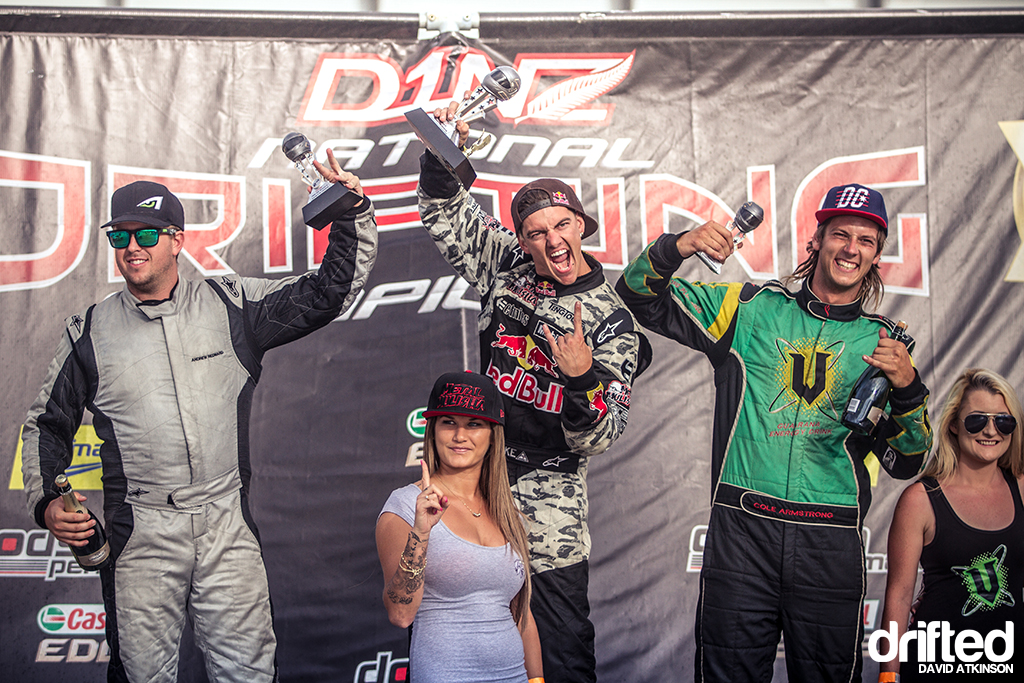 Mad Mike Whiddett taking 1st place, Andrew Redward in 2nd and Cole Armstrong with 3rd place! It was a great weekend of drifting, with close competition making it even better for the spectators.  Next round will see D1NZ on another race track, this time in New Zealand's South Island at Ruapuna Racetrack in Christchurch.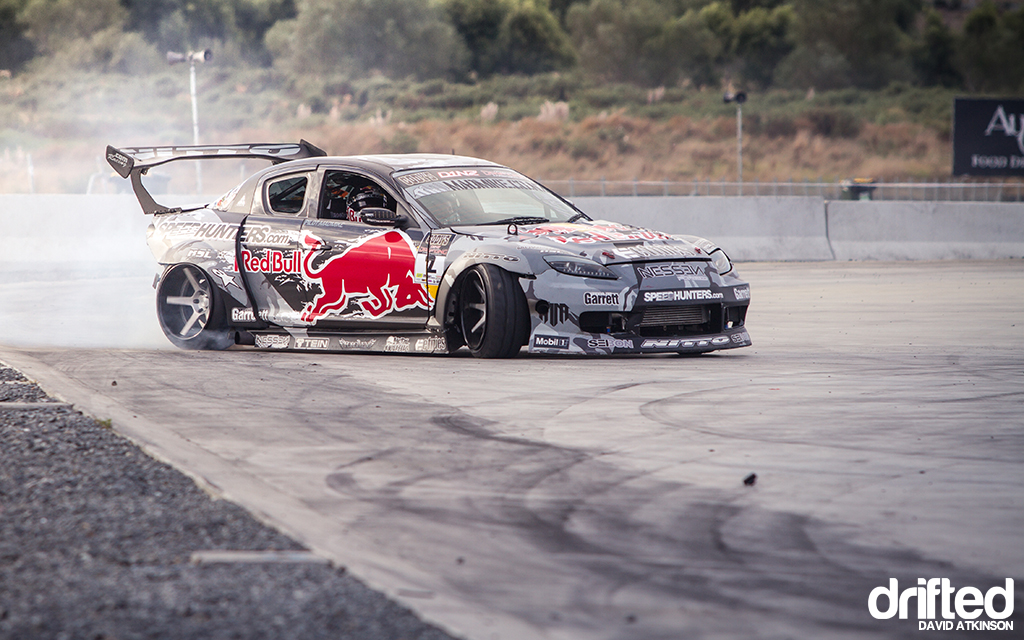 I'll leave you with Mad Mike doing some victory skids and the current top 10 championship placings!
1. Daniel Woolhouse – 370
2. Andrew Redward – 327
3. Mike Whiddett – 293.5
4. Curt Whittaker – 293
5. Nico Reid – 283.5
6. Gaz Whiter – 263
7. Daynom Templeman – 239
8. Cole Armstrong – 235
9. Troy Forsythe – 219
10. Zak Pole – 217
Photos: David Atkinson & Roo Wills
Words: David Atkinson