EVENT: MYWAY Drift School
When an automotive blogger like me gets an event invitation by an established company, it's normally some tech-talk event at a factory or a meet n greet at a convention, so when Dotz Wheels sent me an envelope with an invitation for a weekend in Hungary, I was really excited! Dotz invited automotive journalists to Hungary in order to talk about their "Kings of Sideways" project. This wasn't a hotel-room meeting; they joined forces with the MYWAY Drift School to deliver us a full weekend of car-culture, tire slaying and fun.
As soon as my fellow Tuning Magazine author Florian and I left the plane at the Hungary airport, we knew big times were ahead; beautiful women, fascinating architecture, and a few weirdos in dark alleys. Our hotel was in the very center of Budapest, just a few steps away from the parliament and the Danube river.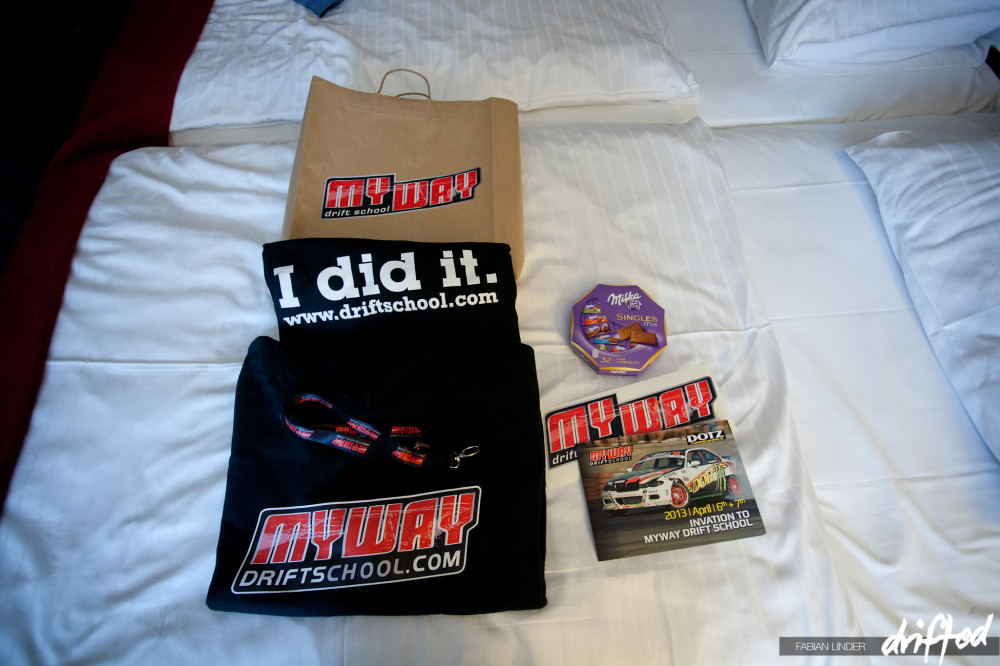 The first surprise was in the hotel room; Adam, owner of the Myway Driftschool, left us a Dotz & Myway gift-pack. The experience we enjoyed this weekend is similar to every package you can book on their website. In the evening our driver picked us up and brought the whole group to an awesome Hungarian restaurant somewhere in the city, to get to know each other.
It was a nice feeling to be among the editors of some of the most well known magazines from Germany. We spent the evening with tons of great food, beer and gasoline talk.
The next morning, our hangovers were fresh; the driver brought us to the former airbase Tököl where Efrat and Adam's drift school is situated. The airbase, a few kilometers outside Budapest, looked like the doomed landscape of a Russian cold war movie. The buildings around the concrete plains are all abandoned and no one seems to care what you're doing.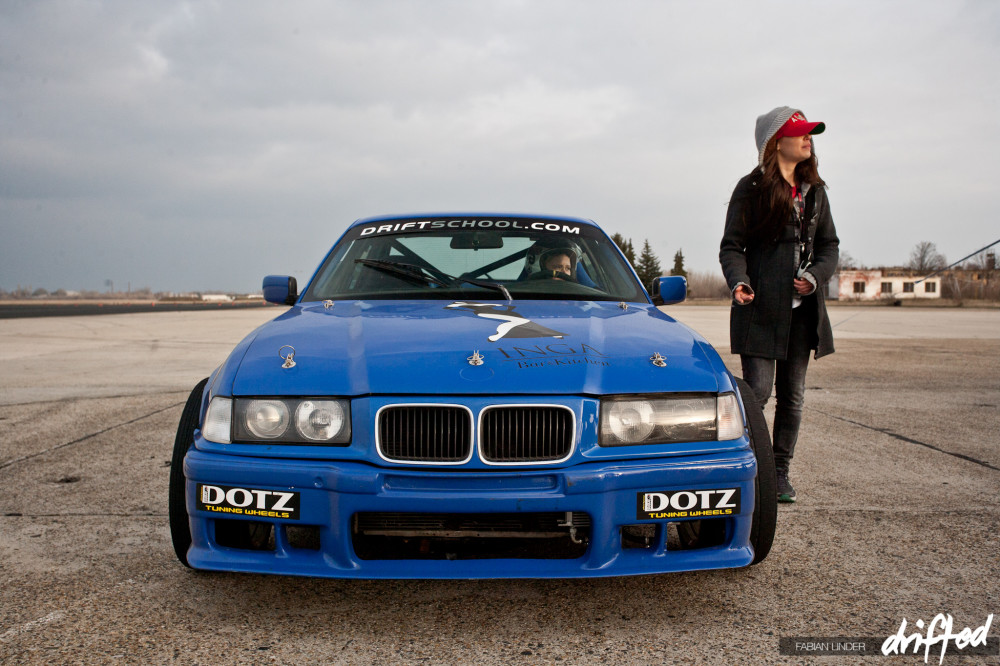 The reason Efrat and Adam founded their drift school in Budapest is due to Hungary being one of the fastest developing countries for drifting; there is also an awful lot of entertainment in the city at weekends!
Efrat, born in Israel, has been drifting since 2006 and she was the one who convinced Adam Frank to stop driving Touring cars and start driving sideways instead.
A village of tents and a big trailer are the base-camp for the drifters; the ten training cars are all BMWs with M60 V8 swaps.
Oooops – Due to the fact that the drift course is dry, a lot of tires were dissembled. Luckily the MYWAY Drift School have their own pit crew continuously checking every car and changing tires if necessary. A Heaven for all the lazy drifters who are sick of changing tires.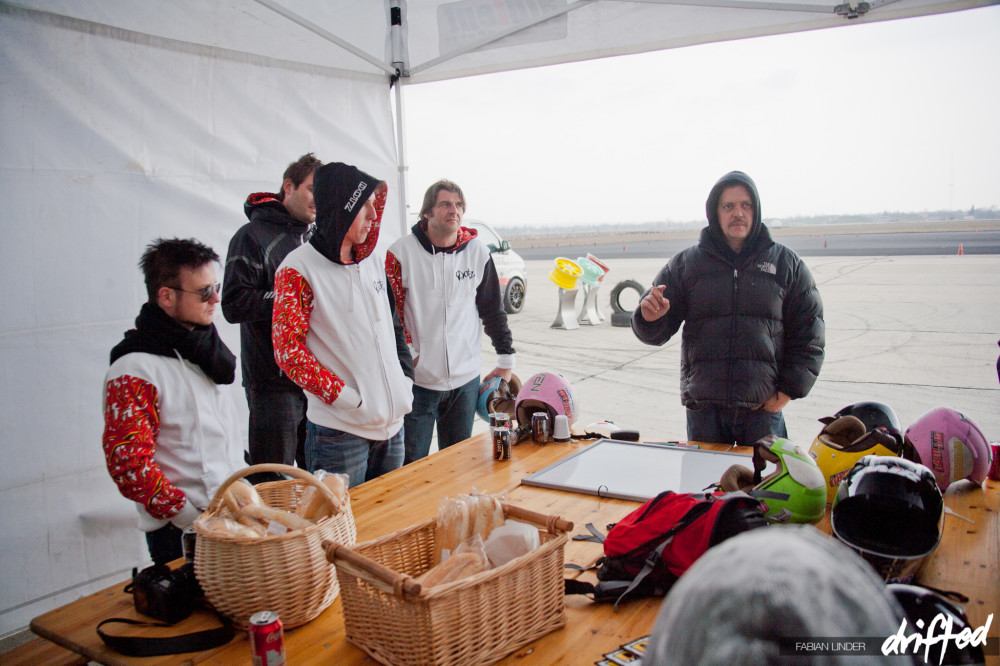 Adam explaning the roots of drifting and the basic things about driving sideways to the other journalists. Every driver gets 30 minute stints, so they can relax, eat some of the gorgeous food provided, and then get back behind the steering wheel. It doesn't get any better: food, drinks, tire destruction – all day.
After the introduction, we were sent out on the circuit and tried to drift. Efrat and Adam are watching from the stands and if necessary, join you as passenger and give advice.
Compared to other drifting schools, you're really free to do what you want, with help on hand to help you develop your skills.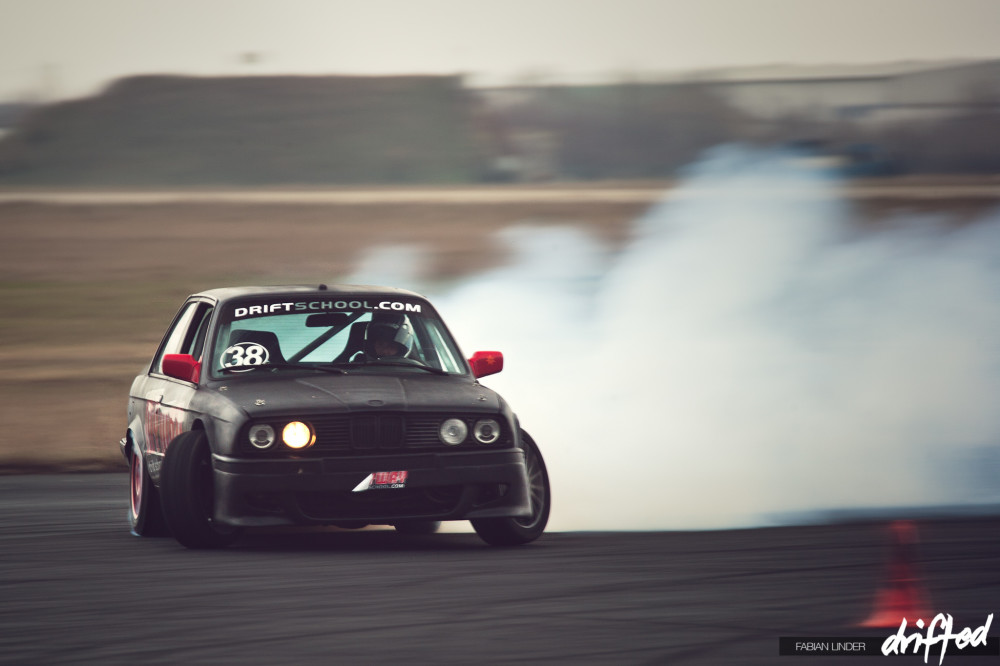 Equipped with a bullettproof BMW V8, roll-cage, wide-angle kit and LSD, the training cars are all very similar and great to drive. Due to the big lock, you're able to keep the car under control even when it goes wrong. Most new drivers will be able to get big smoke clouds behind them by the end of day one!
Day two is all about connecting the corners and a little drift championship amongst the participants. Myway is also a Sponsor of the King of Europe "Rookie of the Year" Trophy.
The rules are quite simple: drivers do not come from Formula D in the USA or D1GP in Japan, and they should have driven in a maximum of 2 Pro races during 1 KoE season in the past.
This is what a champion after two days of drift training looks like. All the members of the School got a Drift License, which allows us to compete in the King of Europe Street Legal Series.
The team of mechanics were on hand, taking care of all major and minor problems on the car (in this case, a driveshaft failure).
Encouraging drivers to drive faster, kick harder and push the car to the limit. We love Efrat.
Dream Team – both professional drifters and some of the most entertaining people to hang out with; we can't wait to meet them at the King of Europe events.
Adam Frank is not only a teacher, he is one of the main competitors at the King of Europe Pro Series. I guess most of you guys know his E46 2JZ with 1000hp and Antilag, run by the Cartu Driftteam.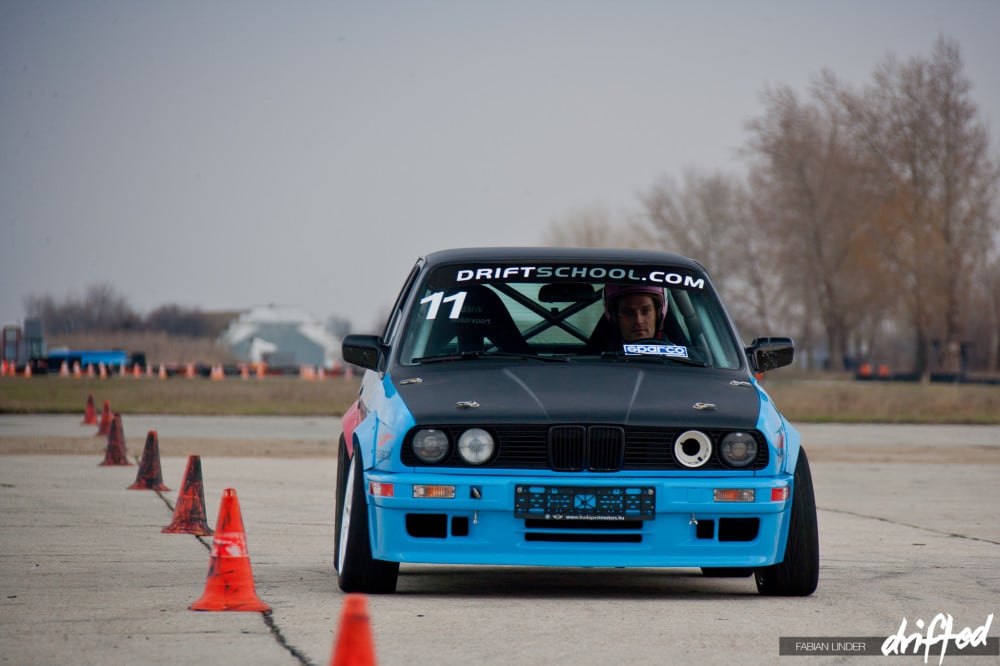 Let the pylons show you the way.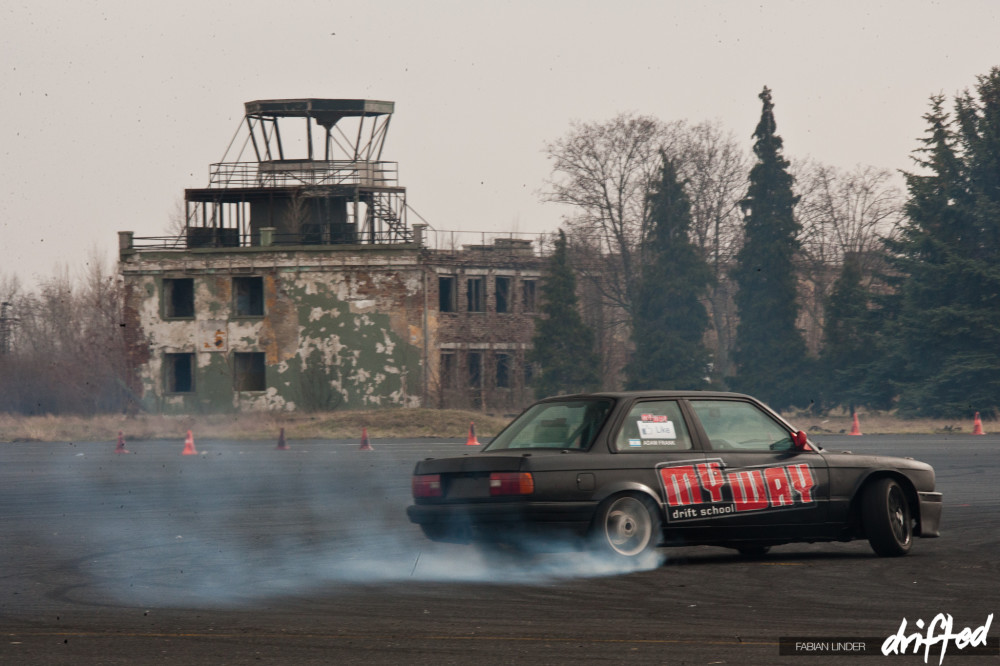 This has to be one of the best drifting locations we've come across; I can highly recommend the MYWAY Drift School weekend.
For pricing, booking and additional info, check Driftschool.com. The first course of 2014 is from 4th – 5th April.

Tags: Adam Frank, airbase, bmw, Bridge, Budapest, Canon, Cartu, Cartu Drifting, Christmas, Danube, Dorifto, Dotz, drift, Drift School, drifted, Drifting, E30, E36, Efrath, Gift, grassroots, hotel, HUNGARY, Josh Cartu, King of Europe, KoE, Lesson, license, lost places, MYWAY, Night, nightlife, Party, photography, Practice, skidding, skids, Streeto, Streets, wheels, yolo
Subscribe to Drifted
If you like this article why not subscribe to Drifted and we will email you our freshest content for free!