Photo Highlights 2010 – BDC Rd 4
Over the winter months I am going to share photo highlights of the drift year. Usually when I am writing my reports you don't always get to see my best photos from the day. I tend to write my report first while the information is fresh in my head, and then pick photos that split the writing up nicely. With over 16000 drift photos taken this year it becomes very difficult to only choose 10-20 pictures to use with each report. I also try to be very picky on the photos I use, for instance, if a driver has been on form in the morning practice, I would use a picture from morning practice even if I had a better picture of them from later in the day. I'm going to start with Round 4 of The British Drift Championship at Donington Park….
I had a great weekend and still look back on my photos from this event with a big smile on my face. I've managed to pick 55 'favourite' photos when looking back through my 3665 from the event, but I am going to limit myself to just 10.
The opening photo is of Team Driftworks' Ben 'BonBon' Broke-Smith just starting out another mad run. If it hadn't of been for the traffic cone it would have been one of my favourite ever photos.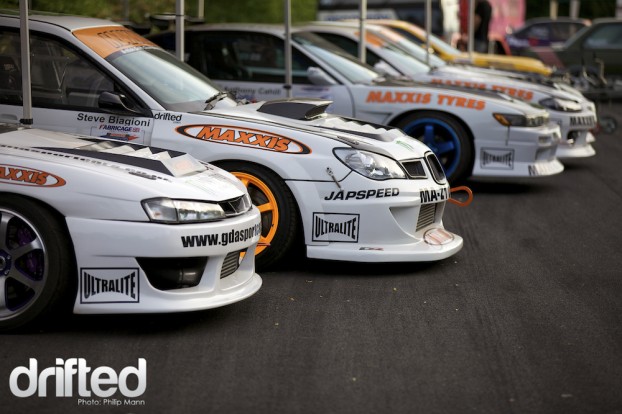 The shot above is very similar to one that I used on my report from the event. I love the lighting you can capture first thing in the morning. If it hadn't of been for Semi-Pro driver Andy Redmond getting me up so early I would of missed getting these kind of shots in favor of a lie-in.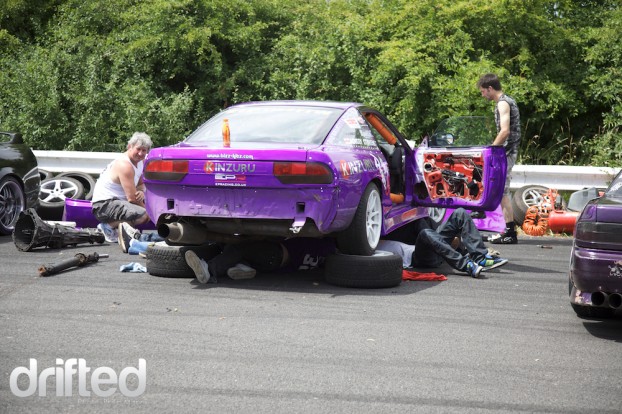 This is probably a moment that Ashley Stevens would like to forget. While everyone was having lunch and getting a bit of a sun tan, Ashley was desperately trying to change over his gearbox so he would be able to run again in the afternoon. You can see that there are 4 bodies under the car trying to get it sorted. The temperatures were in the high 20's that day (which is hot for England!) so I hate to think how hot it was under the car. Luckily they did manage to get it fixed, and Ashley had one of his best drives of the year up against a formidable and on form Phil Morrison in the DWS15 below.
The thing I love about this shot is the amount of smoke billowing out. It's so thick that you can't see the back end of the car at all.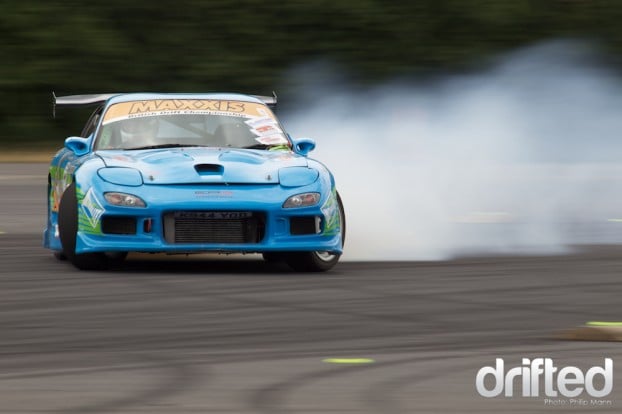 And onto another Phil. This time it's Phil Randell in his RX7. Phil's eyes are firmly poised on the next corner as he accelerates on lock.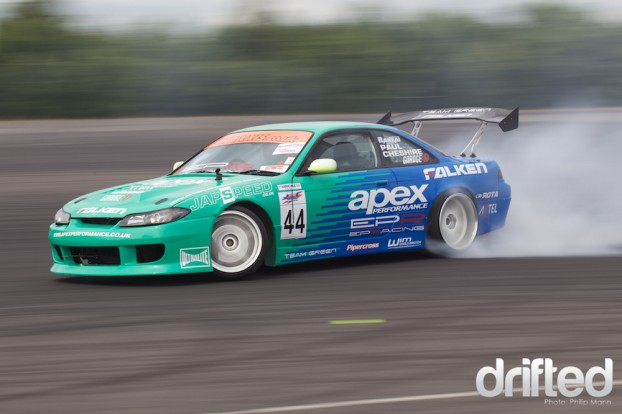 I only posted a picture of this car a few day ago, but i just can't help it when it looks this good. Paint any car in the Falken colours and I'm going to love it.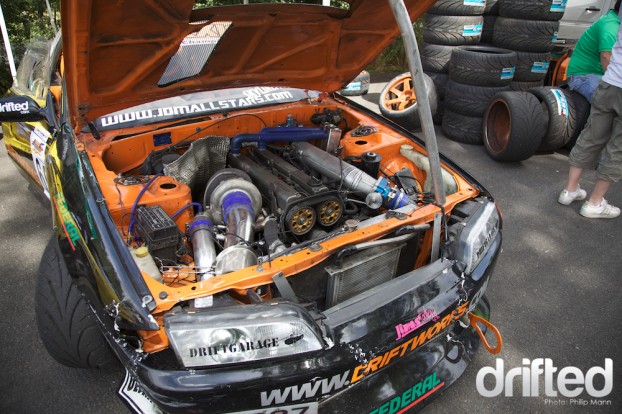 I like this photo for 2 reasons. First being, Team Driftworks will use whatever they can to make their cars work on the day. Instead of an air filter like most people, Bon has decided that a kitchen utensil works just as well. Secondly, just have a look at the huge pile of brand new Federal tyres in the background waiting to be transformed into long trails of white smoke.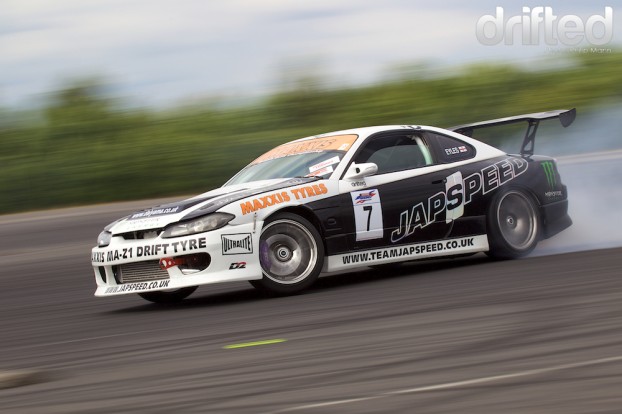 I know I used this photo in my original report but I love how well it came out. I was the only photographer to have infield access in the afternoon so I had to make the most of it. Here is Danny Eyles taking the second hairpin with style in the Japspeed RB25 S15.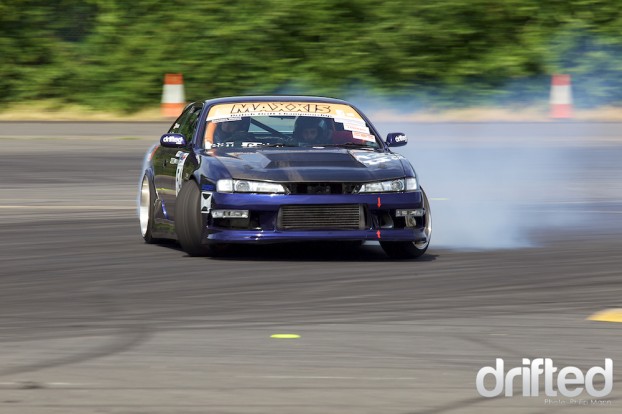 This is the man that made it possible for me to be at Donington for the event. Here is Andy Redmond out in morning practice with a passenger on board. But it's not Andy's drifting skills or his car that caught my eye, it was the passenger who looks like they are scratching their head. I can imagine them thinking that they are not meant to be traveling sideways in a car. It's one of those photos that when you are at the track you check the camera screen and think that it looks OK, but its not until you get home on the computer that you notice what you have got.
And I'll finish off with yet another picture of Bon in the DW 1JZ R32. He was by far the person with the most mental entries into the first corner. I have got quite a few pictures of other drivers at this point of the track, but none of them are even close to the angle that this man is getting.
I'm now going to delve into the rest of my photo collection to see what I can fish out for the other events i have covered for Drifted this year.