The Competitive Drifter – Mind And Machine
We shine the spotlight on grassroots drifter Richie Gilbey's awesome Nissan S13 Sil80 in our full feature.
When we talk about the drifting scene it is often asked of competitors What`s in it for me? The competitive side of drifting seems like a one-sided affair to most.
Little to no financial reward and certainly no stardom. To be known in this game takes a lot of hard work and most definitely a lot of money.
Ever wondered exactly what a Sil80 is? Check out the complete SilEighty guide over at the 180sx Club.
This can take the form of sponsorship but a lot of the grassroot drivers out the there competing are probably operating at a loss.
With this being said what makes them do it, adrenaline, thrill, excitement, probably all of the above. Maybe the promise of future sponsors, maybe some form of personal voyage, but most definitely the commitment to pushing the boundaries of the sport.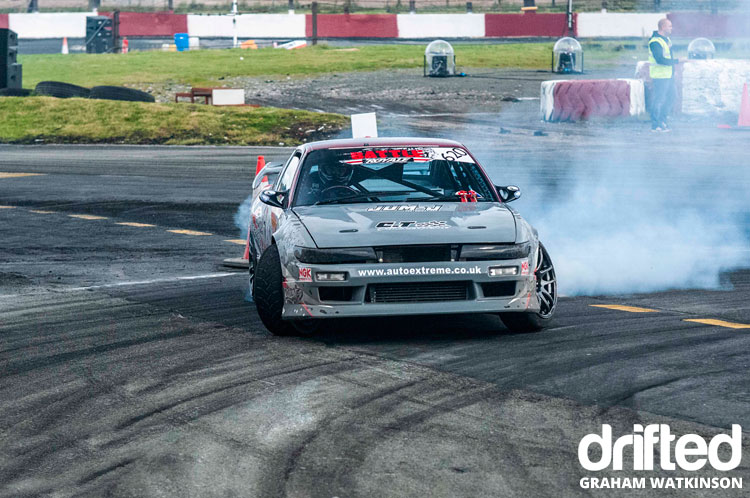 The more famous drifters out there at the moment are still not mainstream to all but to the committed followers are like the pinnacle of where grassroots drivers want to be.
To look at the grassroot element deeper we need to engage a grassroot driver.
So, stand up Richie Gilbey, the Essex native who at an early age caught the bug. Living next to the now defunct Arena Essex, UK, Richie was exposed to the early days of drifting due to his brother who through his friends was a King of the Ring fanatic.
To all that do not know, King of the Ring (KOTR) was regular event organised at the Arena Essex track. A standard oval tarmac track with a crossover. Various layouts over the years proved its success until the tracks closure in 2018.
Back to Richie and in his teenage years getting all important itch with a ride in a Volvo 340 round the wide corners of the track. In his own words "I was instantly hooked and knew I wanted to do it when I was older".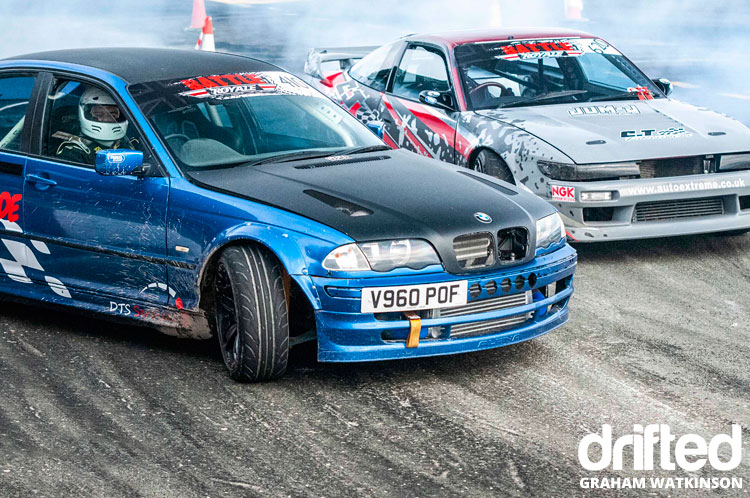 Fast forward to 2019 and Driftcup. Richie a seasoned competitor now in his 200sx. We ask him what drives him to compete and how its all changed this year.
What was the car like at the beginning of the season?
The car was in good form at the start of season without a doubt, through the winter, we had decided we was going to push for a HEL performance Driftcup ticket and wanted to make sure the car was ready whatever the outcome.
The car was stripped to a shell, and a list was made for all the work that needed to be completed to get it in a good place for the start of season.
The car was stripped inside, and sent to CT Fabrications in lancing, for Chris and Mac to build a tubular rear, custom fuel cell and removable firewall as the back of the car was tired and did need addressing, Chris and Mac transformed the car and the work was phenomenal.
The car then went directly to JDM-J customisations and was painted inside and out to make the car presentable, and after that had various mechanical work taken out at Unitwerks including full subframe changes before a full Violent-D livery to finish the car off.
By the time the season arrived, the car was outstanding and the response we got at round 1 from the public and other competitors really spoke for itself.
What changes did you make throughout the year to make the car more competitive?
For grip we changed some geometry settings, the main changes were after round 3 at Teesside when the engine failed, which was in many ways heart breaking.
At this point, we decided to make some big changes to the car that really have paid off. Of course, along with buying another engine, there was a big conversation about lag.
Originally, the 1JZ-GTE that we had in the car had a HX40 turbo, which is a big lag turbo for what we wanted. We spoke to Martin Battye of MB Automotive who was our tuner of choice to map the car and asked for he's opinion, told him what we wanted and believe now that he's advice was perfect.
To bring up the response and still be able to get more power from the engine than we had previously, we collected a Garret GTX3076R GEN 2 from one of our partners Wayne Taylor of AutoExtreme LTD.
The next step was diff and gearbox change, the decision was to build the car to the best spec we could for the future of our career.
For reliability, we decided to upgrade to skyline rear diff and shafts, we purchased a KAZZ Super-Q diff in a skyline housing that Martin had built and it made a phenomenal difference to the way the car drove.
The gearbox of choice was a BMW 6 speed gearbox conversion. Bailey Morris made us a custom prop shaft that was fantastic quality. It has an internal spline drive unit to eliminate the reliability issues of the BMW rubber prop doughnuts.
Dan & Dilan from Unitwerks toiled for countless hours during the week to get the car ready within the time scale and to have it strapped onto a dyno with Martin eight days later was an amazing turn around, hats off to these men they really did make the difference in the time of need.
Martin spent the day testing & tuning the car and it definitely made all the difference, the car drove amazing afterwards and was definitely far more competitive from the changes we had made.
Current spec of the car
Nissan (R)S13 200SX
ENGINE
1JZ-GTE, Speedtek manifold, Turbo smart Twin 45 hypergates, Garrett GTX3076R GEN2 turbo, 3" V-Band exhaust, 5L swirl pot, Walbro 270 lift pump, Bosch .044 main pump, SARD 800CC injectors, Japspeed intercooler, ECUmaster EMU classic Standalone ECU, GS6 BMW gearbox conversion, Organic M5 clutch, RTD short shifter.
SUSPENSION
Driftworks CS2 coilovers, Japspeed 'hard' inner & outer tie rods, Cut, extended & modified front arms, Hard race adjustable rear arms, Driftworks GEOmaster3 hubs front & rear, Nissan Skyline r33 brakes with EBC disks and pads, Skyline 4.08 diff, rebuilt with a KAZZ SUPER-Q 2-way diff, skyline shafts. Japan racing wheels 18×9.5 ET 22 front 18×10.5 ET 25 rear
INSIDE
Flocked dashboard, custom centre switch panel, ACER tablet running EMU dash, Recaro Pole Position seat, TRS 3" Harness, Weld in 6-point roll cage with door bars, Lifeline plumber in fire extinguisher with remote & external shut off, Handheld 1kg fire extinguisher, Custom removeable firewall & tubular rear by CT fabrications.
Who are your current sponsors?
CT Fabrications – based in lancing. A Fabrication shop that can make full roll cages, tubular front & rears, fuel cells, custom made to spec radiators etc – you name it they can make it.
Unitwerks – Dan & Dilan are based in Ongar. An engineering team capable of doing full engine conversions, stainless TIG exhaust systems, full race looms etc.
NGK/NTK Spark plugs UK – the suppliers of the best spark plugs on the planet – we run iridium NGK plugs in our car and they're faultless.
JDM-J Customisation – Warwick is based in Benfleet. Whether it be a full outside paint with a bit of flake to spice it up or a full restoration job, everything is possible.
Auto Extreme – Wayne at auto extreme is based in Kent. Wayne can supply any of your Japanese performance parts, from full forged engine kits for SR/RB/JZ to 7twenty wheels, all in stock at the warehouse.
What are you planning for the winter?
We will be making various changes to the car this winter; biggest changes will be in December. The car will be going back to CT Fabrications for a custom tunnel for easier gearbox access, new 'nascar' style door bars, sill bars, and a few other roll cage changes.
Then back to JDM-J customisations for paint inside, carbon fibre roof & Lexan windows. The rest of the changes and modifications will be decided after we take the car out for testing in early 2020.
What are your aims for 2020?
2019 was a good test year for us, first full competitive season, first season in this car too. We had various problems throughout the year and Of course lost vital championship points after the engine failure at Teesside, but we still managed to finish 9th which we think is a respectable finish for our first season of Driftcup & we was happy with the result.
So, for 2020 we're hoping for a podium finish, and hopefully a top 5 finish in the championship overall which is more than achievable. We would like to say a massive Thankyou to all our sponsors for their continued support, our success wouldn't be achievable without their efforts. CT Fabrications, Unitwerks, NGK/NTK Spark plugs UK, JDM-J Customisations, & Auto Extreme.
A massive thank you to all our close friends & family, helping with the car and coming to events to show support, it really does not go a miss.
A special thank you to Mark Lappage for his efforts this year, he does lots of work to help behind the scenes, helping us develop the car, transporting the car to events amongst many other things, we really could not have done this season without marks help, so a special thank you to Mark for his life changing efforts.
So, I hope this is a little insight in the mind of the grassroot competitors. I thought it might give others what drives the drifters to compete, and hopefully enthuse others to give it a go.