EVENT: Pre-Season Testing: Slide Motorsport & Team Lassa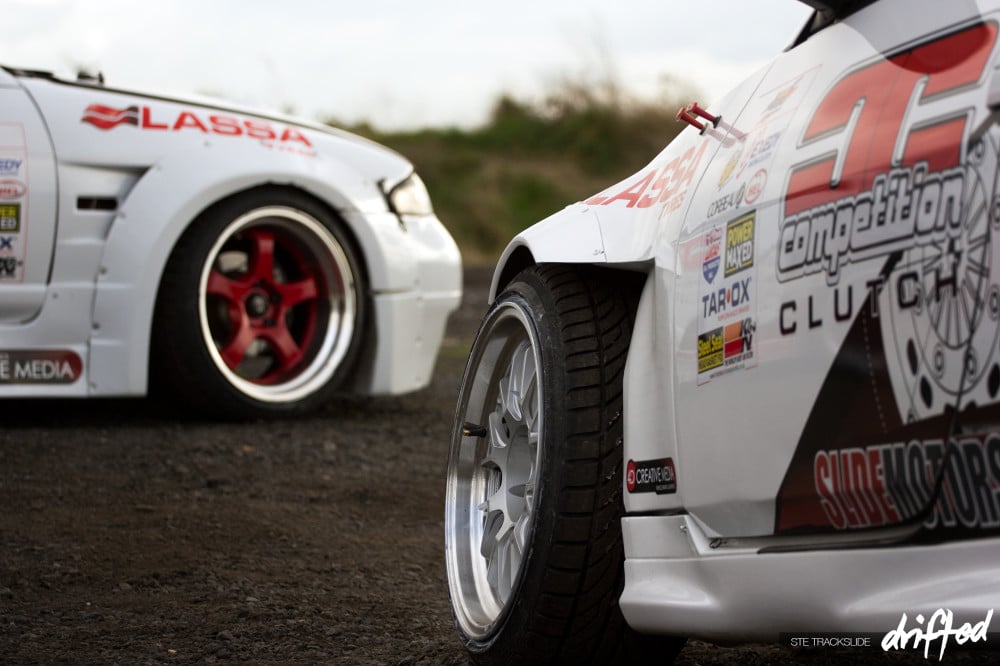 In the last couple weeks leading up to the start of The British Drift Championship season, it's not unusual for drivers and teams to get their freshly built machines to a track for some testing, and this week was no different. We were fortunate enough to be invited to such a test day for Slide Motorsport and Team Lassa at Teesside Autodrome, getting a sneak preview at some fairly impressive cars. This is a good day.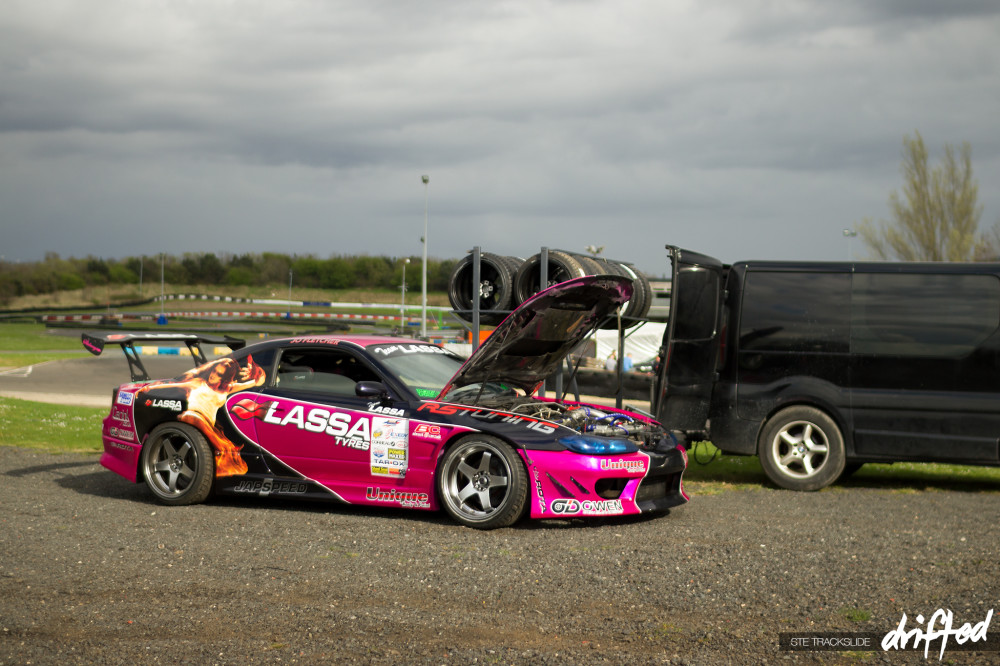 When I arrived the guys were just getting ready for the afternoon's antics which gave me a chance to have a look at some of the cars. Jo Fletcher's S15 is looking very smart indeed; as a photojournalist it's always wise to try and keep a fair and unbiased opinion, however anyone who knows me is fully aware that I am an avid S15 fan. I love these things.
Matt Stevenson of Slide Motorsport was in attendance in his freshly finished V8 powered Nissan 350z. Wow, this thing is wide. I hadn't seen Matt's car since it was finished and remembered thinking he would have a tough act to follow after seeing teammate Adam Simmons' wide-arched R33 Skyline, but after seeing both the R33 and the 350z together, I can say it's like a match made in heaven.
Adams Simmons' car looked just as good as the last time I saw it (we did a photoshoot last month which will be a future feature on drifted.com). Lassa Tyres logos now sit above the front wheel arches as Slide Motorsport have just picked up Lassa Tyres sponsorship, the main reason for this test dayso they can get a feel for the new rubber before the drift season starts.
Simon Perry's R33, for as long as I have attended drift events, has always had large overfenders and a stereotypical 'drift style' bodykit fitted; this year is no different. With the new exhaust system plumbed through the huge rear overfenders on both sides, it sounds great and shows us that the 'Pink Lady' is a whole new animal. Lets hope for lots of flame action from those pipes.
From what I've seen so far, as usual, the quality of builds has raised the bar yet again in the BDC. Last season a lot of very well presented cars were competing; it felt as though it was the aesthetic peak of the type of cars we would be seeing for at least a couple of seasons. This isn't the case; it's great to see so many teams going all out on their cars this year.
Everyone fitted their new tyres and hit the track. With this being a secret test day there would be no spectators or pressure on the drivers which is great for putting the cars though their paces and very much needed for the Slide Motorsport lads, as they were effectively on the new tyres that they would be running all season.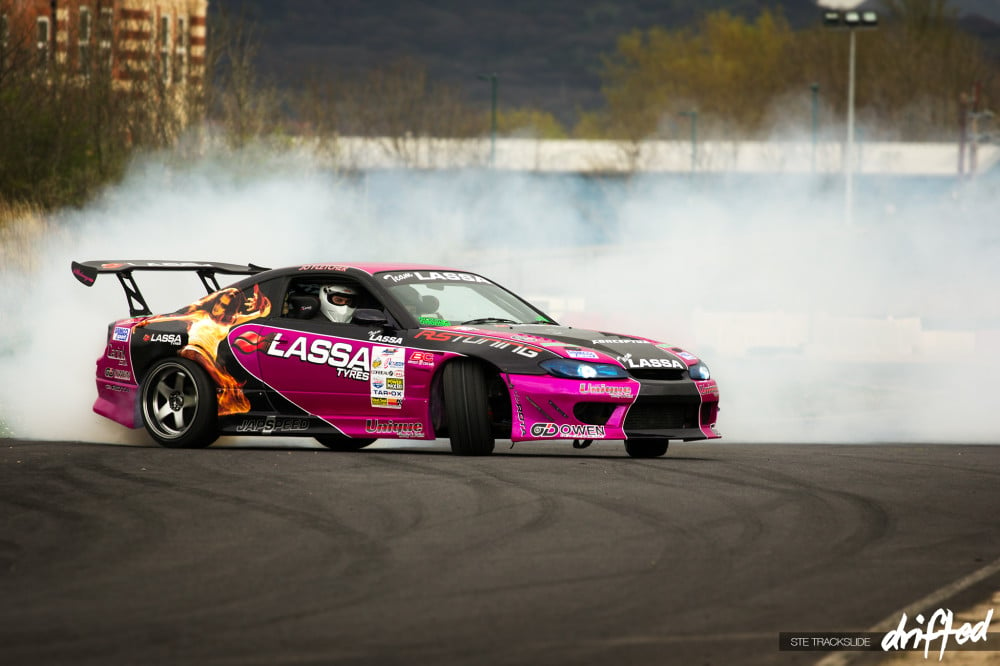 Straight out of the gates Jo was putting in some impressive laps, carrying some serious speed and angle though the bends.
I had not seen Adam's car in action since before the remodel last year; the new setup paired with the new tyres seems to be working in his favour as he was putting some of the best runs I've seen him do to date.
Simon Perry's Skyline is just as rapid as it has always been; not surprising as he is usually one of the front runners in the British Drift Championships Super Pro class. Very smooth and consistent driving from Simon all afternoon.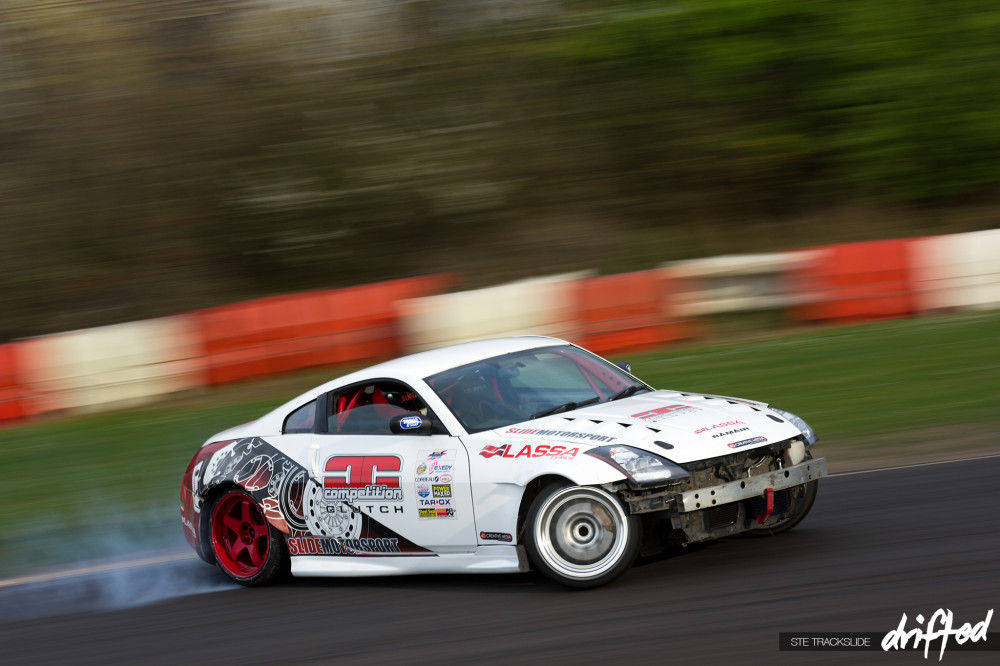 Matt's car was experiencing a few minor rear suspension issues at first, after a slight adjustment he was putting in some great runs; a very capable car and driver.
Richard 'Juddster' McCourt's R33 Skyline is looking very nice this year. Judd has always run stock fenders, giving it an understated appearance when compared to the extremely wide cars of Simon Perry and Jo Fetcher. This year he has treated the R33 to a huge makeover with new overfenders, bodykit and a nice set of wheels. The car itself has always been pretty quick so the engine and drivetrain remains mostly untouched.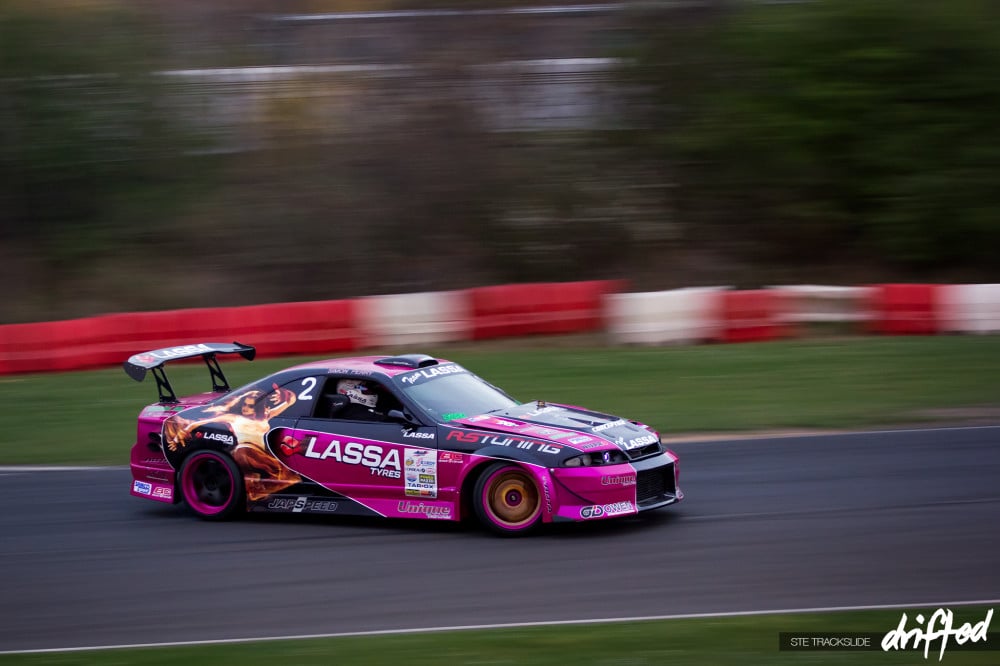 The new BDC door cards are a big improvement; with so many teams opting for full car liveries over plain paint jobs it's a good way for the BDC sponsor logos not to clash with team liveries.
Adam's R33 and Matt's 350z are extremely evenly matched. They both have the same BMW 4.0 V8 engine but are quite different in size and weight; it was surprising to see how well each car kept up with the other. It'll be interesting to see whether theyl end up going head to head in the BDC, as they are in the same class,; it would make for a very interesting battle.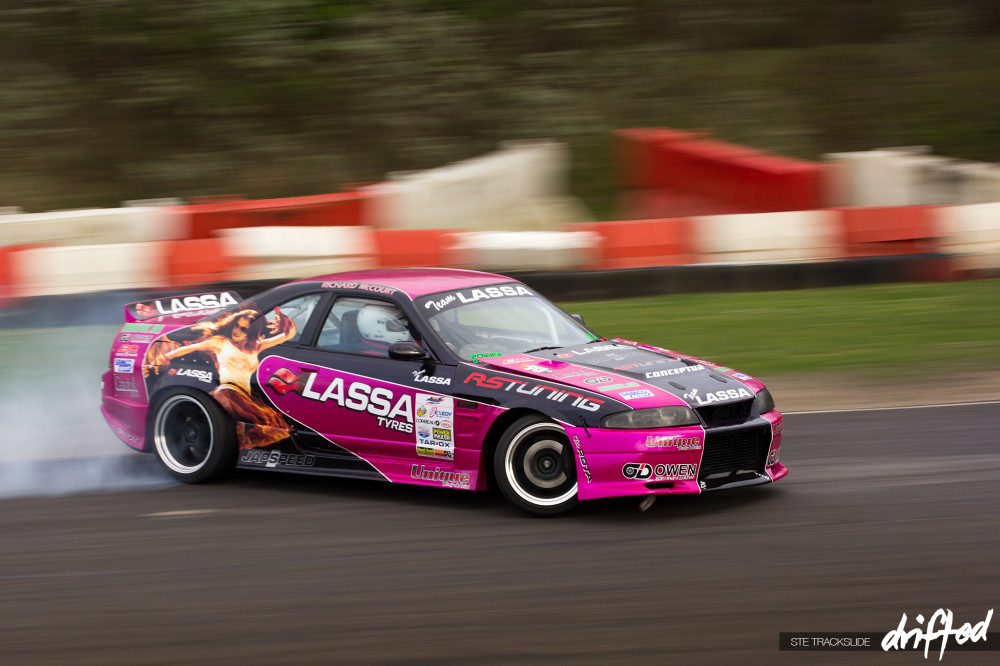 Judd's runs were great to watch; lots of speed and commitment, he's on top form for this year.
The more I watched Matt's 350z, the more I was stunned by its obscene width. A Z33 isn't exactly a skinny car when stock, never mind with 2 sets of overfenders bolted to each corner. The overfenders are custom modified to give the car a look that sets it apart from the rest; a job it pulls off very well.
Jo has tinted the headlights on the S15 this year; a look not commonly seen in the UK, but one that suits his car very well.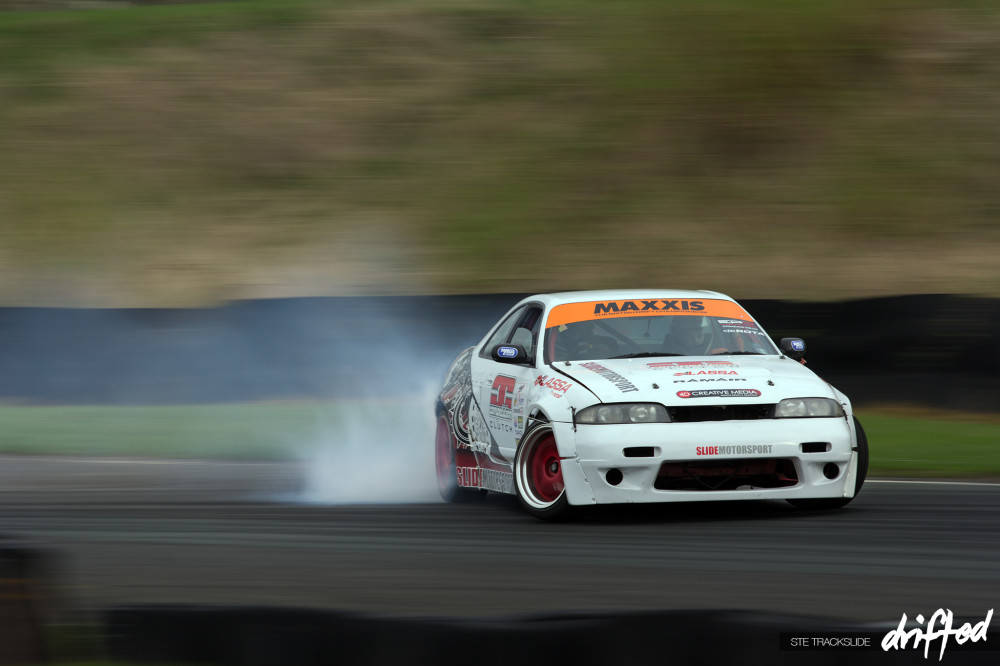 I spoke to Adam after his last couple of laps and even he said he felt a noticeable difference on the new Lassa Tyres; he had a lot more confidence in his new setup; it certainly looked quick from the sidelines.
As the sun started to dip below the horizon the drivers gathered for a discussion on how the day went and how the cars performed. Not a single negative comment was mentioned; everyone seems ready for the upcoming drift season.
We parked the cars up for a quick picture before calling it a night. All in all it was a great day for both the drivers and the cars. Expect great things from these guys this year.
Roll on BDC Round 1!