DRIVER: Dan Chapman – Keeping Drifting Fun!
Fresh from victory at JDM Allstars Round 2, Drifted caught up with Driftworks and Touge Automotive driver Dan Chapman for a few words. Make the jump!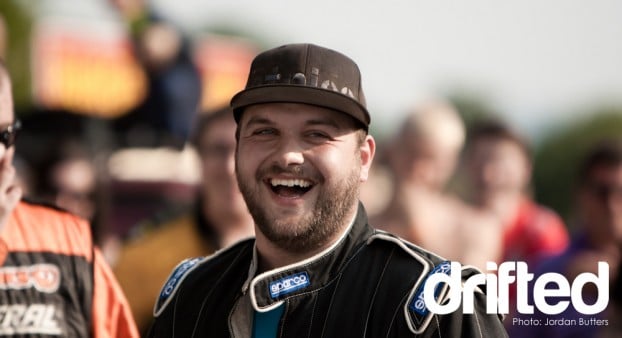 Hey Dan, congratulations on the victory at JDM Allstars Round 2. You've become quite the established figure in the European drift scene over the last few years, what got you into drifting?
I had no idea about drifting and to be honest still don't! What got me hooked was my best mate Jon he had a cool Nissan 200Sx and was telling me about sliding around in it on the streets, nothing serious just for shits and giggles!! I wanted in on the action and knowing all I needed was a RWD ride I went out and bought a JDM AE86 Corolla Levin in Panda colours that was hella clean and posh (I had loved the AE86 since the mid-80's when they dominated touring cars).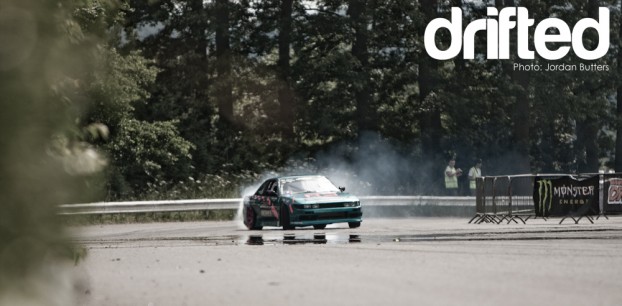 So I slapped a steering wheel and seat in it and cracked on. For a while Jon and I just dicked about on the streets until we heard of some local track skid days and we knew we had to get on that shit!  It was weird as we stumbled across an awesome community of local drifters and I was super happy as I always like meeting new people with same interests as me.
From that day I had new chums and a new passion in the form of drifting, which is still as strong 4yrs on!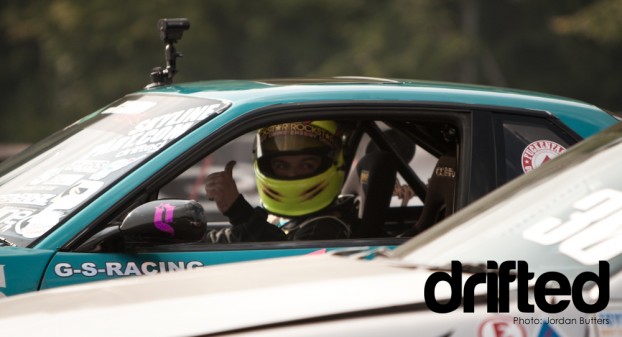 Drifting in the UK has obviously changed a lot since your Corolla days, what are your views on the progress made over the past few years?
Since I gave up skidding the Corolla and turned to the 'dark side' in the form of a dirty Datsun things have moved on a lot both in terms of the general level of driving to the cars being built in the UK scene. Apart from the amount of people getting involved in the UK scene and level of driving the biggest change for me has been in the way the few championships in UK have been pushing the sport and drivers and bringing in the crowds.
New ways of doing things, new venues, new themes and bringing in other sports and showcasing them at the drift events, there is something for everyone at events now! I love the community and as a whole most people want to push the levels and awareness of the UK scene.
One of the coolest aspects for me in terms of behind the scenes are the new cars being built! Cars from mad to rad!! People are really stepping the game up with design and function, cars being made to do crazy things and cars being built to perfection. Whereas mine is a trusty old wagon built with love!! But all in all the UK scene is full of win from every angle yo.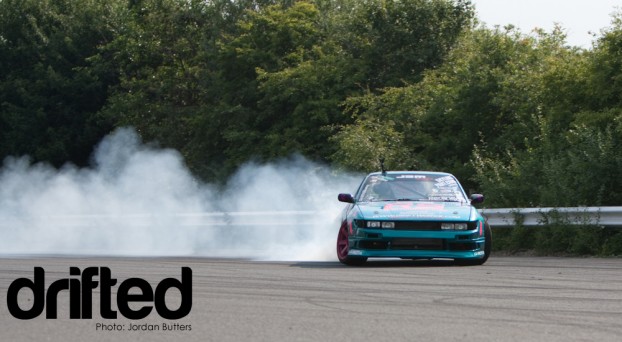 Speaking of the 'trusty old wagon', you've been driving your current S13 for the past few years in competition now, still rocking the SR20 engine, looking awesome in the new Touge Automotive 'POW' colourway and achieving good results along the way. How do you feel when you see people who are just starting out drifting building highly tuned and possibly over-engineered drift cars? Is it all necessary?
My perception of all the new guys and old guys doing complex engine swaps is a mixed one! On one hand there are many great engines other than an SR20 that when done right are awesome, take the Driftworks S15 for instance, but then on the other hand you have people seeing what others are doing and doing half a job, people very rarely push the limits of their cars to warrant doing something major like some of the engine swaps we are seeing!
Some are cool, some are just for fun and all are both harmless and cool in there own ways, but for me I like the tried and tested approach, a 450bhp well built SR20, plenty of grip, don't loose to much weight, a good setup and a smile when driving!! Everything serves a purpose in one way or another, but my aim is to keep it fun, reliable and cost effective and no one has really pushed a well setup SR S-body to its limit so that's what I'm aiming for!
Well said! You've just come off a victory at JDM Allstars Round 2 at Donington Park. The track was unlike anything we've seen before in the UK, how did you find it as a driver?
For me the track suited me and my car perfectly! Fast flowing and all about taking the right line and using the width of the track to my advantage. The track was so much fun, full speed, full throttle through the whole run, only lifting to avoid a wall. Its tracks like these that will help showcase UK drifting to the world and get more drivers from other countries wanting to come have fun with us.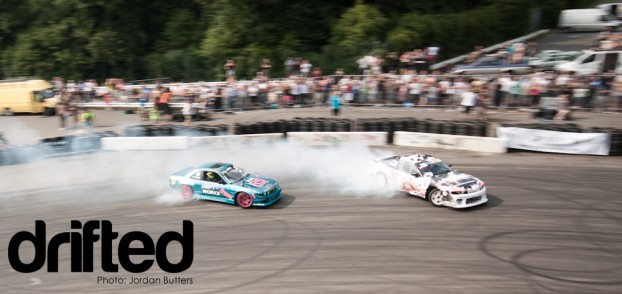 The UK seems to hold a lot of interest for international drivers at the moment. Luke Fink, who you had possibly the most memorable battle of 2010 so far with at Manchester, has traveled halfway around the globe to drive in the UK. Is there anywhere in the world you'd like to drive, or any drivers you'd like to square up to?
I think with the world's current climate, there is a lot of talent spread far and wide, and people like Luke and many other good drivers have got nothing in their respective countries to push for! I think with the varied level in the UK, there is something for everyone, even top international drivers can come and skid with us, and still be pushed and have to use all their skill.
For me the battle with Luke at Manchester was all about fun. Fun for me and fun for the crowd and just to push what you've got at any given moment. I think a lot of European and international drivers want in on the action, and all I can say is the more the better!
As far as places to go and people to see, my sights are set firmly on European driving. I think too many people have hopes and dreams of driving in Japan or America, both are fully awesome places with amazing drivers, cars and tracks, but home is where the heart is, and I think that Europe has so much to offer me and others that I will stick around and help push the sport as much as possible.
But I sure as hell would not turn down a drive in international waters though, just to taste the culture and have some fun!!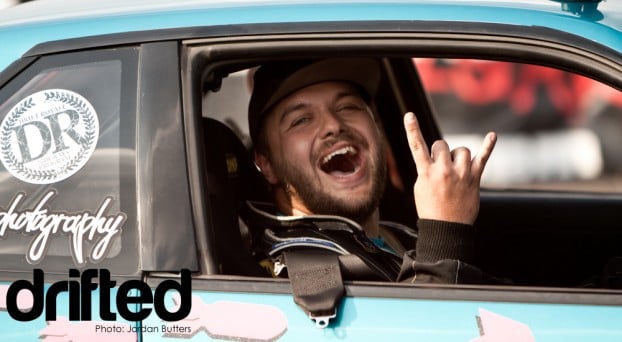 Cool. So what does the second half of 2010 and next season hold for Dan Chapman? We spoke at Japfest about the possibility of a new chassis for next year, is this something you are planning to pursue?
Well I plan on keeping my shit fun, keep pushing myself and the battles I do. I would like to win the JDM Series as I've come 2nd for two years running now, but its not everything to me.  Chillin' with my friends and watching other people do rad shit is nearly as much fun as doing it myself haha, so I will keep trying, keep promoting my sponsors and doing all I can for drifting!
A new car is something that's been on my mind, it would be a newer shell but would still be SR20 powered and rock Driftworks Nissan suspension as its the best in the game! But I will concentrate on the now and near future and let what comes along happen. It will be fun, I cant stress that enough yo!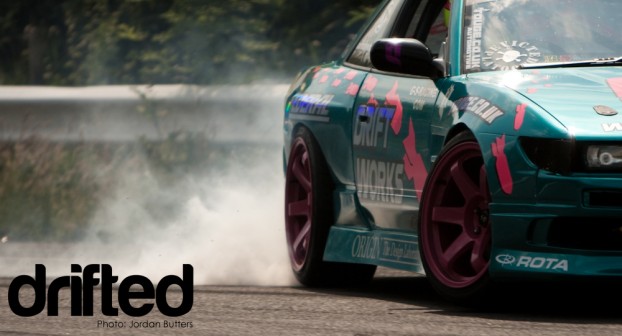 Thanks for taking the time to talk with Drifted Dan, anything you would like to add?
For me my number one shout out is for my dad, I'm lucky enough to have his support at every event and would not be without it, even as the grown man I am I can't do without his support! But for all things drift related my sponsors are my life-lines, so big thanks to Driftworks, Federal tyres, Rota wheels, RS Bodyworks, GS Racing and Touge Automotive and all the people that help in their own little way. Peace!