EVENT: 2014 Maxxis British Drift Championship Round Two: Knockhill
Knockhill Race Circuit is usually the last date of the year in the Maxxis Tyres British Drift Championship calendar, our visit to the circuit typically taking place in October. This year was a little different with Knockhill booked for round two instead. This got me a little excited as a drift event in Scotland later in the year is normally cold, wet and windy. My delusional hopes of a warm, summer event in Scotland however were soon shattered when the weather greeted us with its usual hostility. The only conclusion I came home with is summer in Scotland means the rain is a little bit warmer, that's about it. It would take more than poor weather to dampen spirits nonetheless.
Like most other BDC events I travel with a mate of mine in his 350GT, not the quietest or most economical car in the world but still a very nice motor. After a topping up on food, coffee and energy drinks we hit the road.
Our journey was pretty much uneventful though at our first stop we ran into this and naturally I had to take a few pictures, what kind of petrolhead would I be if I didn't? It's not everyday you see one of these on UK roads.
Upon arriving at Knockhill we were shocked to see the sun was blazing with not a cloud in sight. This contradicted the many, many weather apps I have installed on my phone. Unsurprisingly this would not last.
During Saturday morning the track was running a Ferrari experience day for the public. I was like a kid in a candy shop, the hill was alive with the sound of V6s, V8s and V12s. At least a two million pounds worth of supercars were in attendance.
Some of these Italian monsters were clearly maxing out on parts of the track, in excess of 180mph this was a new experience for me, I've been to many track days and events but I've never been stood so close to cars moving as fast as these, it was almost a struggle to keep up with my camera.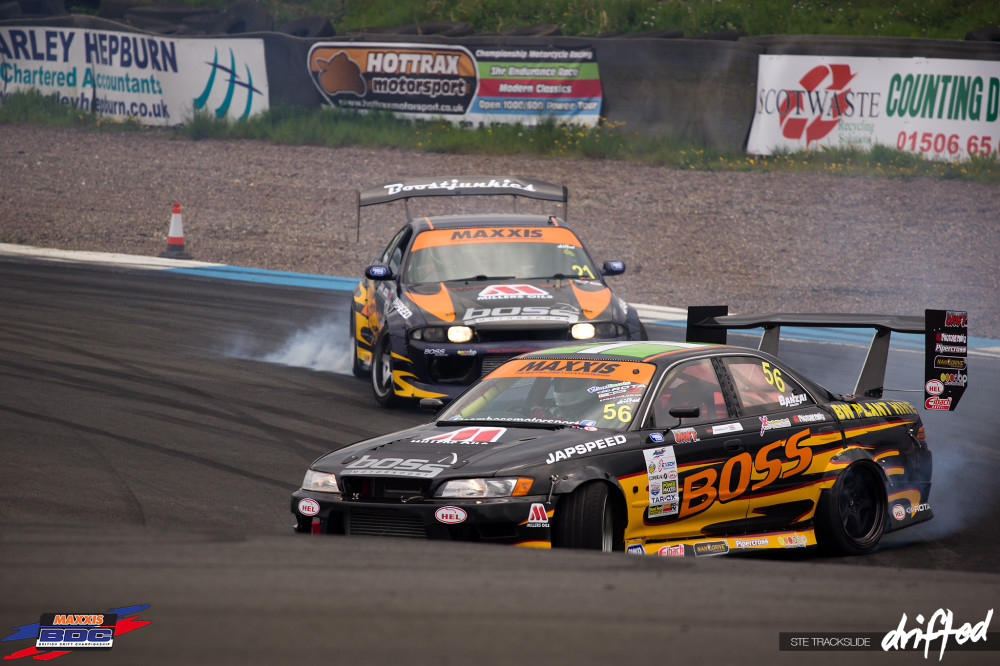 After lunchtime it was business as usual. The Semi-Pro drivers were on the second part of the track just like previous events. The Boss Motorsport cars have to be among my favorite looking cars in the 2014 BDC lineup.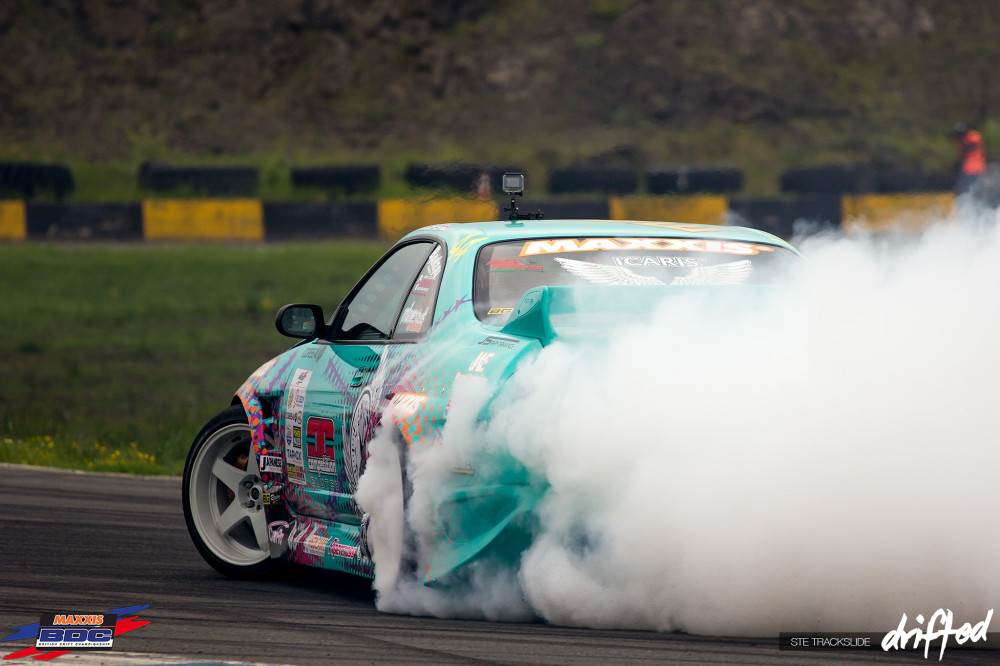 One of the smokiest cars on the bottom track had to be Ryan 'Coops' Coopers Driftlife R33 Skyline. After Ryan had finished a run you quite literally could not see for the next 1 or 2 runs due to smoke.
I really like Matt Carters Falken R32 Skyline, even without the huge wing he ran last year it just looks and sounds awesome. After a few ' new car' teething problems last year it certainly seemed on form here as he was driving very well indeed.
Anyone who has never been to Knockhill can never fully understand the commitment the hill takes. When you're stood at the top you genuinely can't see where the track goes. You have to just point the car at where you think the apex will be and hope for the best, it's great to watch.
After Semi-pro practice on the hill I headed down to the bottom track for Semi-pro qualifying. There were some rather big and angry clouds forming in the sky and I knew the Semi-pro track had a big grandstand I could seek shelter from if the weather took a turn for the worst…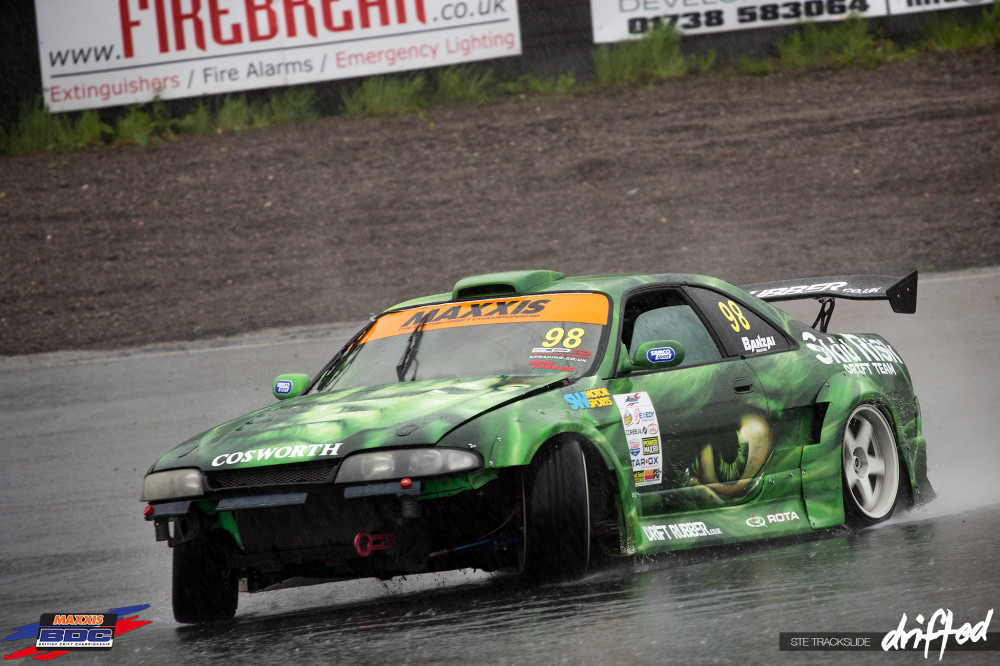 And it did. With the third corner of this track being on a gradient a lot of the drivers seemed to struggle in the rain, which was only light rain at this point.
Around half an hour or so into qualifying  it was really coming down, we were in the middle of what I would classify as a mild monsoon, or as the Scottish call it, 'summer'. With six inch deep puddles on parts of the track it was proving very difficult to put in a decent run. At this point I decided to call it a day and head to the hotel for a much needed towel and beer.
The next day was much drier, on the morning at least. With the car parked on the Skyline Owners stand we headed out.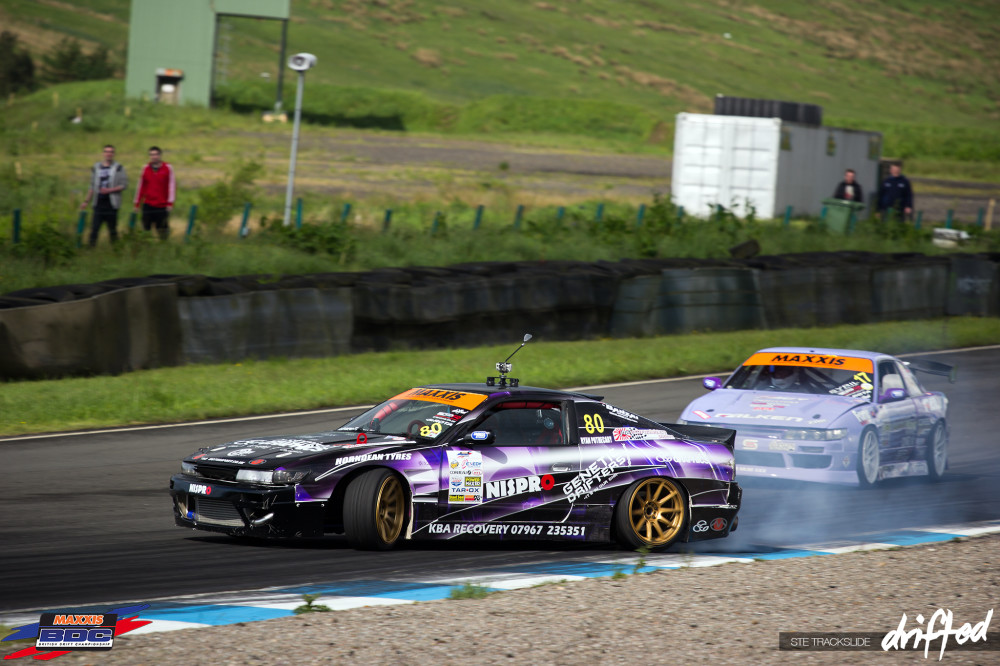 Early morning practice. I'm a big fan of the livery on Ryan Pothecarys Sil80, as well as the rest of the teams cars, Most BDC cars have upped their livery game each season for the last few years. If that continues I can't wait to see what next year brings.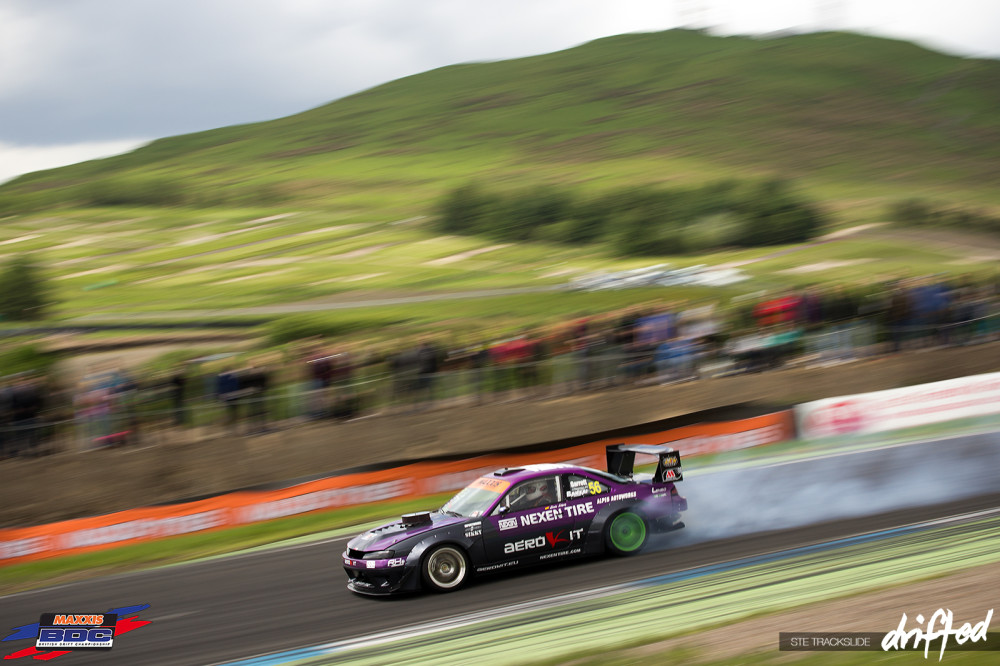 It's not just liveries that are improving, the overall standard of car keeps getting better and better, for the most part anyway. Lluis Lopez' Aerokit'd S14a is a serious looking piece of kit. With a Chevy LS2 V8 up front and a huge rear wing it certainly demands attention .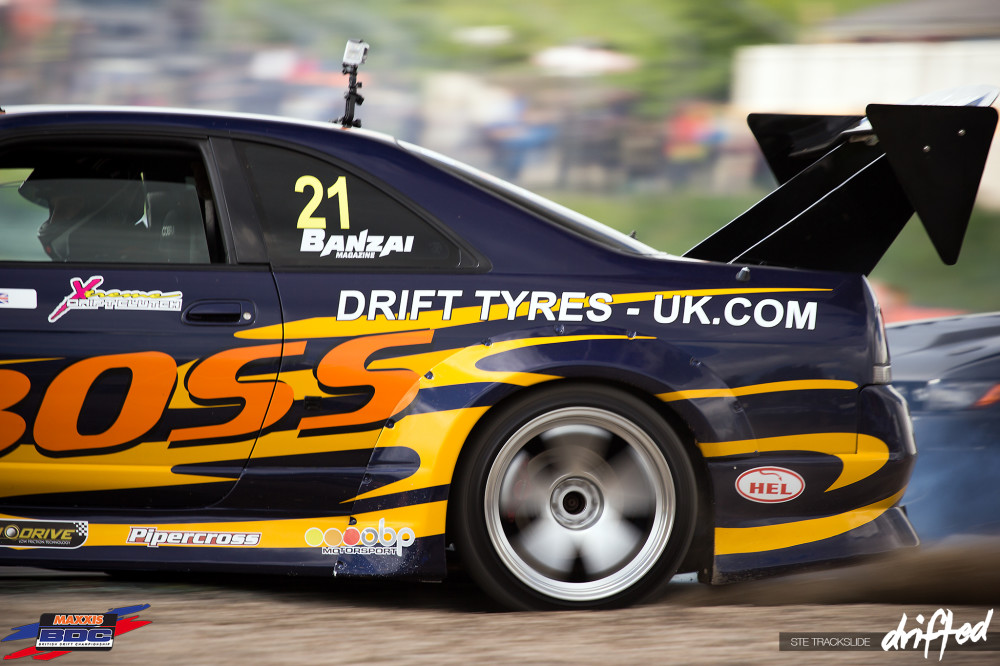 Speaking of big wings, at least it the rain came again we'd have somewhere to shelter, right?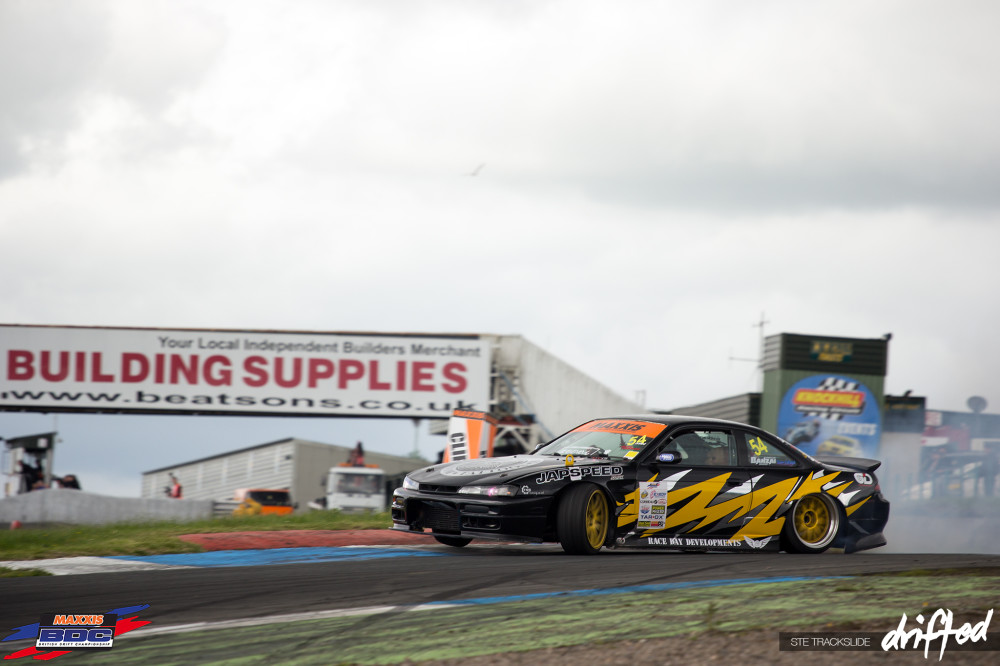 The 'lowest car in the British Drift Championship award' has to go to Alex Law and his S14a. The best way for me to describe what watching this car heading down the hill was like is - picture a puppy, sliding down a grassy bank, on its belly. Alex has modified the rear wheel arch tubs just to get his car closer to the ground, the tubs are literally touching the inside of the boot lid. Some call this 'form over function', I call it functional form.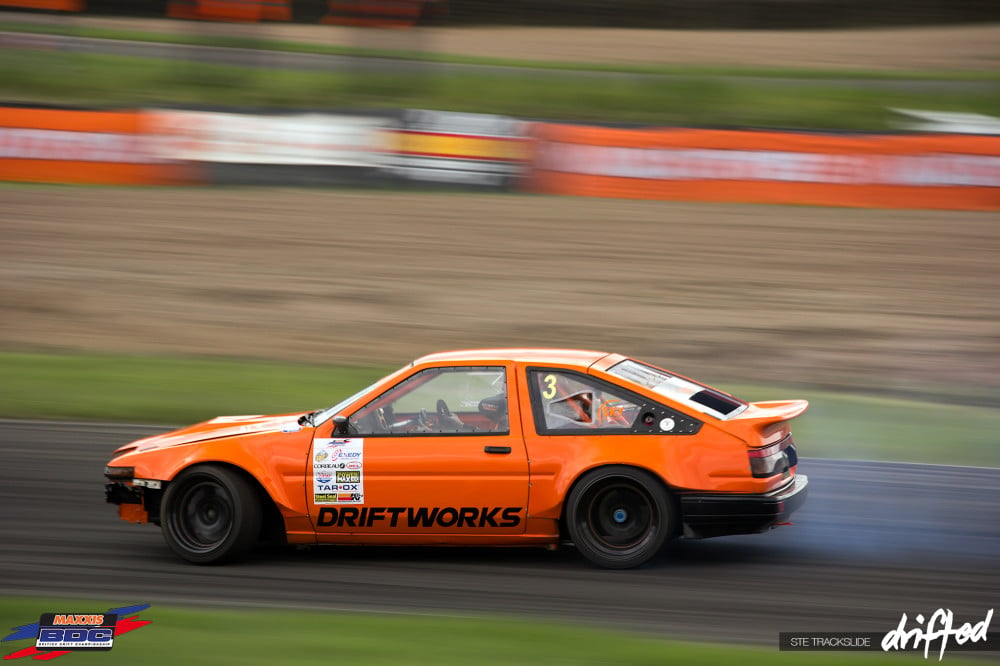 The Driftworks AE86 is another example of people pushing the envelope in car preparation, with an awesome stance, a huge V8 and built in air jacks which lift the full car off the ground it is a great feat of engineering. That is without mentioning the subtly extreme bodykit. Who'd ever think that 18″ wheels on an AE86 would look this natural?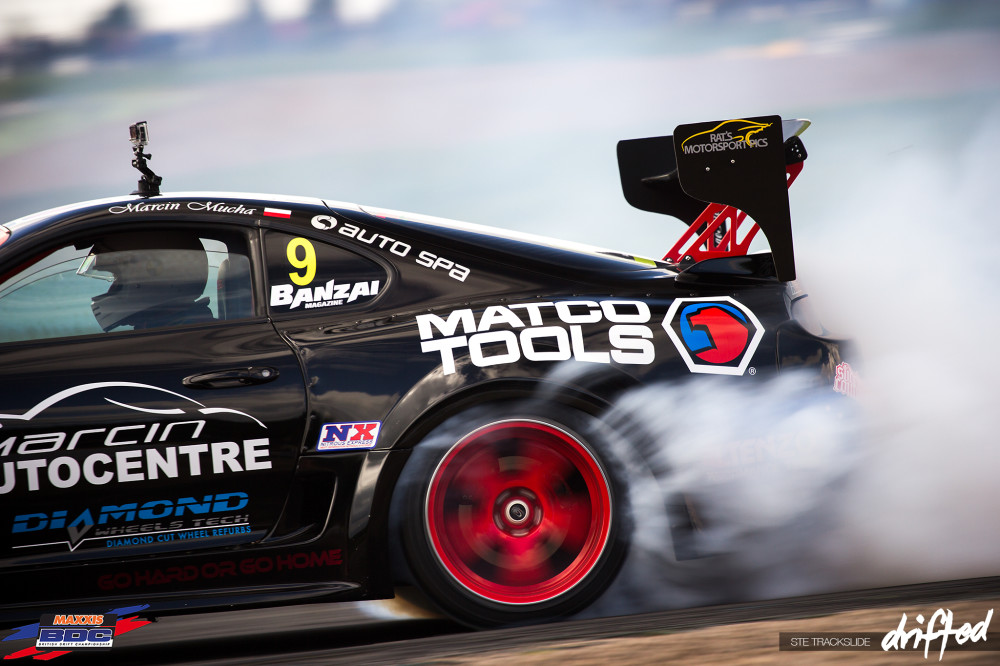 With a dry tracka nd the clouds at bay for the time being, we started to get the smoke show that we came to see.
Wayne Keebers Steelmate Soarer is another awesome machine, with Marc Huxleys crazy fabrication skills, a screaming 1JZ and that insanely bright livery you can't miss it. I love this car.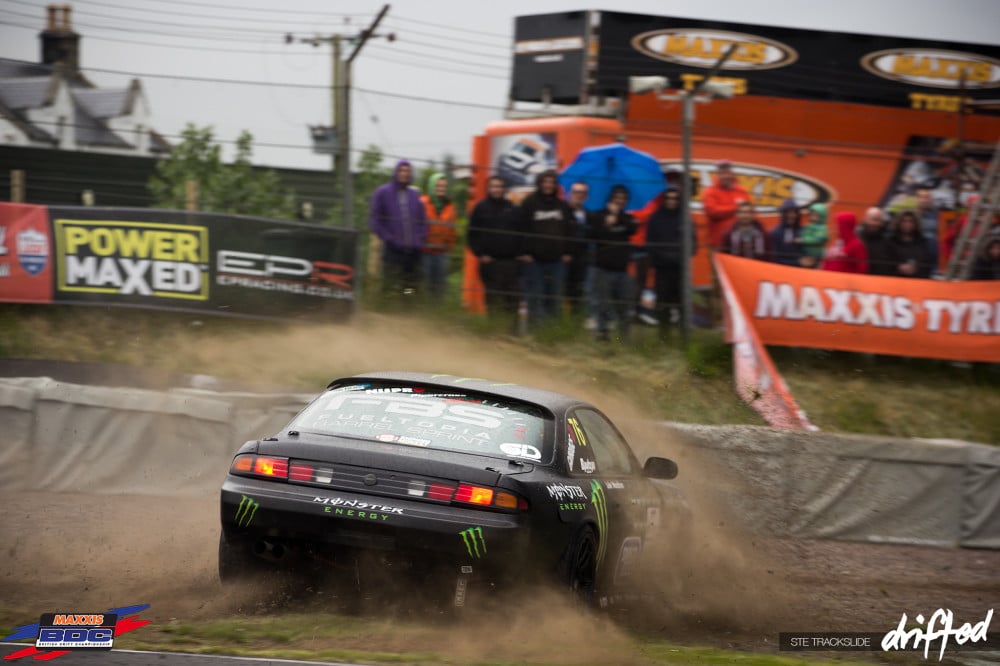 At the end of practice with only a few 'splash downs' into the kitty litter it was time for the battles. There were lots and lots of battles so I'll only touch on the ones that stood out to me.
This is what the fans came to see. Two cars drifting door to door with the chase car mirroring everything the lead car does. Smoke, screaming engines and both cars pushing the limits in the automotive equivalent of a street fight. Steven Donnelly and Joseph Ankers had a good couple of runs with Joseph going through to the Great 8.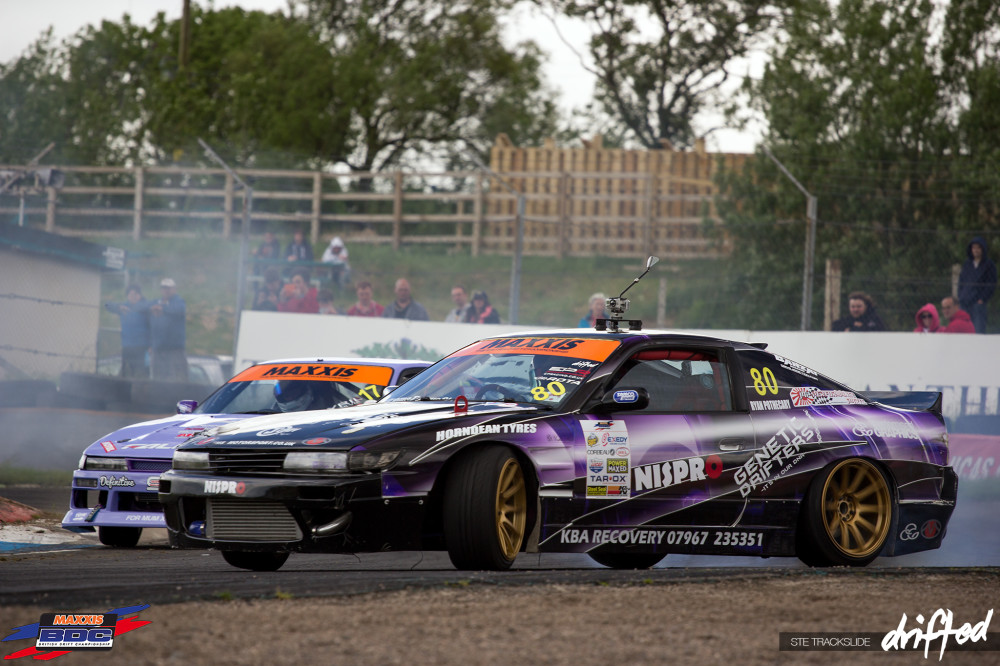 Kirsty 'Kerbs' Widdrington drove very well against Ryan Pothecary, also securing her place in the Great 8.
Tony Walker had a bit of an incident in his PS13. It's never good when you see a car drive past with the majority of its bodykit in the boot. This sport is rather unforgiving if you make the slightest mistake, especially at Knockhill where high speed and blind corners are a factor.
Fraser Stark  knocked out Richard 'Juddster' McCourt making it through to the Great 8 in his BMW e30 tourer.
This was great to watch. Matt Stevenson and Joseph Ankers put on a great show for the Semi-pro final. Jo seemed to struggle to keep up with Matts 350z during his chase run making a few mistakes in the process. Matt was nailing his lines and clipping points, he drove a flawless run from my point of view. Jo spun on his lead run subsequently handing the win to Matt. Even without the spin, unless Matt made a huge mistake I think he had this one in the bag.
I spoke of the quality car builds in the BDC earlier, it used to be mainly Super Pro class that had the extreme, massively modified cars with huge power. It would seem some of that awesomeness has bled over into the Pro class. Two perfect examples of that are Martin Battye's VR38DETT powered S15 and Marcin Muchas' 2JZ powered Toyota Supra. I'm a big fan of both of these cars and their respective drivers put on an inspiring show.
The Pro battles were of a high standard across the board, but just as things were getting going I noticed some huge dark clouds forming on the horizon. At this point I had everything crossed, just hoping that the currently dry weather held out until the end of the day. It was too much to ask for, apparently.
The main thing that stood out to me as far as the Pro class goes, has to be Martin Battye in that gorgeous S15. After winning the Pro class at Lydden Hill at BDC round one, he was a man on a mission and chewing his way through the pack all the way to the final. He went on to take the win against Boss Motorsport's Ollie Elmore. Martin's day wasn't over though; winning his class in the last round meant that he automatically earns the chance to compete in the Super Pro class. This is Martin's first season in the British Drift Championship so I think everyone got a little excited at this point - there are some serious cars and drivers in Super Pro and although Martin had already driven his way to a win today, was he up to the next level? We would soon find out…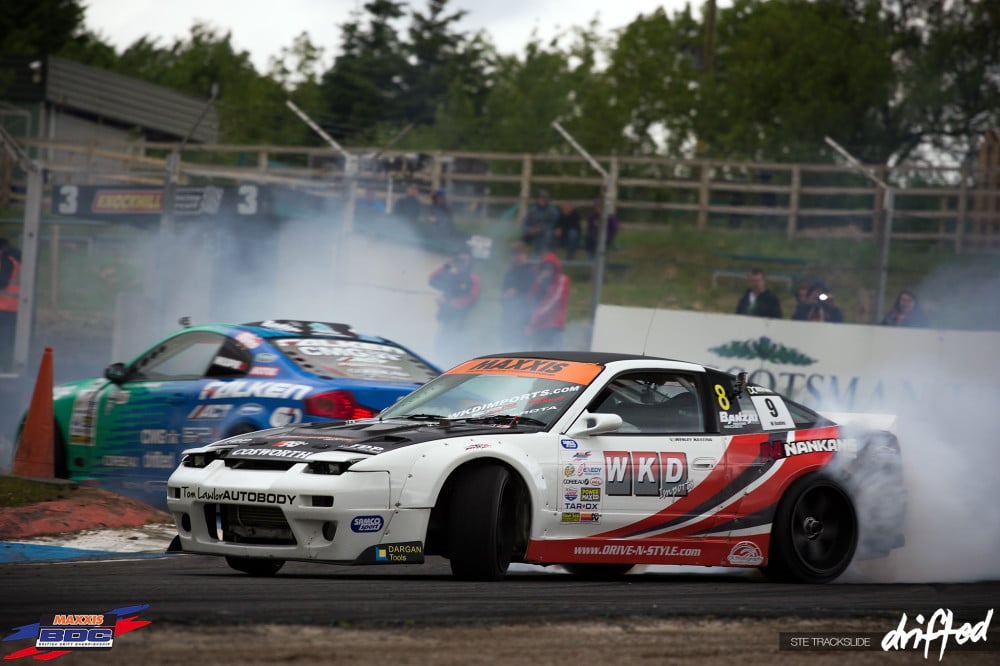 As the Super-pros rolled out, as if almost on cue, the rain started. This meant we weren't going to get the show we were hoping for as grip is quite important for drifting. That being said, it was still pretty good.
Considering how slippery the track had become, there were relatively few spills into the gravel. The odd bumper was claimed, however.
Young driver Jack Shanahan was knocked out by Steve 'Baggsy' Biagioni fairly early on after he put a wheel off track, instantly giving Jack a zero for his lead run. One wheel off track, two wheels off the ground. Baggsy ran the better lead run earning him the win for this battle.
Danny Eyles in the Japspeed Subaru Impreza unfortunately had a little contact with David Waterworths Dodge Viper V10 powered S15, putting the Impreza out on their first run. With the wet track it was inevitable that cars would come together at some point. Naturally Danny expressed some frustration when he got out of the car but after a quick hug with David, the track was cleared and the action recommenced.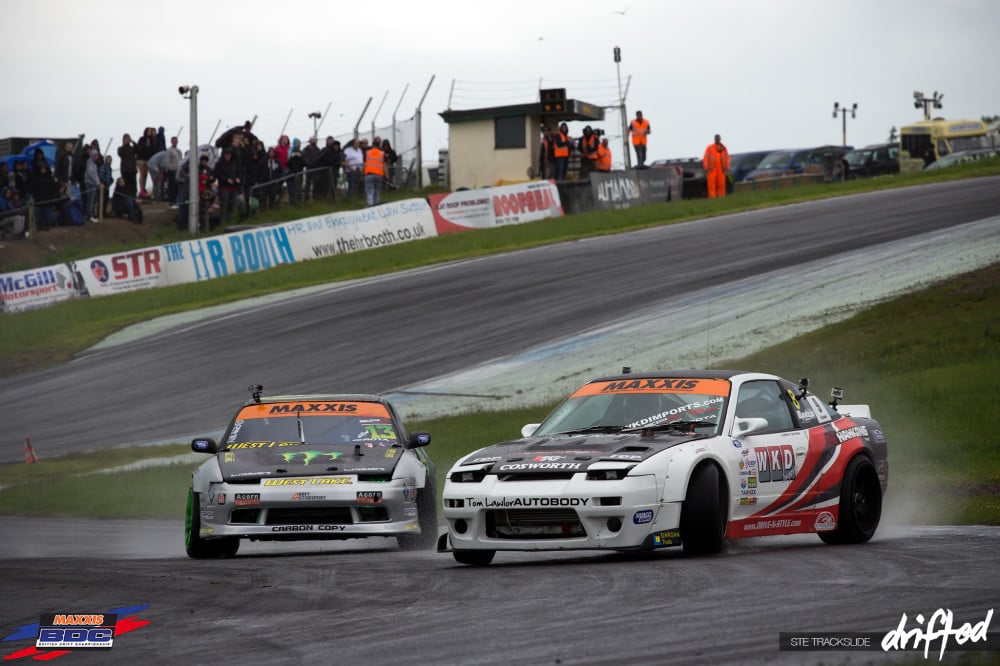 Wesley Keating and Steve Biagioni had a good battle, Wesley seemed to be really struggling in the rain after driving very consistently in the dry for most of the weekend. Baggsy takes the win.
The battle for 3rd place saw some great door to door action with David Waterworth and Team Falken driver Matt Carter. David took the win on his home track.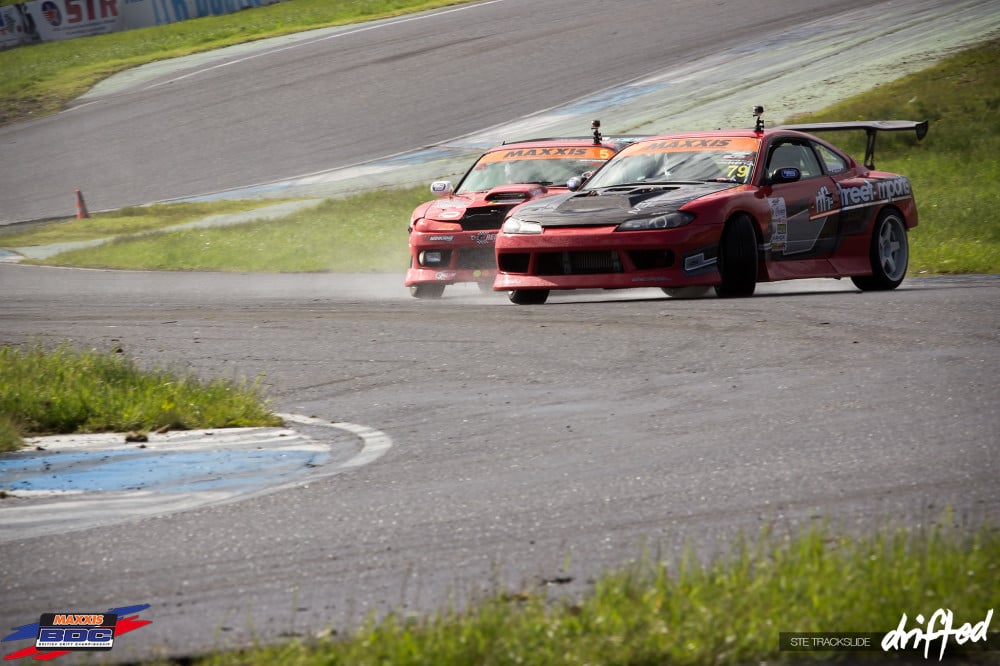 Unsurprisingly Martin Battye was doing well in Super Pro class, he was up against David Waterworth in the semi final. After a very, very close battle and lots of S15 epicness, Martin took the win placing him in the final.
The final was very exciting, Steve 'Baggsy' Biagioni and Martin Battye. After some awesome driving, the judges couldn't pick a winner and it went to One More Time. Two more runs and the judges called it. We were glad they knew who won because no-one else could call it!
Much to Martin Battye's surprise, in his first competitive season and only his second ever British Drift Championship event, he had gone from Pro to Super Pro and won two classes at one event!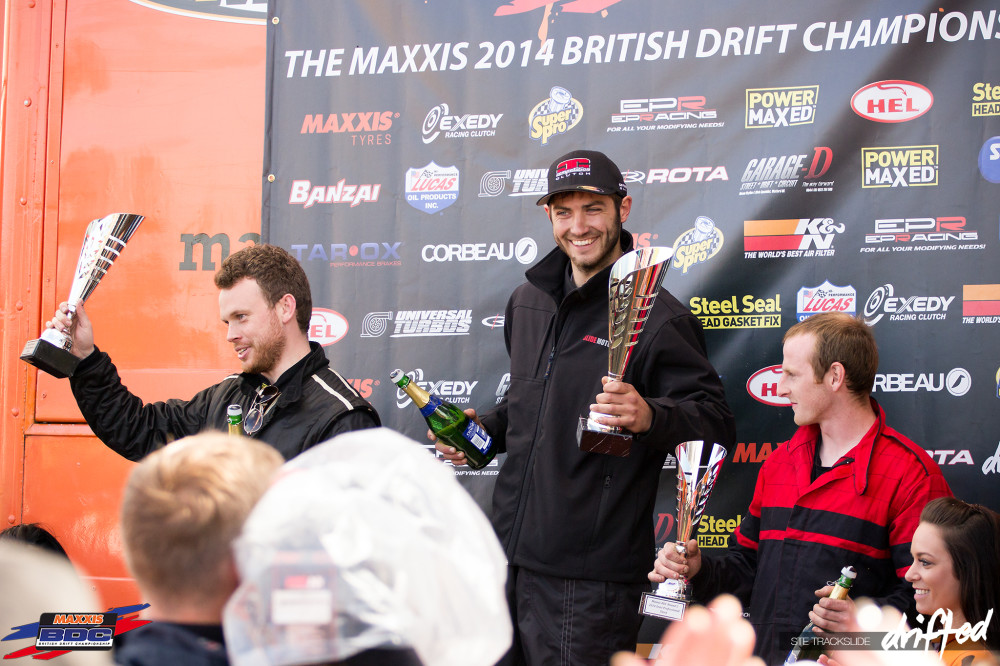 Results…
Semi-pro
1st place – Matt Stevenson
2nd place – Joseph Ankers
3rd place – Jack Symes
Pro
1st place – Martin Battye
2nd place – Ollie Elmore
3rd place – Ollie Silcock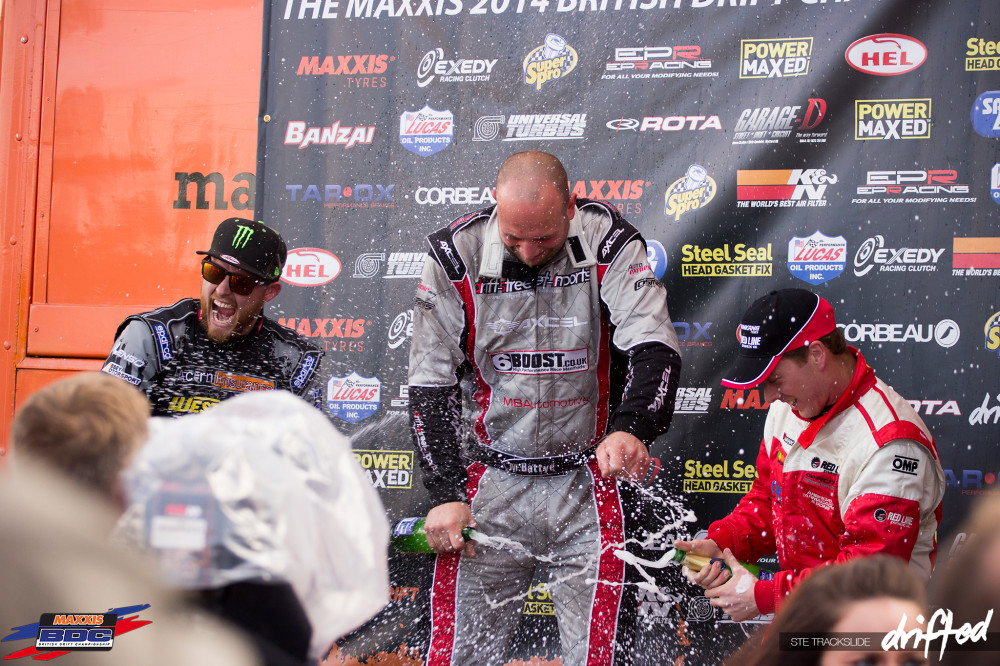 Super Pro
1st place – Martin Battye
2nd place – Steve Biagioni
3rd place – David Waterworth
Slide Motorsport with Matt Stevenson, Adam Simmons and Ben Manuel were awarded the team trophy placing Slide Motorsport at the top of the team leaderboard.
Front here, the British Drift Championship heads to Teesside Autodrome, Middlesborough, my local track, for round three on 19-20 July. We'll see you there!
Words & Photos: Ste Trackslide