EVENT: D1NZ 2014 Grand Final: Round 6
The grand final of the Cody's D1NZ national drifting championship for the 2014 season had finally arrived. It had been a highly competitive fight for the last five rounds with hundreds of great battles across the New Zealand countryside. The final round would be held under lights to mix things up and would either make or break a team's season campaign.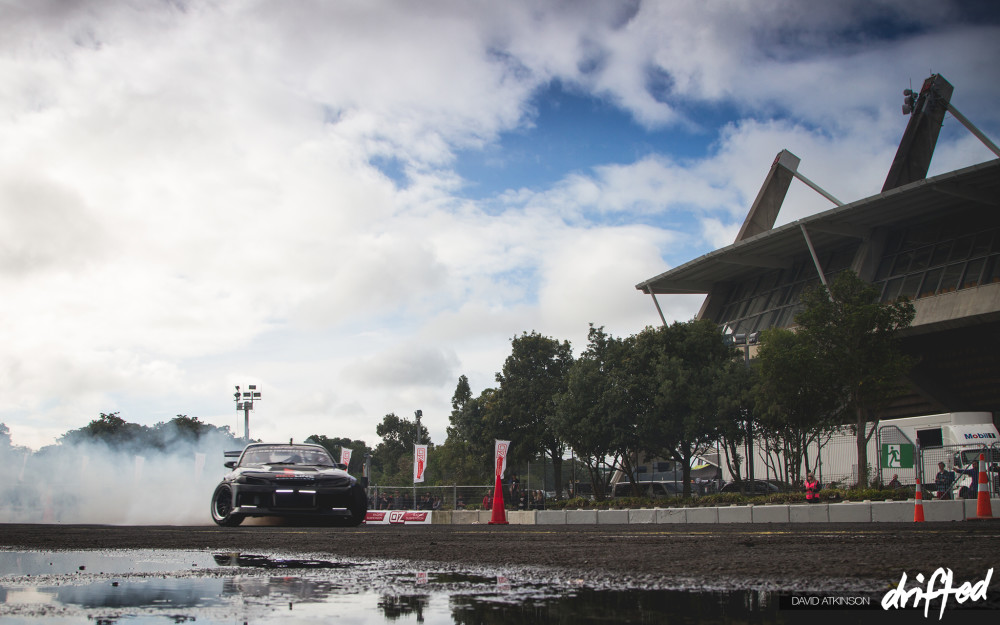 Returning to Mt Smart Stadium in Auckland city this round would be one of the best for the fans yet. Another smaller technical circuit was built to challenge the drivers. With a long straight leading in to the entry lined with concrete walls the course then tightened in on itself before switching left and back along the first turn. Almost like a smaller Road Atlanta layout.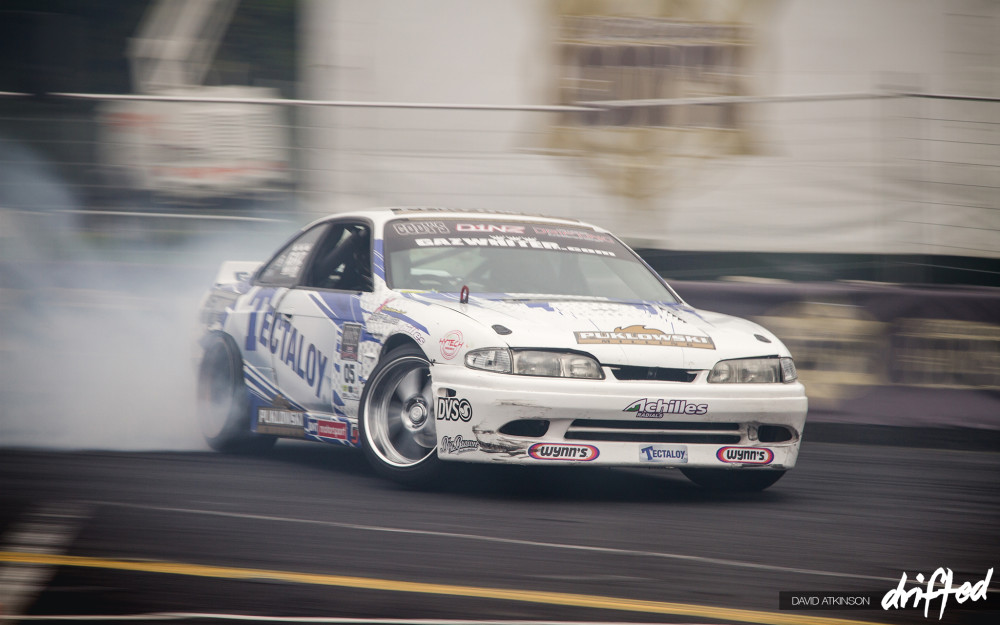 Gaz Whiter was leading the charge in his LS7 Silvia going into the round at the top of the points table. With three season wins under his belt he knew exactly what needed to be done to take it out.
Mad Mike Whiddett would be chasing down Whiter for the season trophy sitting in second place. Consistent driving would be his goal, having already stood on the podium for each of the first four rounds.
The last time we visited Mt Smart was back in 2012 where Mike spun out, taking himself out of competition early on. I'm sure he would try to put that to the back of his mind and focus on driving.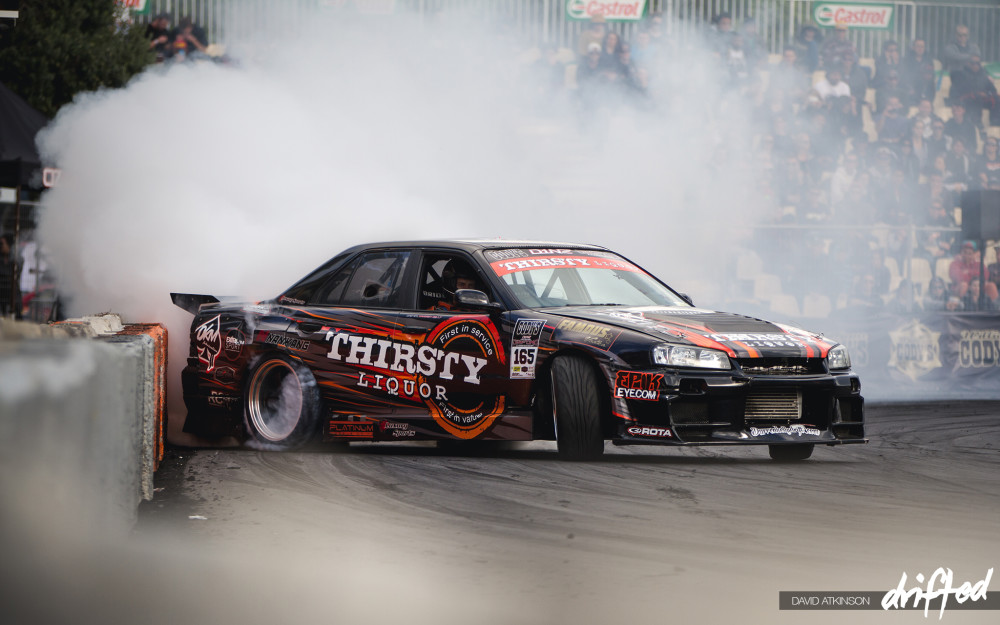 The first (and last) clipping point was seeing some major #runthewall action. Darren Kelly looked to be having a lot of fun here.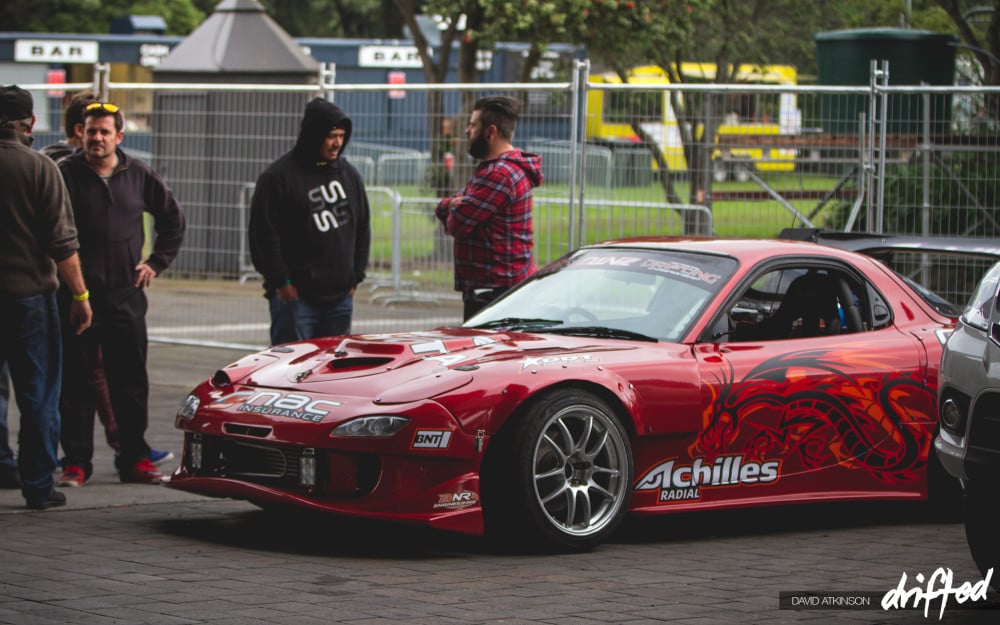 A new livery was unveiled this round for Daynom Templeman's RX7 FD. With the car heading over to Japan for Formula Drift Asia he wanted to spice things up a bit.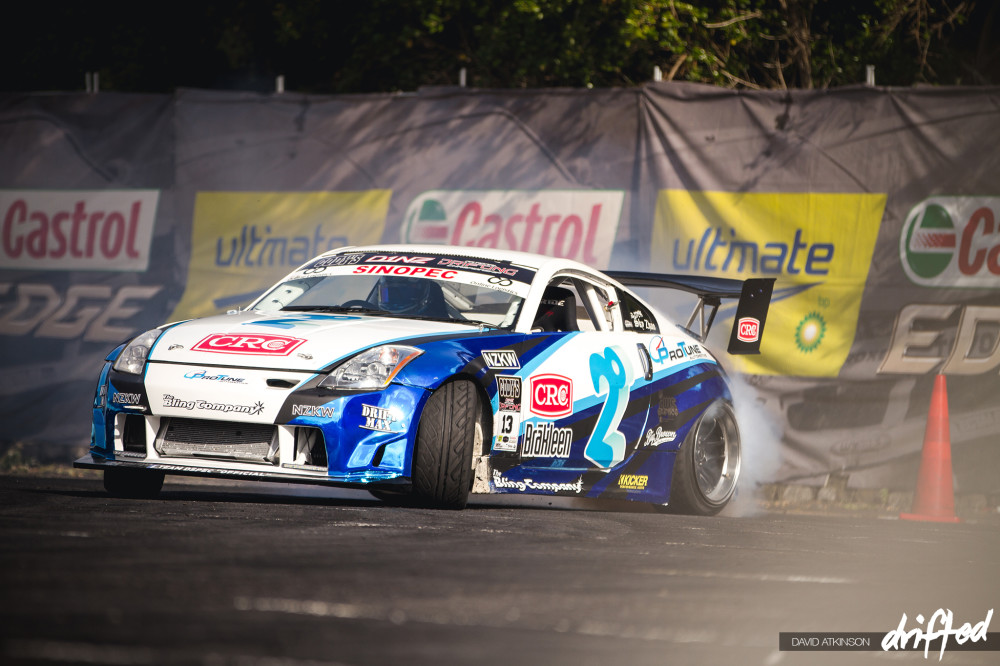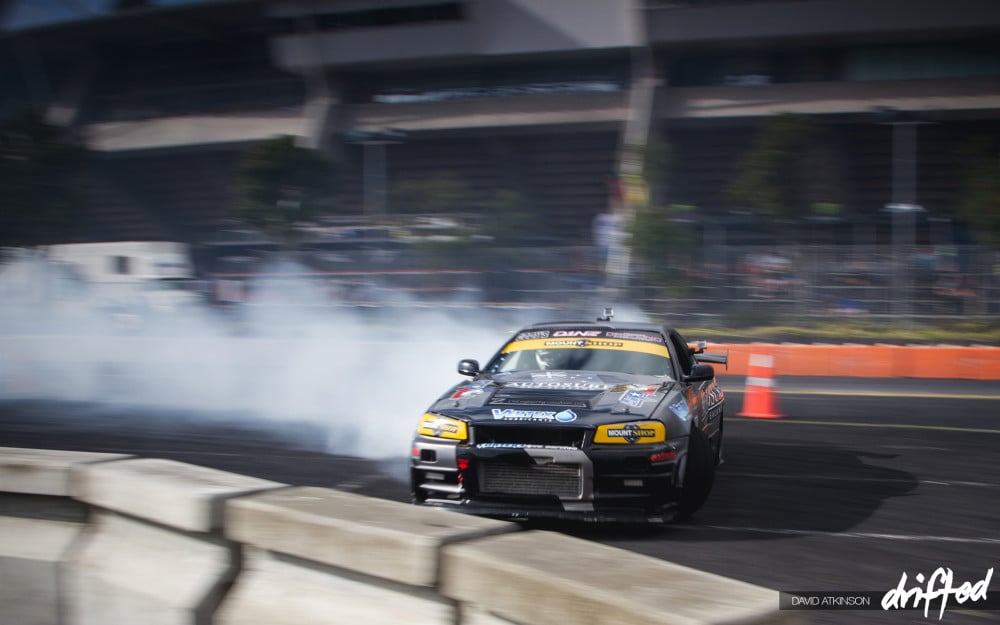 After taking the round win here in 2012 and eventually the championship, Curt Whittaker would be a strong player this round too.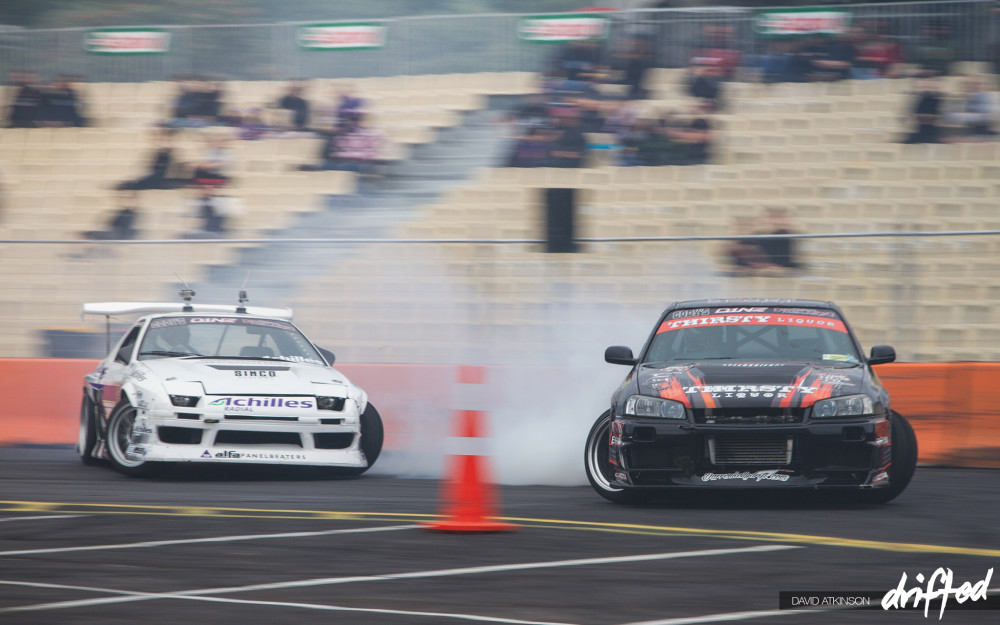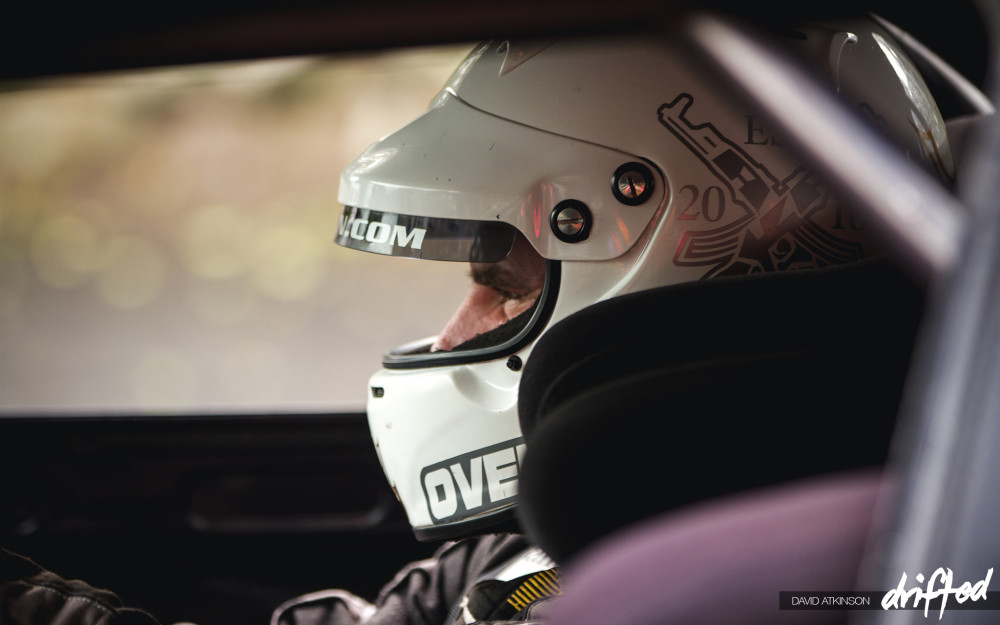 Another strong contender was current DK Fanga Dan Woolhouse in the Castrol Edge Commodore.
Zak Pole was not out there for long in his R33 Skyline, after mechanical issues saw him into a borrowed pro-am car for competition.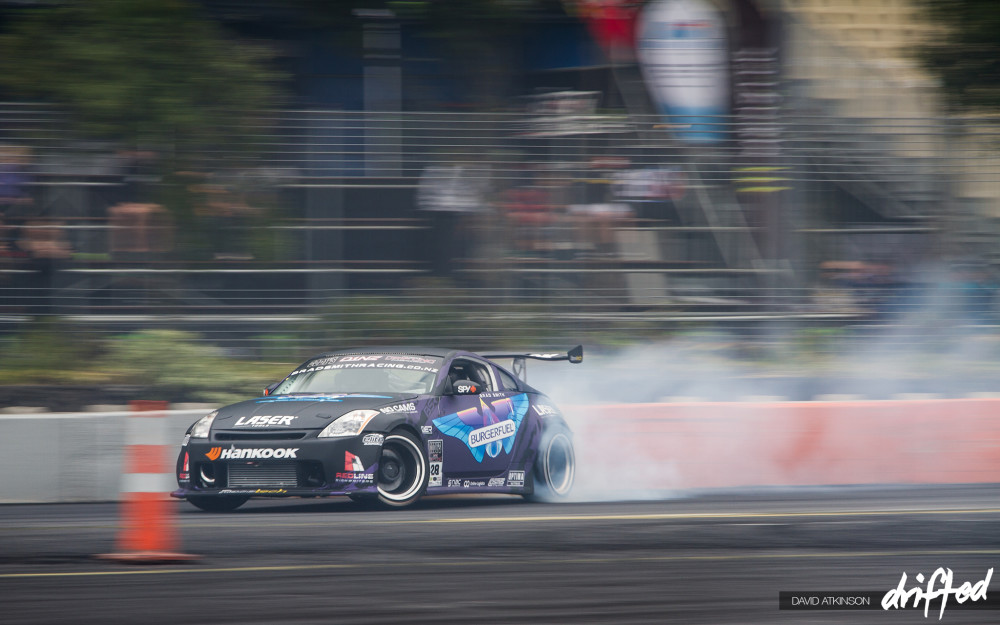 Burger Fuel 350z driver Brad Smith had a nasty encounter with the wall in qualifying – wrecking the rear end of the car. It looked like his day was done but the team managed to patch the car up in time for battles.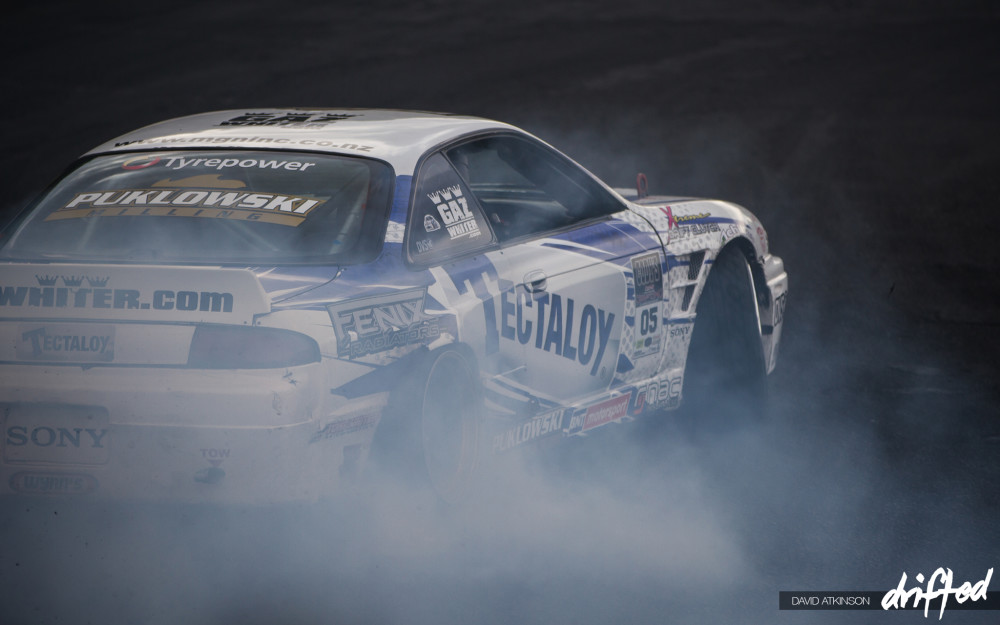 The section of the track after the switch looked quite challenging for the drivers. With a very tight left turn flowing into outer clips with the wall it meant slow, precision driving was necessary.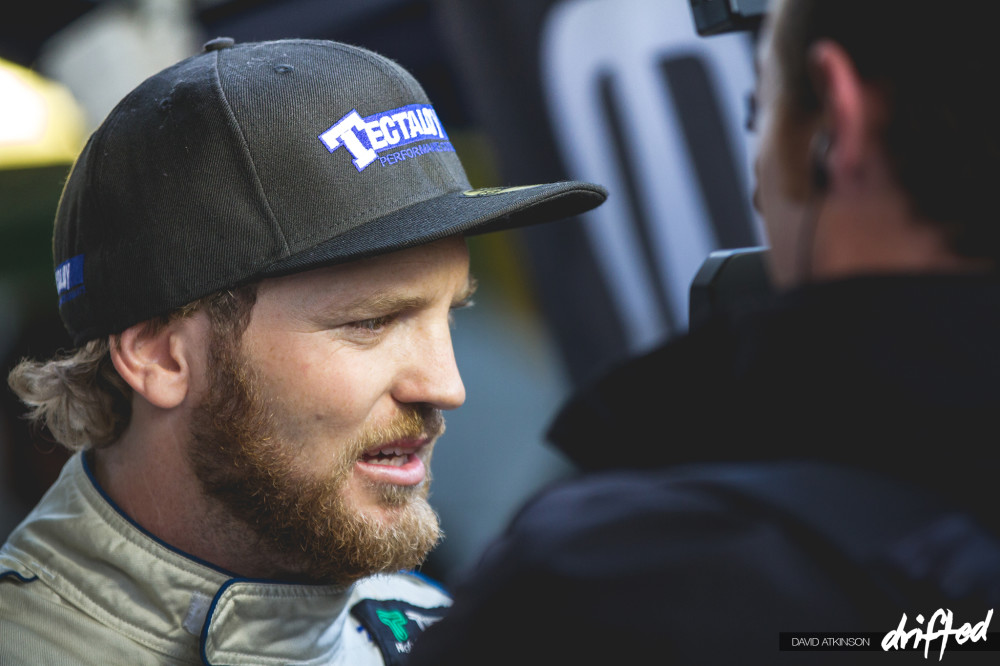 Gaz Whiter looked quite calm and collected though – the tricky circuit not really phasing him.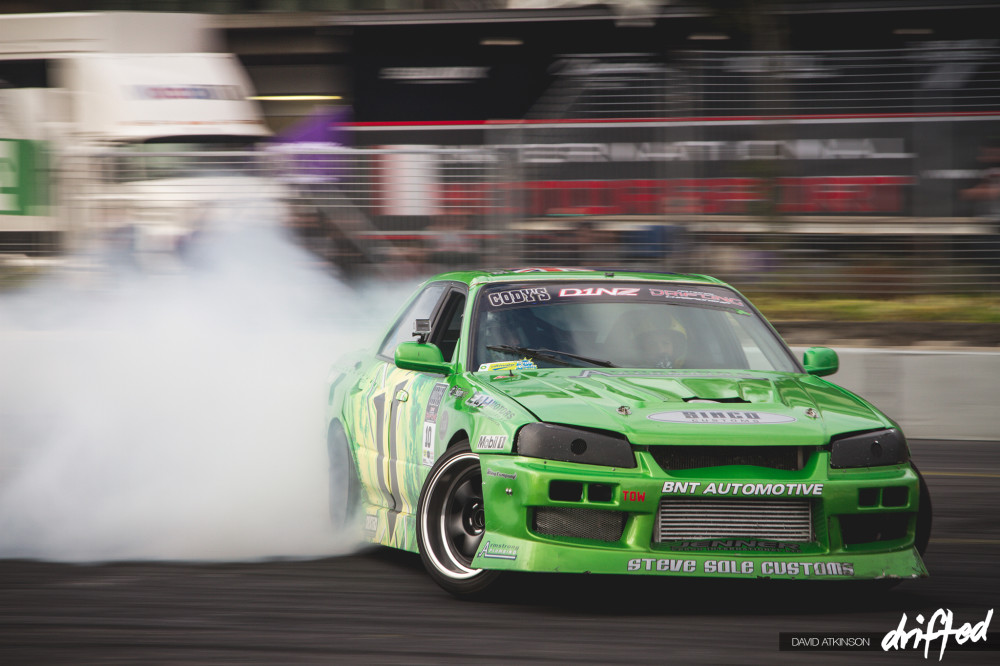 Cole Armstrong was out there for probably the last time in his V Energy R34 – the new Nascar V8 Nissan 250GT taking center stage next season.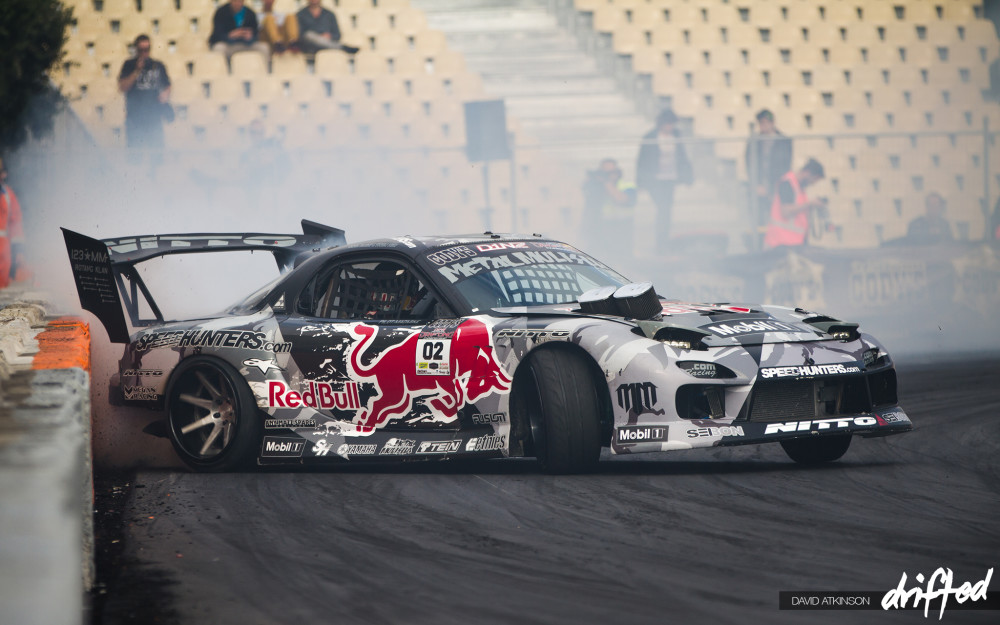 It almost looked like Mad Mike had shaped his wing-ends deliberately for this track, the curved cutout fitting perfectly with close wall runs. Qualifying was a nail biting moment for Mike, spinning on his first run and needing to put down a solid second run to be in competition. He didn't hold back, scoring a 91 and going straight to third place.
Nico Reid's Luxury Sports S15 was looking on form in qualifying taking him to second spot.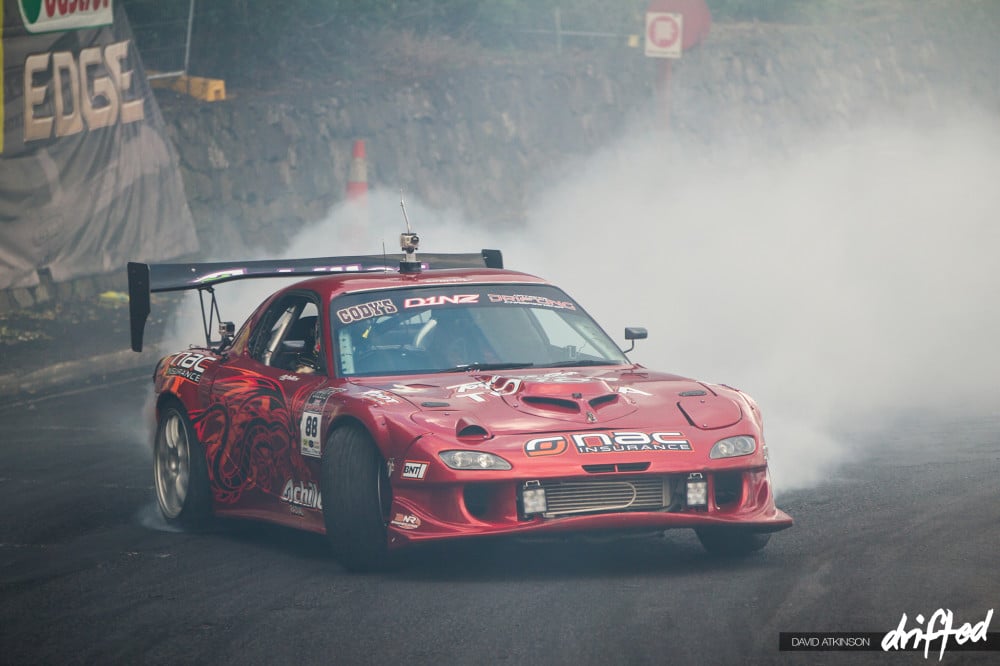 Daynom Templeman truly nailed the course in qualifying scoring 96 points – the highest result in D1NZ history. He looked very comfortable in the car with everything fully dialed in and would be tough to beat in the battles to come.
Along with being the last round of the season this would be the last round for commentator Warren Sare. 'Mr Grumpy Ninja' has been a huge part of D1 over the years, managing several teams and offering up his wisdom whenever possible.  He will not be easily replaced.
In the lunch break we saw Cameron Vernon on the track showing off his new V8 powered S15.
Also chasing the championship title was Andrew Redward. Qualifying in a respectable fourth place he would still need to go out and cause a few upsets to win the series.
With the sun well and truly gone the top 32 kicked off. Chris Jackson would advance on to top 16 after Drew Donovan went off track in their battle.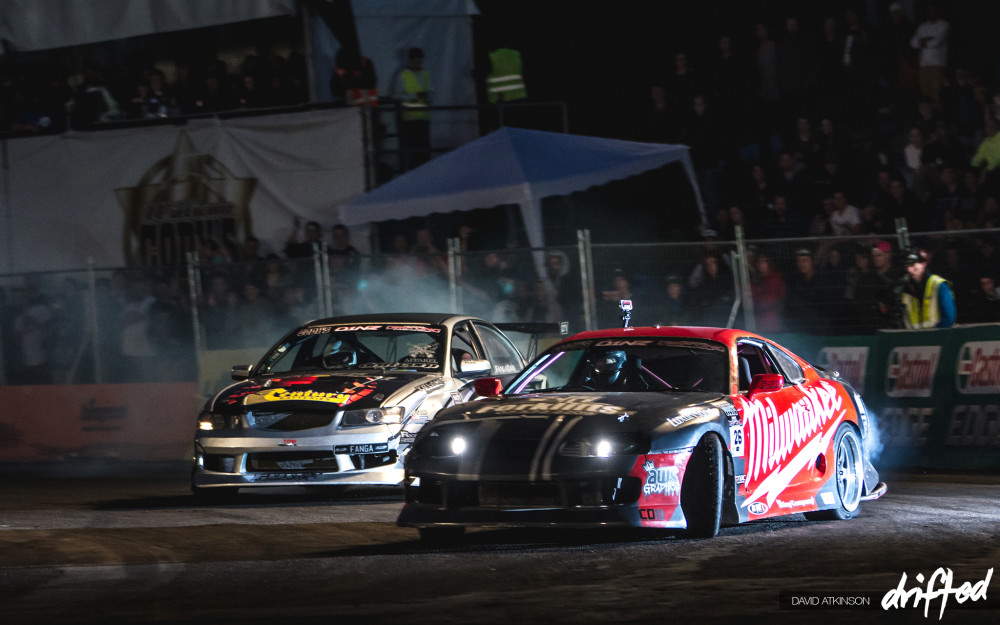 After crashing out in qualifying, fellow Milwaukee driver Jodie Verhulst faced off with Fanga Dan in her top 32 battle. A close battle throughout with the advantage going to Fanga Dan after Jodie straightened on the entry.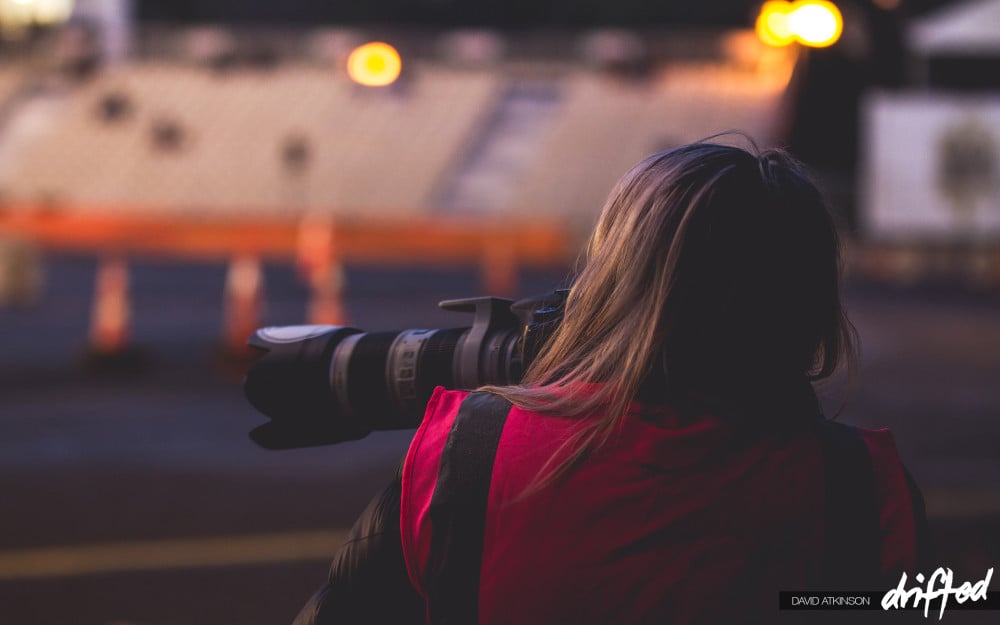 The most controversial battle of the round would be Mad Mike Whiddett vs Shane Allen. With Mike's championship hopes resting on this battle there was a lot of tension in the air. Shane Allen would go off track and clip the tyres on his chase giving the advantage to Mike. Switching over to Mike's chase run saw him straight-line in the same hairpin section of the track. A one more time looked imminent but the judges elected to see Shane Allen through, dashing Mad Mike's hopes for the championship.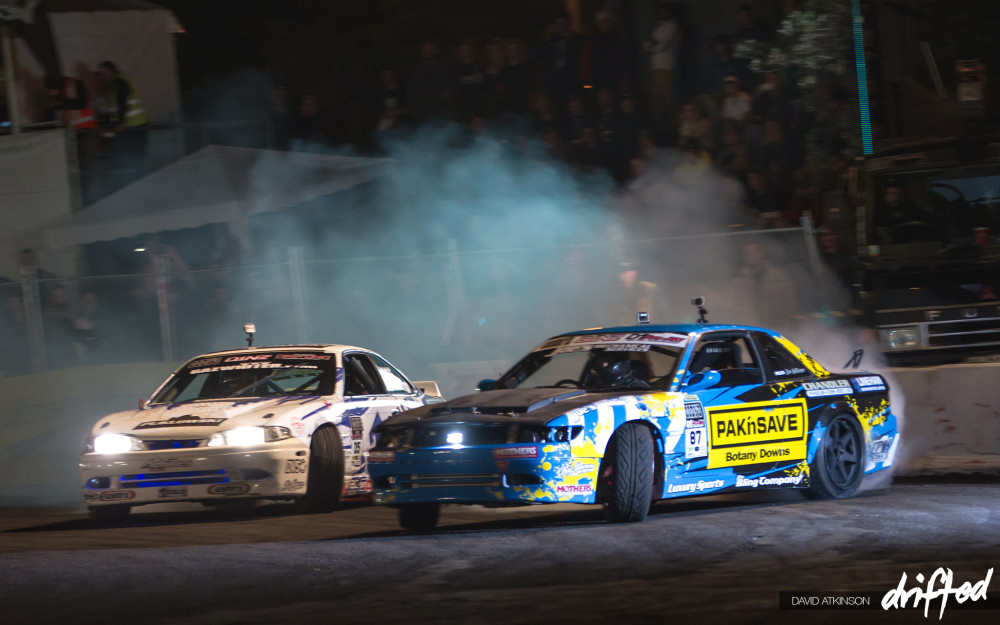 With Mike's defeat securing Gaz Whiter's championship for 2014, all that was left to do would be driving all-out. Zak Pole put up a good fight in a borrowed car but couldn't keep up with Whiter.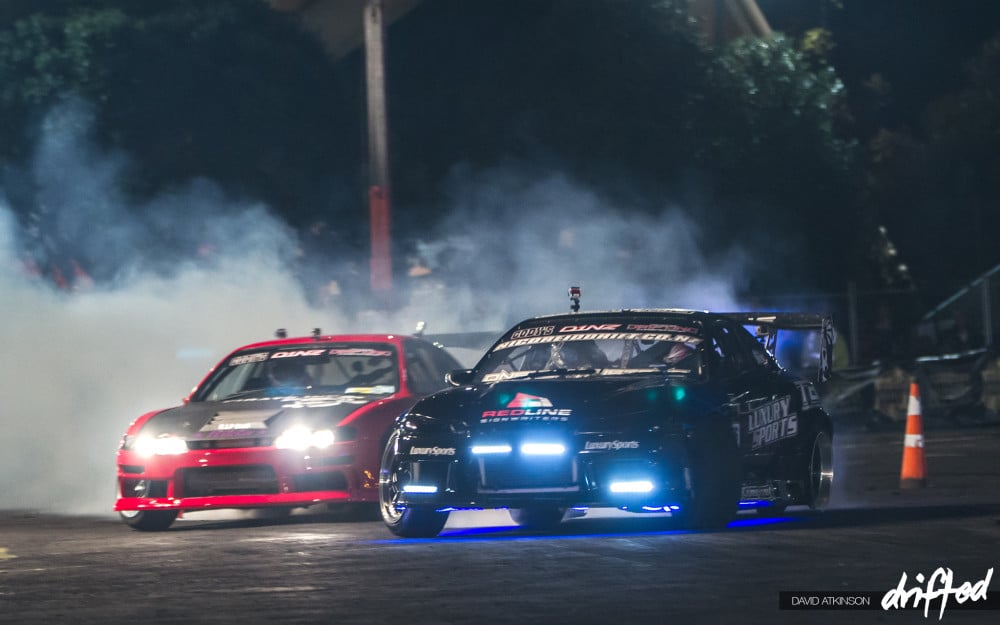 Nico Reid vs Chris Jackson was another great battle in the top 16. Went one more time until Reid was too aggressive with the wall – smashing a wheel but continuing to drift anyway! Jackson going through to the top eight.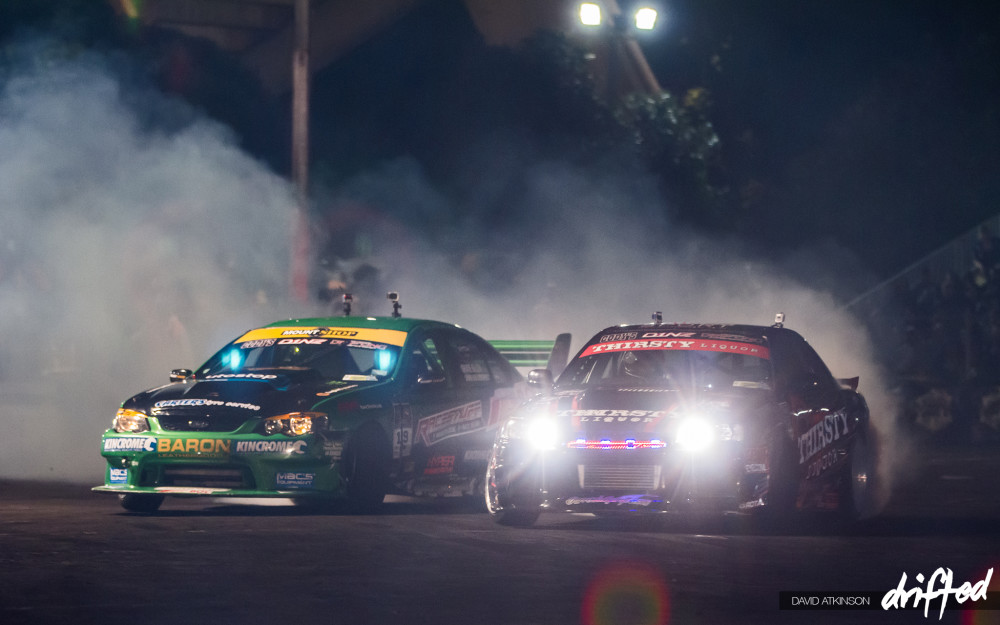 Darren Kelly came up against Shane Van Gisbergen in the Rattla Motorsport Falcon in his top 16 battle. Kelly was undoubtedly on his best form all season and would win the battle after SVG straight lined, another to fall victim to the tricky hairpin section.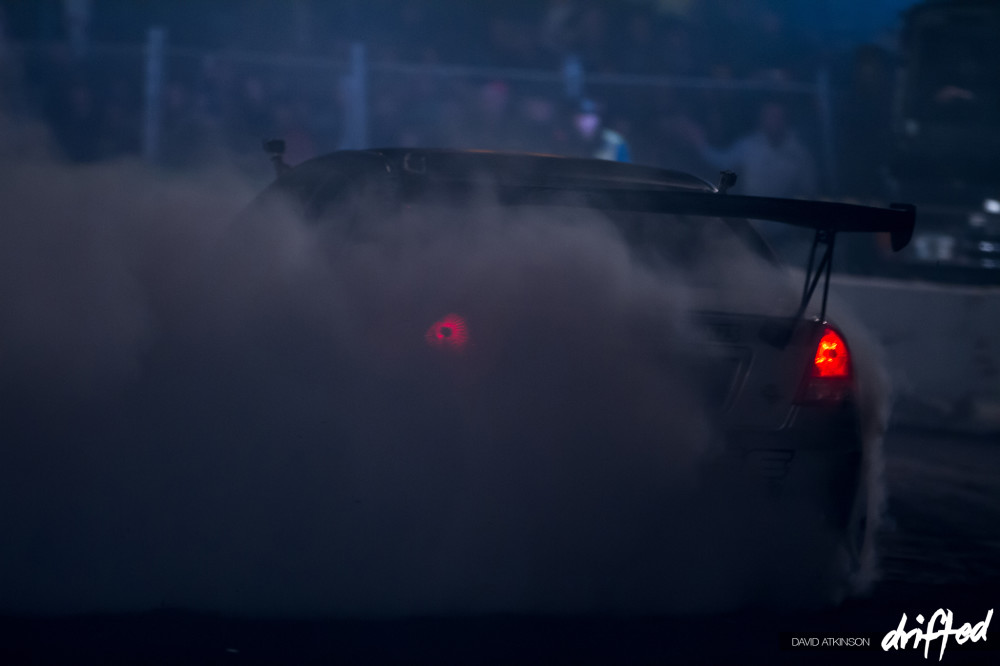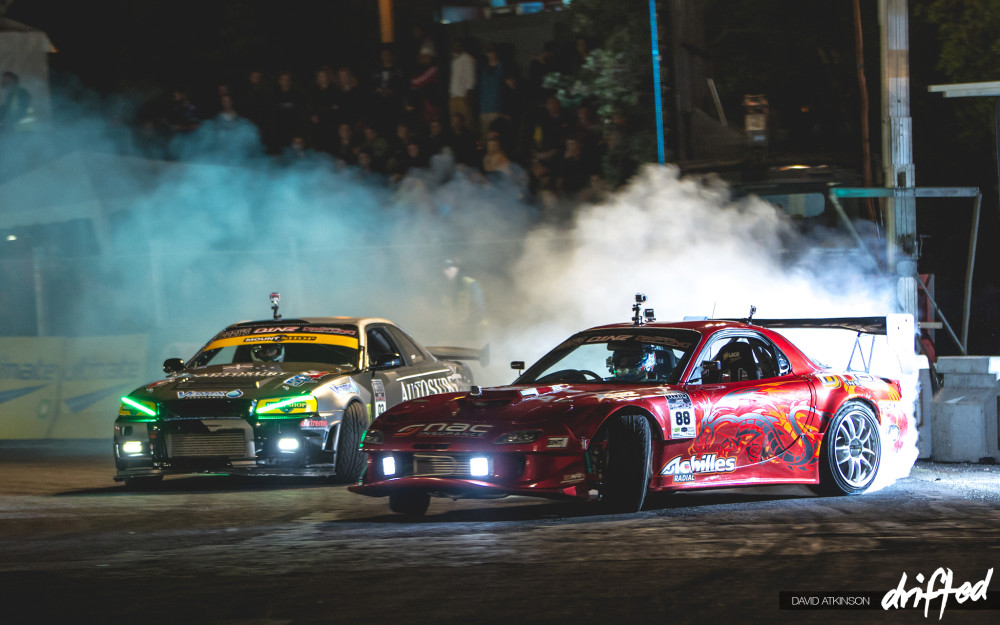 After beating Sky Zhao in a superb top 16 battle Daynom Templeman came up against 2012 round winner Curt Whittaker. Maintaining the solid line he took in qualifying Templeman took the win and moved on to top eight.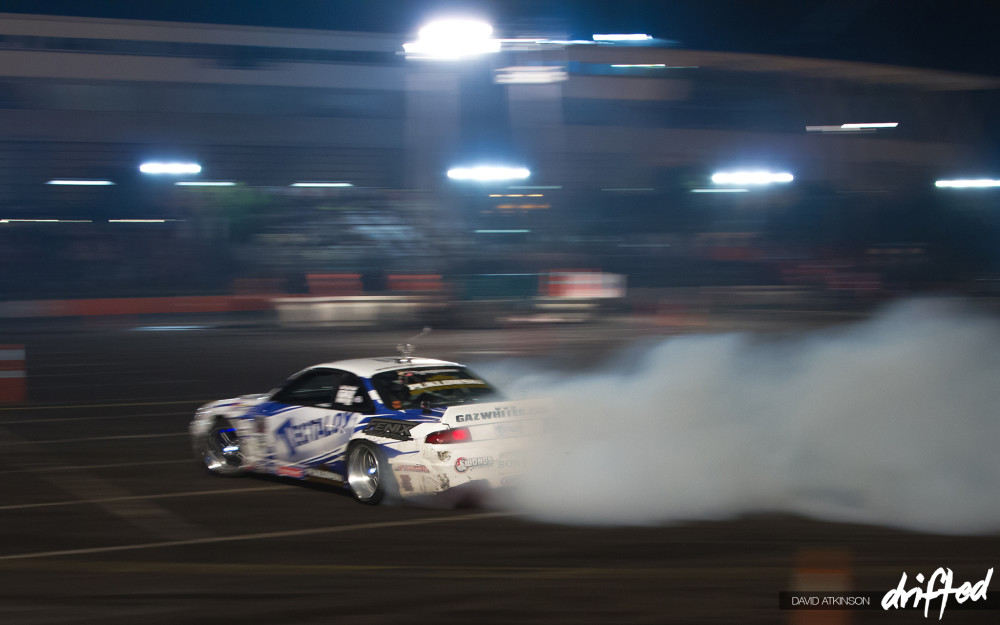 Gaz Whiter and Andrew Redward would square off for a place in the top four. Yet another spin on the hairpin this time from Redward, gave Gaz an easy pass into the finals.
A shallow line from Chris Jackson and several corrections once again gave an easy pass into the finals for Fanga Dan.
Looking to secure the round win Gaz Whiter had fellow NAC driver Daynom Templeman in his sights. Templeman had proven he wasn't going to make any mistakes however and when Whiter carried a little too much speed through the switch it was game over, spinning out and giving Templeman the win.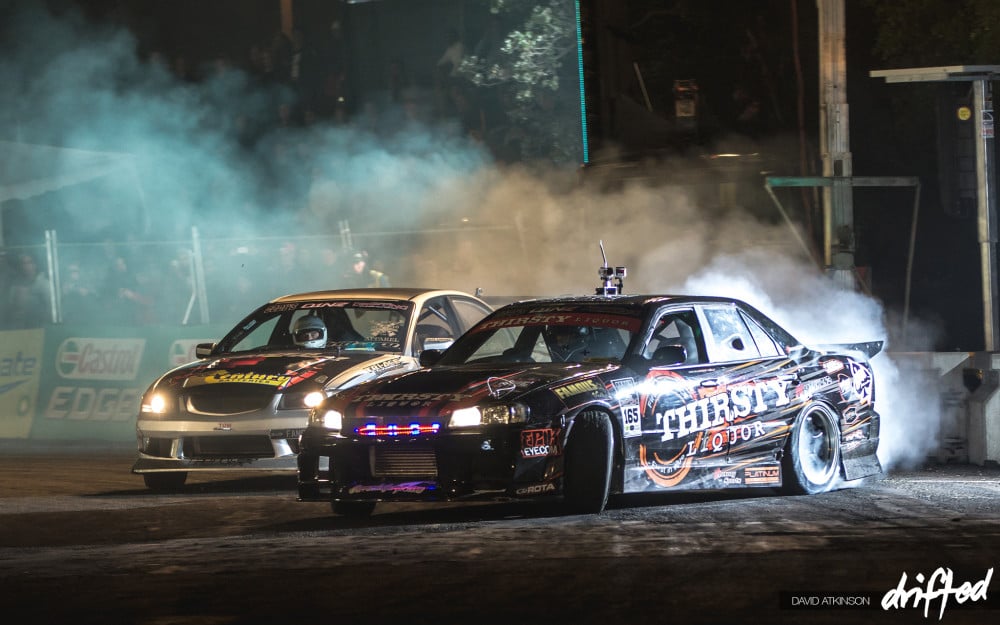 The other battle for a place in the final was Darren Kelly against Fanga Dan Woolhouse. In his first Pro-class top four Kelly did well to fend off Fanga Dan and keep his composure through the hairpin section that was proving to be the downfall for many others. He created a gap on his lead run, taking the win and going on into the final!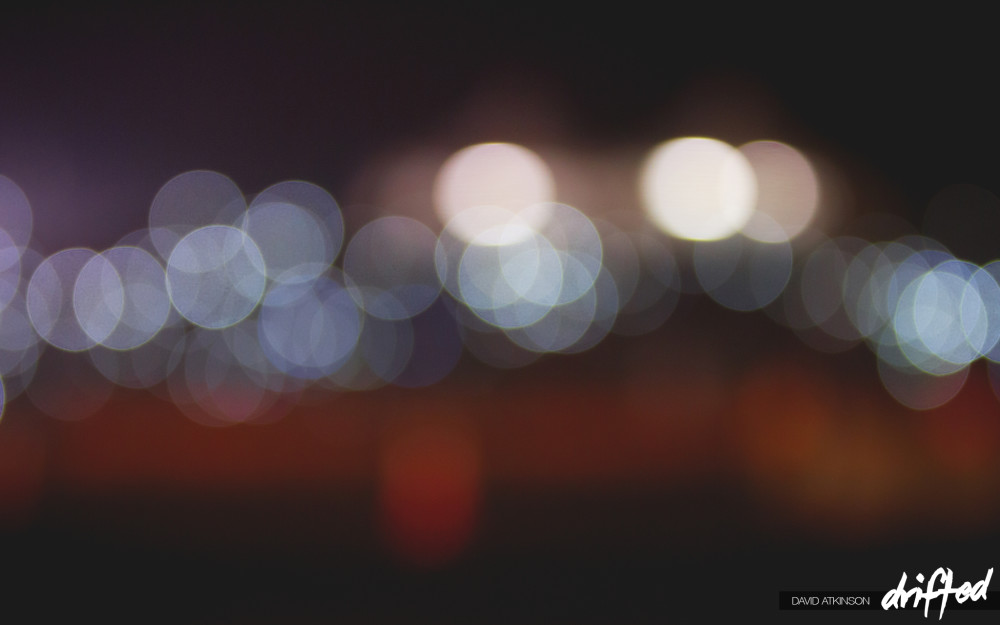 Close mates Fanga Dan and Gaz Whiter would battle it out for third place. Whiter with nothing to lose having already secured the championship and Fanga Dan never one to write off. In the end it was Gaz Whiter who would take third place!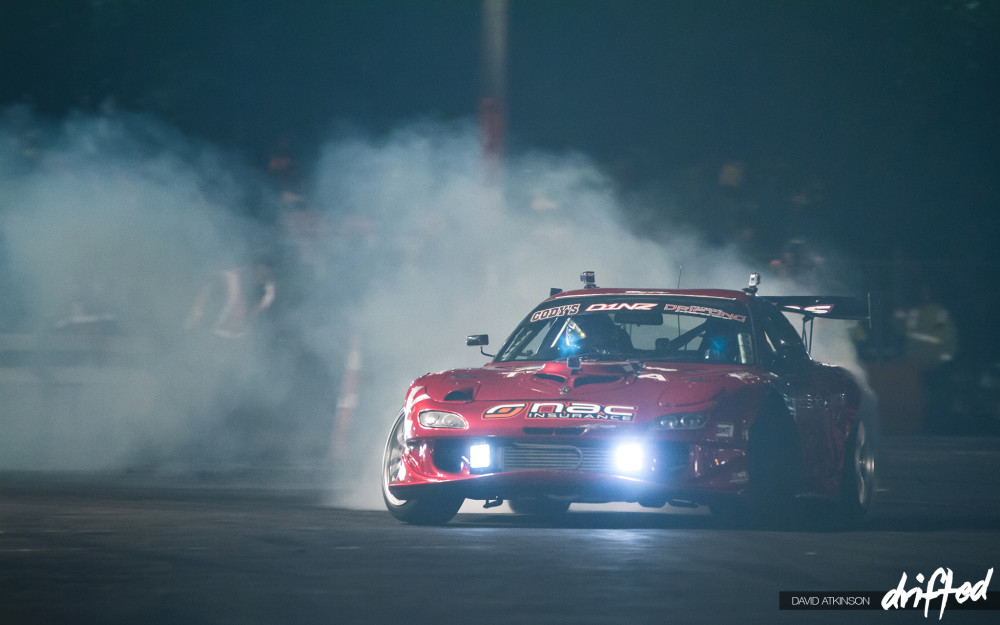 Fighting for the round win was top qualifier Daynom Templeman and pro-am graduate Darren Kelly. The 2JZ RX7 would gain an early advantage on the lead run, pulling a large gap that Kelly couldn't close.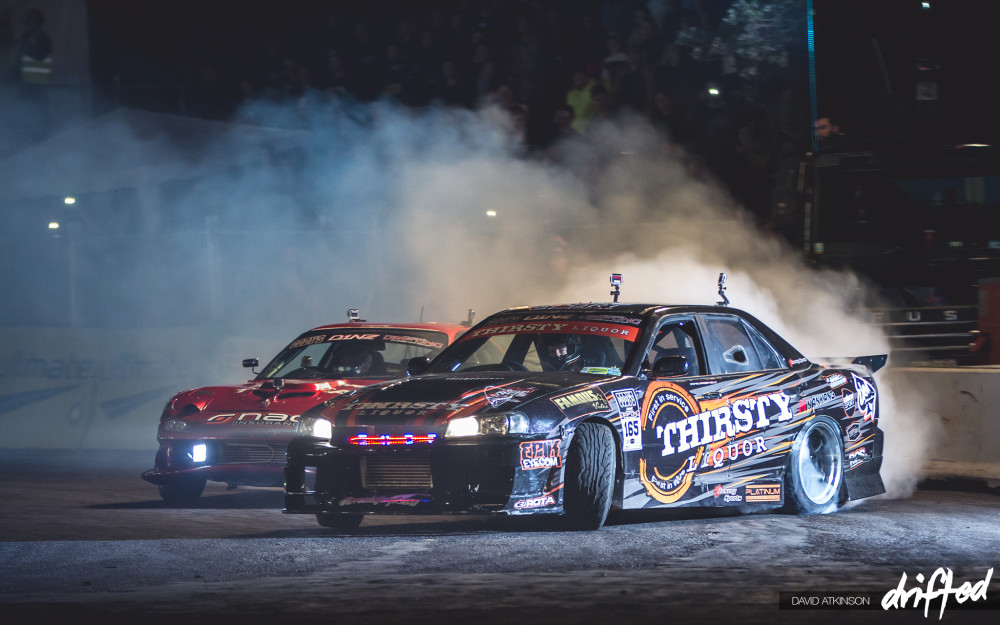 Switching over Darren Kelly would put down a solid lead run but with Templeman right on his door and not making any mistakes the victory would go to Templeman.
Doing the double this round – qualifying first and finishing first was Daynom Templeman with the perfect result. Taking his first podium on his debut season and finishing in second place was Darren Kelly, a huge effort from the young driver. And of course taking third place in the round was Gaz Whiter.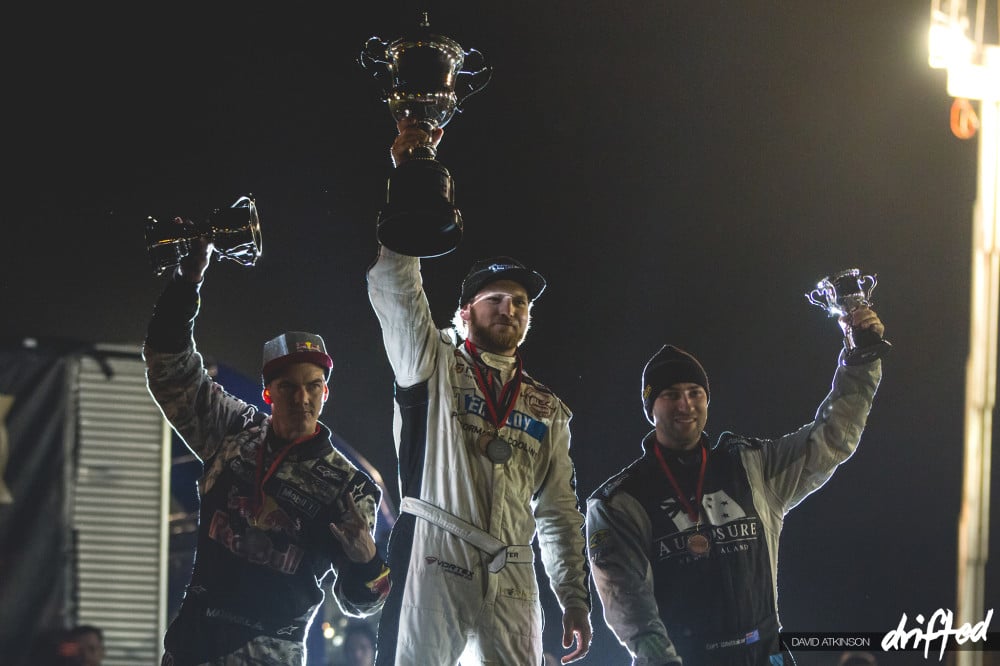 As for the championship results well, we already knew that Gaz Whiter had taken it out. I think everyone would have liked it to go down to the final battle between Whiter and Whiddett, but we were treated to some great drifting throughout the round nonetheless. Securing his fourth championship Gaz Whiter earns the title of DK for another year! Mad Mike Whiddett finishing a close second and Curt Whittaker not far behind in third place.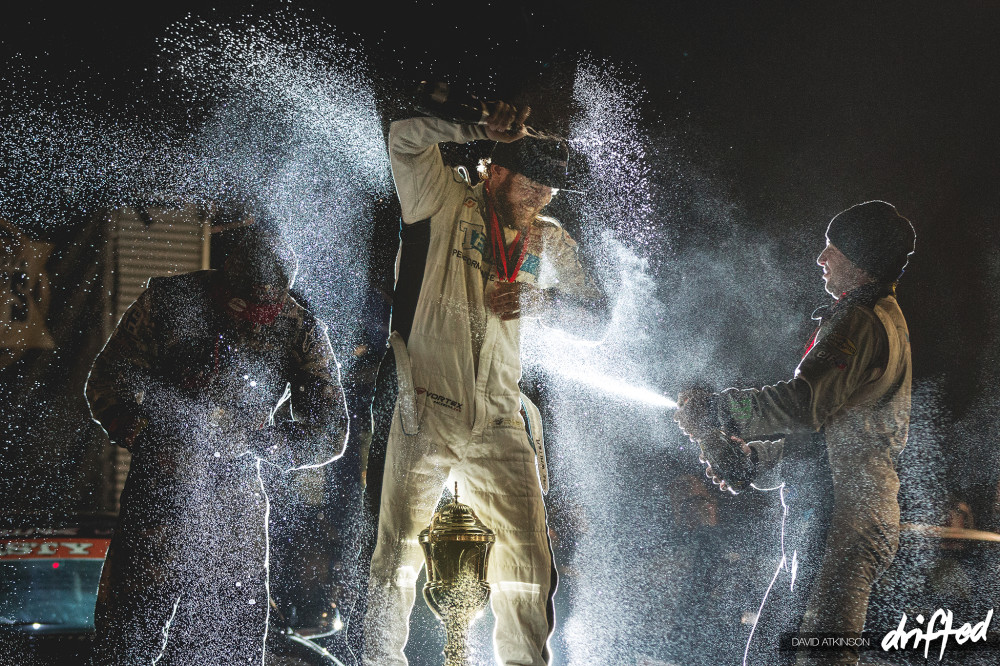 With a show of great sportsmanship in his speech, Whiter said he really believes Mad Mike will take the championship one day and thanked him for being a great ambassador for New Zealand drifting and everything he does behind the scenes.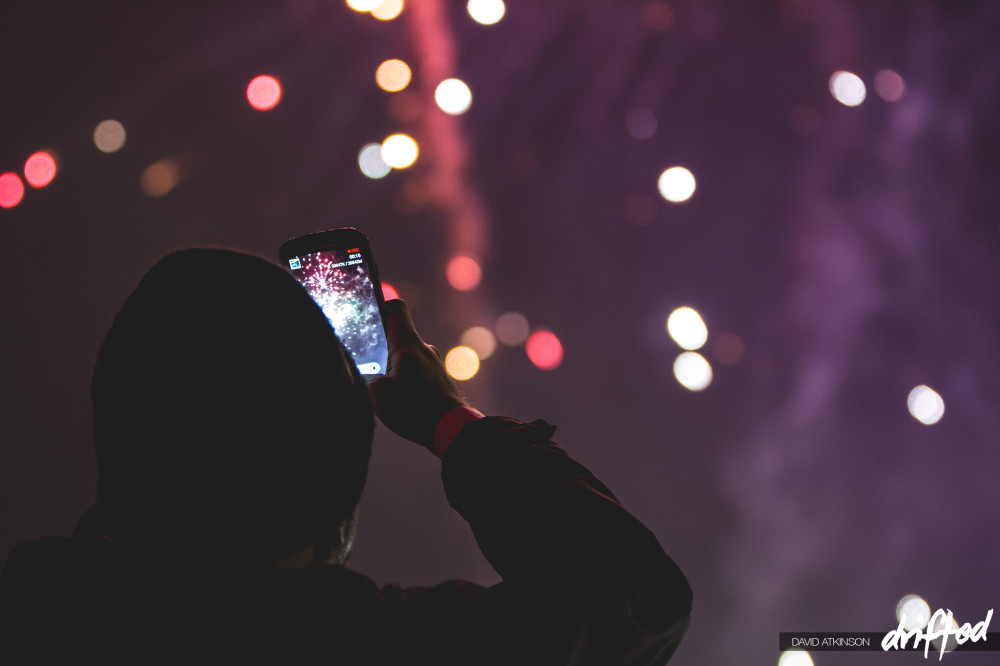 And that about wraps up the 2014 season! Thanks to all the drivers and D1NZ for putting on such a good show throughout the year! I'll leave you with the top ten championship standings:
1. Gaz Whiter – 524.5
2. Mike Whiddett – 474
3. Curt Whittaker – 423
4. Andrew Redward – 412.5
5. Daniel Woolhouse – 387
6. Nico Reid – 359.75
7. Cole Armstrong – 349
8. Shane Van Gisbergen – 342.25
9. Darren Kelly – 341.25
10. Daynom Templeman – 313.5
Words & Photos: David Atkinson