EVENT: Drift Allstars Europe Round 2 – Czech Drift GP
Autodrome Sosnova played host to the second round of the 2014 Drift Allstars European series. With the championship race still wide open after the first event in the UK, it would be interesting to see what happened with even more competition and a full grid of 50 pro drivers.
Italian driver Enrico Satori made his 2014 debut with the ultraclean Brill Steel LS7 V8 powered S14. Enrico was getting in some training bbefore he swaps to his world famous carbon S15 later in the year.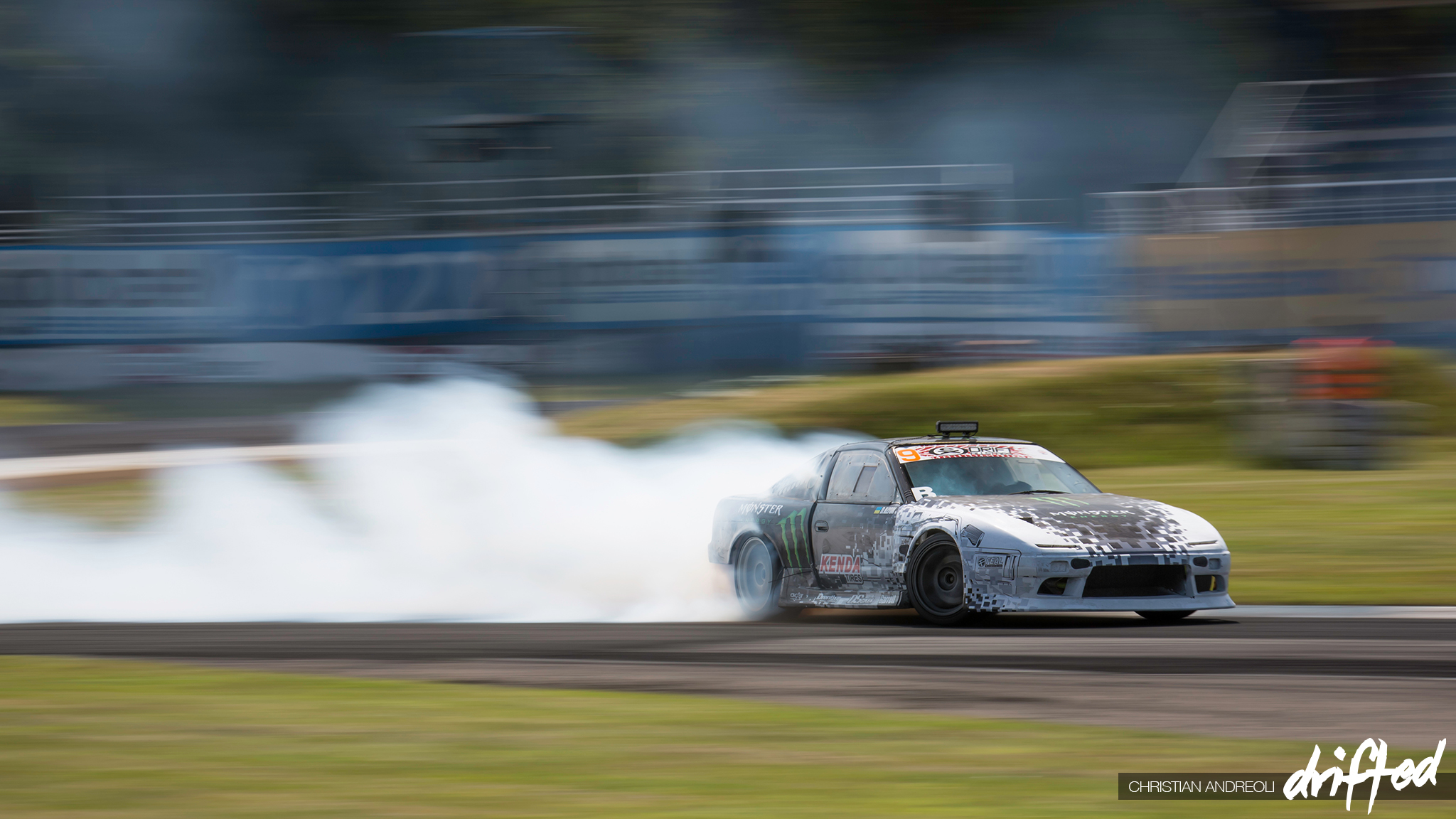 Dmitriy Illyuk, the Ukrainian missile, was back again for round two with his insane Monster Energy Nissan S13. Some of the best drivers are really coming together in 2014 Drift Allstars Europe season and Dmitriy alone is out to prove a point judging by the distance he commits to travel and compete with the best. It took him 50 hours to drive to get back to Odessa after London! Dmitriy is hungry for success in 2014!
Stevey Carzasty from the STW Poland also made his debut for the 2014 season. Stevey, the round winner of the finals, is a threat anywhere in Europe with his 800HP 2JZ powered Nissan S14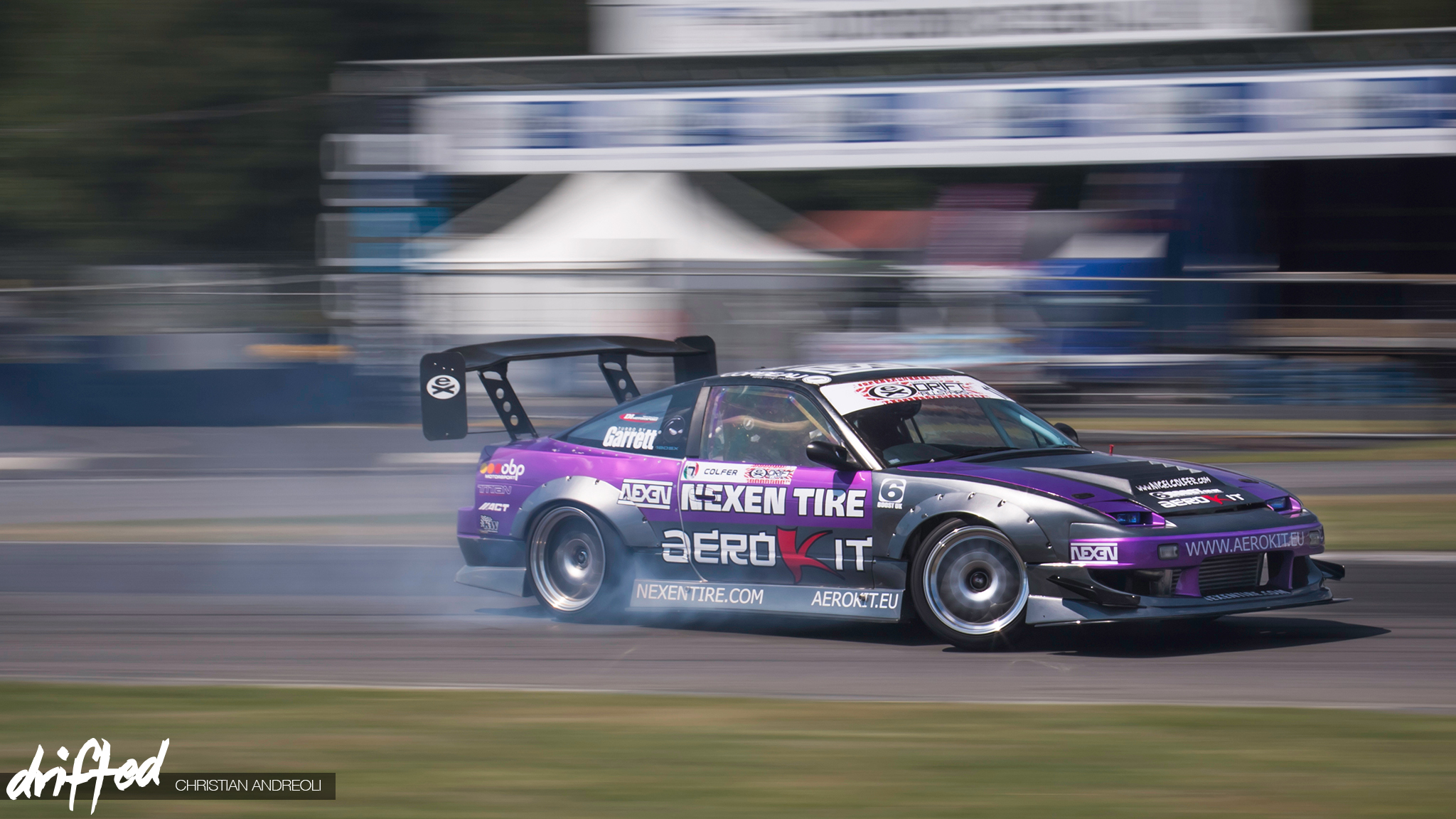 Nigel Colfer has been making some big setup changes and has actually partnered up with DI Motorsport as his crew for the rest of the 2014 season. With the top cars very even, setup is everything, and there was a huge improvement after launching his new car in London.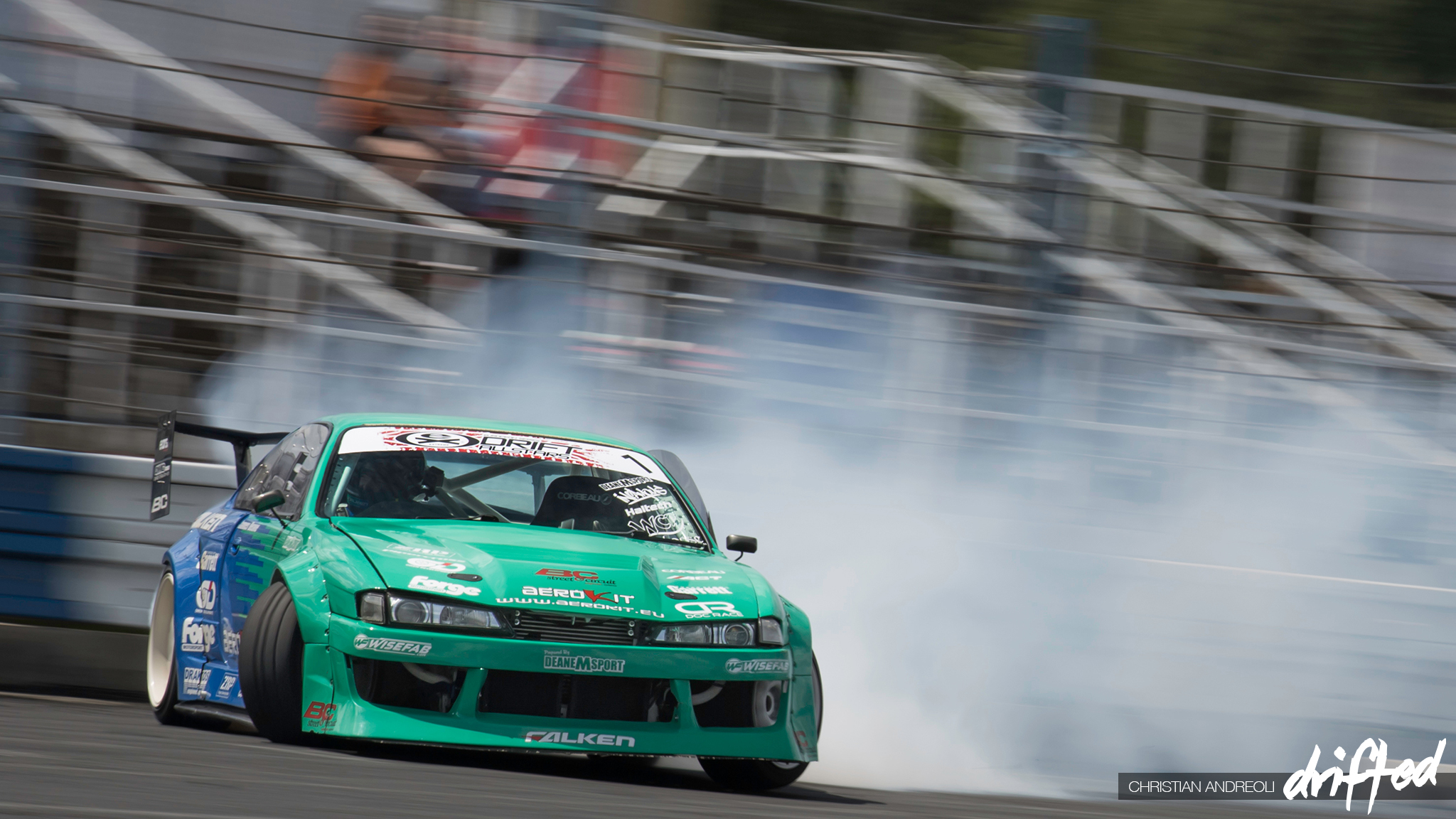 James Deane was be out to prove a point in his Falken Motorsports Nissan S14. Fresh from doing demonstrations at the Nurburgring 24hr race, Deane only had one thing on his mind, and that was winning and getting his championship chase back in action!
Mr. Richards, aka Mr. Consistent, would be pushing to improve upon his top six placing in the rankings after Round One. Will 2014 be the year where he can start challenging for wins and move up from the top five ranking which he has had for two years!
STW all carbon Supra looking mean as ever!
The Project86 team from Poland with their custom 1UZ V8 supercharged AE86.
Budmat Auto would enter their full lineup for the Czech DriftGP with Artek Opiela from Poland. He is another young driver progressing fast.
Christer Halvorson is looking stronger with every event in his Yokohama Tire/Gulf Oil S15. Can the Norwegian breakthrough for some wins in 2014?
Bartosz Stolarski STW Drift Team, our Round One winner from 2013, would also make his debut for the new season in his insane V8 Turbo S14, now with an Achilles Tires Europe partnership. Bartosz will be one to watch as he challenges for wins.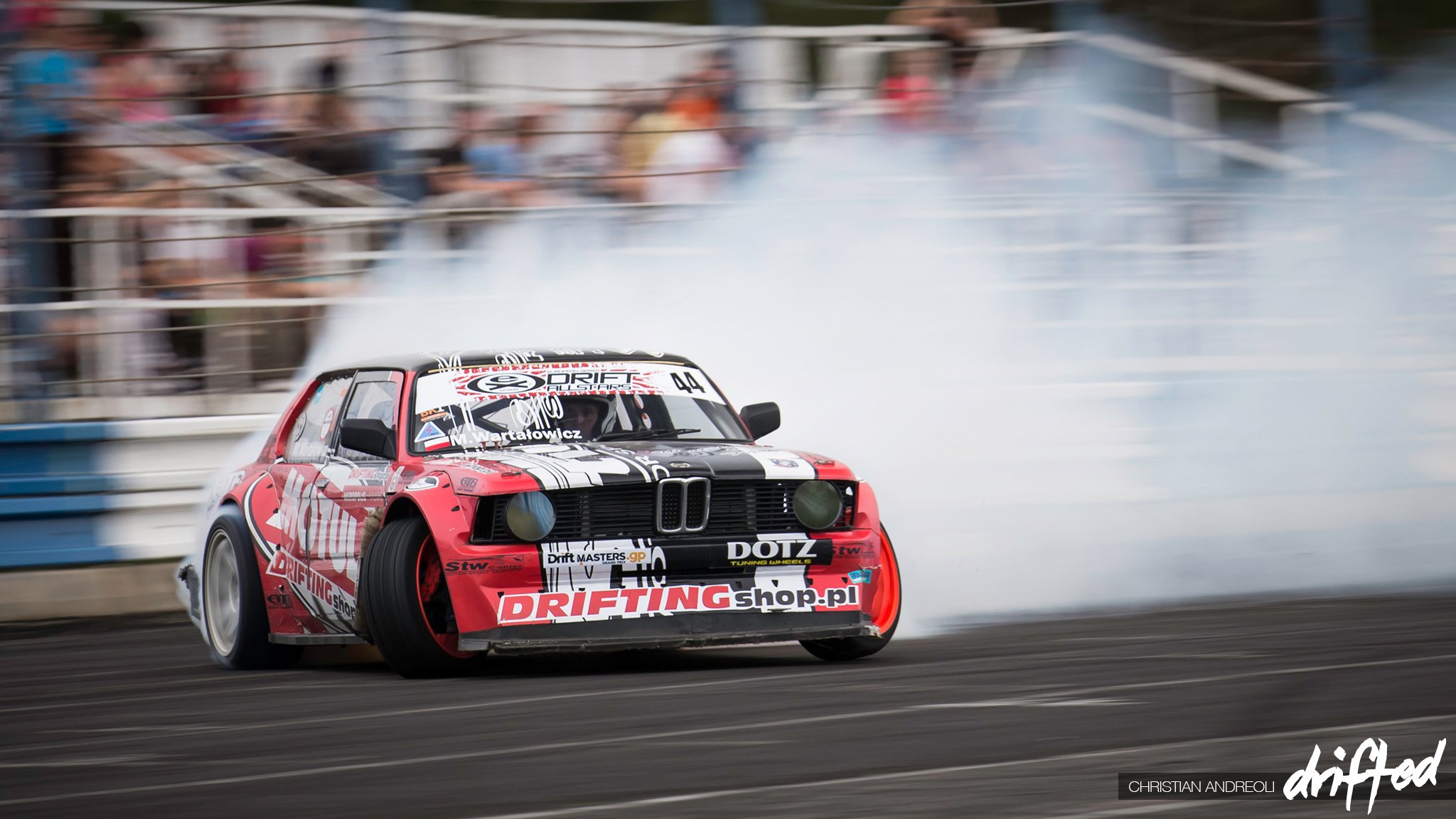 STW Drift team had big presence at this event with 5 cars officially entered. One of the team favorites as always is Marek Wartalowicz in his mad 2JZ powered E21 which is world famous. Marek has always been in the top but never challenger for podiums, could this event change the way. In qualifying Marek would stake his authority on the weekend taking P3 in qualifying.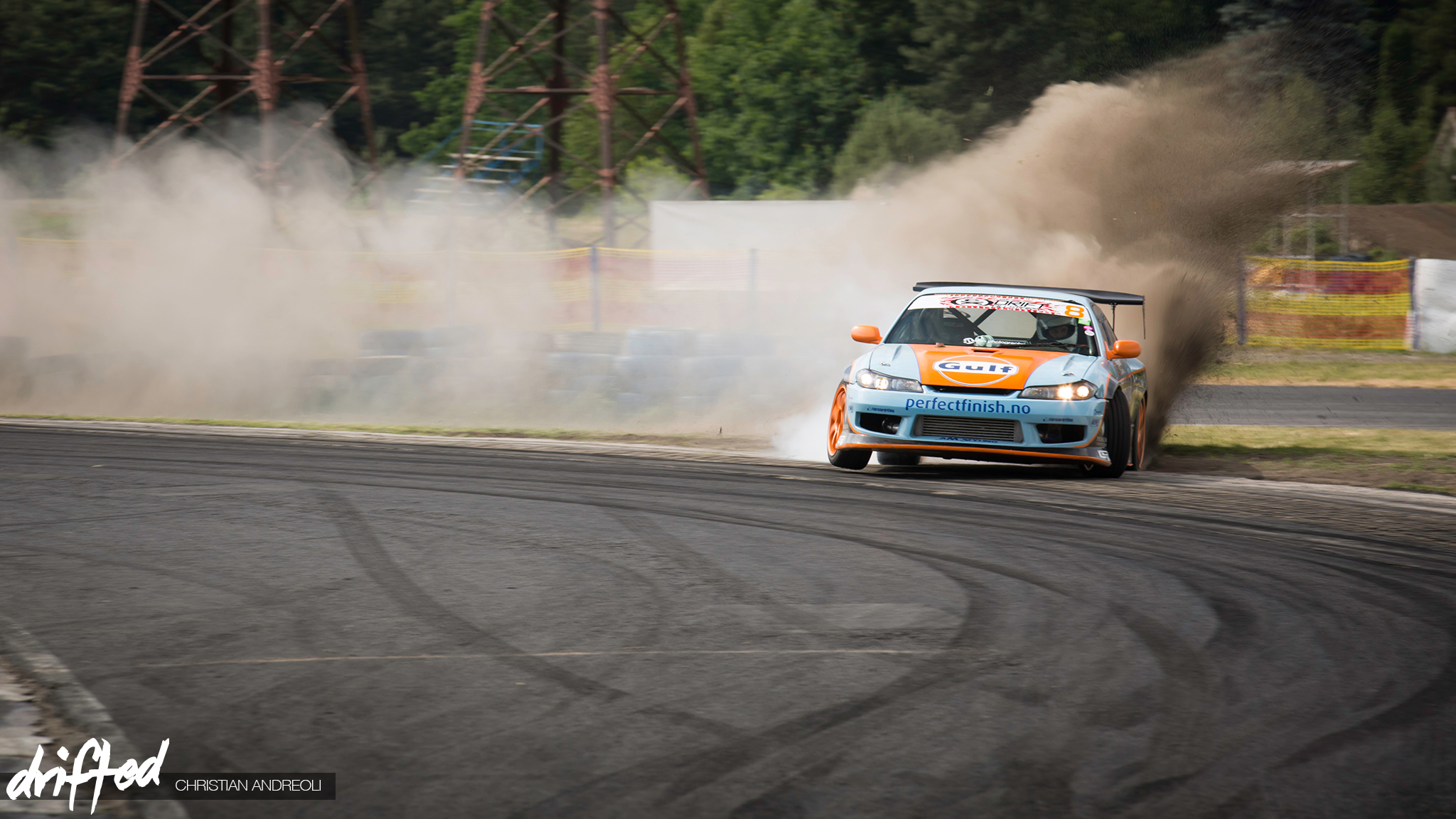 Christer Halvorson would have a really tough weekend with engine and gearbox issues, and a big crash before practice. Ultimately he put together a run for 16th place.
The Norwegian team would work tirelessly after his crash to get the damaged car back on track after his huge impact.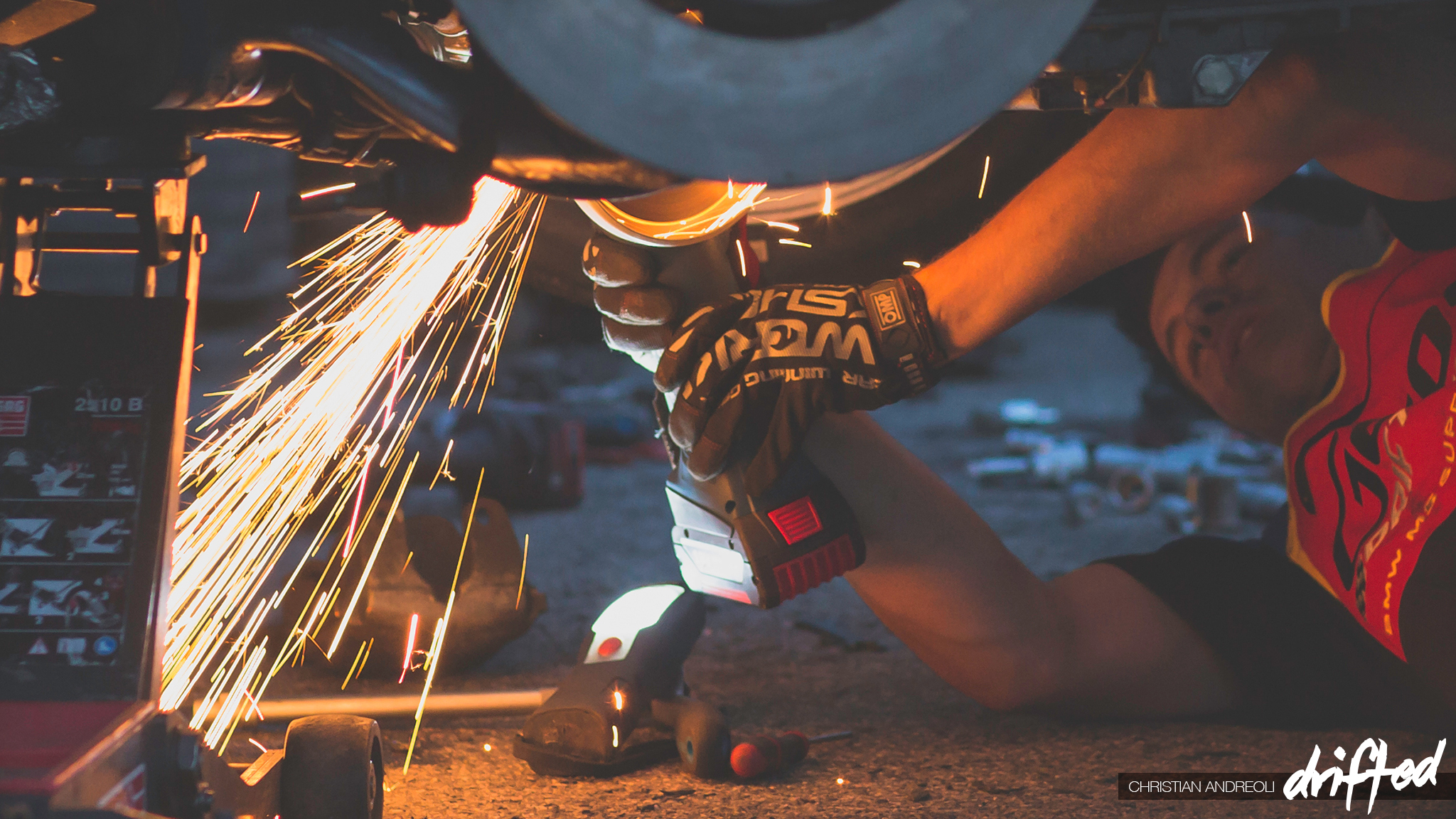 With a great community within the paddock most of the teams pitched in to get him back out and proved the impossible can happen.
Harold Valdma, another young driver from Estonia, has been making waves over the off season and marked his 2014 debut with 13th place in qualifying.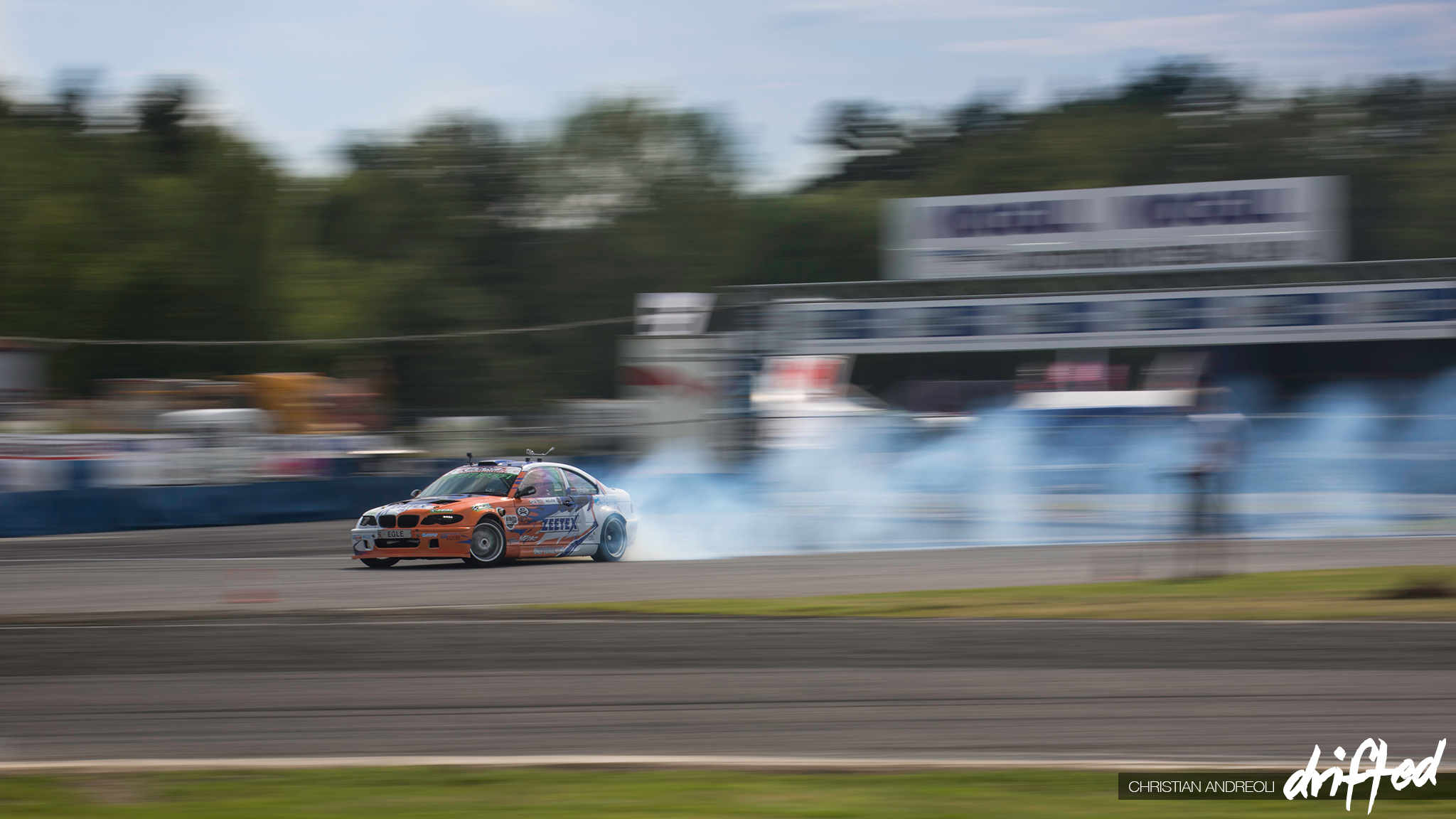 Janis Eglite would have a weekend he would rather forget after his dominant performance in the UK. He would have mechanical issues and with limited runs for qualifying would end up crashing out ending his weekend.
Like the elite, Sartoris Nissan S14 would retire with drivetrain issues.
Nigel Colfer would place 10th in his qualifying session in the Aerokit Nexen Tire Europe Nissan S13.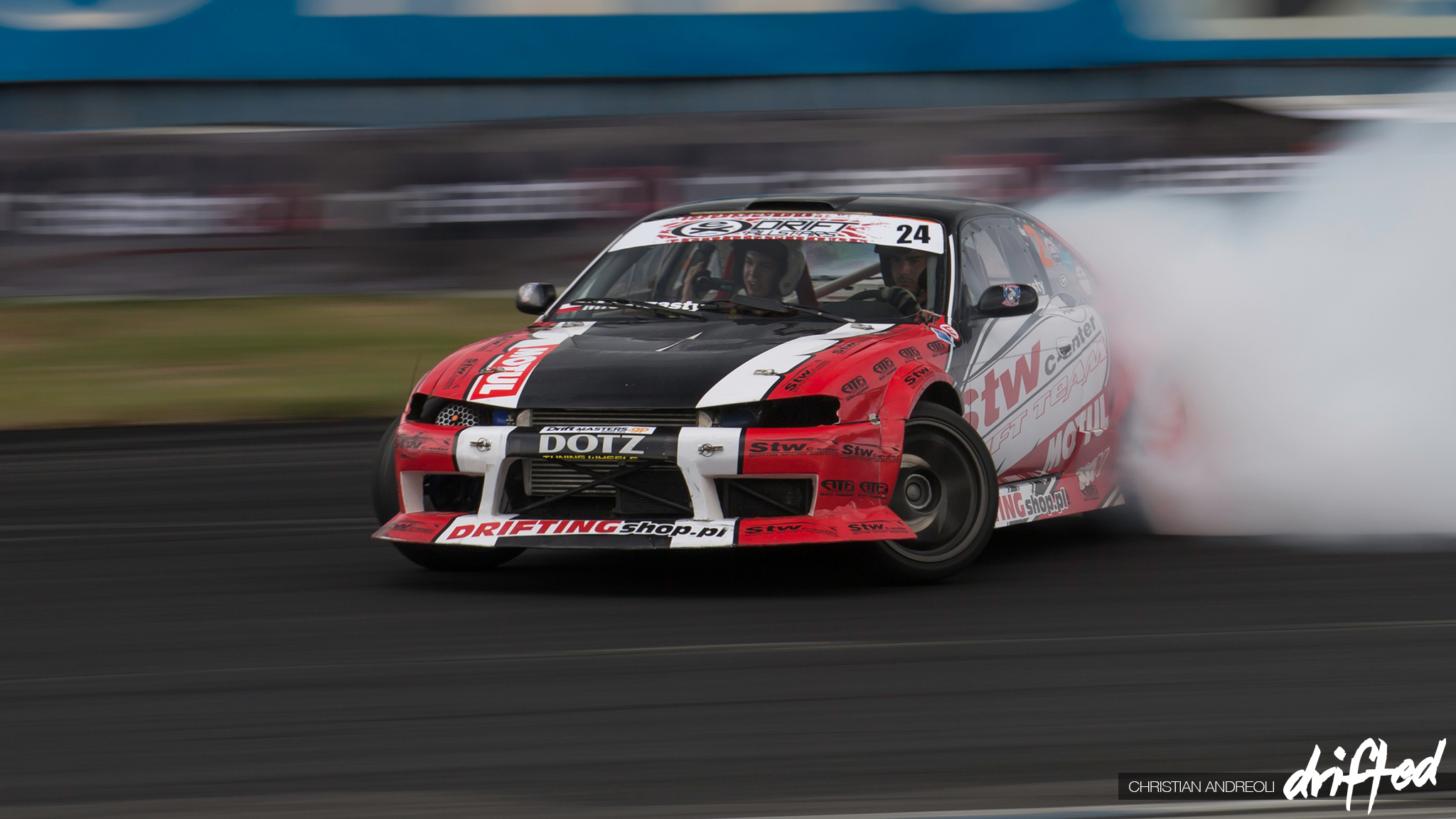 Like a lot of drivers Stevey Carzasty would have gearing issues with this quite long track. Stevey would still push but the best he could do was a 6th place in qualifying.
Championship leader Piotr Wiecek would have mechanical issues and a last minute change of car before qualifying to his R34 would make sure he would be in the main show. With no practice in this car, Wiecek proved why he is one of the best in Europe by taking fourth in qualifying.
James Deane rolling to the line. It was easy to see from early Thursday when he first got on track: James was going to be on a mission to make a point.
The tire war is forever continuing with drivers running the lowest possible pressures to gain as much traction as possible. All fully armed with the best tires the grip game has developed a lot since 2013.
2014 has been another breakthrough year for Drift Allstars Europe, and with the schedule expanding to newer parts, so has the lineup of drivers. A full grid of 50 cars from 15 different nations would confirm the interest for the series is totally exploding.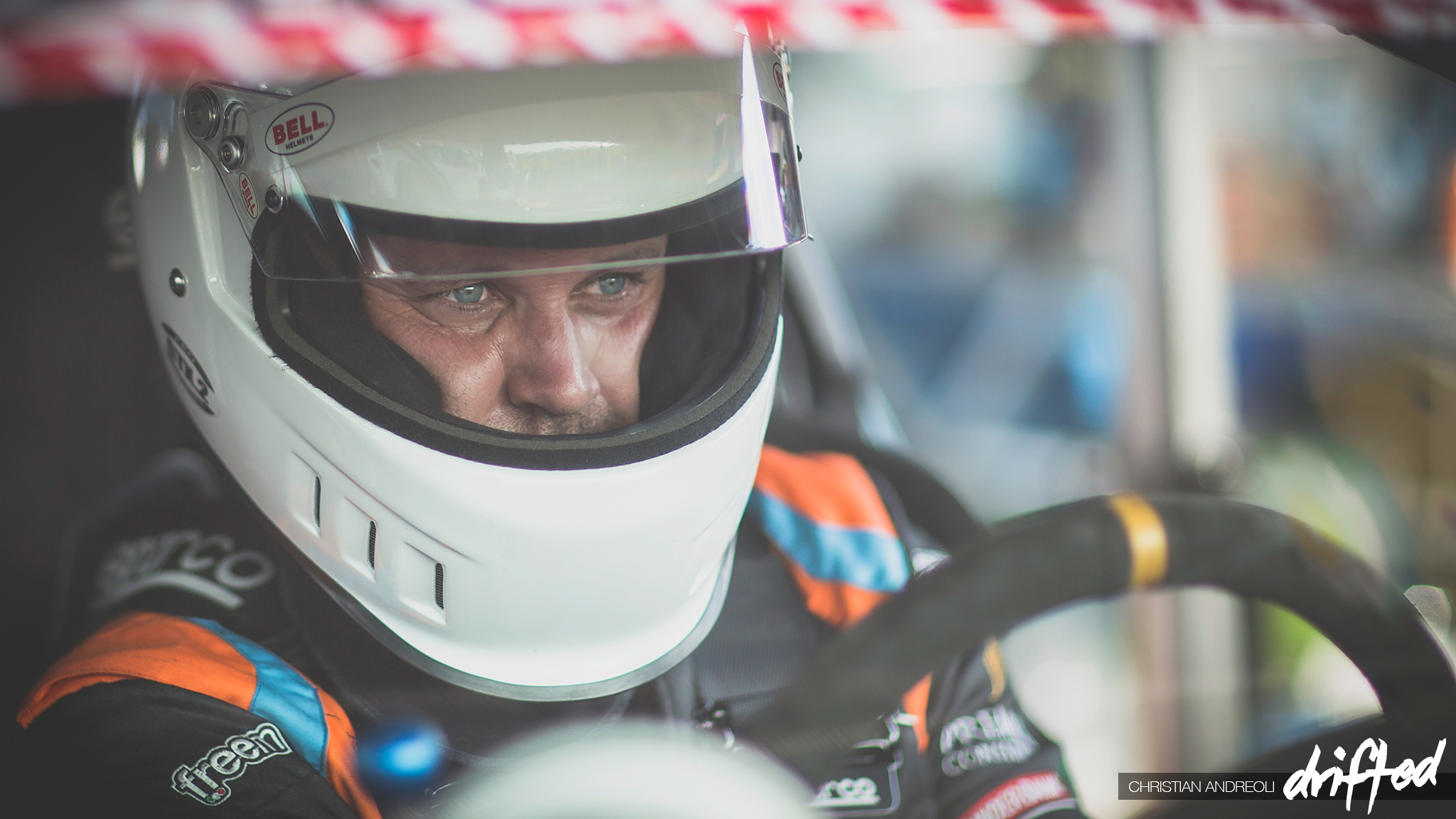 Halvorson ready and waiting! The Norwegian bullet had quite the run up to qualifying.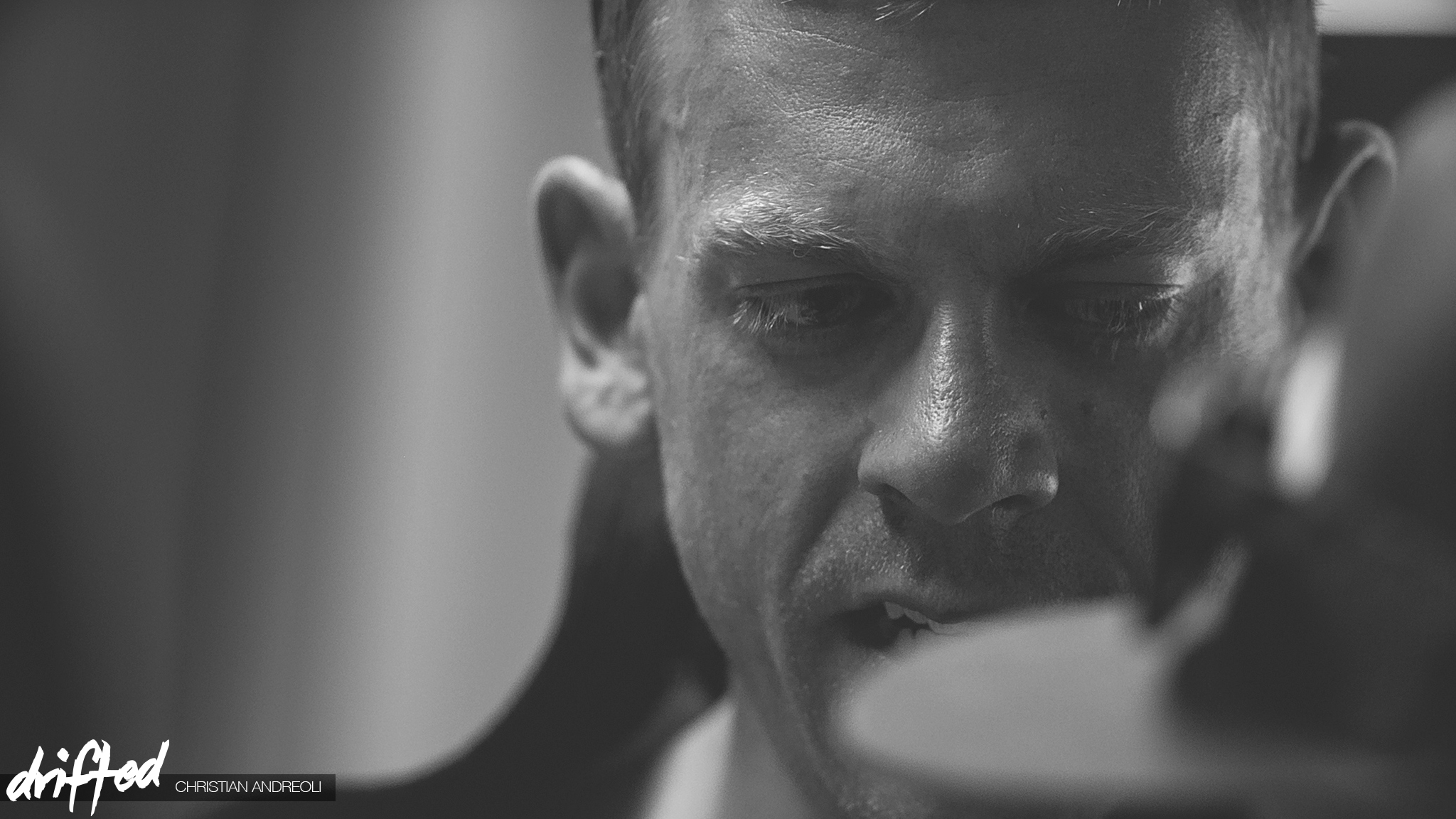 Martin Richards ready and waiting for qualifying results.
Qualifying results are in: James Deane takes P1 from Dawid Karkosik!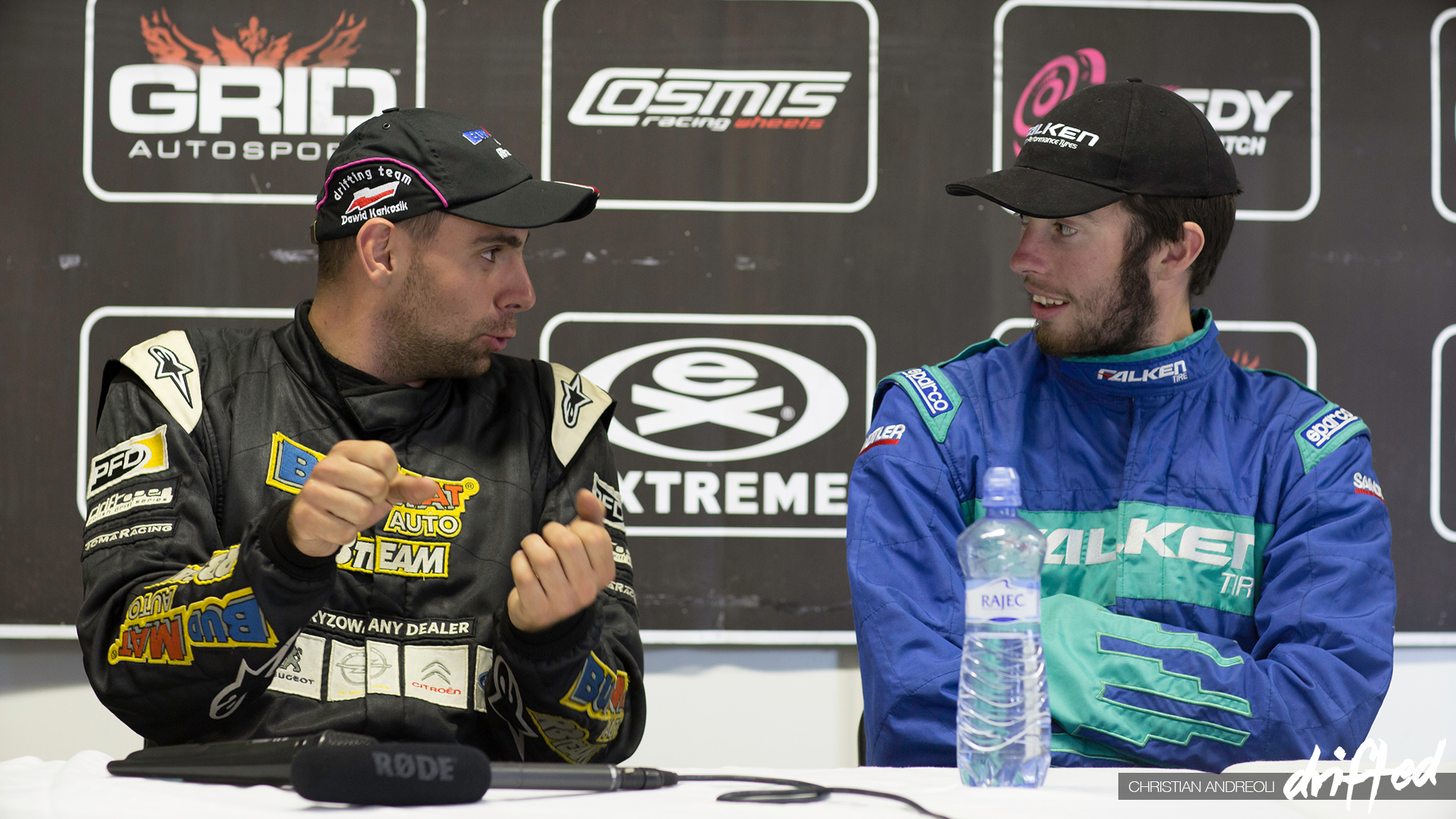 Karkosik a rising star of Polish drifting, ranked 3rd in Europe, explaining to Deane his way of getting it done!
Drivers Qualifying press conference – James Deane explaining to the media why it meant so much to get P1 in qualifying.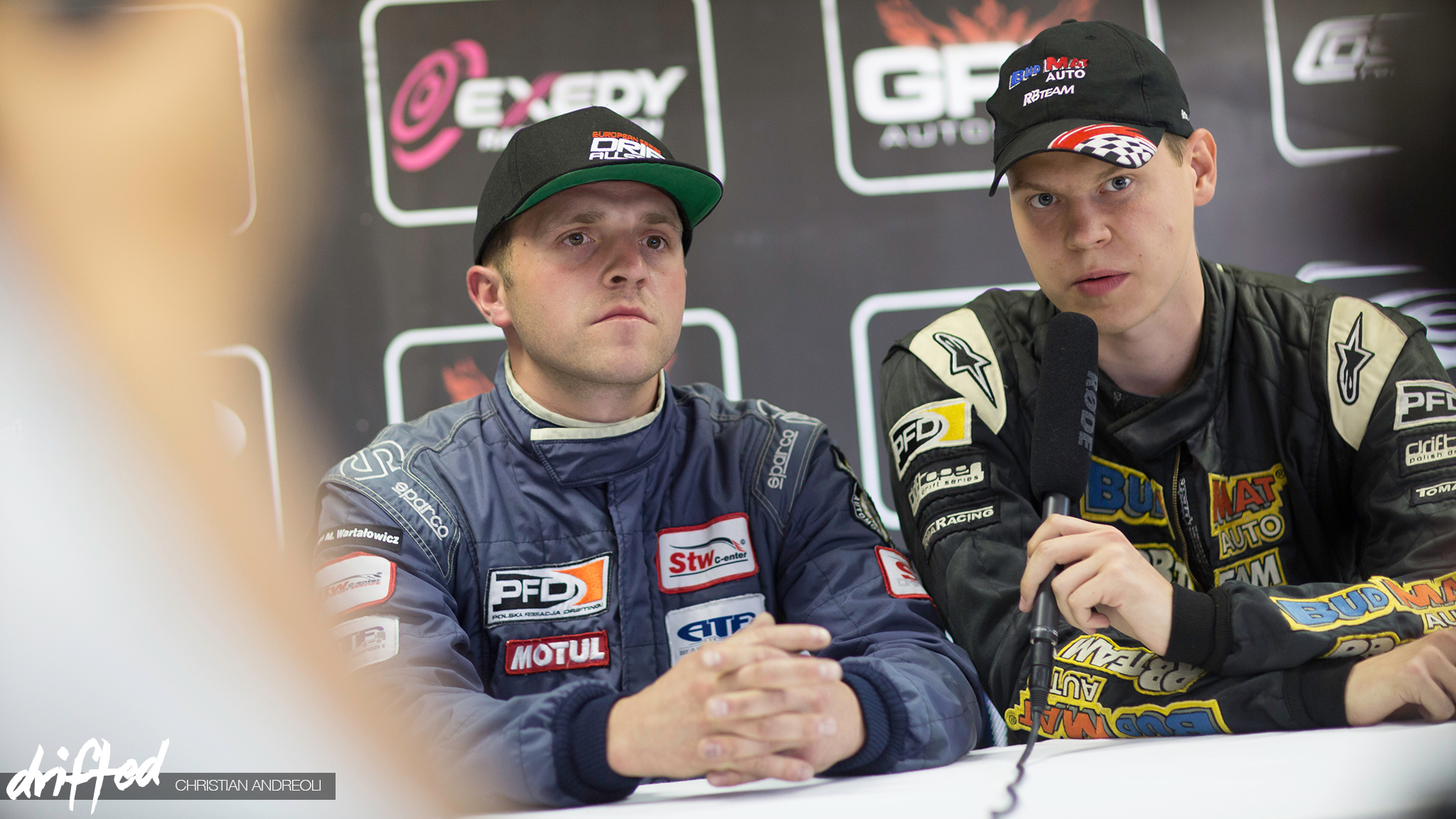 Piotr Wiecek would still hold on to the championship lead with a strong fourth place in qualifying.
Karkosik is hungry for the title after narrowly losing to Juha Rintanen in 2013.
The Drift Allstars team in full international force.
Olaf Commijs, chief judge, explaining the judging criteria for the main event on Saturday.
Drivers reflecting on qualifying results and discussing the second day tactics of tandem battling.
On to day two would see a full capacity crowd at the Sosnova Circuit. James Deane ready for the main event.
Budmat Auto Army rolling out in force four deep –  they are going all out to make sure their two top drivers maintain the team lead also in the championship.
BandanaBoy and the Aatomotion media team have teamed up for the 2014 season to look after Drift Allstars media, we look forward to the content they release.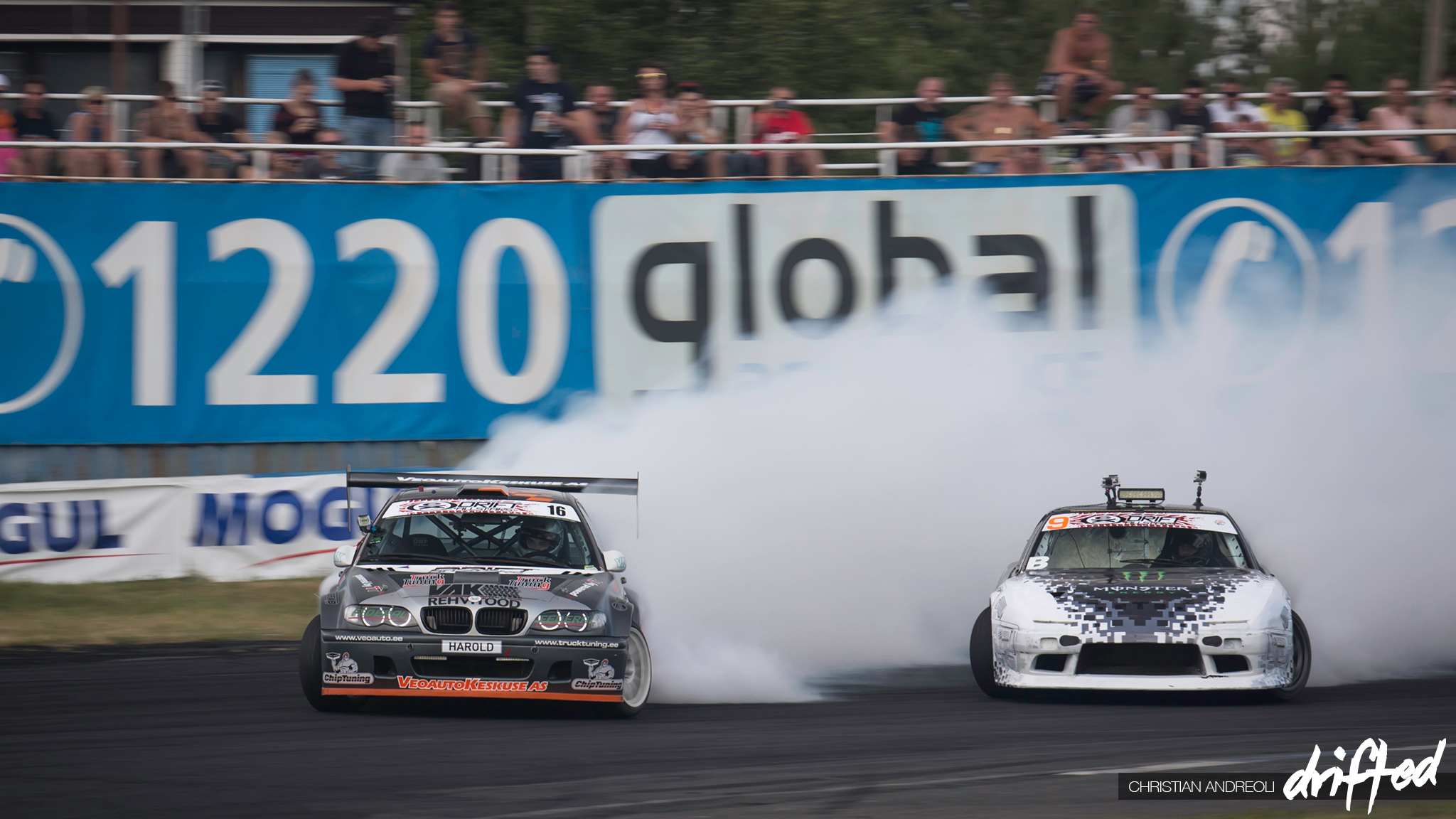 The battles would kick off and one of the closest was between Estonian Driver Valdma and Ukrainian driver Illyuk. Valdma would move on after this close battle.
An all Budmat battle in the Top 16 between Opiela and Karkosik. Karkosik would be on the form of his life with his aggressive shade runs moving him forward to the Great Eight.
Nigel Colfer would battle Maciej Bochenek, another Budmat Auto driver, and push hard. The 2011 Polish champion would have a great runs and a small mistake from Colfer was enough to end his day.
Full house at the Sosnova circuit. With covered grandstand seating and full view of the circuit really was both a great drivers circuit and spectators event.
Battles of the day would come down between Bartosz Stolarski, 2013 Polish Champion, and James Deane, 2013 Irish Drift Champion.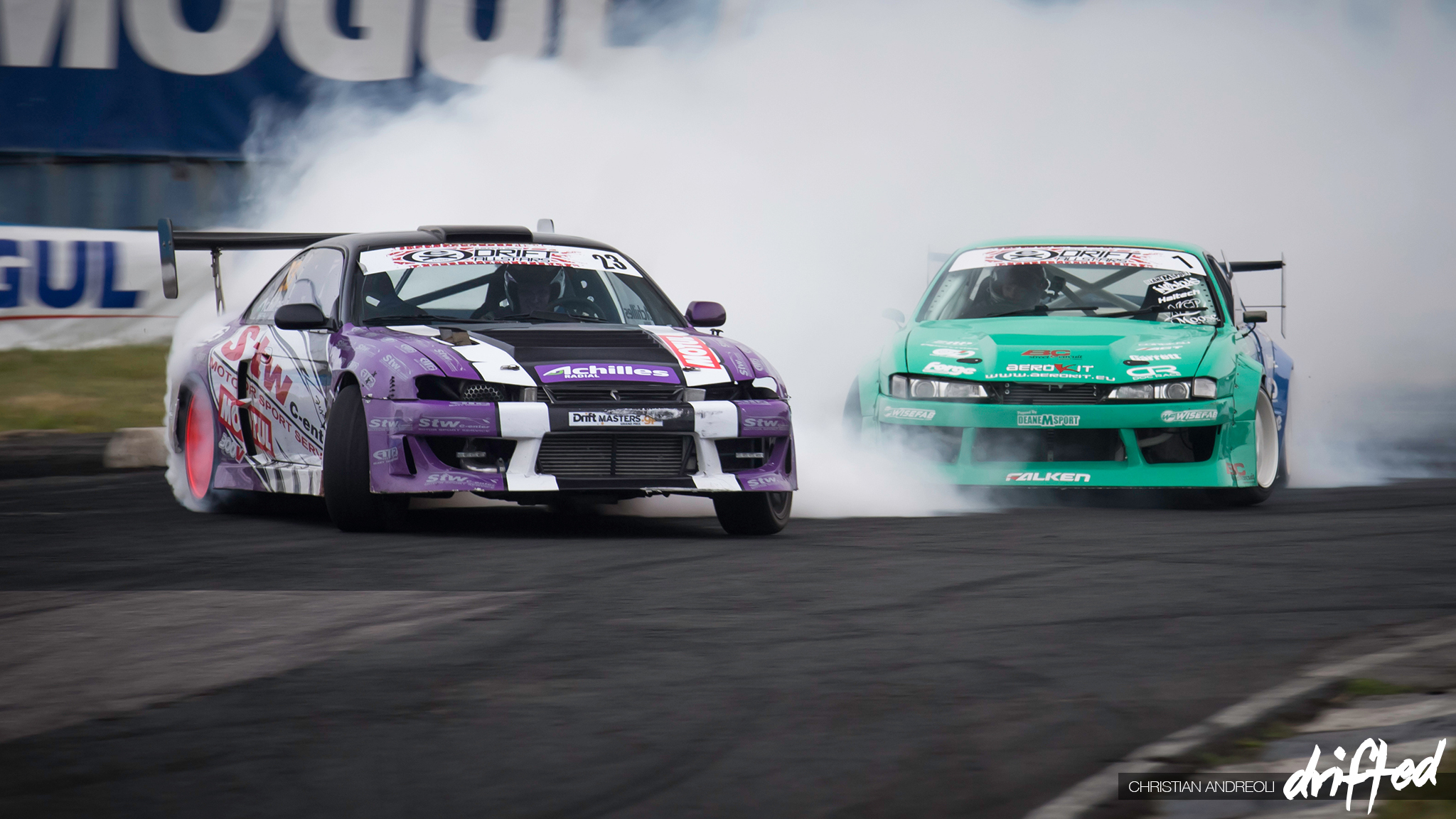 With incredible chase runs from the pair a slight edge and advantage was given to Deane which would see him through to the Final Four.
Deane would face the Estonian young gun Valdmas in his V8LSX powered E46. Valdmas was really pushing and at one stage had a slight advantage on Deane. Deane's chase run was aggressive as ever staying close to the back of Valdmas's BMW.
Valdma put up a fight that just wasn't enough, but still a great way to kick of his 2014 season. A lot more to come from the 18-year old.
The two top qualifiers would meet in the final, meaning an Ireland vs. Poland battle for bragging rights: Deane vs. Karkosik. Deane would lead but yet again we would be denied a full final when Deane's car would crawl to a halt and give the win to Karkosik.
Congratulations to Karkosik who took the win, and also the lead of the 2014 championship! Next, the series moves on to Mantorp park in Sweden for the Scandinavian leg. Stay tuned for more great Drift Allstars action to come!