Yellow but not Mellow AE86
My sole duty on this site is to try and represent, to the viewers of this site, the Irish side of all things Drifted if you will. Therefore I thought it was time we starting sharing together our love for the `86′, and after all we all know Ireland is famous for its love of the legendary Hachiroku.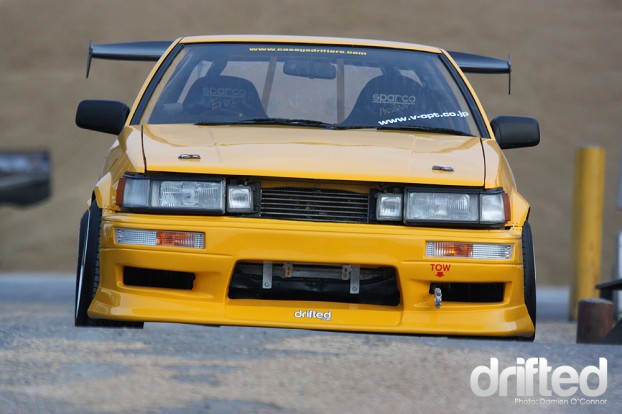 Straight out of the blocks we get right up in the face of this awesome Booted Levin, the intercooler tucked in nicely behind the newly stickered Mercury R front bumper, so all you purists tuning in who are at this moment cringing at the thoughts of anything except 4AGE under the hood you might want to well, go somewhere else.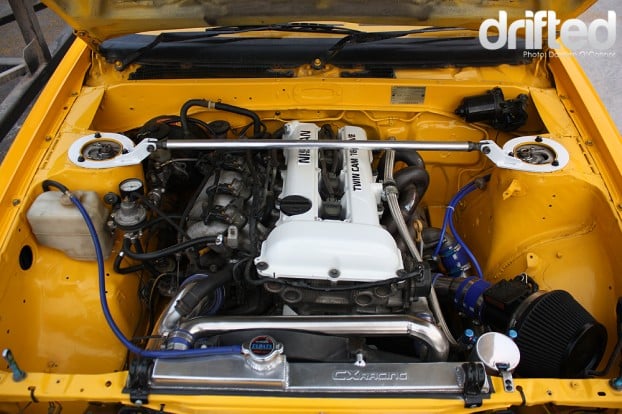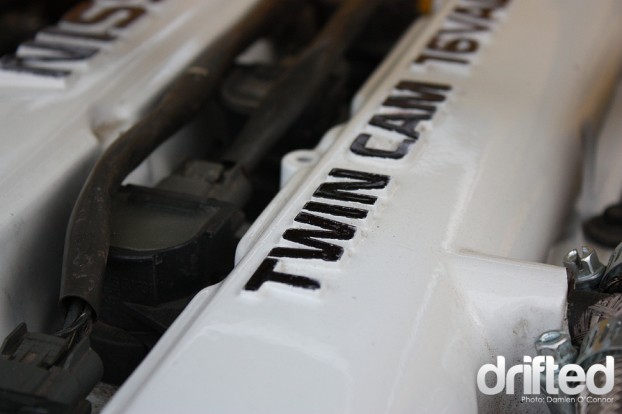 Because under the bonnet lies a Greddy-charged SR20 blacktop motor.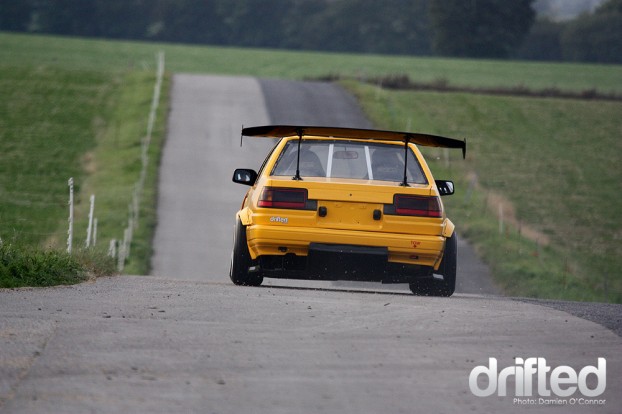 In an ideal world you might love to see this thing sideways screaming it's nuts off on a 4AGE and some throttle bodies, however the fact that this car is a track user for owner Adrian Walsh and his desire for some extra power an SR was really the best option as parts are readily available on drift practice days.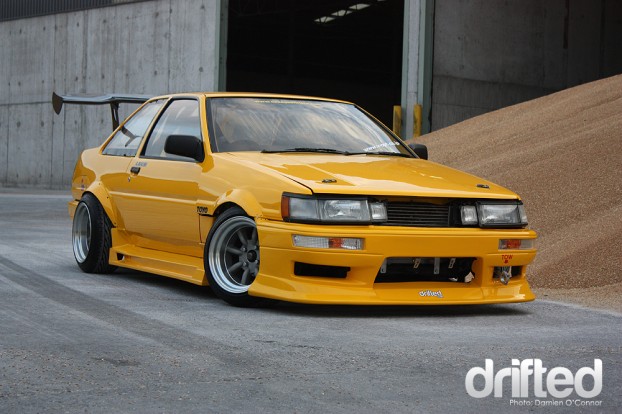 This is a really well finished article, the pictures tell no lies.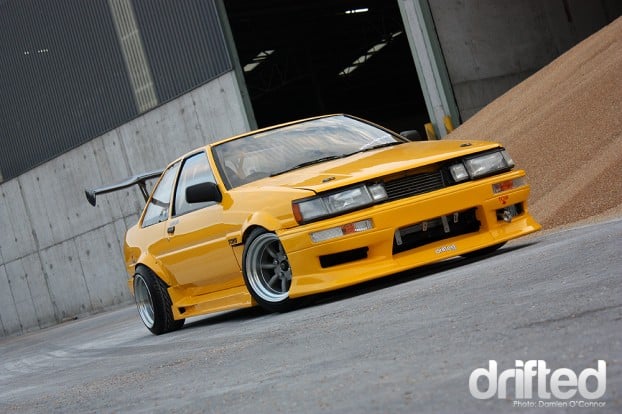 From this angle you can just about catch a glimpse of the huge dish on the 10J Wantanabe rims.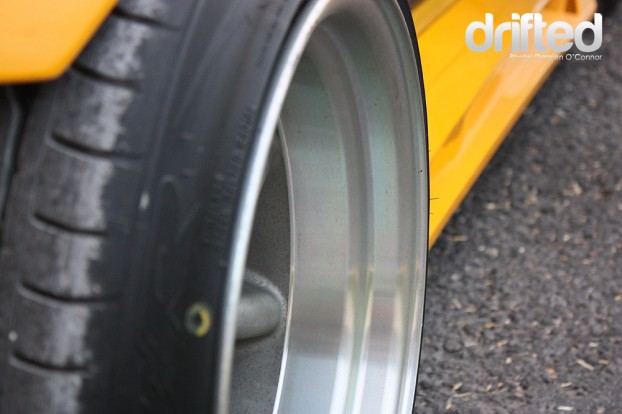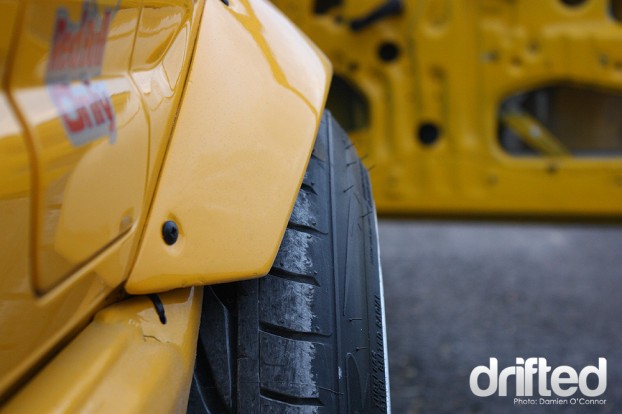 A little closer look.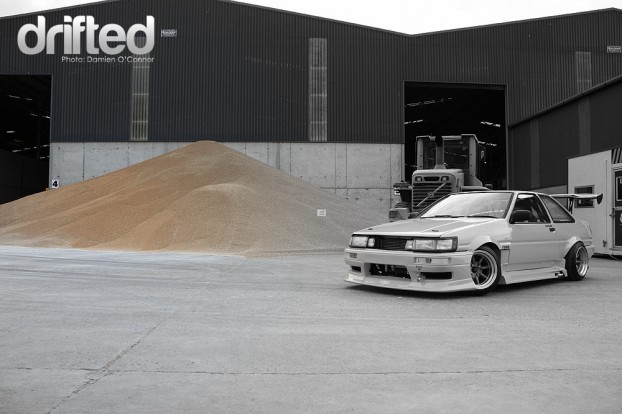 So who else likes harvesting season ?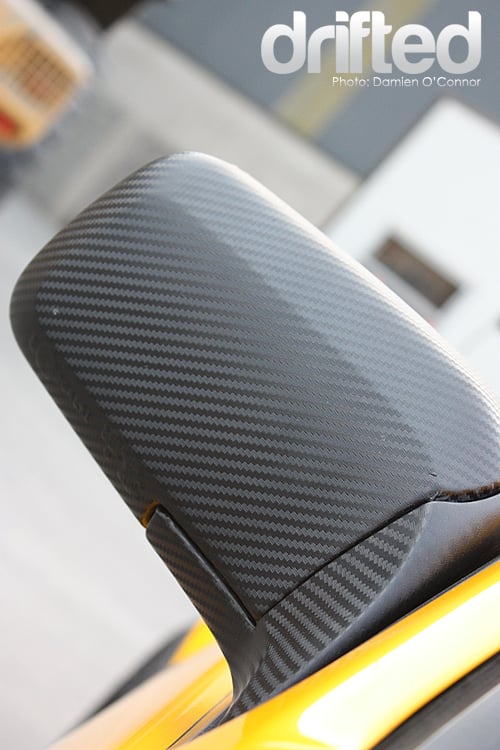 The OEM mirrors have been retained and wrapped in Carbon.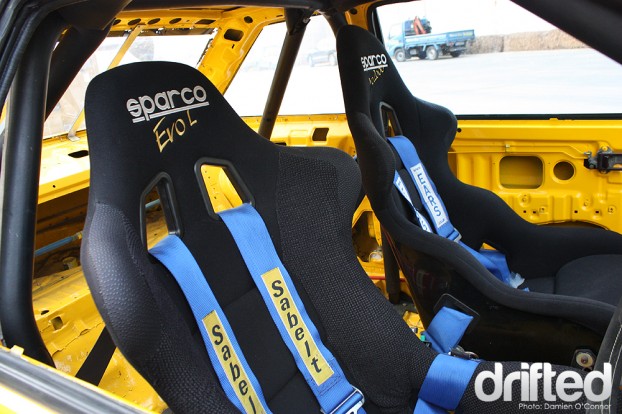 Full cage with matching Sparco's with 6 Point Harness and Sabelts.
Need I explain? 😉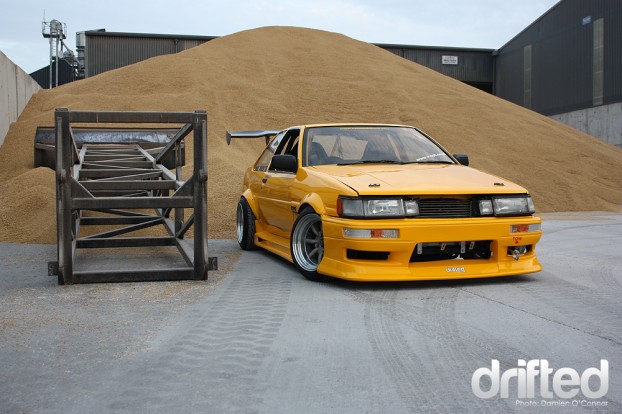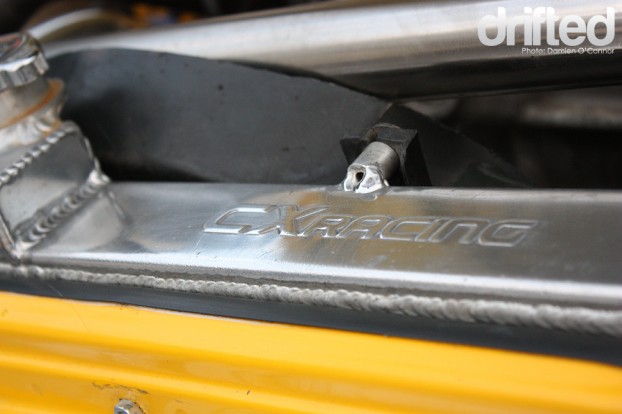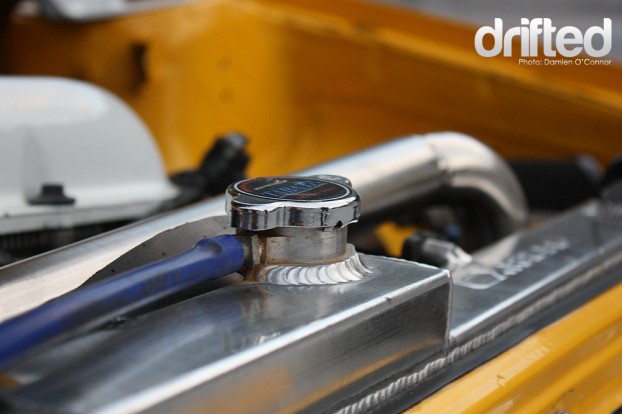 Tasty aluminium rad and some equally tasty pipework.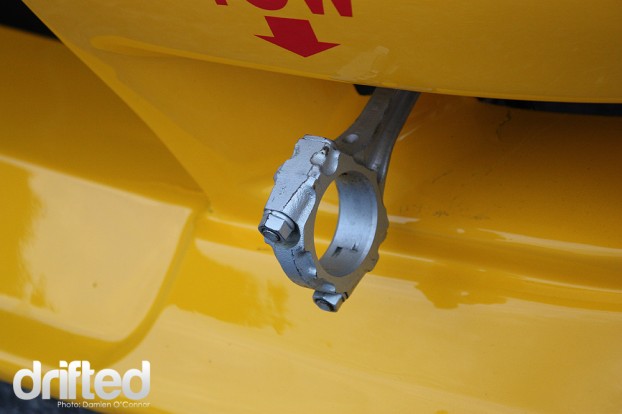 Adrian will be hoping he won't be needing this too often.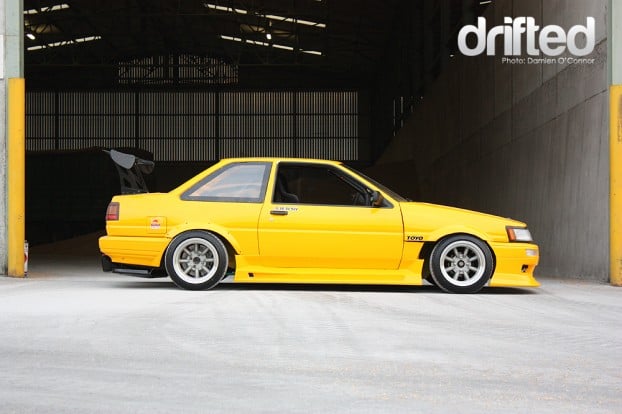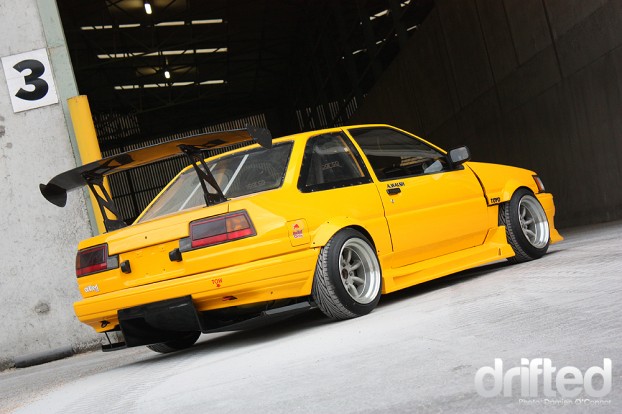 The car has such presence, everything about it's appearance just screams excellence.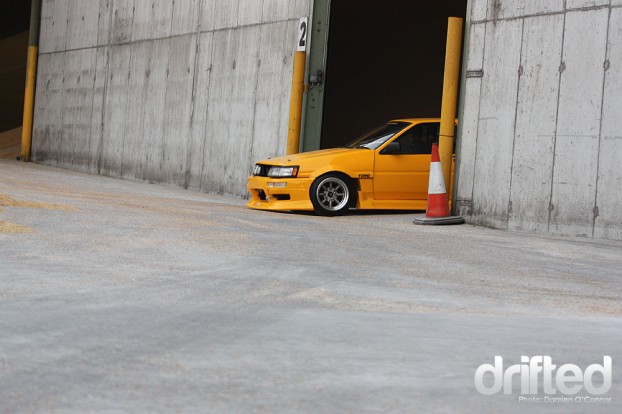 The car is sitting so sweet, as you can see the front bumper almost scrubs the ground off a minimal incline.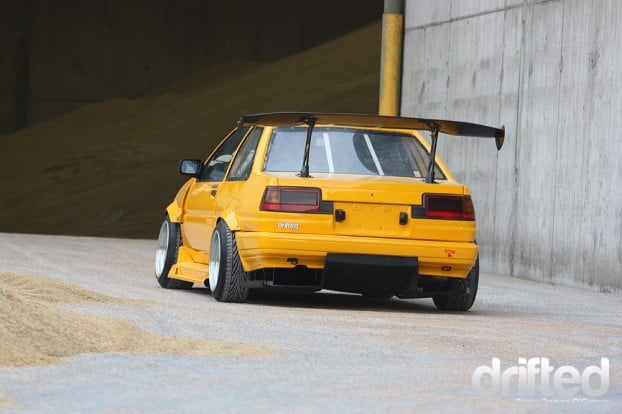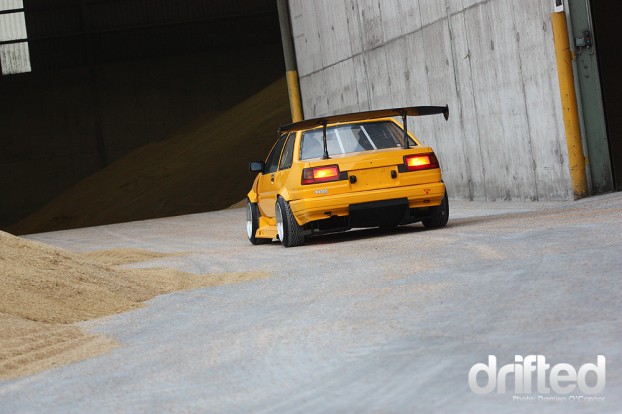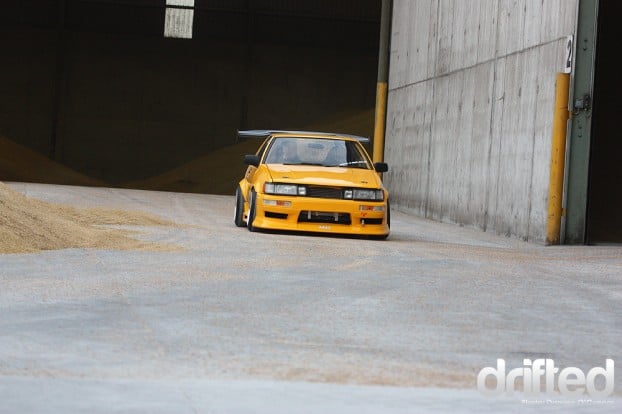 Big wings can be a topical debate, given the type of car and how that Origin wing looks from all three shots above it's hard to imagine the car without it.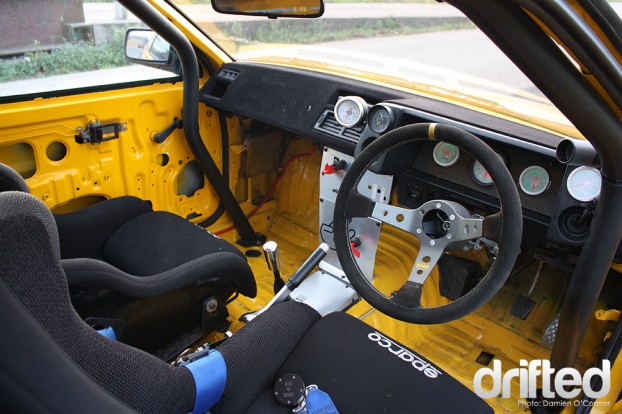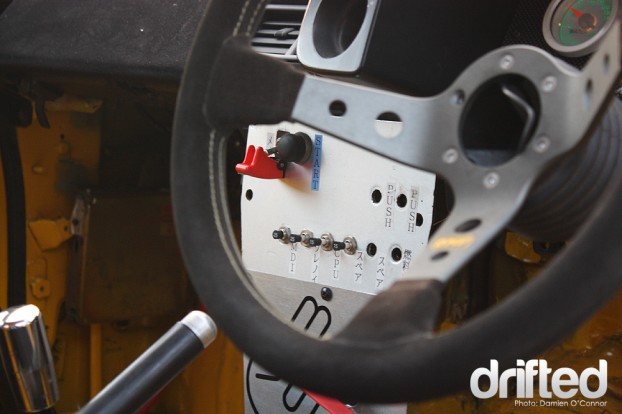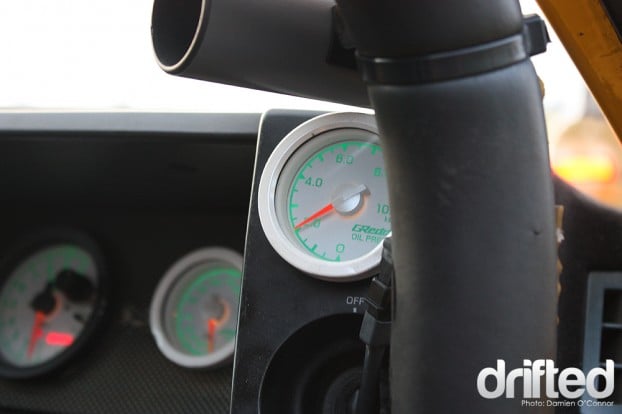 A flocked dash and custom console with some gauges complete the interior.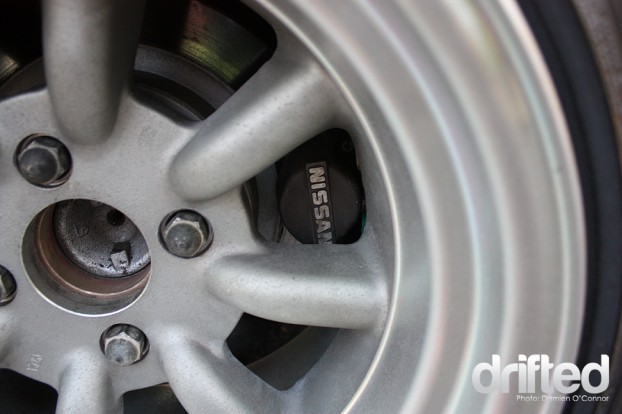 Skyline rear brakes help lock up the rear wheels.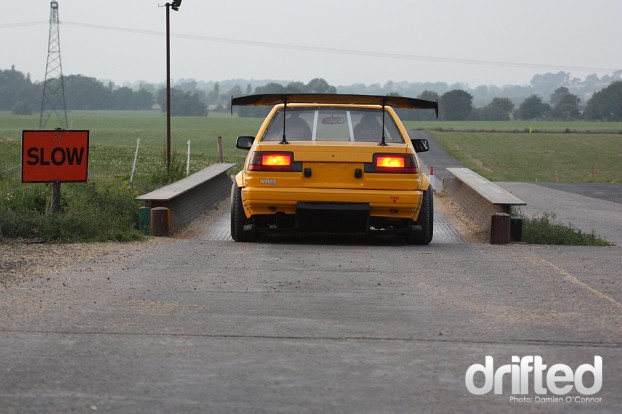 This is where the tractors and trucks delivering to this site get the load weight take, Adrian's Corolla weighs in at a very skinny 940kg.
Thanks to Adrian for letting us shoot his cool track ride, as I always I hope you  enjoyed.
Spec as below;
ENGINE: Blacktop SR20DET, Head and block skimmed,  Metal headgasket, ACL  race bearings, Grex camshafts,Greddy T518z turbo, Tomei 4 branch Tomei turbo elbow,Tomei downpipe,Thrust fmic,Z32  Afm, FSEfuel pressure reg,C-Rex racing alloy rad,K&N induction kit,GTR Skyline fuel pump,Nismo 550cc injectors,HKS boost controller, custom side exit exhaust
TRANSMISSION; RB20 Skyline gearbox,ORC  Triple plate clutch and lightened flywheel, Nismo quickshift, Nissan Annette axle wit 4.1 final drive and locked diff, K-Sport adjustable 4 links, Traction brackets, Adjustable panhard rod, TRD anti roll bar
BRAKES :Skyline rear twinpots and discs, yellow stuff pads, front grooved discs mazda rx7 callipers, braided brake lines all around
EXTERIOR: Mercury r bodykit, FRP rear diffuser,FRP bonnet, Origin drift wing, Redline rear lights, Polycarbonate windows, hibino style cut and flared wings frp rear arches resprayed yellow
SUSPENSION: TRD front coilovers, rear TRD blue shocks, TRD  springs, Fully adjustable Cusco subframe wit adjustable wishbones, rcas ,tension rods extra lock, inner tie rods with adjustable outer tie rods, Cusco antiroll bar
WHEELS/TYRES; 15×10 Watanabe's with 195/ 50 /15 Toyo Proxes TIR'S
INTERIOR: Flocked dash, safety device roll cage, Sparco Pro 2000 seats 6 point harnesses Omp s/wheel, Willwood Hydro hand brake, Blitz boost gauge, Omori rev gauge, Greddy oil pressure, water temp  and oil temp gauge.