Forza Horizon 5 Split Screen – Is It Possible?
Split-screen gaming provides the perfect opportunity to go head-to-head with your friends and family in the same room without needing an internet connection.
Forza Horizon 5 is currently the most popular racing game, and with so many cars on the thrilling streets and backroads of Mexico, this game has lived up to its legacy.
No matter what you are into, Forza has it all, drifting, drag racing, racing, cruising, and so on – the possibilities are endless, and there is something for all the family to enjoy.
Split screen has been a favorite format of racing games for anyone who has ever played with their friends or siblings.
Having your friends by your side and playing your favorite driving games through a split screen provides a unique experience that many younger gamers have never taken the chance to experience.
Nowadays, games are mostly focused on online play modes, and split-screen gaming has sadly become mostly obsolete.
Does Forza Horizon 5 Have Split Screen?
We hate to be the bearer of bad news, but unfortunately, split screen mode, a format for playing the game in local multiplayer, is unavailable once again in Forza Horizon 5.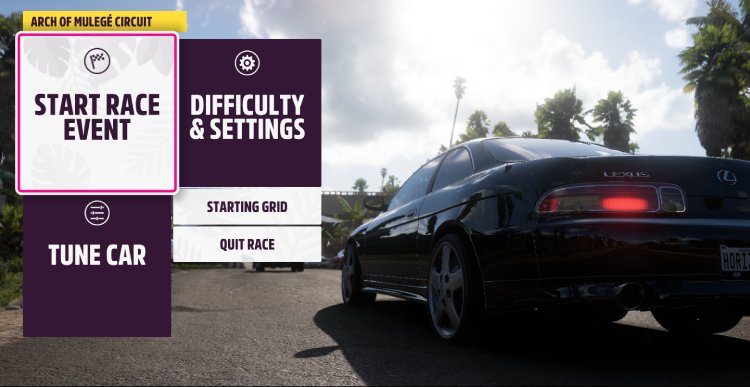 The split screen mode was overlooked once again by the developing studios, Playground Games, and other game development companies that have shifted away from offline multiplayer, leaving Horizon fans in the dark once again.
However, on a positive note, Forza Horizon 5 provides one of the best online multiplayer racing experiences.
Forza Horizon 5 '2 Player' Split Screen
Since the two-player split screen feature falls under the same category as local multiplayer, unfortunately, there is no available feature to play local multiplayer in FH5.
Forza Horizon 5 Split Screen Alternatives
You can see the menu screen by pausing the game, and at the top list, you can find the Online setting.
Using the player/friend option, you can add up to 12 friends in a single race with the convoy option and enjoy going for a cruise together from the convenience and comfort of your own home.
Remember to put your headset on to enjoy the online experience to its full potential!
Also, don't forget that one of the main multiplayer benefits that Forza Horizon 5 offers is cross-play, so whether you're on an Xbox console or a PC, you'll be able to join your friends and other gamers online across both platforms.
Why Doesn't Forza Horizon 5 Have Split Screen?
The answer to this question goes back to the definition of modern gaming, which is mostly focused on connecting larger communities.
It could also be argued that there's more profit in online gaming than in local multiplayer, and story-based and offline games are becoming somewhat endangered breeds.
Companies earn much more money selling online-focused games.
This causes the older ways of traditional split screen offline gaming to become pushed to one side.
The upside of having an online connection with your friends is that every one of you gets to have a unique collection of cars.
FH5 provides the opportunity to go around with our friends drifting and tuning your cars to get the best experience out of your custom builds.
Forza Horizon 5 Local Multiplayer
Unfortunately, playing Forza Horizon 5 in local multiplayer is impossible.
To play with friends, you need to have access to the internet, and then as explained through the online option in the menu of Forza Horizon 5, you can add friends to a party and enjoy playing with them online.
Will Forza Horizon 5 Have Split Screen?
We can almost say with certainty that the chances of having split screen and offline Forza Horizon 5 multiplayer screen mode are incredibly unlikely.
Chances are, if they were planning to integrate this feature, we would've already been able to experience what it has to offer by now.
Games like this need a very powerful system to run them while playing on your own, let alone the process of adding another player to the game.
Plans For Forza Horizon 6 Split Screen?
It is very unlikely that we will have a split screen in Forza Horizon 6.
Since they have not done it in the past games of the Forza series, we're not going to keep our hopes high for the Forza Horizon 6 to have the co-op or multiplayer split screen feature.
Split Screen Racing Games For Xbox One
The good news is that there are many amazing racing video games available on Xbox consoles so that you can fill up the void of the Forza Horizon 5 split screen feature.
Simulator-style games such as Forza Motorsport 7 fully support the split screen option and are extremely fun and challenging to play.
Another game would be Dirt 5, a rally-focused game that gives you the joy of playing with your friends with split screen off-road carnage.
Split Screen Racing Games For PS4
Similar to the Xbox, PlayStation offers many good games to split screen lovers, such as Gran Turismo 7, the greatest PlayStation game in the racing field, one of the best racing games of all time, offering many cars and different tracks that you and your friends can enjoy racing on using split screen.
Interested to know how Gran Turismo stacks up against the Forza series? Check out our Gran Turismo Sport vs Forza Motorsport 7 review.
Other Split Screen Racing Games
Despite the lack of split screen in Forza Horizon 5, plenty of other games and platforms continue to make the most of what shared screen modes have to offer in the present day.
The Need for Speed franchise is one of the pioneers of racing games; street racing and drifting were introduced to many fans by this game's amazing atmosphere, and now a significant name in racing games history after many years.
Nintendo, as a company, is still very focused on its local multiplayer games, and they have plenty of options.
The WRC gaming franchise is an off-road and rally-focused game that made rally racing have its unique genre.
They appreciated this sport and its fans deeply. This exciting game lets you play with your siblings and friends and have fun using the much-loved split screen mode in a race to the finish line.
The Mario Kart series is perhaps the greatest split-screen racing game of all time.
This game has a special bond with split screen, and it's one of the ultimate car games to enjoy with your friends to show off your racing skills.
Looking for split screen action but your not a fan of Forza Horizon 5? Then you need to check out the mighty Gran Turismo 7.
Nintendo users have many nostalgic memories of playing this amazing game as a child, and the split screen feature is one of the main reasons we all loved it so much.
Let's face it, despite the introduction of online gaming – there's nothing quite like taunting and winding up your buddies in the same room!
Conclusion
Indeed, many new games do not support features like split screen, and many of the nostalgic elements of games of the past are quickly fading away.
However, despite the lack of split-screen in FH5, there are still many options on the market, so perhaps use it as an opportunity to try something new in split screen.
You can always return for the impressive story/online modes that Forza Horizon 5 offers afterward.