Product Spotlight: 2021 Edition Noblechairs X Mercedes-AMG Petronas Gaming Chair
Noblechairs has once again paired up with Mercedes-AMG Petronas to drop a premium gaming chair for 2021. Is this the hottest gaming chair of the year?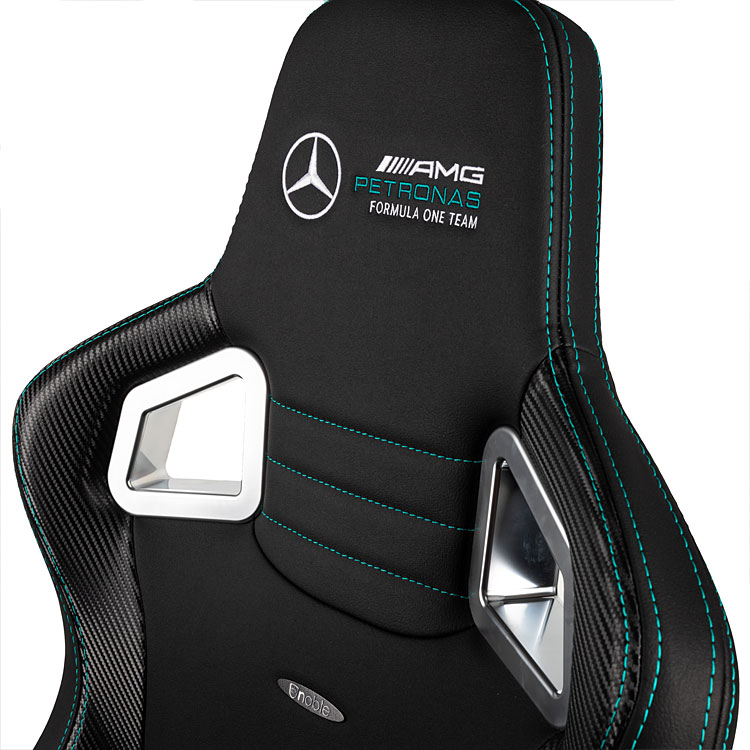 We got our hands on the original Noblechairs X Mercedes-AMG Petronas gaming seat back in July 2019 and now we are lucky enough to check out the brand new, 2021 edition on launch.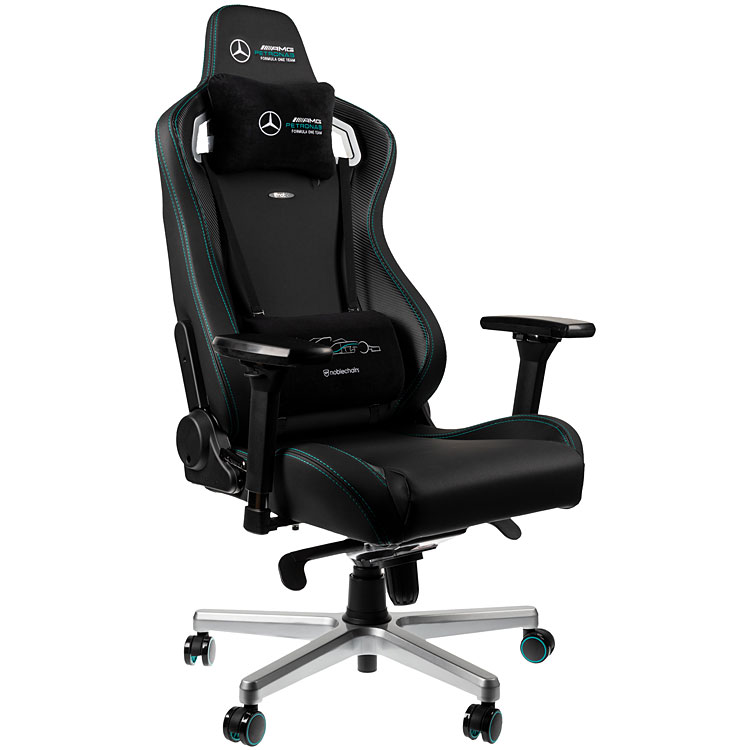 As both car enthusiasts and gamers, we spend a lot of time perched on our chairs in front of our laptops. Whether it's researching the next hot tuning part, or getting some practice in on Drift Hunters, our chairs get some serious abuse. That's why it pays to fork out a bit extra on a premium gaming chair. Trust me, your back will thank you in the future.
Noblechairs latest collaboration is a great looking and well-made chair. They have elected to dial down some of the brighter detailing of the first chair and created a smart and stylish version for 2021.
The chair is rated for 9hrs + of continuous use and will comfortably hold up to 150kg of weight.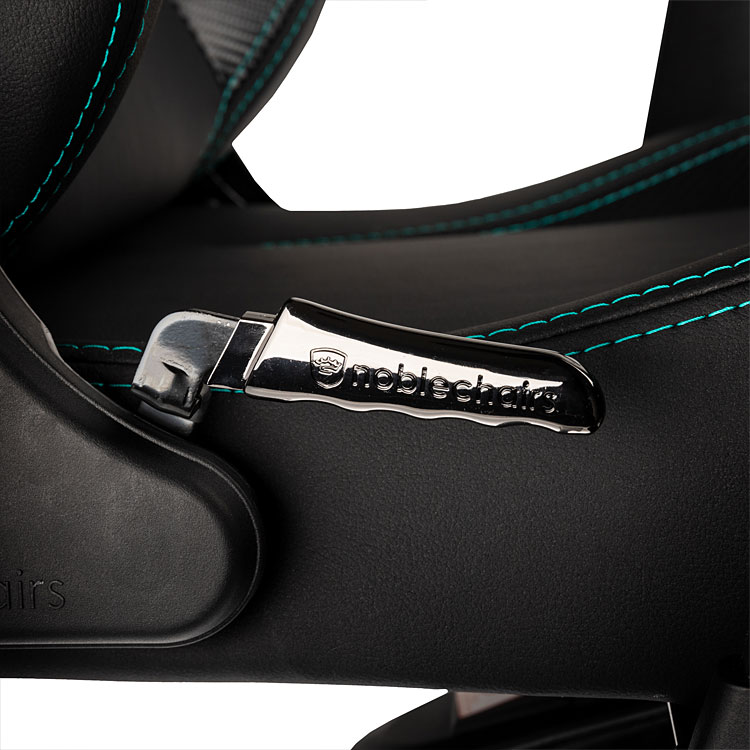 There is a huge range of adjustment on offer, enabling people of all shapes and sizes to set up the perfect seating position.
The 2021 version is using a brand new hybrid material that makes you sweat less (while in the seat), it's easy to clean and is built to look great for years to come.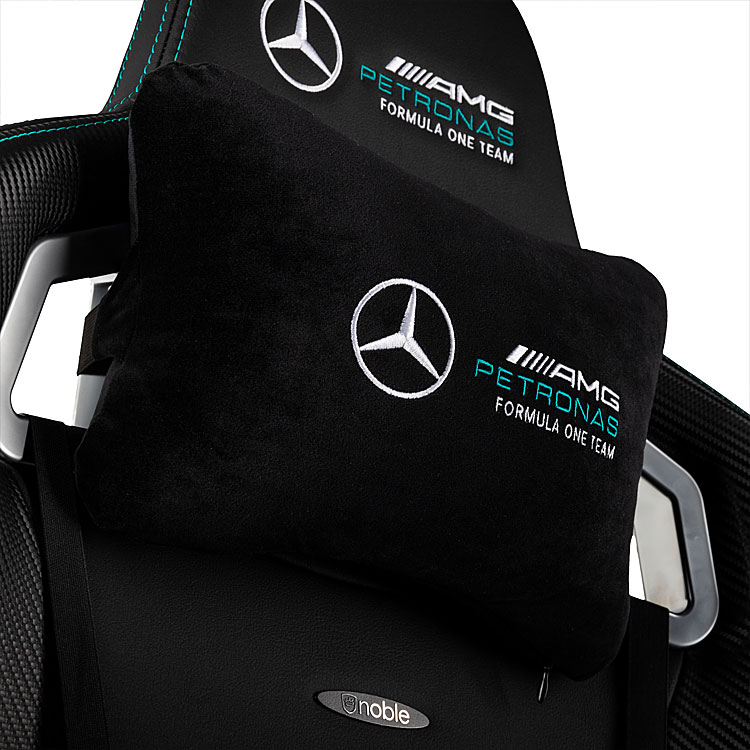 The chair comes with two removable comfort pads, one for your lower back and one for lumber. Personally, I don't use these and I find it supremely comfortable. With that said, it's probably worth talking to an Osteopath about getting the correct sitting posture for you, just to be safe.
I'll be completely frank with you; I really like using this gaming chair.
I drive in an original BRIDE Brix bucket seat in my S15, something I like to refer to as the "nut buster". Getting out of my car and settling into the comfort of this seat is next level.
I wonder if I can get some rails made up to fit them in my car? I'm actually quite serious…
While I have only had this chair for a few days, I have no doubts that it will deliver high levels of comfort and look great for many years to come. The 2019 version has served me very well to date, still looking like new.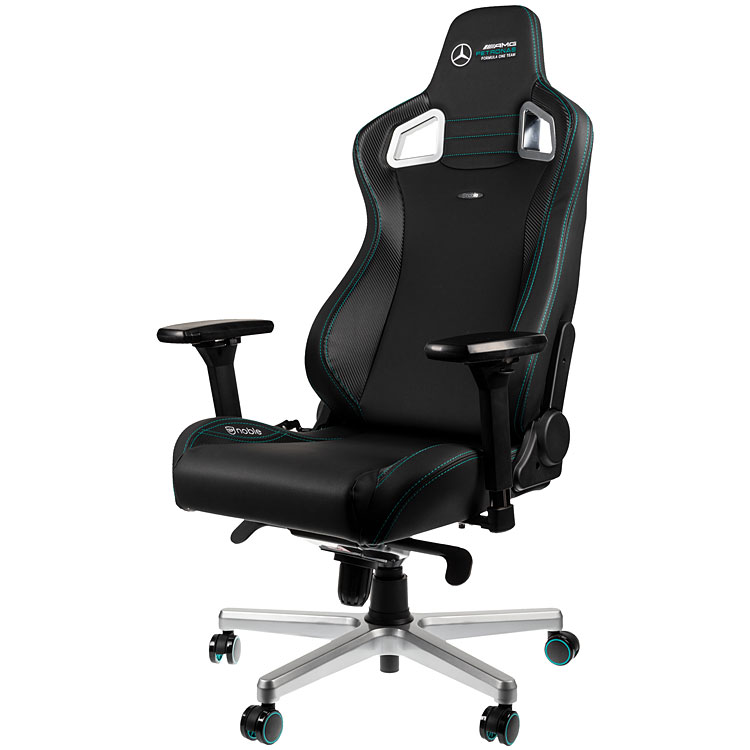 Key Features:
Durable, easy-to-clean, water-resistant and breathable
Certified ergonomics optimised for long sessions, rated for 9~ hours of usage
Hybrid material featuring a premium matt finish
Individually adjustable seat height
Supports a weight of up to 150Kg
Bolsters with carbon elements
Precision embroidered Mercedes-AMG Petronas Formula One Team logos on the
headrest
Matching silver aluminium base and nylon casters with 'PETRONAS green' detailing
Neck and lumbar pillows embroidered with the Mercedes-AMG Petronas Formula
One Team logo
Official press release
Today, noblechairs are excited to launch the official noblechairs EPIC Mercedes-AMG Petronas Formula One Team Edition Gaming Chair! Designed in Germany alongside the seven time F1™ World Constructors' Champions* the 2021 Edition will be available to order immediately through our global network of partners.
The official licensed exclusive product is designed in close cooperation with the Mercedes-AMG Petronas Formula One Team and is a luxury gaming chair built for F1 enthusiasts.
noblechairs announced their licensing partnership with the Mercedes-AMG Petronas Formula One Team back in 2019, and with proven award-winning long-term comfort, the new edition features the innovative high-end hybrid material which has a breathable surface structure giving maximum performance benefits.
The innovative hybrid material has brilliant airflow, irrespective of how long you sit. Users will sweat less, which thereby eliminates any sticky or unpleasant feeling.
Giving users a more comfortable seating experience due ventilation without the need for perforation. It is difficult to distinguish this man-made material from real leather since it has such a similar feel to real leather.
This hybrid material is manufactured in Germany. It is tear proof, durable, abrasion resistant, hydrolysis resistant, fire resistant and easy to clean.
It is also a lightfast material, meaning it's not prone to discolour when exposed to light. The noblechairs are designed to look excellent even after many years of use.
Innovation, premium component selection and ergonomic design has always been a priority for noblechairs, and this shows throughout the Mercedes-AMG Petronas Formula One Team chair too, using distinctive elements from the team, such as the fine details like the 'PETRONAS green' stitching and the silver harness holes.
noblechairs have won over 100+ product awards, have a strong amount of positive customer reviews and pride in providing a good range of comfortable gaming chairs with durability and ergonomics in mind, noblechairs is a German brand that is seen as one of the best in the market.
noblechairs and the Mercedes-AMG Petronas Formula One Team introduce the 2021 official licensed gaming chair, using a hybrid material with performance benefits.
"In conjunction with the Mercedes-AMG Petronas F1 Team we are thrilled to announce our continued partnership with the release of the 2021 noblechairs Mercedes-AMG Petronas F1 Team Edition Chair. Together, we've been able to design and create a chair that can be the centerpiece of any room and offer that championship performance you'd expect. With more to come, we can't wait to share more with our fans across the world in 2021." – Toni Sonn, CEO of noblechairs
The chair will adorn the Mercedes-AMG Petronas Esports Team Training Facility at the team's Operations Centre in Brackley, UK. The team was the winning constructor in the 2018 F1 Pro Esports Series.
The noblechairs EPIC Mercedes-AMG Petronas Formula One Team Edition Gaming Chair is available to purchase from noblechairs.com and other online retailers, the prices are EUR: 429,90€, GBP: £399.95, USD: $519.99.
Watch out for more products as the partnership between noblechairs and the Mercedes-AMG Petronas Formula One Team develops further.
Cutting room floor