Ceramic Coating – How Much Does It Cost?
Are you wanting to get your ride looking its best? Ceramic coating can provide the ultimate paintwork protection, but how much does it cost?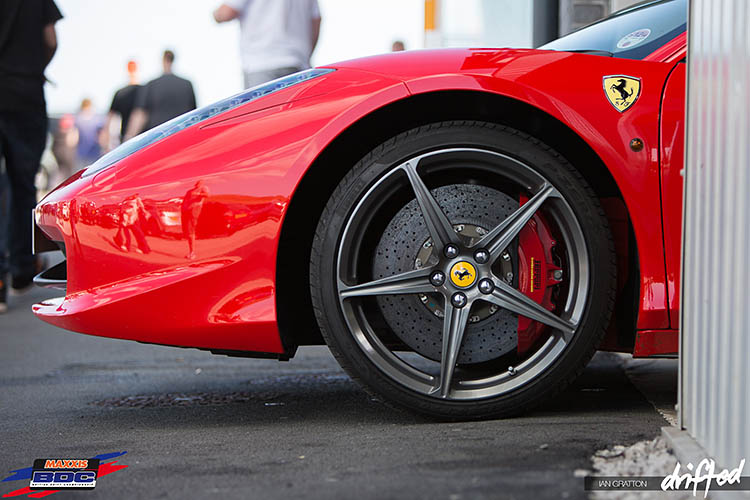 ---
In a hurry? Here are our favorite Ceramic Coatings:
| Budget Choice | Drifted Choice | Premium Choice |
| --- | --- | --- |
| | | |
| Turtle Wax Hybrid Solutions Ceramic Spray Coating | CarPro Cquartz UK 3.0 | Adam's UV Graphene Ceramic Coating Kit |
| 🔥🔥🔥🔥🔥 | 🔥🔥🔥🔥🔥 | 🔥🔥🔥🔥🔥 |
| Buy Now | Buy Now | Buy Now |
---
Introduction & Ceramic Coating FAQ
Whether you've purchased yourself a new car with immaculate paintwork that you're looking to protect or simply wanting to keep your ride in tip-top condition, you'll want to check out ceramic coating.
While a ceramic coating isn't going to magically make your drift missile look like it's just rolled out of the showroom, it can still be an ideal consideration even for cars that aren't in the best of condition.
With benefits such as ease of cleaning and preventing contaminants, including burnt rubber for drifters, to stick to the paint – there are plenty of advantages from the various products on the market.
What Is Ceramic Coating?
Despite being one of the most recent products to enter the detailing and car care industry, ceramic coatings have revolutionized the game.
Providing a transparent liquid polymer layer that chemically bonds to the vehicle's paintwork, providing an additional layer of protection.
Because of this, ceramic coating can provide the ultimate durability and protection, way beyond the capabilities of traditional waxes and sealants.
How Long Does Ceramic Coating Last?
The durability of ceramic coating can vary vastly.
While some of the cheaper, more convenient wipe-on-wipe-off sprays may only provide a few months of durability, they may take a matter of minutes to apply.
On the other hand, if you're willing to put in the time and effort preparing and correctly applying the more expensive ceramic coatings to your paint, then some of the products in our guides are capable of providing complete protection for several years.
While some coatings may last for several years, they're typically the most expensive options and often the most challenging to apply.
If you're frequently clocking up huge mileage in your daily driver, then it may be worth spending the extra money on the longest-lasting coatings since it'll often be battling the elements.
On the flip-side, if your car is more of a garage queen, easily applied, cheaper ceramic coatings may last way beyond the manufacturer's guidelines. Therefore, you'll often be able to get away with a reasonably priced product with the most convenient application.
Ceramic Coating Cost
Prices for ceramic coating and its application can also vary hugely.
While applying a reasonably-priced, convenient ceramic spray every few months may work for some owners, others will want the ultimate protection, which comes at a much higher cost.
Not only is the product price the only consideration, but applying some of the high-end, premium products can also be far trickier than the traditional waxes you've likely been using over the years.
For this reason, many owners will seek professional application of their ceramic coating, which, as you may expect, bumps up the price significantly.
The cost of a ceramic coating application can vary massively.
While some of you may have convenient buddies willing to do it on the side, others may wish to take it to the best detailer in their area.
When it comes to pricing, it's likely to depend on the current condition of your paintwork.
Many of you may opt to have thorough decontamination and correction work carried out before locking in the immaculate finish for several years with the ceramic coating, which could potentially end up costing thousands in labor costs, depending on the size of the vehicle.
Since most owners aren't looking to spend thousands on protection, it's often a better idea to opt for the DIY method.
With this, you'll not only learn a lot along the way, but you'll be able to re-apply the protection a few years down the line without having to spend thousands again.
If you're like us, you'll probably wish to apply your ceramic coating yourself and avoid splashing out several thousand bucks every few years.
Ceramic Coating Near Me
If you feel that a professional coating will be the best option, there will be plenty of detailers in your local area ready to take on the job.
Just be prepared for eye-watering prices, especially if bodywork maintenance hasn't been at the top of your priority list until now!
With a professionally installed ceramic coating, we would expect the most extended durability possible, combined with the ultimate shine and the peace of mind that comes with a warranty.
How To Apply Ceramic Coating (DIY)
If you're not willing to pay the price for a professional installation, it's time to consider applying your ceramic coating yourself.
Some ceramic coatings are trickier to apply than others, so it's worth doing your research to ensure you're getting a product that you're capable of applying in your current scenario.
For instance, if the product requires the use of a garage, but you've not got access to one, then you'll undoubtedly regret ignoring their advice by applying it in blazing sunlight.
Preparation
Before ceramic coating application, you must correctly prepare your vehicle so that the sealant can bond to the paintwork.
Decontamination
Following a thorough two-bucket-method wash, followed by claying, we would use a decontamination product such as an iron fallout remover.
Polishing
We would then polish the paint after removing contaminants, preferably using a machine polisher, to achieve the desired finish that you wish to lock in under your ceramic coating.
Removing oils
After that, you'll need to remove the oils left behind from the polishing process, typically using an isopropyl alcohol mixture or a specific product, such as CarPro Eraser.
Assuming you're happy with the finish at this point, your paintwork should be looking immaculate and ready for the ceramic sealant to lock it down.
Application
While this varies hugely between products, a premium ceramic coating would require you to apply a thin, even layer to small areas at a time, typically in a shaded or covered setting.
Any excess product will need to be removed during application, as this could cause 'high spots,' which could cause significant problems further down the line.
We recommend using a high-powered torch at various angles to ensure all excess is removed.
Drying/Curing
Following application, most ceramic coatings will need to be left to dry and set. Typically, the longer the longevity of the coating, the stricter the drying process will be.
For some premium products, you'll need to avoid exposing the coating to moisture for up to 24 hours, which is where you'll likely need to apply the sealant in a garage to prevent any disasters.
Ceramic Coating Gone Wrong
If the manufacturer's guidelines aren't followed correctly, it can become a real headache when rectifying the ceramic coating, especially on premium products with longer-lasting durability.
While it won't be the end of the world, we can guarantee that you wish you checked the instructions a little more carefully.
But fear not, mistakes happen, and this great video from Adam's Polishes explains what happens when it doesn't go entirely to plan:
Maintaining Ceramic Coating
Once you've carried out the application process to the manufacturer's requirements, you'll want to ensure that the maintenance procedures are followed correctly.
For some products, you may be advised to clean the car more frequently than others, while some may require a 'top-up' on a more regular basis to ensure optimal durability.
Ceramic Wheel Coating
When ceramic coating your vehicle, you can also consider using the leftover product to apply to your wheels.
Wheels are one of the most exposed elements on a car, being constantly hit by surface debris, which is why it's a great idea to provide additional protection to them.
Not only this, but a ceramic coating will also prevent the build-up of brake dust and make them far easier to clean.
Rather than using harsh chemicals each time, a clean with your usual shampoo and mitt will be more than adequate to keep them in prime condition.
---
What's The Best Ceramic Coating?
Time for the big question! While there are several incredible products out there on the market, they're not going to suit everyone's needs.
For that reason, we've covered some of our favorite products - some that are cheap and convenient to apply but might not last too long.
On the other end of the spectrum, we'll also provide products that will provide the ultimate durability. However, you'll need to ensure that you follow the manufacturer's guidelines to avoid potential disappointment and frustration.
Let's take a look at our recommended ceramic coating products.
Our comment: Graphene is the latest "buzzword" in the automotive detailing industry, and 303 has provided one of the most reasonably-priced opportunities to see if it ticks the right boxes for your needs.
Although this won't be too mind-blowing in the durability department, it can still provide up to a year of protection, despite its ease of simple spray-on, wipe-off application.
When applied correctly, it'll provide not only outstanding protection but also high levels of gloss.
Overall, this is a fantastic product with a great price tag for those looking for convenient, year-long protection.
Be warned that the current bottles are letting the product down, and we've heard many reports of leakage. For that reason, we recommend getting a separate sprayer to avoid disappointment during the application.
Manufacturer description: "303 Graphene Nano Spray Coating is a Graphene Oxide based spray coating. It will provide a high level of protection for 12 months. Besides the great protection there are many other benefits of the product! These include reducing the surface temperature, which will reduce the amount of hard water spots you get on your car's paint."
"It also features a high water contact angle, producing substantial hydrophobic properties, that keep the water from sticking to your paint. After application the paint will have enhanced gloss and clarity too. The main differentiation from other types of exterior automotive protection available is the combined durability and protection along with how simple and easy to use the product is. It will bond to surface without prior correction or decontamination, and it is difficult to mess up application."
---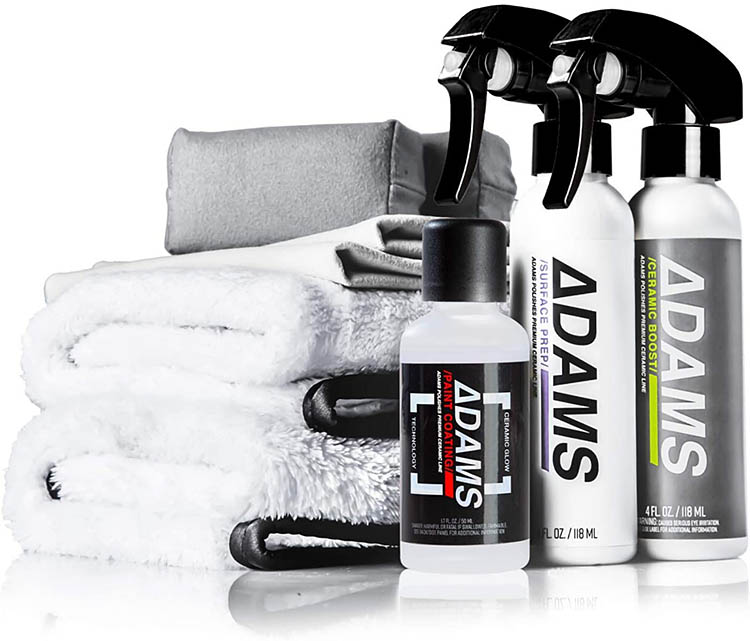 Our comment: Considered to be up there with the best, this kit from Adam's provides 5+ years of protection at a highly reasonable price point.
Providing 9H hardness, this nanocrystalline coating is visible under UV lighting, which means you'll be able to observe whether it's correctly applied throughout the car. A fantastic feature for those that are likely to 'miss a bit!'
As you'd expect, this comes with all the usual hydrophobic properties, as well as ultra-high gloss and a 110% satisfaction guarantee.
A fantastic, US-crafted product that's perfect for clear coat, single stage, vinyl wrap, and lacquer finishes.
Manufacturer description: "THE MOST ADVANCED PAINT PROTECTION FOR YOUR VEHICLE! Adam's Ceramic Paint Coating is a clear, nanocrystalline coating that protects your vehicle from weather, chemicals, and UV rays while repelling water, dirt and other contaminants. Providing 9H hardness, 5+ years of protection even in the harshest conditions."
"PATENT PENDING UV TRACING TECHNOLOGY! Infused with patent-pending Ceramic Glow Technology. This feature acts as an application aid allowing users or professionals the ability to never miss a spot and make sure the coating is perfect every time you apply it!"
---
Our comment: For those looking for the ultimate 'set and forget' ceramic coating, this incredible product from Adam's will last more than seven years with the correct application.
After success with their traditional ceramic coating above, they've gone to the next level for their graphene product, and this kit even provides a UV torch, allowing you to check you've applied the product to perfection.
Although five years may be enough for most owners, this unique new product provides an incredible 10H hardness to ensure the ultimate longevity.
With it being a new product, you may wish to wait to see the long-term results, but so far, it's looking very promising.
Manufacturer description: "THE NEXT GENERATION OF PROTECTION FOR YOUR ENTIRE VEHICLE! Adam's UV Graphene Ceramic Coating is a clear, nanocrystalline coating that protects your vehicle from weather, chemicals, and UV rays while repelling water, dirt and other contaminants. Providing 10H hardness, 7+ years of protection even in the harshest conditions."
"ULTRA HIGH GLOSS, DEPTH OF COLOR! The key to the coatings unbeatable "shine" is in the preparation stage. You'll want to wash, clay, and remove any contaminants from the paint before polishing the paint to perfection. Then using the provided Coating Prep, you can wipe the vehicle down to remove any waxes or sealants left behind! Adam's graphene coating is even easier to apply providing professional long-lasting results."
---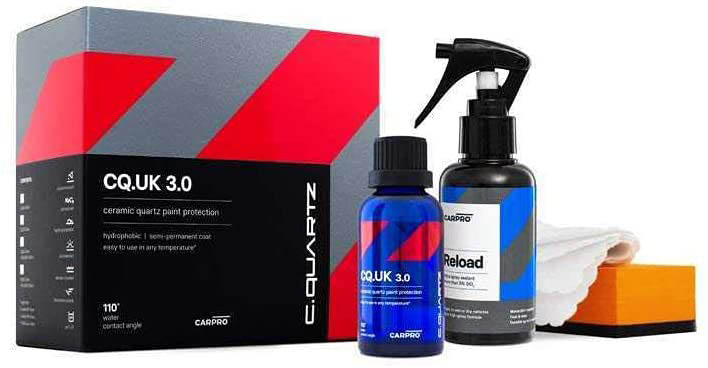 Manufacturer: CarPro
Protection duration: 2+ years
Value for money:

🔥🔥🔥🔥🔥

Purchase link: CarPro Cquartz UK 3.0
Our comment: CarPro's Cquartz has proven itself on the market for several years and is often regarded as the ultimate DIY ceramic coating.
Known for being one of the more convenient and forgiving ceramic coatings to apply, it also comes with a tried-and-proven claim beyond two-year durability.
With 70% SiO2 with 99.9% purity, this provides superior protection and gloss compared to some competitors.
If you're looking for an easy-to-apply ceramic coating that'll provide excellent gloss and durability for at least two years, then look no further than Cquartz.
With the kit provided, you'll also get a bottle of CarPro Reload, which will help keep the sealant topped up and ensure impressive gloss and durability.
Manufacturer description: "CQUARTZ UK adds incredible levels of depth to the paint along with unbelievable water and dirt repellency and a rugged durability measured in years."
"CQUARTZ UK has 70% SiO2 with 99.9% purity. This extremely high SiO2 level gives superior protection and gloss and is easy to use for all detailers."
---
Our comment: Chemical Guys' HydroSlick is one of the well-known, convenient products on the market.
Several detailers recommended us the HydroSlick SiO2 ceramic coating. Although we were pleased with the initial results, we felt that it fell short of the mark regarding durability.
While Chemical Guys claim up to a year of protection, we found that it was just a few months with heavier, real-world use.
We feel that the name 'Hyperwax' title is more fitting than 'Ceramic Coating,' and we feel that there are better products on the market with a better price tag to match.
Manufacturer description: "Unlike any wax you've ever used before: In order to create a product that offers the shine, protection, and durability of a ceramic with the ease of use as a wax, we had to invent a whole new category: A hyper wax."
"Hydrophobic water beading: Hydro slick uses ceramic SiO2 nanotechnology to seal the pores of your car's paint, creating a perfect layer where water behavior becomes highly and excessively active, resulting in rapid water acceleration off any treated surface."
---
Our comment: Many pro detailers swear by Gtechniq's Crystal Serum Light, and its ease of use combined with stunning gloss levels and long-lasting protection has also made it a popular choice among DIY detailers.
Gtechniq provides some of the most impressive nanotechnology products to the market, and this product is no exception.
Branded as a 'pro-sumer' version, this is the user-friendly equivalent of the world-famous Gtechniq Accredited Detailer only Crystal Serum, which is so hard, it can only be removed using 1,500 grit sandpaper!
While this 'light' version provides 80% of the results and performance, it can be conveniently machine polished for removal if things don't go quite to plan.
An incredible product, and if you're happy to spend a little more than some of the alternatives, you surely won't be disappointed.
Manufacturer description: "Best possible swirl mark and chemical resistance from a prosumer grade product. Provides paint protection with previously un-achievable levels of gloss, durability, scratch and chemical resistance."
"Compared to standard ceramic coatings, Crystal Serum forms a relatively thick combined film which greatly reduces surface hazing and improves gloss. Considered the thickest, most durable true ceramic coating in the industry."
---
Our comment: With this three-step solution from Gyeon, you'll get a comprehensive kit for all of your ceramic coating needs.
Firstly, the Q² MOHS acts as a base coat, forming two layers, prepping the surface for the topcoat.
After this, you'll then apply Q² SKIN, the topcoat, which provides excellent gloss and clarity to the coating, and a highly repellent surface.
Finally, Q² Cure is the final coat that cures and enhances the previous two, allowing the product to provide two years of protection.
Although it's not the simplest or the cheapest of the products in our guide, it's up there with the best when it comes to all-around performance.
Manufacturer description: "Q² Syncro is the most advanced widely available coating offered by Gyeon. Its aim is to offer a professional coating experience to all customers outside the Certified Detailer Program. Its multilayer application ends with the application of Q² Skin, an advanced silicone-based topcoat that provides exceptional slickness and unrivaled hydrophobicity."
"Q² Syncro offers incredible slickness and repellency. The Q² Mohs base provides hardness and significant durability. Q² Skin is a thick and flexible topcoat that provides great self-cleaning abilities. Outlasts car wax kit, spray wax, car polish, detail spray, ceramic spray coating, wax spray, car spray. The ultimate professional-grade coating in your detail kit."
---
Our comment: We've heard of many satisfied owners that swear by the Migliore Strata coating, and many that claim it didn't live up to expectations.
Made in the USA, Migliore doesn't make any audacious claims or use any buzzwords in their marketing.
The straight-to-the-point company promises a highly glossy, easy to apply, low-maintenance sealant with up to twelve months of protection.
As always, you'll need to ensure that proper prep work is carried out to avoid disappointment.
If you're new to ceramic coating and a little anxious about applying correctly, this may be a decent choice, but we feel there are better alternatives out there for the money.
Manufacturer description: "Don't be fooled by 10H claims, flame resistance, and foreign manufacturers. Strata's ceramic particles provide UV resistance and extreme water sheeting also helps protect your paint against washed-induced marring."
"Made in the USA! Very easy application with a self cleaning effect. Most dirt and debris will not stick in the first place so you may find yourself washing your vehicle less frequently."
---
Our comment: We're big fans of the Sonax Profiline range, and this fantastic kit is perfect for anyone new to ceramic coatings and looking for one of the easiest to apply offerings on the market.
This kit provides everything you need to apply the ceramic coating to your car with a two-stage 'BaseCoat' and 'GlossCoat' method, providing durable 9H ceramic quartz protection, which will provide up to a year of durability.
However, if for the ultimate performance from the coating, you can top it up every six months using Sonax's Polymer Net Shield, which will provide up to three-year durability.
While this product isn't a competitor for the top-end, premium coatings on the market, it provides a great introduction to ceramic coatings for those looking to get started.
Manufacturer description: "EASY TO APPLY two-stage coating blankets your vehicle's paint in a flexible shell of ultra high gloss protection."
"PROFESSIONAL CERAMIC COATING provides a protective covering on your vehicle's surface with Nano-Ceramic particles providing a flexible but tough 3D structured high gloss coating."
---
Our comment: If you've already been researching ceramic coatings, chances are you've already stumbled across this product from Turtle Wax as being too good to be true for the price.
Although they've not always had the best reputation in the detailing industry, don't let that put you off, as this product is truly incredible for the price.
Providing insane water repellency and hydrophobic properties thanks to the SiO2 polymers, this incredibly easy to apply product adds incredible shine and lasts for up to a year.
All you need to do is spray the product onto your prepped surface, spread it evenly across the bodywork, and then remove it with a microfiber cloth.
While many may argue it's not a 'true' ceramic coating, we feel it provides almost all of the benefits without the cost or the hassle.
While it won't suit everyone's taste, we certainly recommend that anyone looking for a cheap, convenient solution gives this product a try.
Manufacturer description: "Super hydrophobic and SiO2 polymers deliver water repelling, water sheeting, and chemical resistant protection that can last up to 12 months."
"The ultimate method for long-lasting ceramic protection on your vehicle's surface. This easy to use product sprays on and wipes off with very little effort while delivering superior shine and protection."
---
Our winners
---
Our Drifted Choice goes to CarPro Cquartz UK 3.0
Our Ceramic Coating winner is the CarPro Cquartz UK 3.0.
Regarded by many amateurs and pros alike as the ultimate ceramic sealant on the market. The CarPro Cquartz provides two-year protection, stunning gloss, and convenient ease of use; it's easy to see why so many opt for this product.
Complete with a bottle of 'CarPro Reload,' this will ensure the ultimate protection and gloss is maintained for at least two years, even in the harshest of everyday conditions.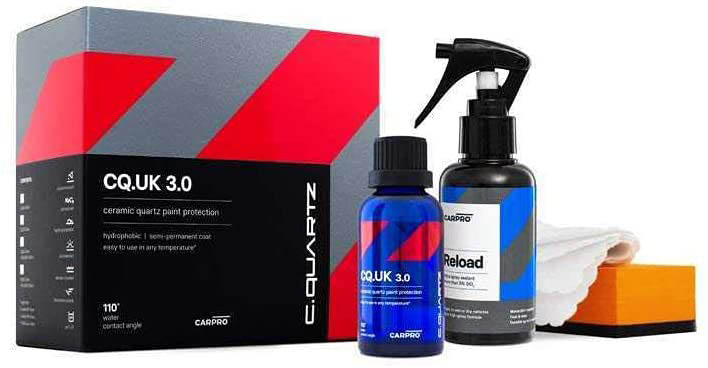 ---
Our Premium Ceramic Coating Choice
Our Premium Choice is the Adam's UV Graphene Ceramic Coating Kit.
Although this is still a relatively new product on the market, it's already blown the minds of many.
Adam's are standing by their claims of seven-year durability from this incredible 10H hardness product, and we have no reason to doubt them.
Although this kit may seem pricier than some of the alternatives, it comes with everything you could need, even a UV torch to see exactly where you've applied the product and to ensure even coverage.
Graphene is the 'next big thing' in detailing, and this insane offering is at the forefront of this exciting new technology.
---
Our Budget Ceramic Coating Choice
Our Budget Choice is the Turtle Wax Hybrid Solutions Ceramic Spray Coating.
If you're after the benefits that a ceramic coating has to offer without the effort that comes with the premium offerings, this is the choice for you.
Sure, you'll have to re-apply it annually, but given the price tag, it's still going to be money well-spent.
It's not going to be for everyone, but those looking for a more straightforward solution should consider this excellent product.
Thank you for reading our Ceramic Coating guide.
We hope we've provided everything you need to know when it comes to the cost of Ceramic Coating, whether you wish to do it yourself, or have it applied profesionally.
Now that your bodywork's looking immaculate, it's time to get your tires looking fresh with our favorite tire shine products.
---
Photography credits
We would like to thank the following sources for the use of their images:
If you enjoyed this article, then please share it with the buttons at the side and bottom of your screen. Find this information useful? Please post a link to it on your owners clubs. We appreciate your support.