FEATURE: 2011 In Pictures: Ian Gratton
2011 has yet again been another busy year for drifting in the UK and Europe.   Year upon year the sport continues to grow in popularity and this year was no different.  With so much now happening in the sport we've been kept seriously busy covering the various championships and events throughout the year.  As 2011 draws to a close its time to reflect and look back on some of the most memorable moments of the year.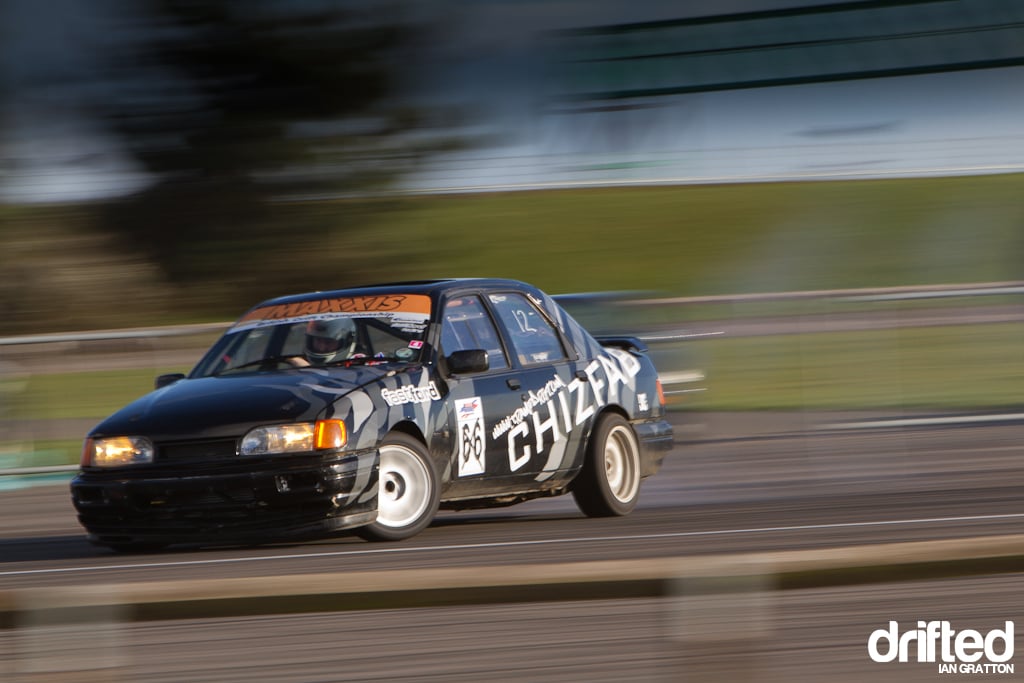 The first outing of 2011 was a visit to Silverstone circuit in the heart of the UK for the British Drift Championship qualifying session in February.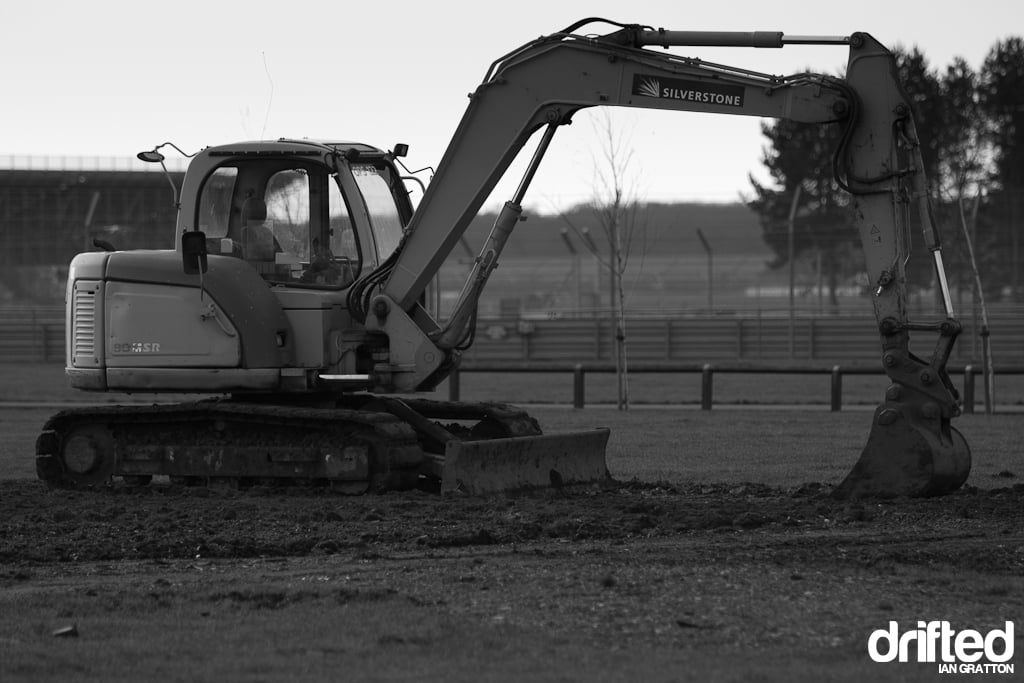 The infields of the track still contained many parked up construction vehicles due to renovations taking place at the track and completion of the new pits complex.  Not the usual machinery you find at a race track.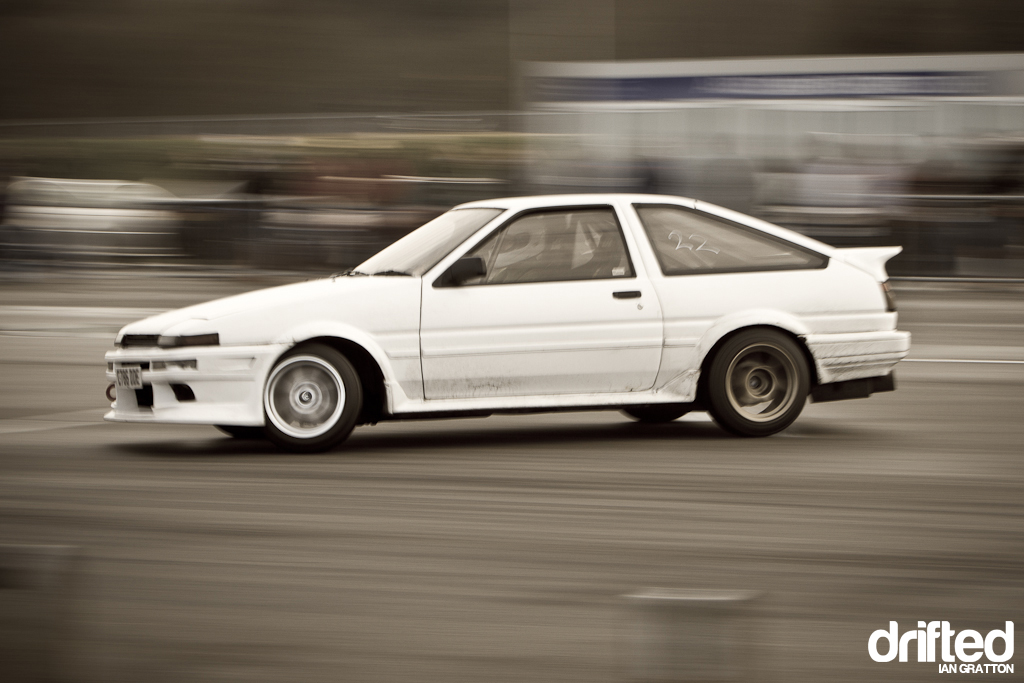 2011 saw a major leap in the number of drivers who wanted to compete in the sport and there were plenty of new faces ready to do battle.  One car of particular interest to me was the Honda F20C-powered AE86 Trueno belonging to Martynas Zizas.  At this point my own AE86 had been off the road for almost 6 years whilst it underwent a full on OCD bare shell rebuild and F20C engine swap and I was curious to see how this car performed…obviously very well.   Standing track side and watching the little Corolla scream about so closely through the camera brought mixed emotions – it put a real smile on my face that the little car was doing so well and the driver hadn't simply opted to build a gazillion horsepower monster Nissan S or R body but at the same time it made me sad that my own car had taken so long and I'd not done any driving for myself for such a long time.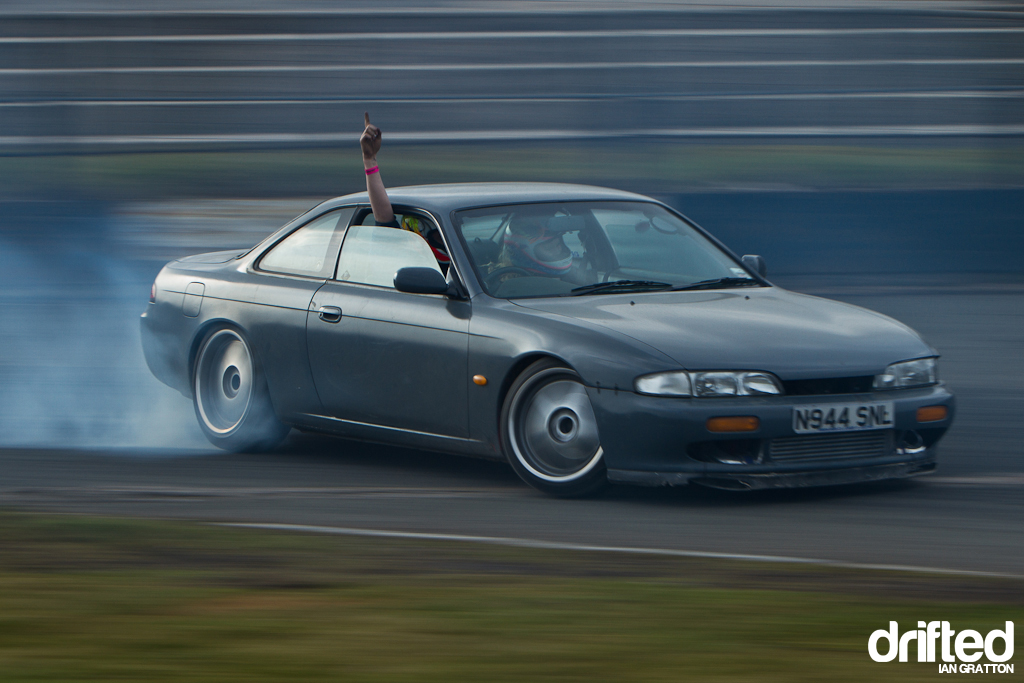 With the main championships still not started I ventured to Buxton Raceway in March to their first grass roots event of the year.  Having covered events from Buxton over the last 2 years I know at this time of year you need to wrap up seriously warm – standing still in the middle of the Derbyshire peaks soon stops being fun if you don't.  The grass roots events run over at Buxton are always a huge amount of fun – you won't see many shiny competition spec cars here – but what you will see are many missle-spec cars that drivers are not afraid to rub along the unforgiving steel armco that lines the track in pursuit of honing their driving skills.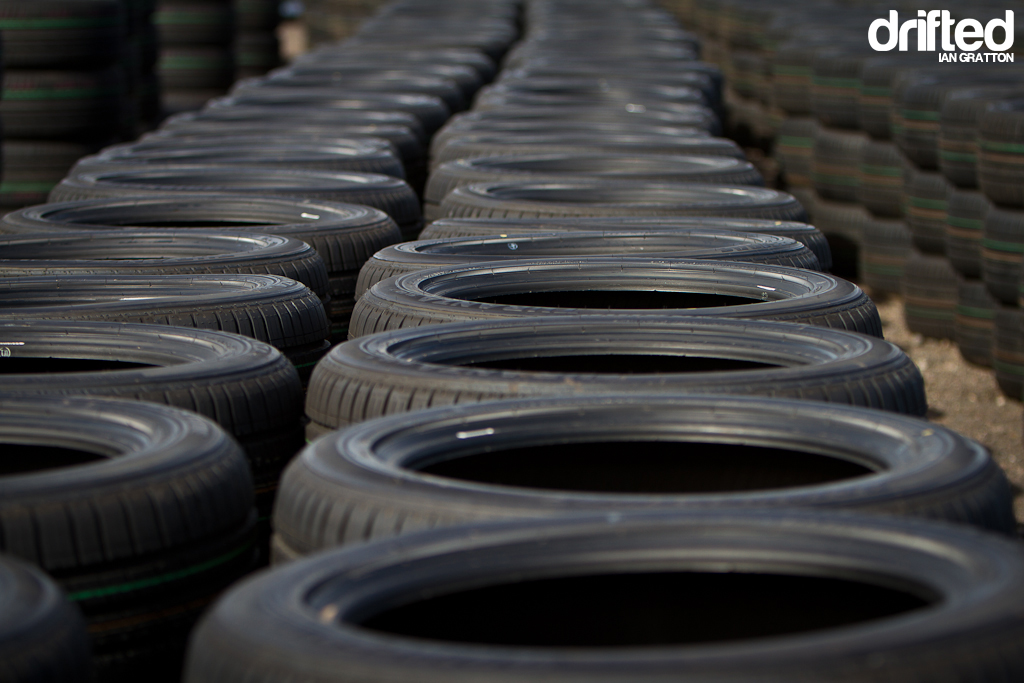 A few days later I found myself over at Mallory Park in Leicestershire – again the first practice day run here in 2011.  Beside the pits was a huge pile of brand new tyres – unfortunately every one of them had been drilled to build up new tyre walls for various parts of the track.  I'm sure many of the drivers present would have happily swapped their begged and borrowed part warn tyres for some of these!
Several incognito British Drift Championship cars were present missing their livery and getting a final shakedown before the championship began.  Phil Maclachlan's freshly painted LS1 powered PS13 was rumbling round the circuit to iron out some running problems.  Phil's car is a masterpiece – the attention and thought that has gone into building this car is unreal.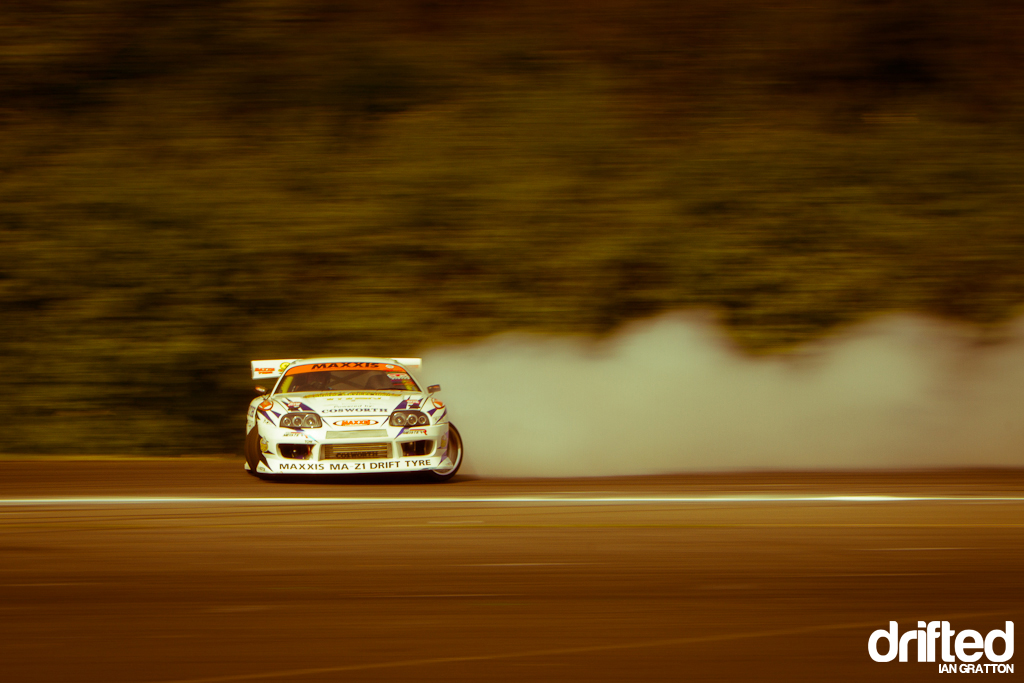 Easter bank holiday saw the start of the British Drift Championship over at Donington Park.  The SATS team and Mark Luney where back taking first place in the re-worked Toyota Supra – with 800+ horsepower on tap it could lay down a serious wall of smoke.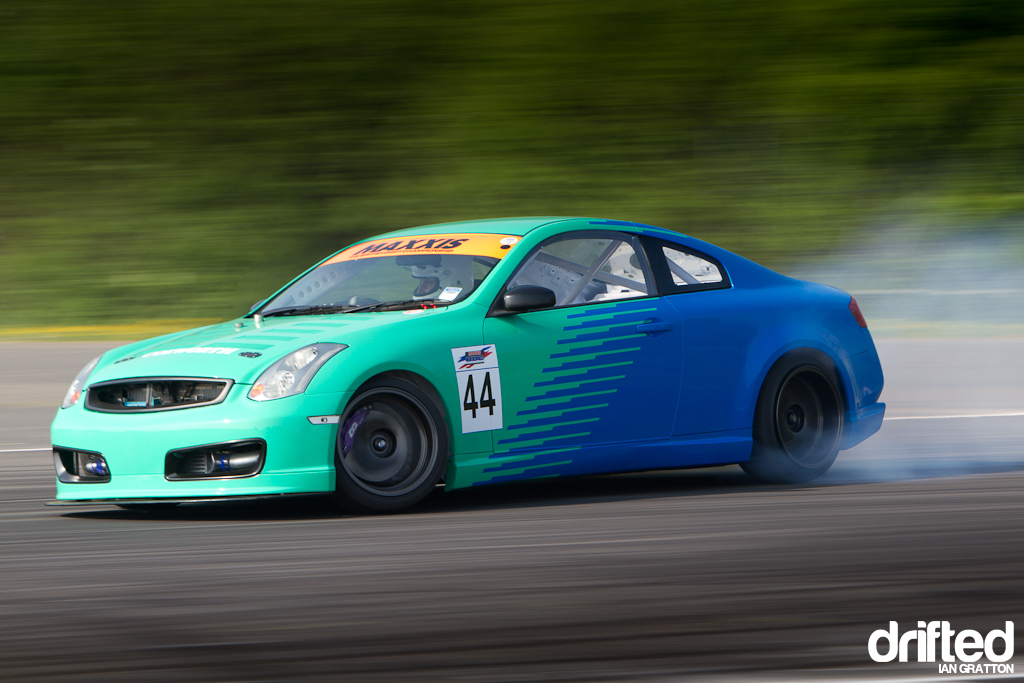 Paul 'Polo' Cheshire's Team Falken 1JZ-powered G35 Skyline was present on its maiden voyage – livery being applied through qualifying it was so fresh from the workshop.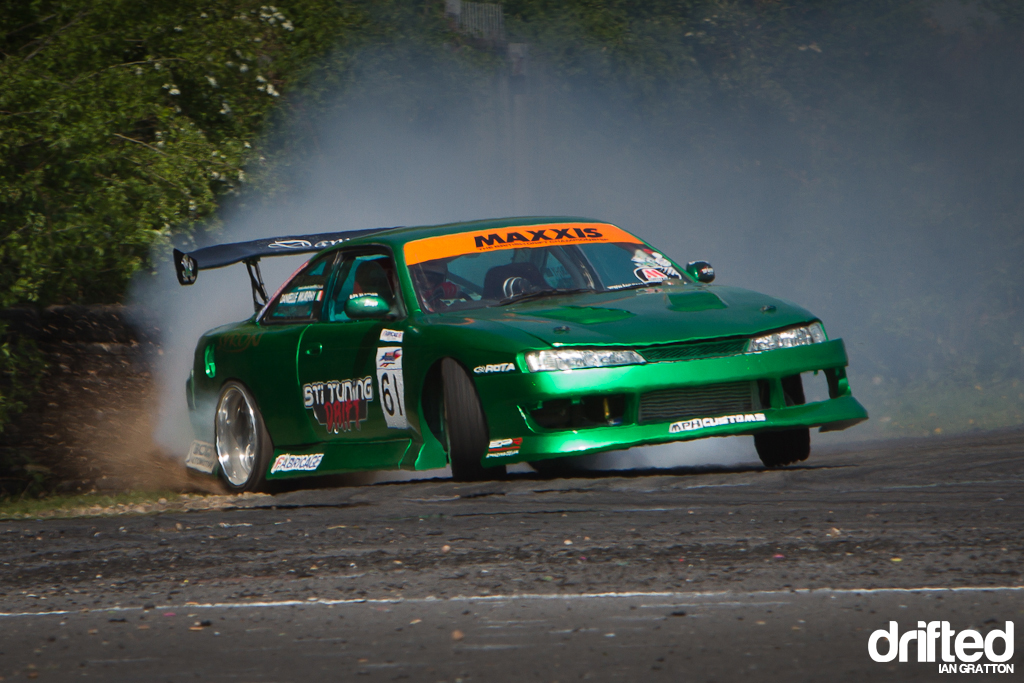 After a somewhat bleak winter the British weather graced us with bright sky's and warmth – Danni Murphy drops onto the dirt through the spring heat haze.
The twin battles were an amazing sight to behold – the standard of driving across pro, semi-pro and super-pro had stepped up yet another level in 2011.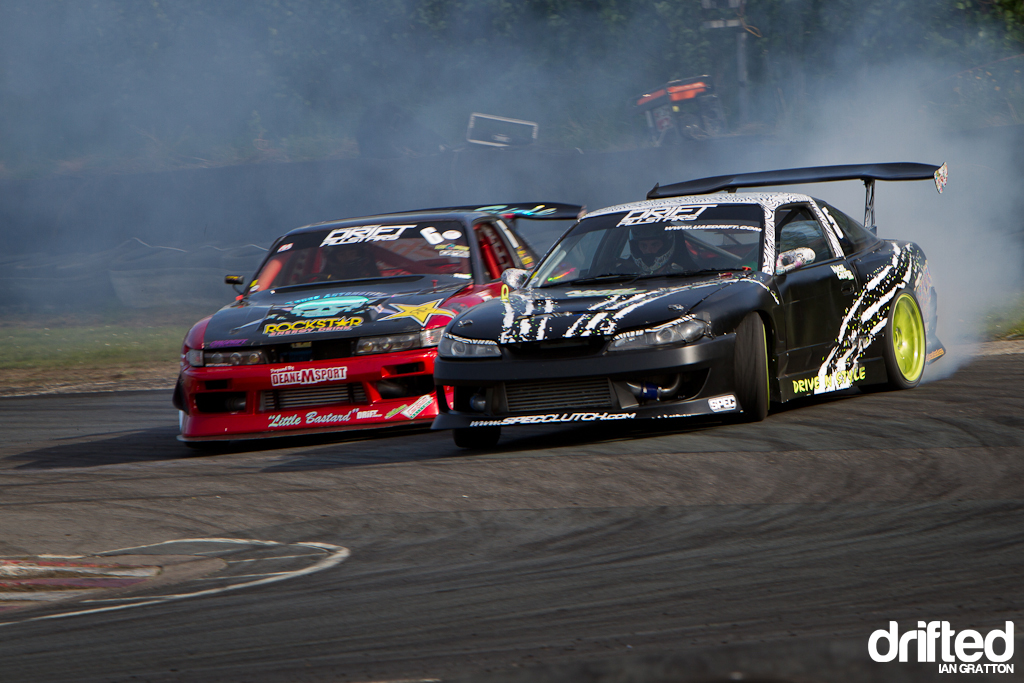 With no time to waste the Easter bank holiday weekend also saw the start of the European Drift Allstars series so I loaded up the car again and headed north to Teesside Autodrome.  The standard of driving was again incredible.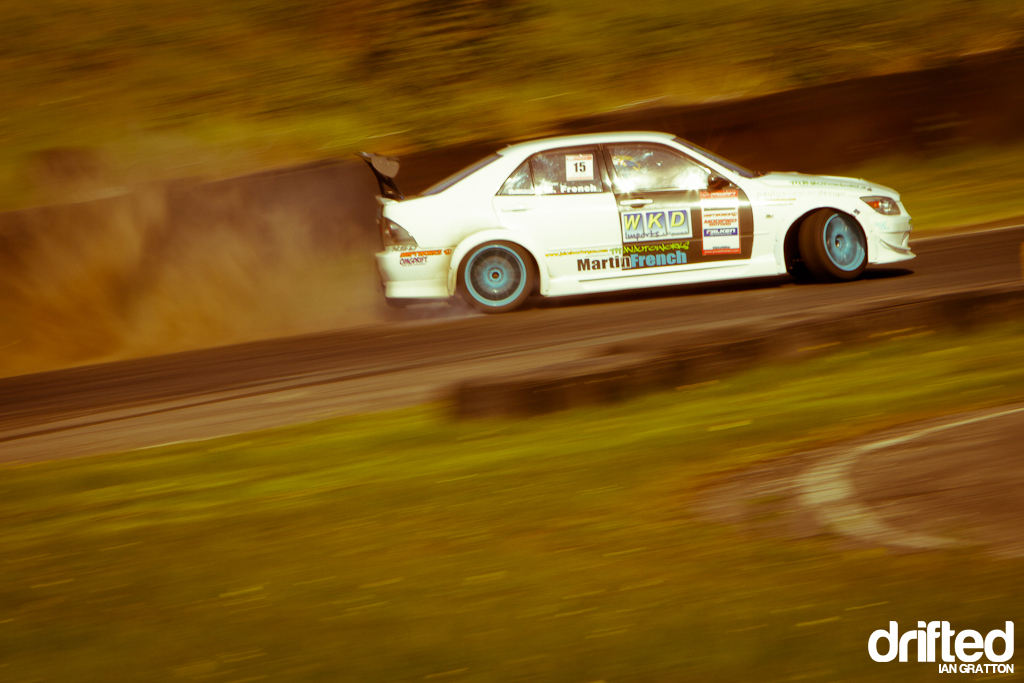 It was Martin Ffrench who took the podium at round 1 after some great driving in the SR20-powered Lexus IS200.  Martin's driving is stunning – its a real shame he didn't make it to any more rounds this year and I hope he is in more regular attendance in 2012.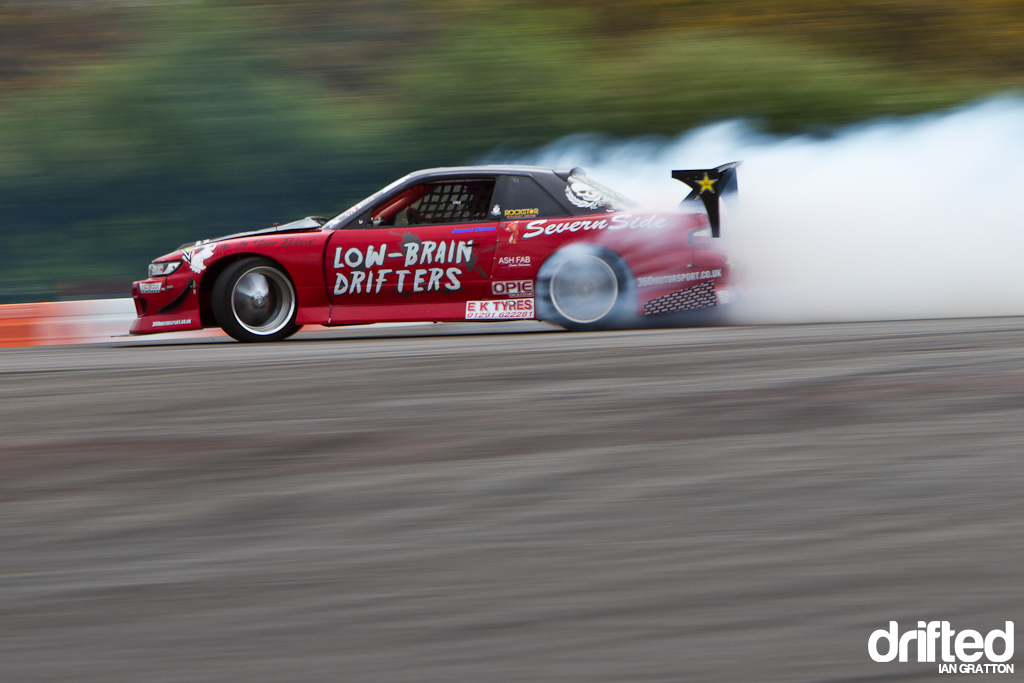 My next outing was back north again in May for Round 2 of the Drift Allstars Championship – this time up at the Nissan Motor Manufacturing plant in Sunderland.  It was here James Deane began his dominance in the 2011 championship.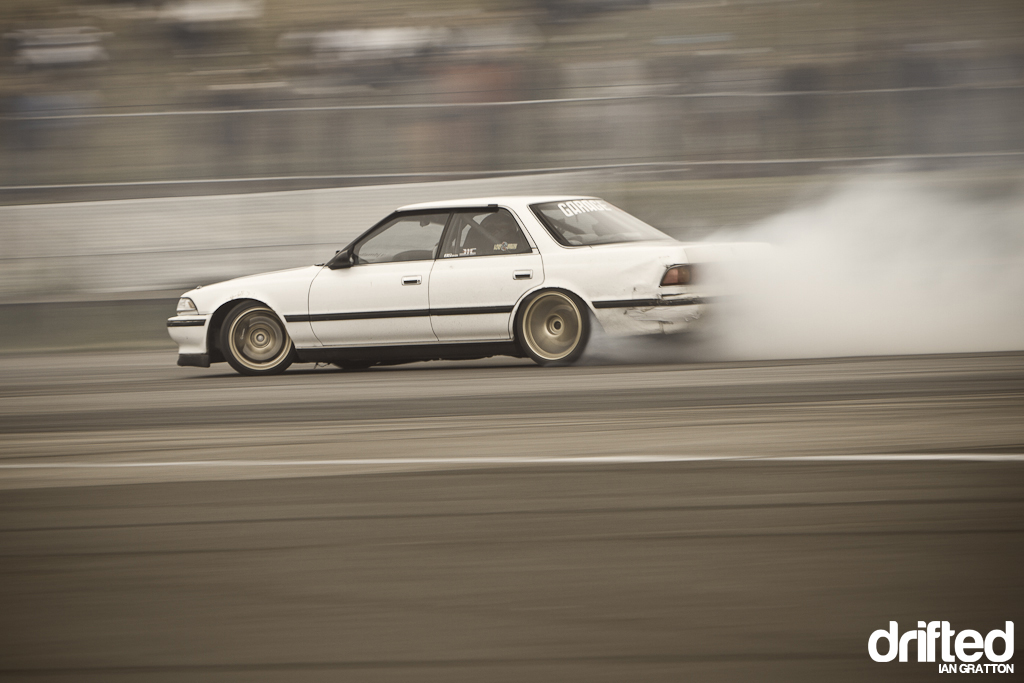 Ben Broke-Smith made James work hard for the top step on the podium though.  Bon-bons Toyota was somewhat of a sleeper amongst the full liveried cars present at the event – it was only the exhaust sticking straight up out of the bonnet and the fact it sounded like the end of the world that gave away the hugely potent engine lurking under the bonnet.  Ben hadn't even had a chance to try the car – it was straight from the dyno and onto a trailer for the drive up…amazing stuff.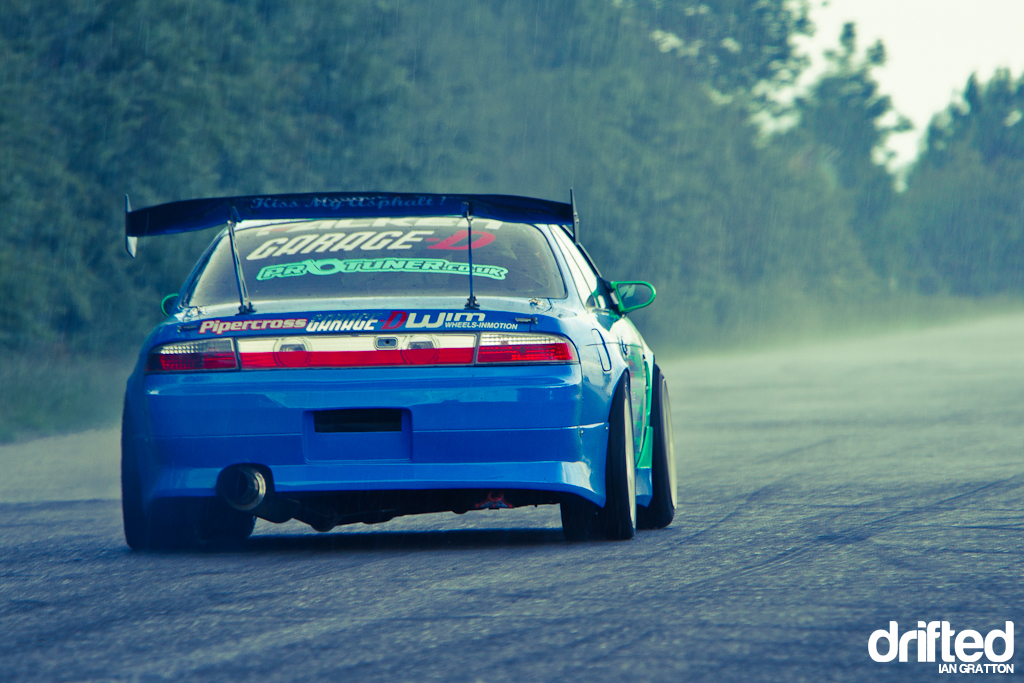 I consider myself quite lucky that I only live about 10 miles away from Donington Park so popping back to the track for a BDC Licensing and practice day back in June was no big effort.   I'd completely forgotten about these photographs so they were a nice find whilst picking out the shots you see here.  Midway through the day the heavens opened and drenched us all solidly for about 10 minutes.  As the storm slowed the dark sky was suddenly filled with sunlight and at this point a bizarre thing happened – the entire surface of the Donington launchpad began to give off steam whilst was it was dried by the suns rays.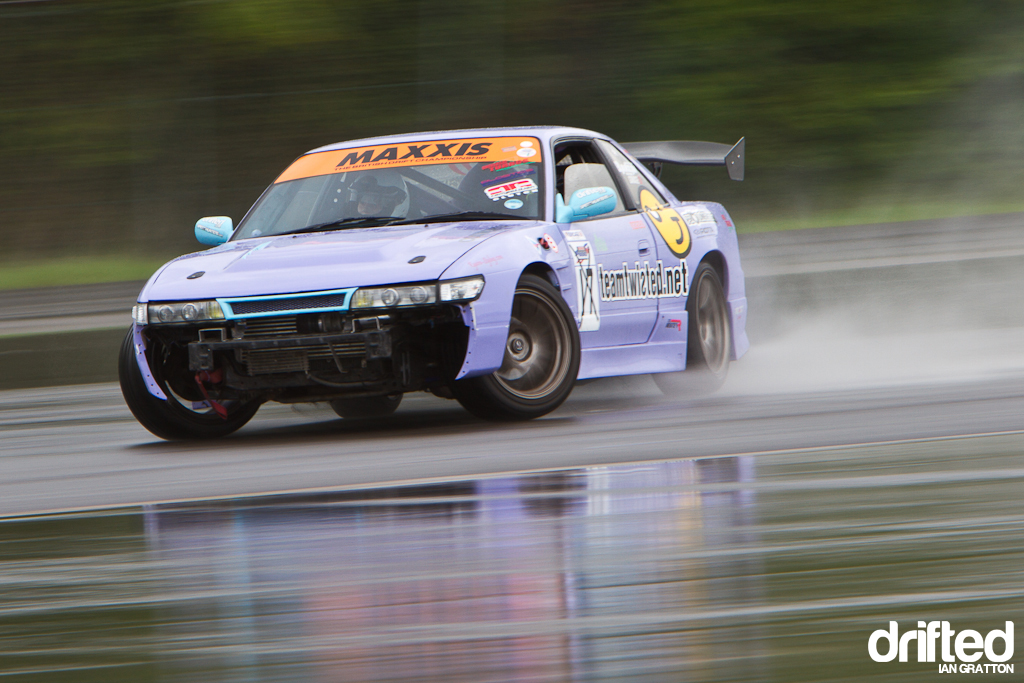 The standing water on the track made for some interesting reflections…Kirsty Kerbs Widdrington makes some steam whilst trying to dry out the course.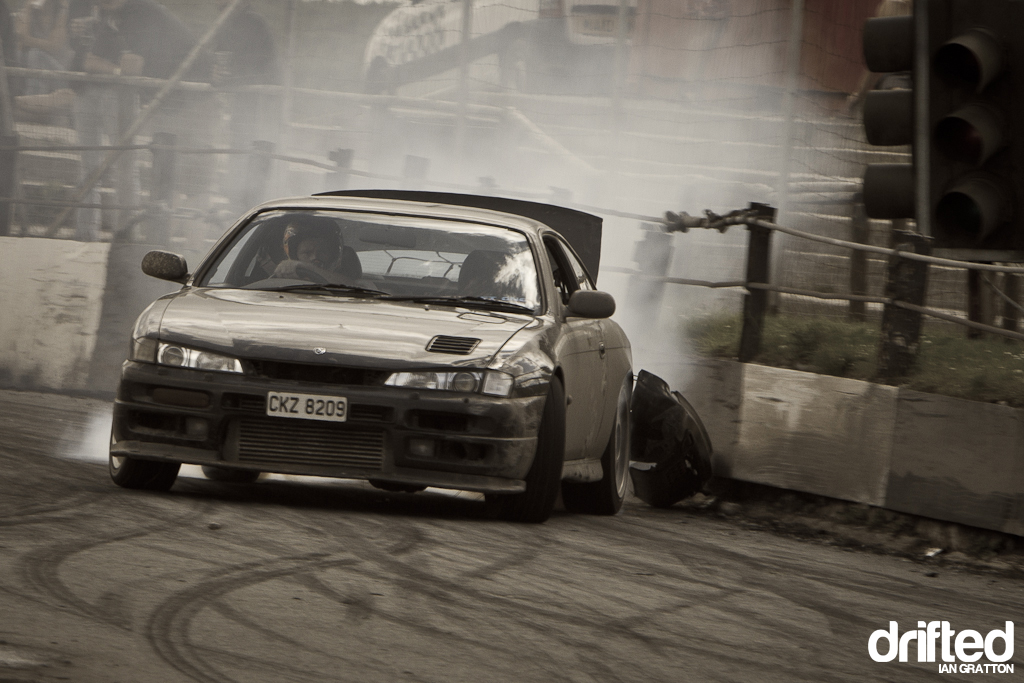 One week later I had another quick trip back up to Buxton.  With the season now coming into full swing I knew there were plenty of event clashes for the rest of the year so I'd likely not make it back again.  This was a real shame…I love grass roots drifting – sure – many of the cars are not quite as aesthetically pleasing as those in competition but when you peel back the vinyl and posh paintwork these guys go at it just as hard.  You'll find more than a scuffed rear bumper on the cars that frequent Buxton and there is some serious talent hiding behind the wheels of these less than perfect cars.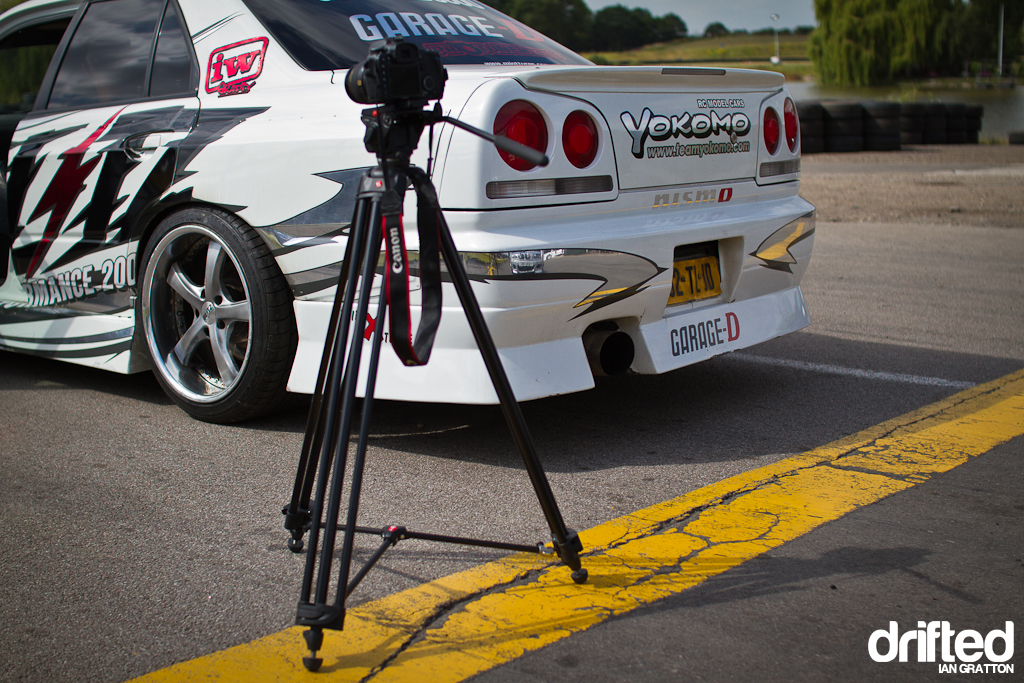 At the end of June came the Driftworks AwesomeFest at Mallory park.  This was the biggest single gathering of Drifted staff to date with myself, Jordan Butters, Stephen Brooks, Philip Mann and Daniel Hovdahl; who made the trip all the way from Norway.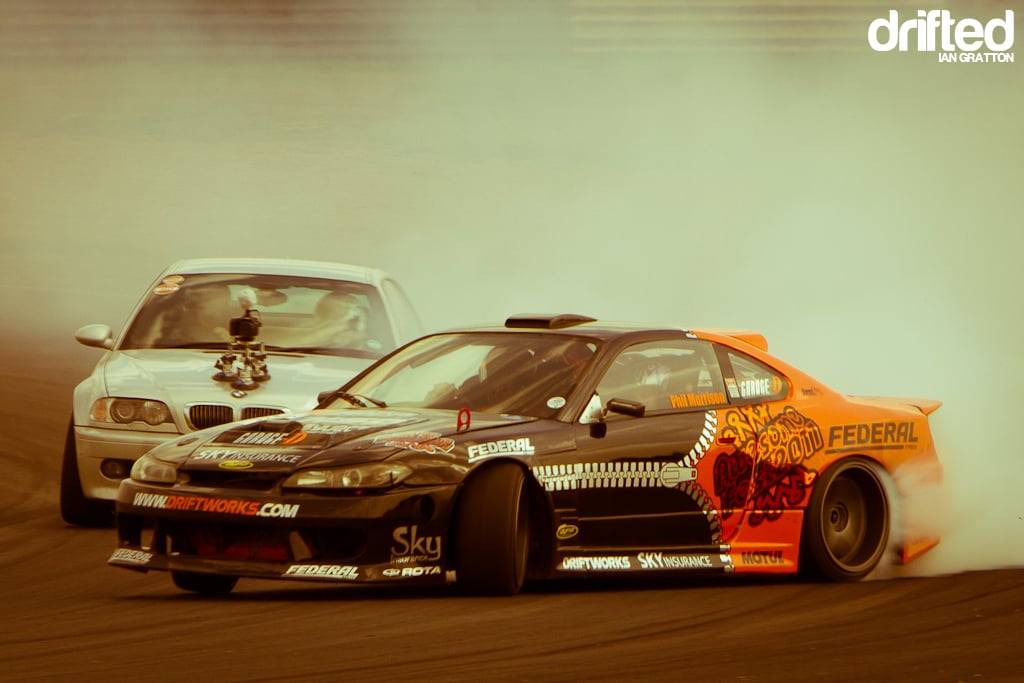 Mr Hovdahl strapped his camera onto the front of Al Clark's E46 M3 and Phil Morrison proceeded to catapult stones, fire and burning rubber at them both.  Still – it was worth it – Daniel captured some amazing footage.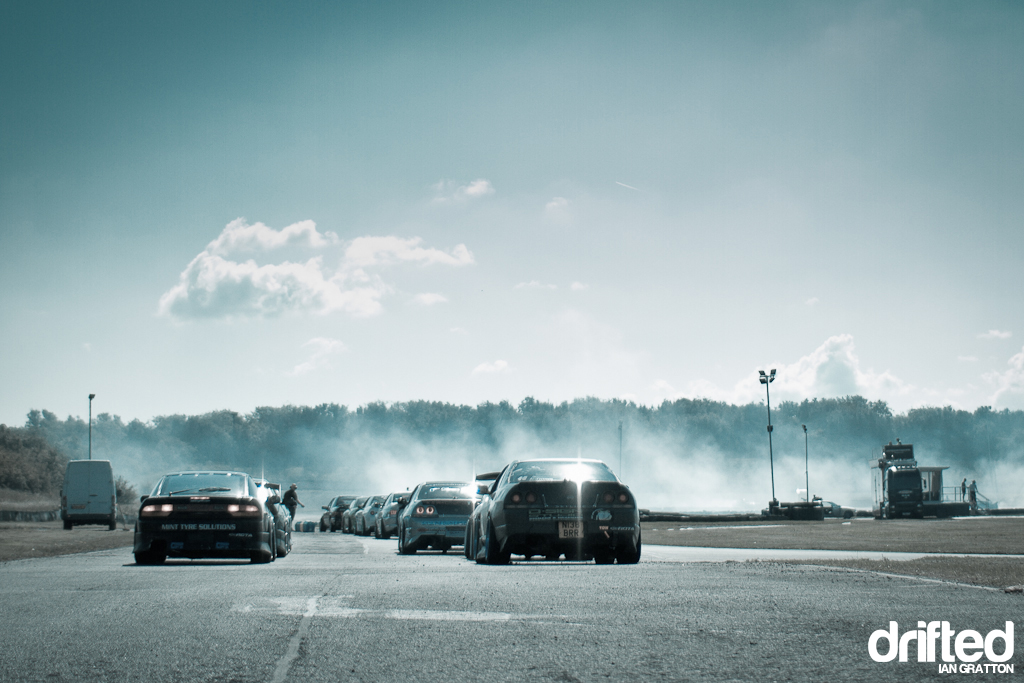 July sent me North again back up to Teesside Autodrome for Round 3 of the British Drift Championship.  Having already been here once this year for round 1 of the European Drift Allstars Championship it would be interesting to compare the level of driving in the two groups of drivers.  A few of the European Drift Allstars drivers actually competed in this round to make that comparison a little easier – drivers from both championships were evenly matched with Wesley Keating making it all the way to second in the Pro category.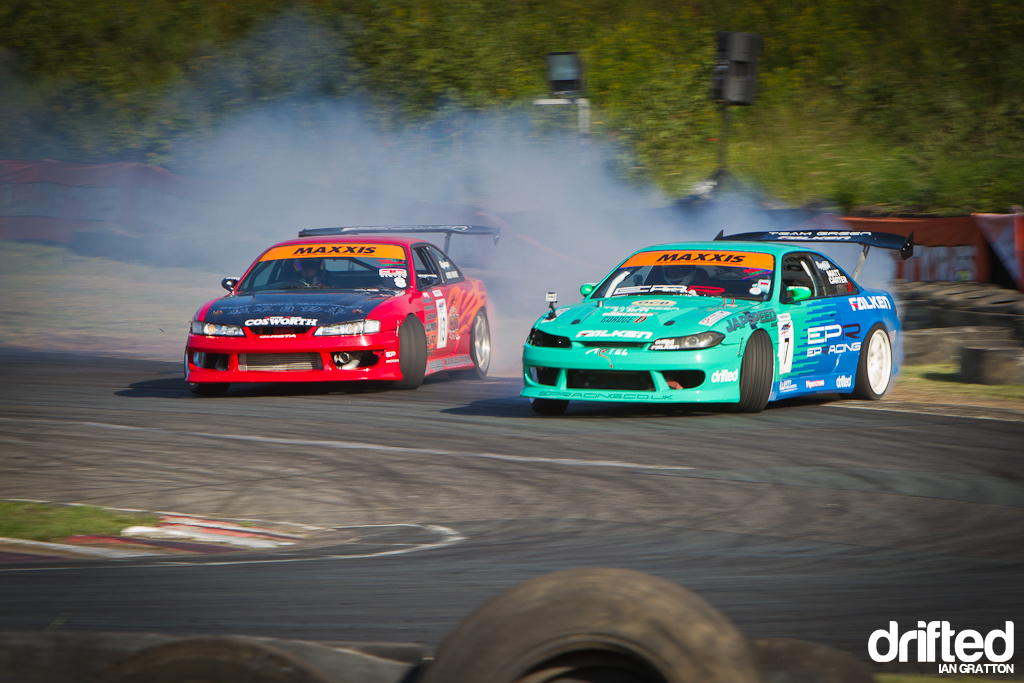 The super pro finals boiled down to Steve 'Speed' Moore and Team Falken's Matt Carter.  Steve Moore took his first win and stood atop the podium with a massive smile on his face.
August also gave us Round 5 of the European Drift Allstars Championship which was held over at Birmingham Wheels Raceway.  This is not your traditional professional drift venue as its more stock car track than race track.  The venue is used regularly for more grassroots events but its been a long time since any major professional competitions have been run here.  It was great to see top class drivers going 100% within the confines of the steel walled arena.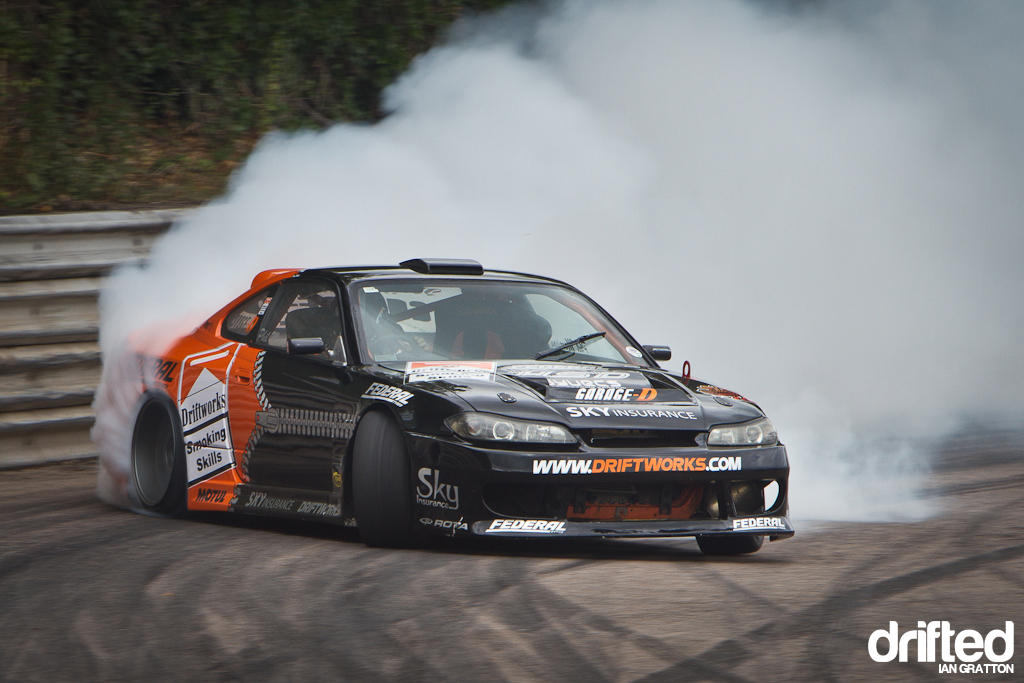 The Driftworks team drivers had been somewhat absent from competition this year what with having to plan AwesomeFest and some of the other up and coming projects such as their Outsiders feature length film.   The Driftworks S15 was now minus the AwesomeFest advertising livery and it had been replaced by large 'Smoking Skills' signage.  The Smoking Skills Driftworks design was something I'd put together last year in a matter of minutes for a bit of fun whilst enjoying a cigarette from a well known American Tobacco manufacturer.  I had no idea it would become so popular and it always brings a smile to my face when I see it – Phil sure does have plenty of those smoking skills.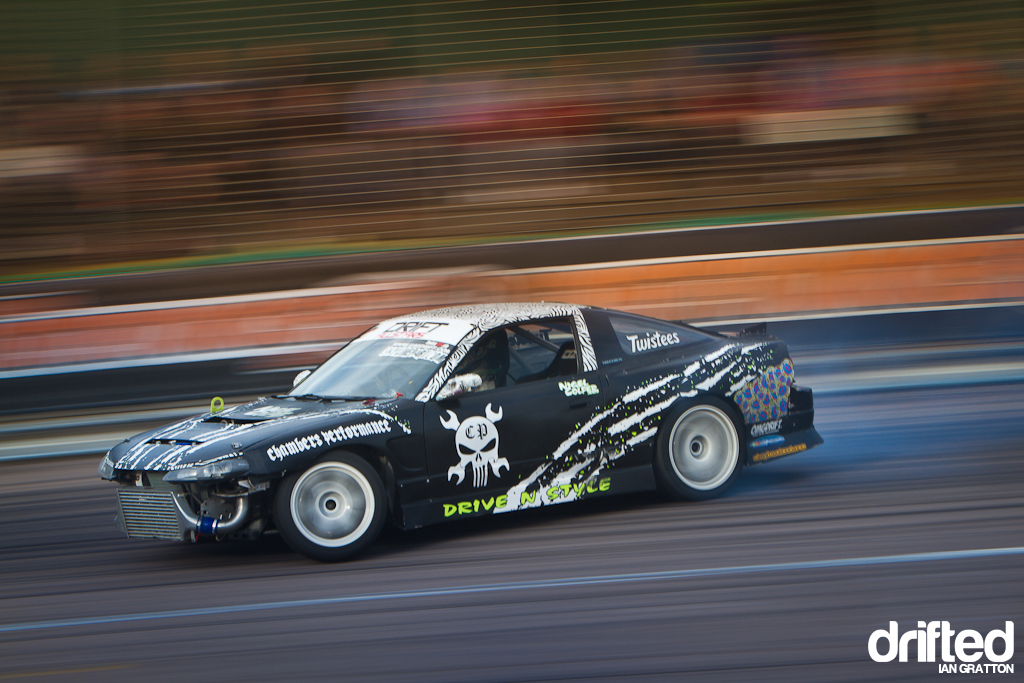 One thing Birmingham wheels has is wire fences around spectator areas.  When I first started to get into automotive photography 2 or 3 years ago I came across a picture of Tetsuya Hibino taken at a D1GP event at Odaiba in 2008 for some Dunlop promotional material.  I'm not sure how much editing and adjustment that photograph has had (the photographer has removed all EXIF information from the image) but I really love the bold lines the shutter drag created.  I wondered if I could get a similar shutter drag affect from the crowd and wire fences.  Generally speaking at events I want to try and come away with as many usable images as possible and don't tend to drop my shutter speed below 1/30th of a second – if a car is moving at a good speed this is generally enough to create a pleasing drag if you are perpendicular to the car.
On the area of the track where I took this photograph I couldn't be truly perpendicular to the car – and – just to make matters worse it wasn't a particularly quick part of the track.  To ensure I'd get a good amount of drag in the background and movement in the cars wheels I dropped my shutter down to 1/20th of a second.  At these shutter speeds I feel luck plays a major part in getting the outcome I want – some photographers may be blessed but so many things can affect the outcome, bumps on the track, bits of flailing bodywork, not panning smoothly, erratic driving and more –  Nigel Colfer stayed nice and smooth and the shot above was the outcome.  Every now and again lady luck is on my side – no cropping or rotating was required and only some minor colour adjustments to pop the car from the background a little more was all that was required.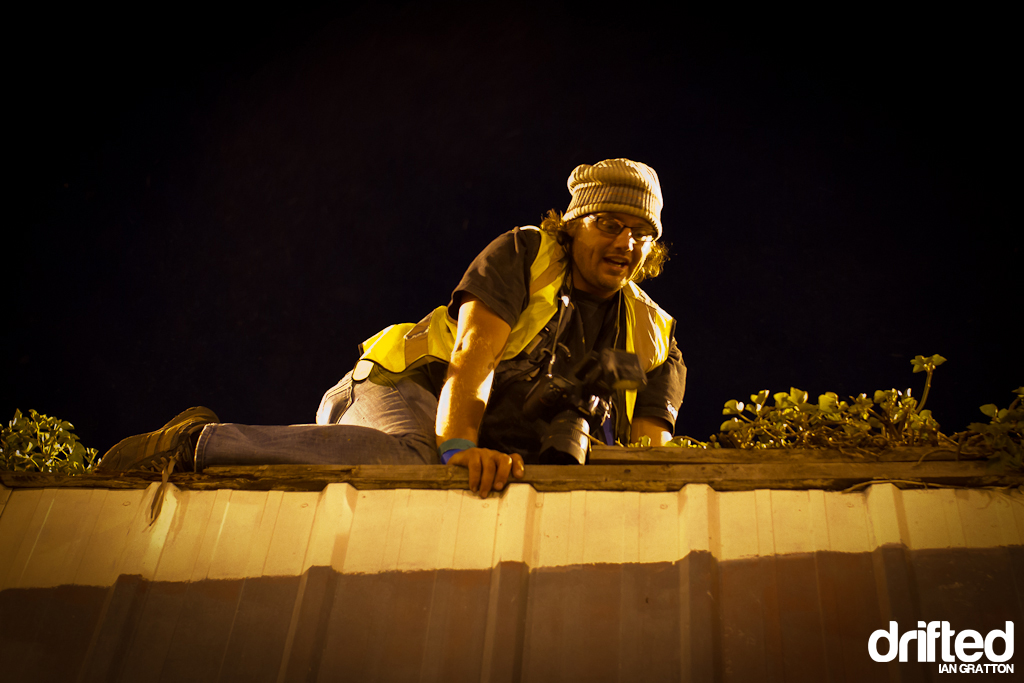 Throughout the year we spend so much time working alongside other photographers and they almost become extensions of our families.  I've known Doristar's main man Ross Ianson for quite some time now and he was present at the Birmingham Wheels event shooting for Speedhunters.  Ross is like a historian of British Drifting – he has been shooting the sport ever since its infancy in our country.  Ross wanted to ensure his podium shots from the event looked nothing like anyone else's and climbed up high onto a wall behind the podium with a 60 foot sheer drop on the other side.  Watching him try to get back down was absolutely hilarious but he managed it without injury which is a miracle considering he was still nursing several broken ribs from a Huffy Slider incident at AwesomeFest.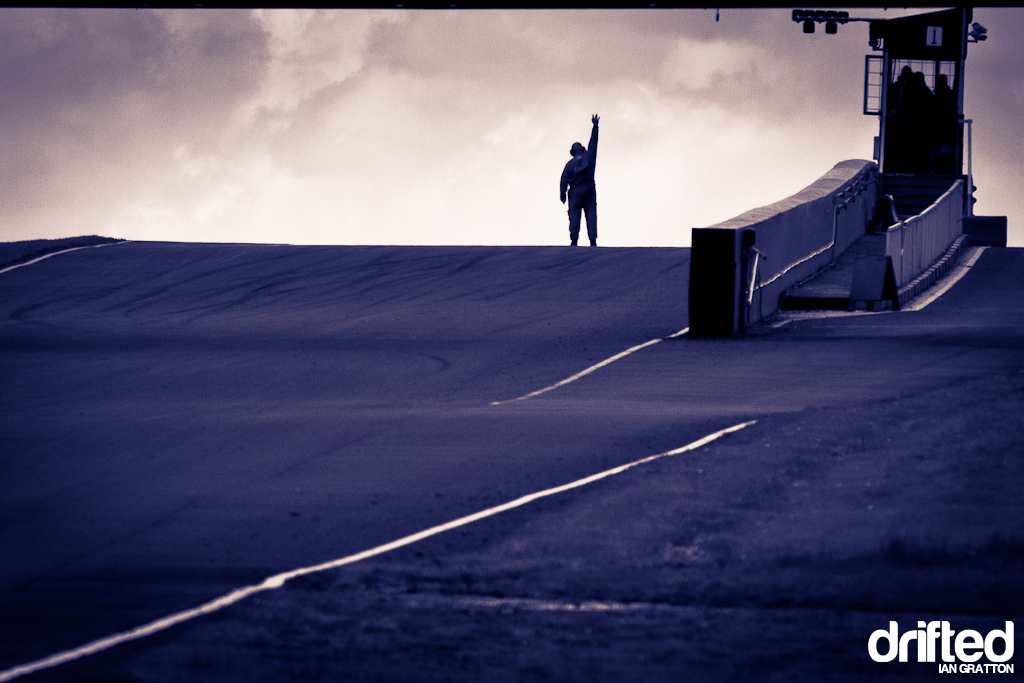 One week later I found myself heading north again to Knockhill Circuit in Scotland for Round 4 of the British Drift Championship.
Having never visited Knockhill (or Scotland for that matter) I was super excited about this event.  Watching cars pile over the crest into the Seat Curves was simply amazing – with the track being set in the Scottish countryside it was such a beautiful idyllic backdrop.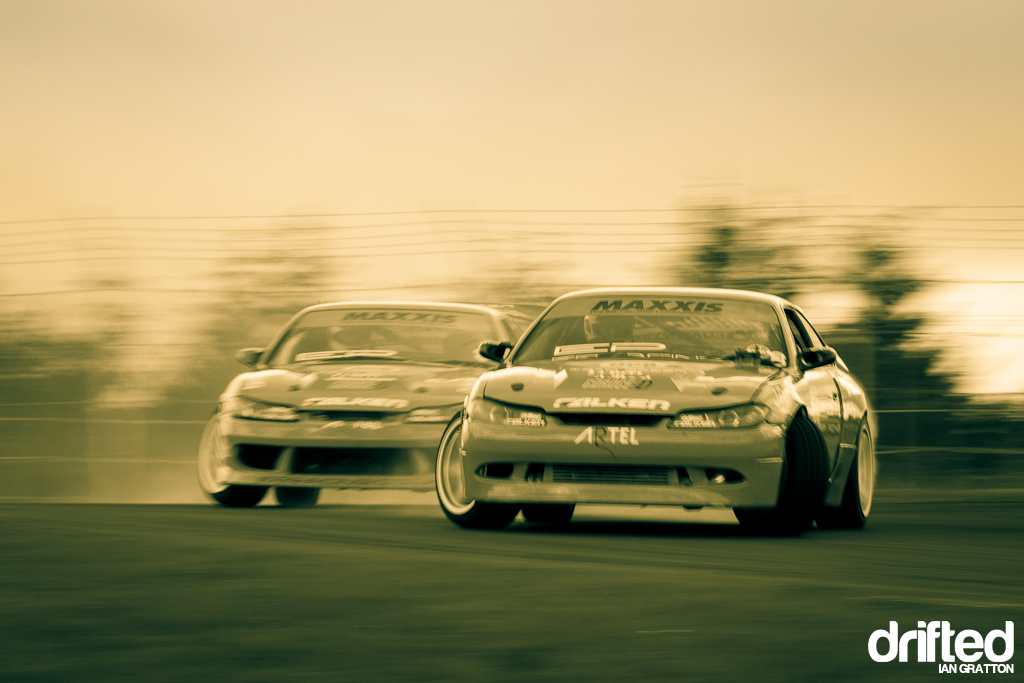 Add another car into the mix and the battles where truly spectacular – I think Knockhill was probably the most memorable round of this years British Drift Championship and I really can't wait to go back there in 2012.
After a few weeks break we were back to Silverstone Circuit for Round five of the British Drift Championship – this Super Pro only round was run in conjunction with the Annual TRAX event that takes place at the circuit.  Both Formula Drift Team Need For Speed drivers Darren 'D-Mac' McNamara and Fredric Aasbø were present at this round.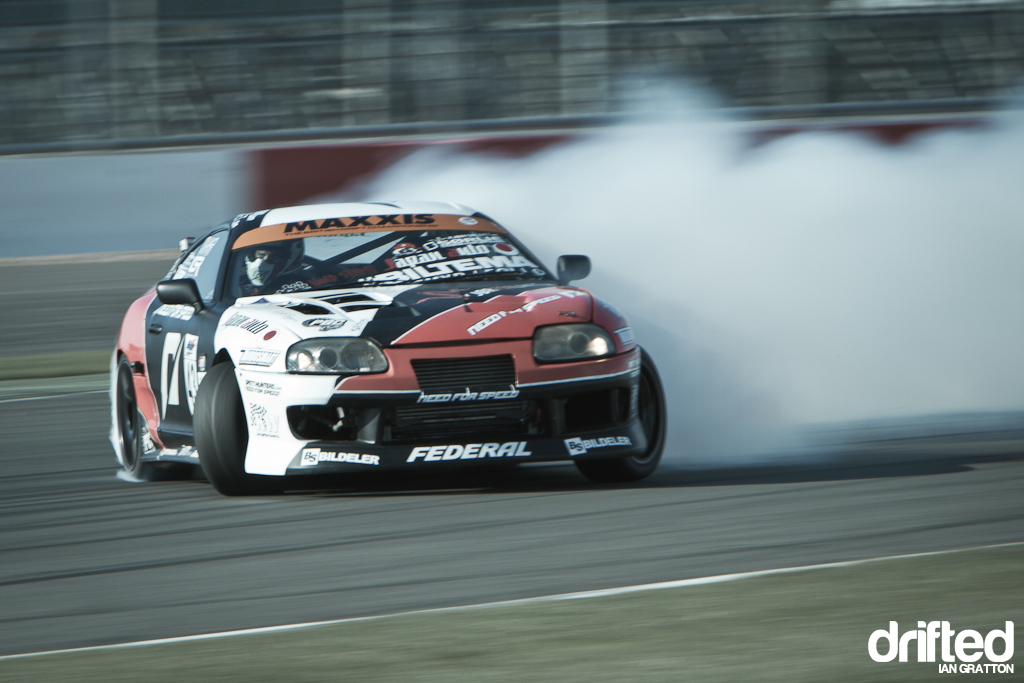 Seeing Scandinavian Aasbø drive for the first time was amazing – the powerful Toyota Supra having being used to its maximum potential.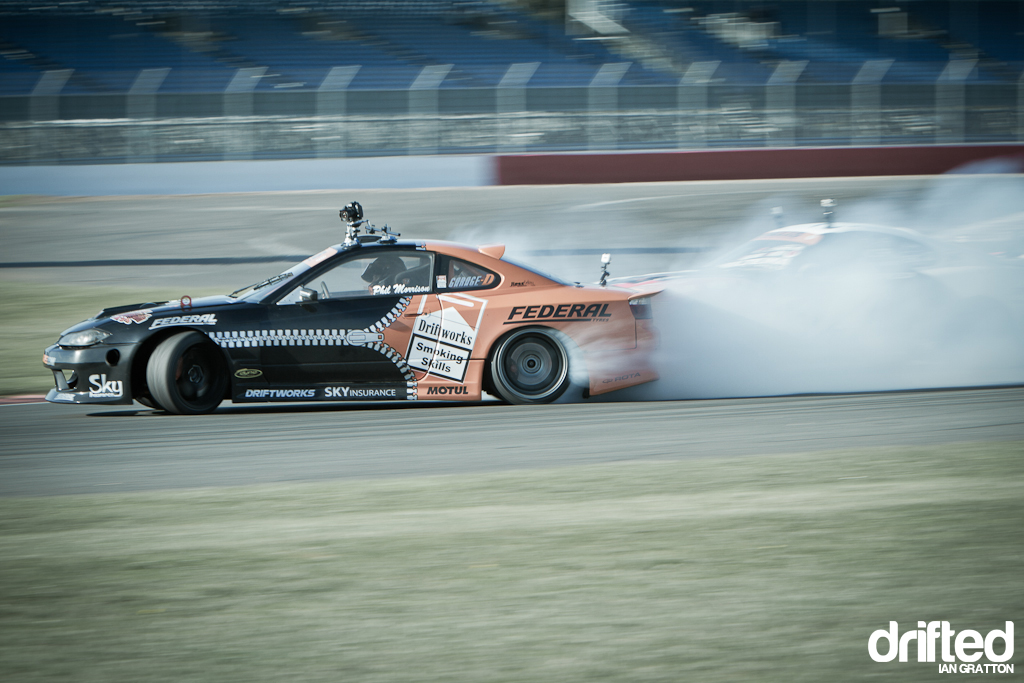 Aasbø was deserving of his 1st place finish on the top step of the podium – Silverstone veteran Phil Morrison was the only man to come close to the Formula D driver on the day and the closing battles were just insane.  Due to a bit of a cock up in media planning by the venue nobody was allowed to shoot from the infield of the track which was a real shame – hopefully this will be resolved next year.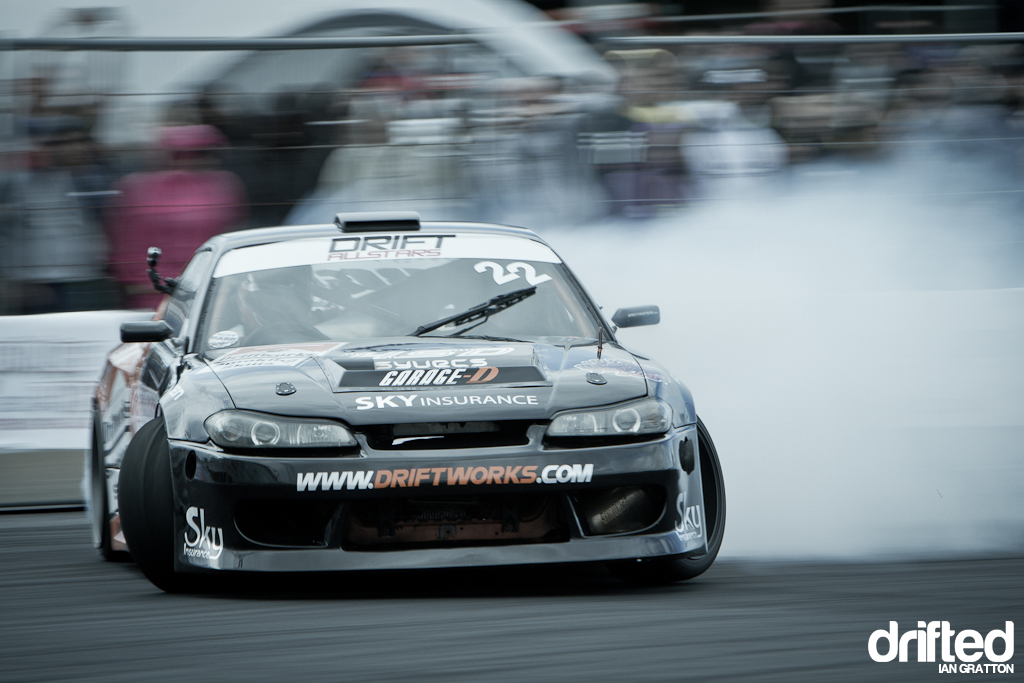 Midway through September it was time to conclude the European Drift Allstars series at Wembley Stadium in London.   Fans had another special treat in store with Formula Drift's Dai Yoshihara driving the Driftworks S15.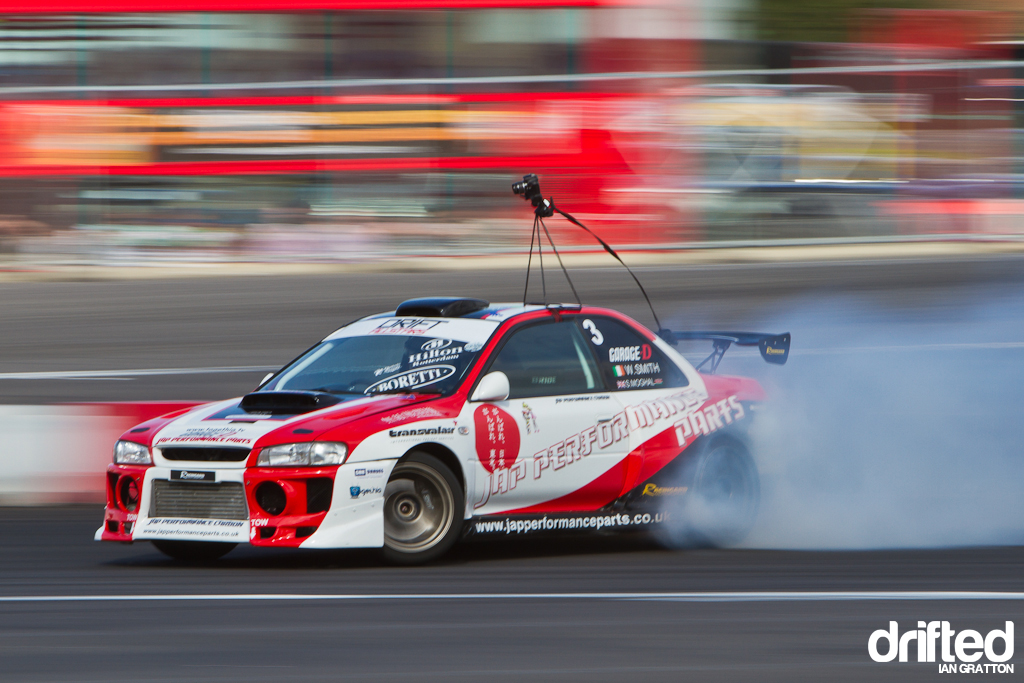 Having a drift circuit in the middle of an inner city allowed for plenty of abstract shutter dragging – Walton Smith moving in one direction and a red London bus traveling in the other.  Amazingly the DLSR camera attached to the car didn't fall off!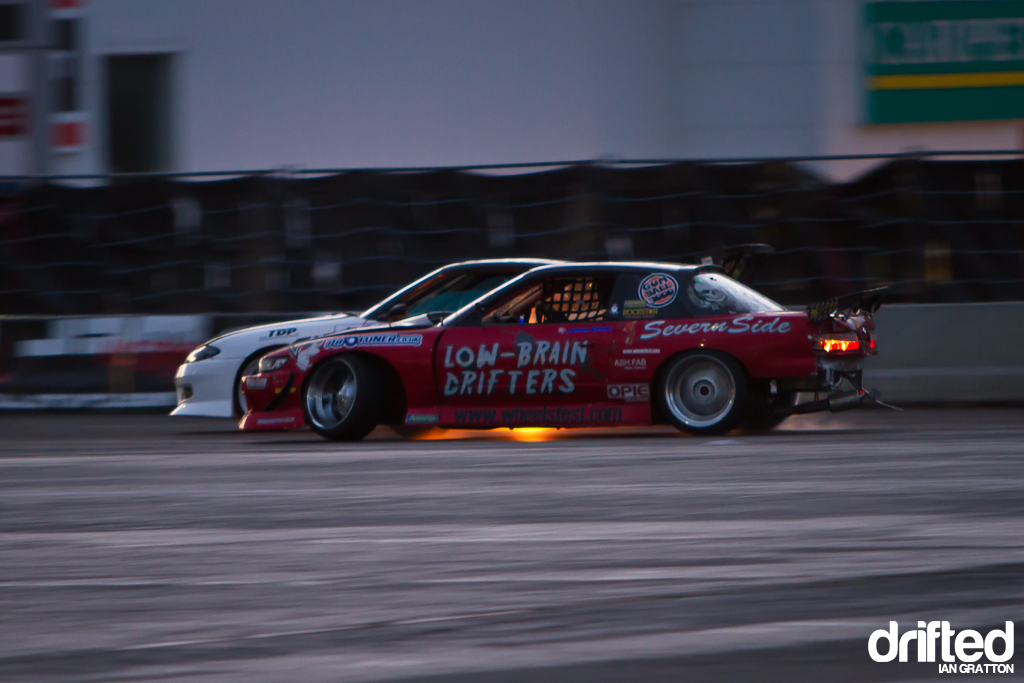 Under the cover of darkness James Deane took the 2011 Championship win with Nigel Colfer in 2nd and Walton Smith taking 3rd.   I always find shooting drifting in the dark quite awkward – having to set the camera up in such a way that makes it very sensitive to light means you end up with noisy grainy images – but – so does everyone else I guess.   We are very lucky that the noise reduction facilities applications like Adobe Lightroom can do a pretty good job of cleaning things up…it still makes me feel like I've cheated a little bit though.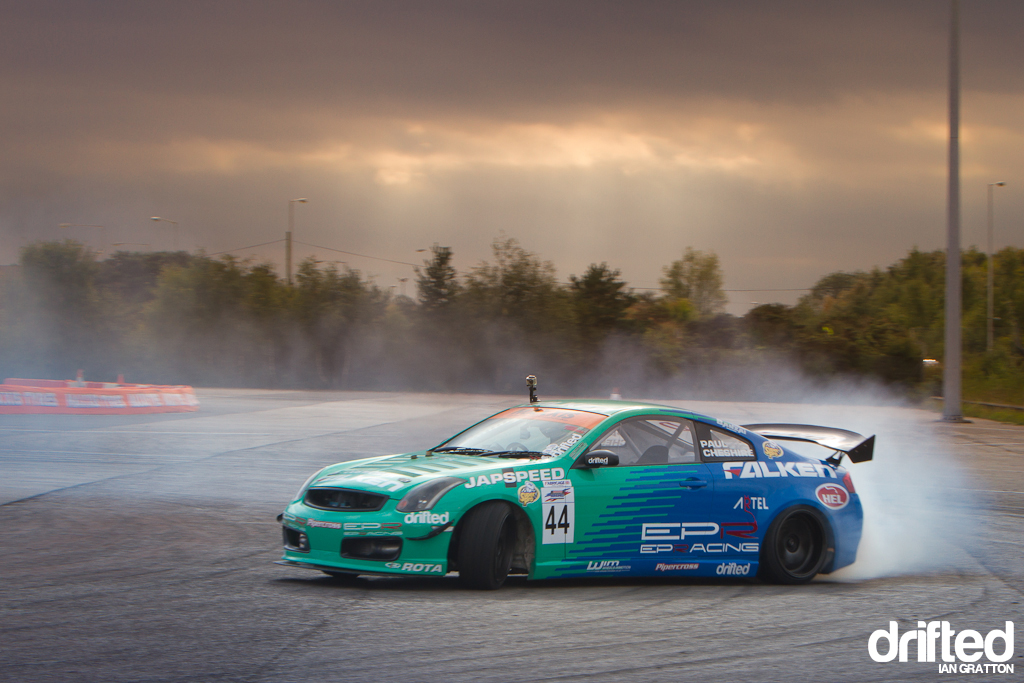 Two weeks later at the end of September we were back up to Teesside Autodrome for the final round of the British Drift Championship.  It was nice to see Paul Cheshire's G35 skyline finally starting to come together after destroying god knows how many clutches throughout the season.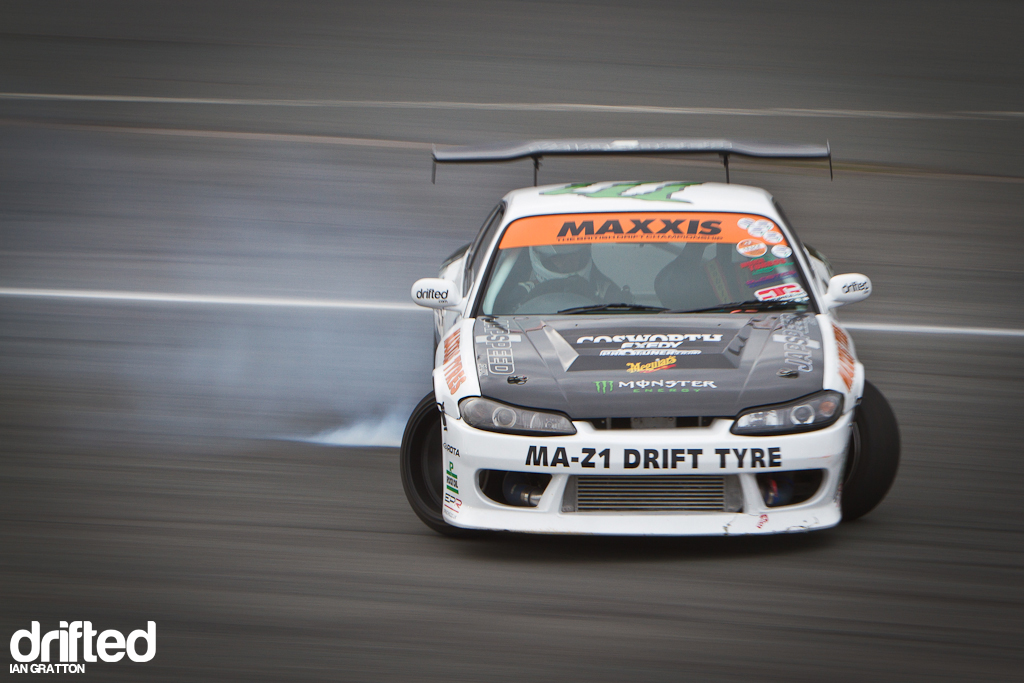 Shooting from the top of the Maxxis Tyres hospitality truck made a great vantage point for the entry into the first corner.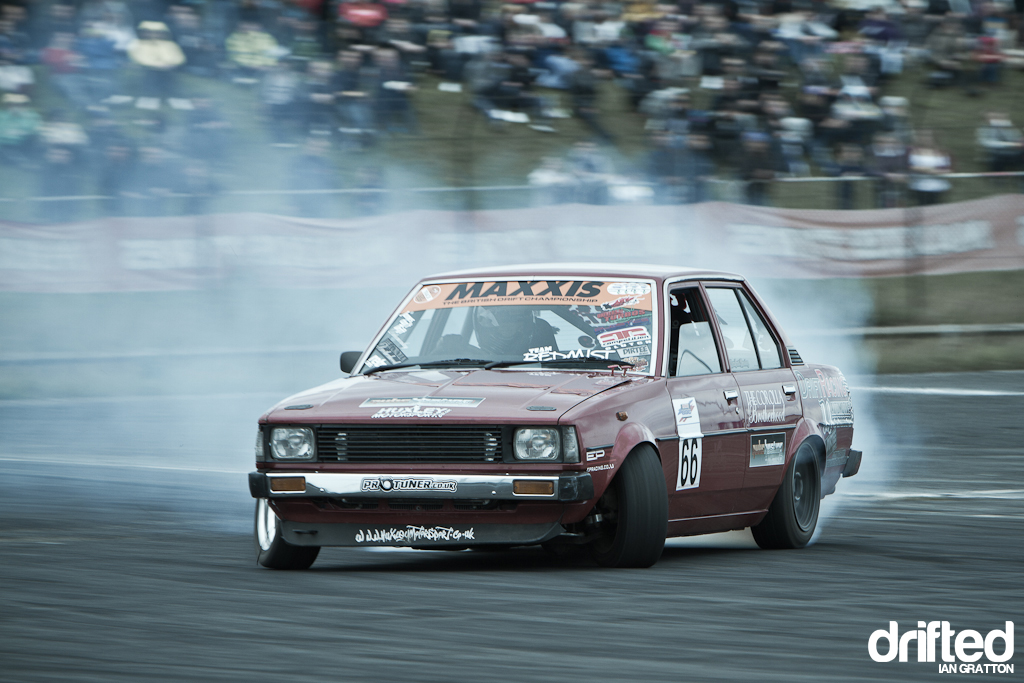 As an avid fan of old Toyota's I'd really enjoyed watching Marc Huxley and his little KE doing battle with the big guns.  It was Matt Campling who was to deny Huxley 1st place in the Semi-Pro championship but he had still had a fantastic year even holding his own against Pro category drivers after getting a lift up mid way through the season.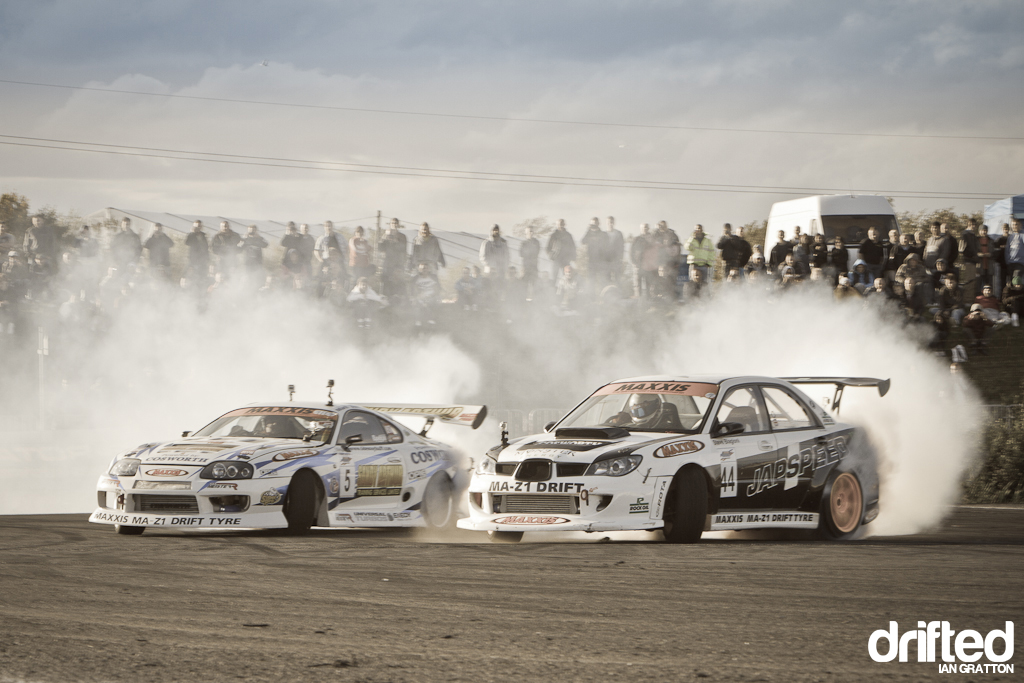 The Super-Pro battles were just as intense – with Matt Carter taking the championship by only 3 points having got knocked out in the semi finals.  The final battle of the day was between Stephen Biagioni and Mark Luney who after winning the round (amazing considering Mark had hurt his arm quite badly in an accident during the week) finished the year in second place.   It was also nice to see Baggsy finishing the championship on a high after the Japspeed Impreza was stolen and again recovered earlier in the year.
With both major championships in the UK finished for the year I had one last event to shoot before 2012 was done – this was our annual pilgrimage to the small sleepy town of Lousada in Portugal.  As the morning of the trip came my the grim realisation that I wouldn't actually be going kicked in – my flights had been booked for the wrong time and I'd already missed the plane.  Fortunately Jord still made it out there so I had to read one our own feature stories to find out what happened instead of seeing it with my very own eyes – yet again it had been a cracking weekend.
A few days after my Lousada weekend disaster Niall Gunn from the European Drift Allstars Championship got in touch out of the blue.  The conversation went something along the lines of 'Are you busy next weekend ? do you fancy popping over to Bucharest in Romania to shoot an international event being run on the streets?' er… 'Okay then!'.  Niall also asked about using one of my shots from the Wembley event held in September for promotion so I said yeah – that's the relevance of James Deane and LBD 'Little Bastard' above.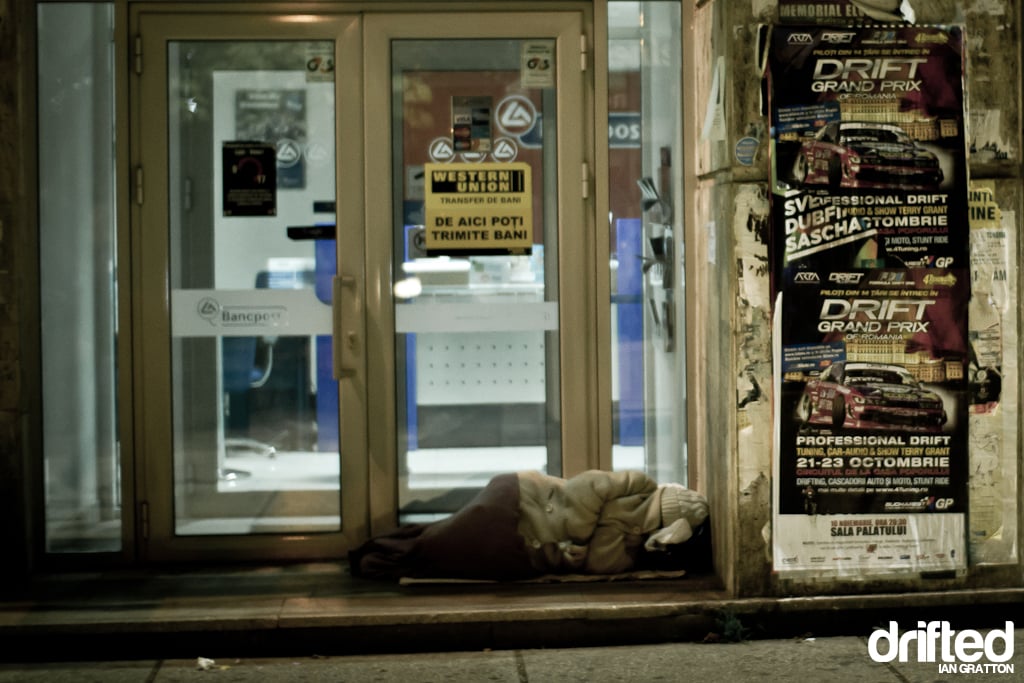 Seeing one of my photographs plastered all over the city of Bucharest was a real buzz.  Interestingly it wasn't one of the photographs that I particularly liked – but – being used as an ingredient for part of somebody else's idea it looked much more dramatic.  Unfortunately James and the LBD team didn't make it out to the event which was a real shame.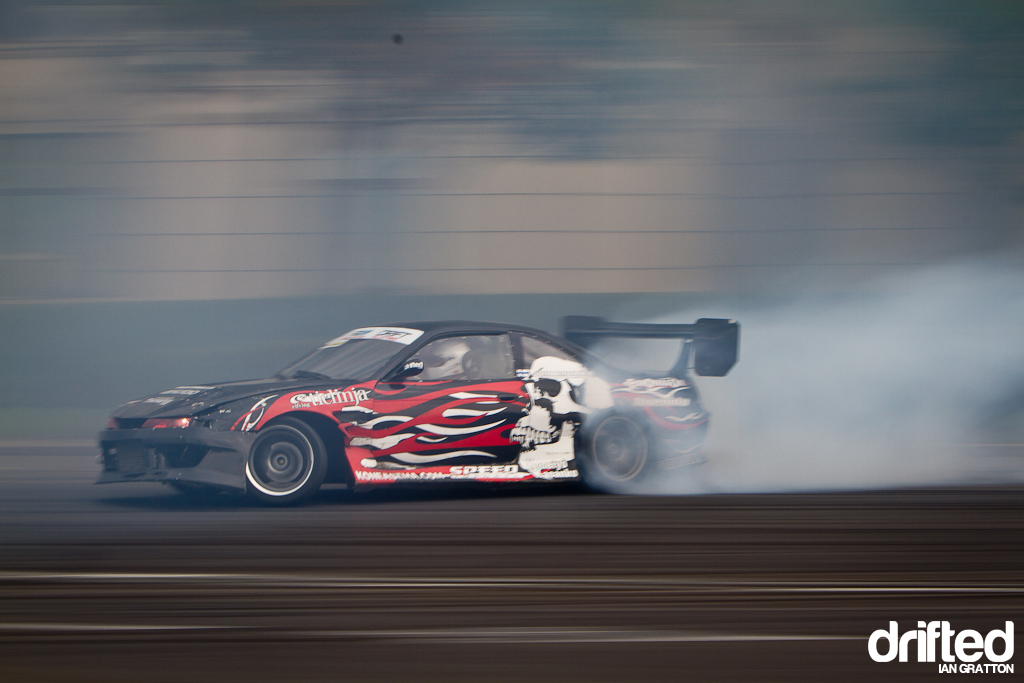 Shooting drifting stood on the edge of a street where cars enter the corner at 100+mph was just something else.  The origins of drifting as we know it obviously started on the streets and to see this level of professional driving back there was just incredible.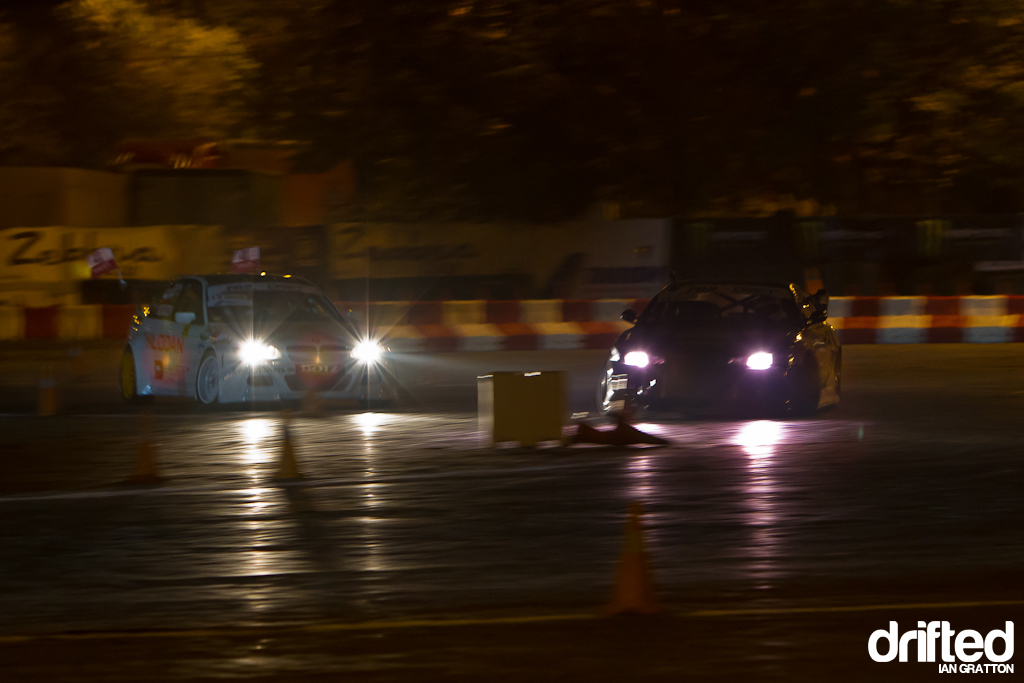 Shooting at nighttime presented its usual problems but it was so so worth it – cars popping into view at full tilt on a super wide deserted street with headlights blazing (well – those that actually had them) was something else – the atmosphere with the massive crowd was awesome.  My experience in Bucharest was definitely one I shall never forget, not least because of a certain experience I had leaving me running for my life from a pack of wild dogs one evening in the city. Lets just say apart from the rabies shots and howling at the moon occasionally I came out of it OK.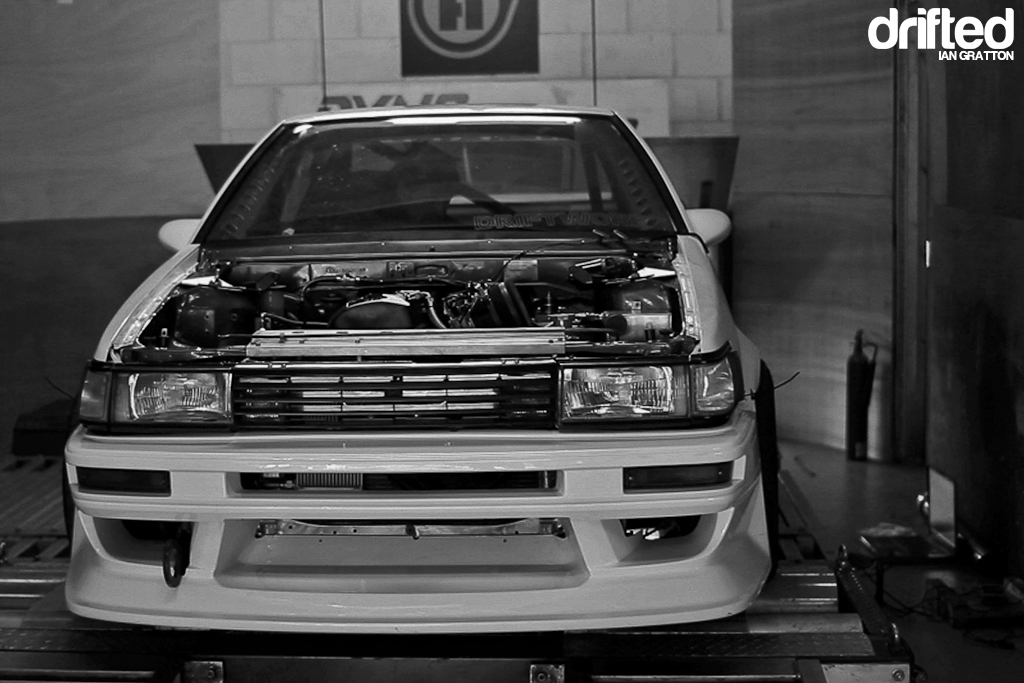 So – I guess that wraps up 2011 for me – what another incredible year of drifting! As you can imagine I have a sizable spill over of shots from the year.  If you are interested in seeing what else my camera captured check out my drifting collection on flickr.
Who knows what lies ahead in 2012 – one thing I do know is that my AE86 is currently sat on the rolling road getting its ITB'd F20C engine mapped – I look forward to taking it out for a bit of a spin next year!  It will be interesting getting back in the seat again after all these years.
Enjoy the Christmas break folks and see you again in 2012!
::Ian