NASCAR Jobs – Everything You Need To Know
Are you looking to land your dream NASCAR job? Whether you aspire to become a driver or pit crew, there's something for everyone in the NASCAR industry.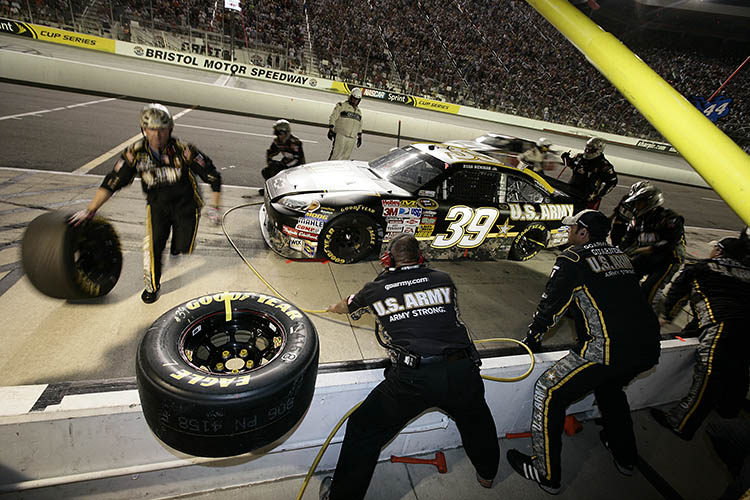 ---
Introduction
As youngsters, most of us dream of landing the perfect job, and finding a position that aligns with your lifelong hobbies and interests can often present the ultimate opportunity.
With NASCAR being one of the most popular motorsports in the US, it's no surprise that more people than ever are trying to land lucrative NASCAR jobs.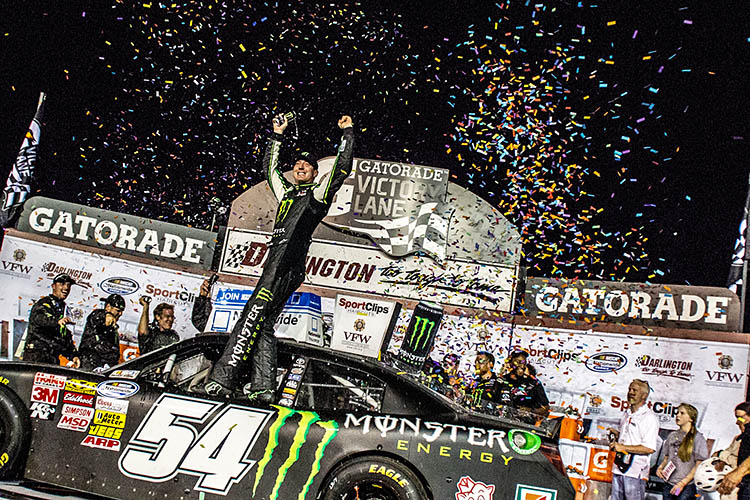 While some of you may be feeling as though landing your dream role is going to be impossible, that's far from the truth.
Sure, if you're looking to get behind the wheel, and become a NASCAR driver, then you may need to put down your phone or step away from the computer and get practicing!
---
NASCAR Driver Jobs
NASCAR driver jobs are often the most sought-after roles in the industry and unsurprisingly the most difficult to achieve.
Most NASCAR drivers have been honing their skills from an extremely young age, typically getting landing their first podiums in karting before moving on to the likes of Legends cars.
However, with the likes of ultra-realistic sim racing providing a perfect platform for getting started from home, there's no better time to get started than in the present day.
Who knows, if you get serious with your gaming, you may even bump into some of your NASCAR heroes on the likes of iRacing.
We always believe in following your dreams. Even if you feel that a NASCAR driving career is out of reach, proving you've got the determination to succeed in the NASCAR industry will undoubtedly go a long way with helping land other roles.
Just remember, even your NASCAR heroes had to start somewhere, and in this fascinating video, some of the top drivers share where everything started for them. Some of these jobs are certainly not what you'd expect!
---
NASCAR Mechanic/Pit Crew Jobs
Perhaps the dream of becoming a NASCAR driver feels out of reach, but that certainly doesn't mean that a NASCAR career isn't possible.
Every team on the grid has a highly skilled pit crew that awaits the driver to arrive to switch tires and fix up the cars in the blink of an eye, and sometimes a little unexpected extra:
Although this is a little different from your traditional local garage role, this is undoubtedly where each member of the pit crew would've started.
Check out this extraordinary insight into what it takes to succeed at the NASCAR pit crew tryouts. Think you could hang with these guys with skill, timing, and playing a team role? Perhaps this is the perfect NASCAR job for you!
---
NASCAR Truck Driving Jobs
If you're a huge fan of NASCAR but prefer hitting the road than the racetrack, perhaps becoming a NASCAR hauler could be the perfect solution.
Let's face it – there's only one way those NASCAR's get to the track, and that's via the road.
As you can imagine, these aren't your typical run-of-the-mill big rigs either, and you'll get the chance to drive state-of-the-art vehicles clad with the team livery.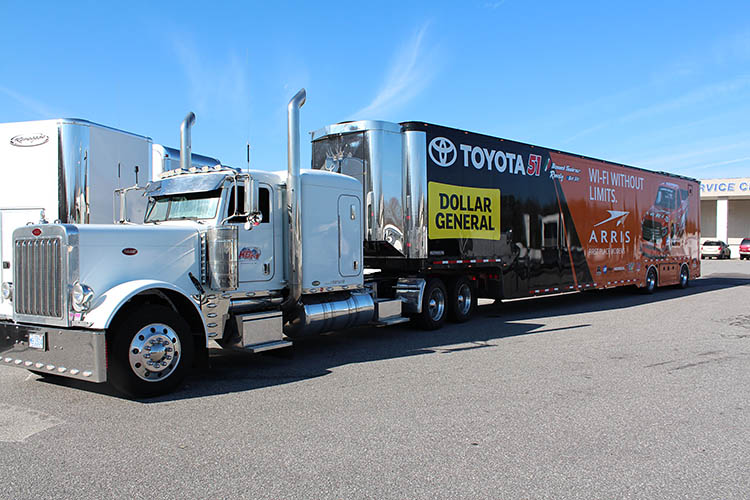 For huge fans of a specific NASCAR team or driver, this could potentially be the perfect role.
Having the opportunity to drive up and down the country, representing your favorite NASCAR team, would undoubtedly be a memorable experience.
In addition, you'll likely make other NASCAR fans' dreams come true along the way, knowing their favorite car is stored inside.
Boom – double winner!
---
NASCAR Engineering Jobs
When you're pushing the boundaries of what is possible in motorsport, the engineering jobs are endless.
Since each team on the grid is fighting for the top spot on the podium, it's essential to have the best engineers possible.
You'd be amazed how many engineering jobs are available within this sector. Many roles, such as Data and Computer Engineers, can often provide remote work that you could potentially carry out from anywhere in the country.
Mechanical engineering, electrical engineering, and aerospace engineering can also be perfect routes to consider if you intend to land the ultimate NASCAR engineering role.
---
NASCAR Race Official Jobs
If you think you've got what it takes to take the reigns when it comes to full responsibility of ensuring each race goes as safely, and smoothly as possible, then what's to say you wouldn't make an incredible race official?
This job role involves checking over each car to ensure they reach the requirements of the competition by completing several stages of stringent testing.
If you potentially suspect that there's foul play involved with the car, you'll have the authority to hand out penalties or fines to the drivers.
Think of this job role as a referee-style responsibility in the motorsport sector, where you'll be communicating with other officials throughout the race.
Suppose you fit the criteria for this role. In that case, NASCAR often provides 15-week programs for potential recruits in their Mooresville, NC campus, so it's undoubtedly worth checking if you're eligible for this exciting opportunity.
---
NASCAR Marketing Jobs
To be involved with NASCAR, you don't necessarily need to know your way around a car.
You'd be shocked to see how many various Marketing roles are available in the NASCAR industry, so this could make for an ideal job if you're happy to play a significant role behind the scenes.
Marketing provides a wide variety of roles within the company, and with intern positions available, it could make for a fantastic opportunity to get onto the NASCAR career ladder.
As well as considering working for NASCAR themselves, there will also be plenty of marketing jobs at the various circuits across the country.
If you're close to your local NASCAR track and would prefer to remain in the state, this could also make for an excellent opportunity to be involved in the local NASCAR community.
---
NASCAR Medical & Nursing Jobs
There are plenty of unlikely NASCAR jobs, and these are certainly no exception.
Following the untimely death of NASCAR legend Dale Earnhardt Sr, the NASCAR industry immediately underwent a significant overhaul in the safety department.
Alongside the ban of bump drafting in the sport, many other life-saving innovations came into play, such as better seats, belts, and head restraints.
However, NASCAR is still an intense, high-speed sport that comes with potentially imminent risks at any moment.
With cars driving just inches from each other at speeds of around 200 mph, it's no surprise that things can often go wrong, and this is where paramedics come to the rescue.
As well as the life-saving medical staff, there are also nurses providing support for the safety of drivers and crew members.
Medical liaison coordinators are registered nurses who collect in-depth medical analyses of the drivers at events and communicate with local hospitals to ensure that an injured driver or crew member can get immediate attention if required.
From minor injuries, such as debris at the track, to life-changing situations, the medical staff will be on hand to deal with any eventuality.
If the race goes according to plan, without any dramas, the chances are that you'll get the opportunity to sit back and enjoy the action.
Or, if things don't go according to plan, you could potentially save a driver, crew member, spectator, or another staff members' life!
---
NASCAR Photography & Videography Jobs
For the aspiring photographers and videographers out there, this will undoubtedly be the ultimate job role.
It will probably come as no real surprise that media jobs are incredibly sought-after, often making it somewhat challenging to get your foot in the door.
With that said, getting out there and proving yourself is going to be the best way to prove that you've got what it takes to take shots like the best of them.
While getting a role with NASCAR themselves is likely to prove challenging, if you already have a portfolio of photography work, it could be worthwhile offering your services to an alternative media outlet.
Whether you aspire to work for one of the top motoring magazines, or you've had the opportunity to get your foot in the door with a local newspaper, it's essential to take the prospective work that comes your way.
Remember, don't be shy to potentially work for free at small local tracks, to begin with, which will allow you to build a portfolio – this is how many photographers and videographers get to prove their photography talents.
Every chance to prove your skills behind the lens could provide that iconic capture!
---
NASCAR Social/Digital Media Jobs
In the modern-day, social media roles are proving more vital than ever, especially when it comes to attracting the next generation of NASCAR fans.
While your ability to take selfies at events isn't likely to land you the role, having a thorough understanding of social media is a handy skill to have.
From creating engaging written posts through to photos and video content, and perhaps helping fans from behind the screen – there's plenty of opportunities within NASCAR, the many teams that participate in the sport, and also the racetracks.
If you think you've got the creative mindset to stand out above the rest, this can be the perfect opportunity to get your foot in the door with eventually working your way through the marketing ranks.
---
NASCAR Internship Programs
There is no shortage of internships available within the NASCAR sector, and they currently have a "Diversity Internship Program" available for talented ethnic minorities.
Suppose you fall under the following races/ethnic minority classifications. In that case, this could offer an incredible chance to kickstart your NASCAR career: "Black or African American, American Indian or Alaska Native, Asian, Latino or Hispanic, Native Hawaiian or Other Pacific Islander."
For more information, check out their official page: NASCAR Internship Program
---
Jobs at NASCAR Tracks
It's an indisputable fact – without racetracks, there's no NASCAR!
Although NASCAR provides a vast array of jobs, each track on the annual calendar requires its staff to ensure everything's prepared, not only for race day – but also everything in-between!
If you're not sure about your local tracks on the NASCAR calendar, here's the complete list of NASCAR circuits where you can potentially apply for your dream job.
Auto Club Speedway – San Bernardino County, California
Chicagoland Speedway – Joliet, Illinois
Darlington Raceway – Darlington County, South Carolina
Daytona International Speedway – Daytona Beach, Florida
Homestead Miami Speedway – Homestead, Florida
Iowa Speedway – Newton, Iowa
Kansas Speedway – Kansas City, Kansas
Martinsville Speedway – Henry County, Virginia
Michelin Raceway Road Atlanta – Hall County, Georgia
Michigan International Speedway – Lenawee County, Michigan
Phoenix Raceway – Maricopa County, Arizona
Richmond Raceway – Henrico County, Virginia
Sebring International Raceway – Highlands County, Florida
Talladega Superspeedway – Talladega County, Alabama
Watkins Glen International – Schuyler County, New York
Alternatively, if you're determined to work with NASCAR themselves, then make sure you head over to the NASCAR careers location map, which allows you to browse local NASCAR opportunities.
---
Conclusion
We hope this guide has helped open your eyes to the wealth of variety within the NASCAR industry.
Although the obvious choice is to become a NASCAR driver, that isn't likely to work out for everyone. However, that certainly doesn't mean that there isn't a perfect job role to suit your needs.
NASCAR prides itself on its wide selection of career opportunities available, stating the following: "NASCAR was founded on skill and performance and that is what it takes to succeed as an employee at NASCAR. There are plenty of places to put your talent to work – there is something for everyone."
With more than 100 NASCAR-related events occurring annually across the US, there's certainly no shortage of roles within this thriving enterprise.
If you're determined to work for NASCAR directly, then you're able to search for jobs on their official website.
Once you see the vast selection of potential opportunities available, we're sure you'll be pretty excited!
Alternatively, if you live outside of the US, then there's still plenty of roles to consider.
The NASCAR Whelen Euro Series offers a driver recruitment program, which hands drivers from across the globe the opportunity to compete in the series.
If you're a future NASCAR fan that's interested in moving to Europe, look no further!
When it comes to aiming high up on the NASCAR career ladder further down the line, you may need to consider relocating to one of their corporate offices.
Charlotte, NC – NASCAR Plaza based in Charlotte also has ties to the NASCAR Hall of Fame and Charlotte Convention Center. Media, marketing, communications, and strategy function roles are located here, among many others.
Concord, NC – Concord hosts the world-class NASCAR Research & Development Center, primarily focusing on engine performance, safety equipment testing, and vehicle inspection.
Daytona Beach, FL – Daytona hosts the NASCAR headquarters, known as the International Motorsports Center, home to finance and accounting, legal, risk, racing operations, HR, diversity, and information technology. It's also the HQ for the IMSA.
New York, NY is the home of NASCAR partnership marketing, strategic development, broadcasting and production, communications, legal, and marketing.
Los Angeles, CA – The City of Angels hosts the entertainment marketing division, which has helped with some of the best-known NASCAR movies, such as "Talladega Nights," "Logan Lucky," and Disney Pixar's "Cars."
So, there we have it! We hope that this comprehensive NASCAR jobs guide has provided some inspiration to follow your dreams and aspirations.
While you're here, why not spend some time enjoying the entirely free NASCAR Racing game in the Drifted Arcade?
Alternatively, if you're a NASCAR Heat 4 fan, make sure you check out our guide to the ultimate setups in the game.
---
Thank you for reading our NASCAR jobs guide.
If you enjoyed this article, please share it with the buttons at the bottom of your screen. If you've found this information useful, please take a moment to share it with other NASCAR enthusiasts. We appreciate your support.
---
Photography credits
We thank the following entities for the use of their photography in this article: