EVENT: Velcom Drift Belarus, Airport Mahilyow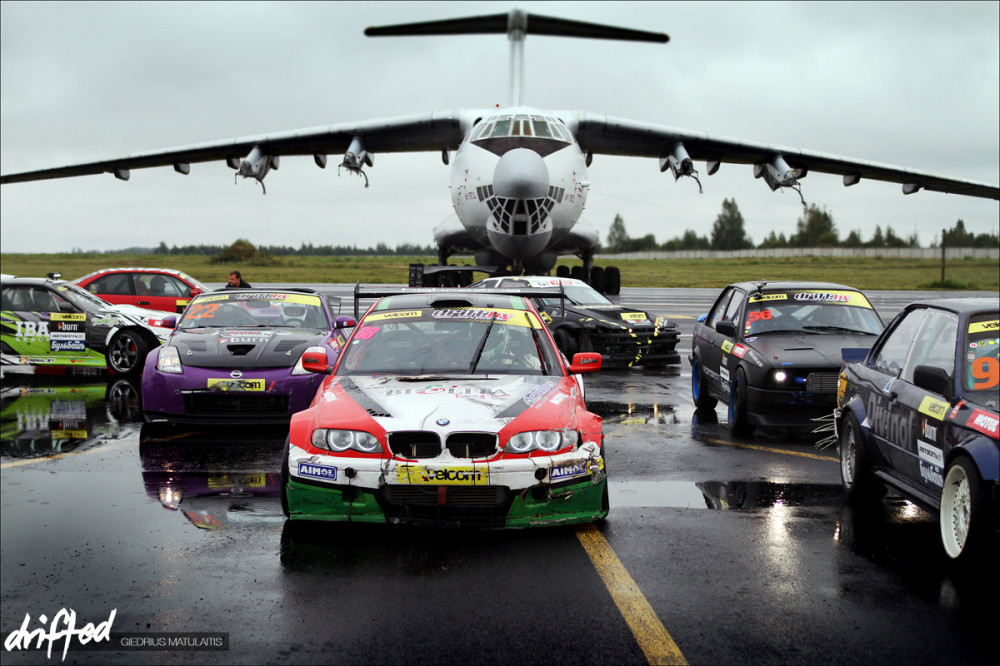 Looking back, the first drifting event in Belarus was held only in 2009 and now they have a strong championship with 30+ participants for most rounds (a number that keeps growing), 6 different locations, and coverage by national television!
For the event at Airport Mahilow we'd predicted such horrible weather for Saturday that we didn't expect any miracles and hard fights on Sunday. Despite that, it all happened and proved to be a great race! The bulk of the water fell on the track early before the start of the Sunday morning practice, allowing all the drivers to get used to an ever-drying circuit; this had a major influence on the qualifying results.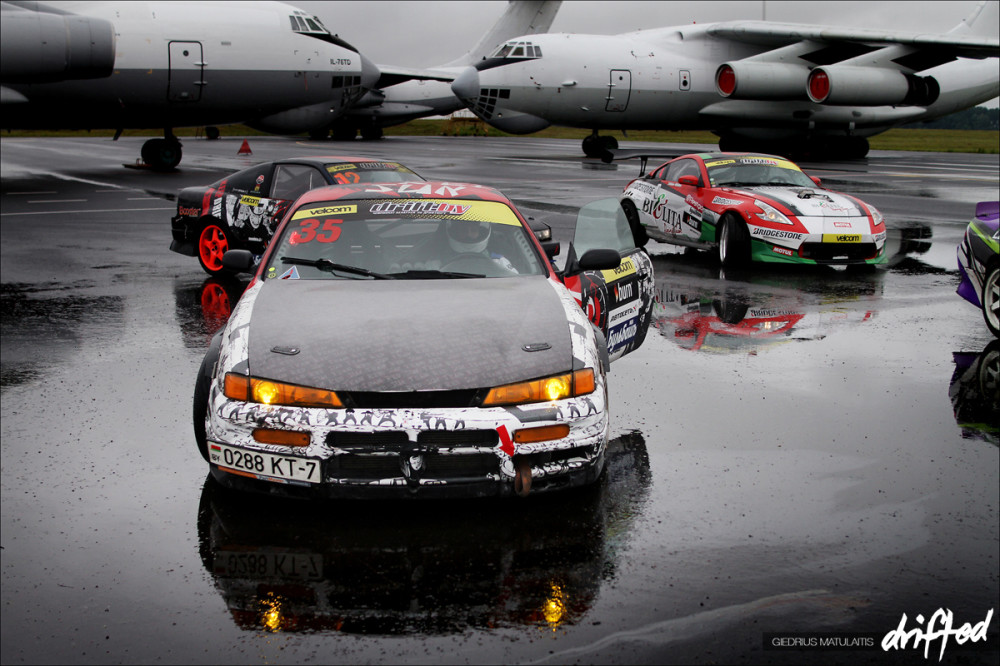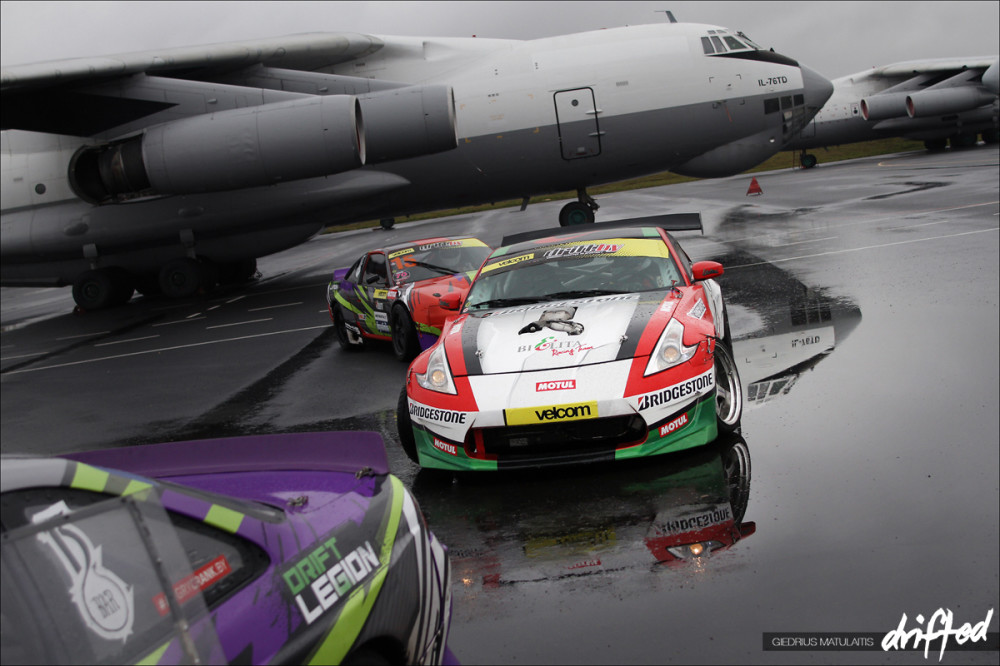 For this event, the total number of participants was up to 28. During practice, Alex Chechnev from Belita Racing said "goodbye" to the hysterical shout of his rotary-powered RX-8, dropping him from contention. Roman Matsiukevich also fell victim to a cloud of oil smoke from his matt black BMW E30 coupe by Unitaz Performance Team. That whittled the field down to only 26, not enough to make the judges keep the plan for a top 32, so a top 16 shootout was chosen instead.
The inclement weather made the qualifying battle even more intense. Four out of the 26 drivers didn't manage to secure even one clean pass. This included Andrew Govorov from Kiev with his mad Toyota Corolla AE86 by ARD Team, experienced Belarusian driver Dmitriy Samoshkin with his Nissan Sil-eighty by Red Sun Team, and Evgeniy Bobrov with his diesel-powered BMW E28. All had good runs in practice, but couldn't put on a show when it mattered during quali.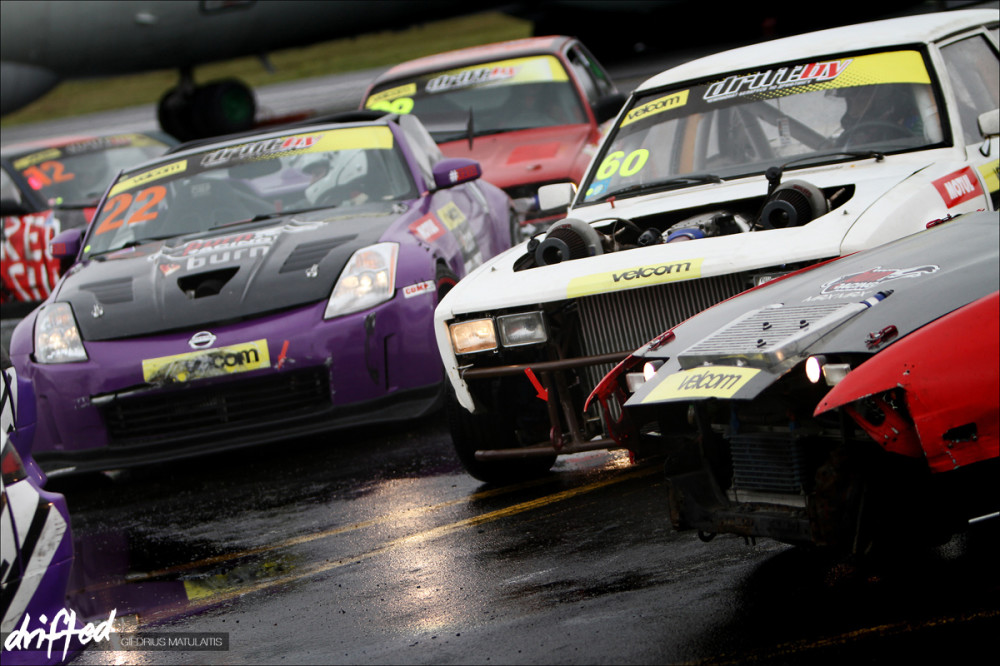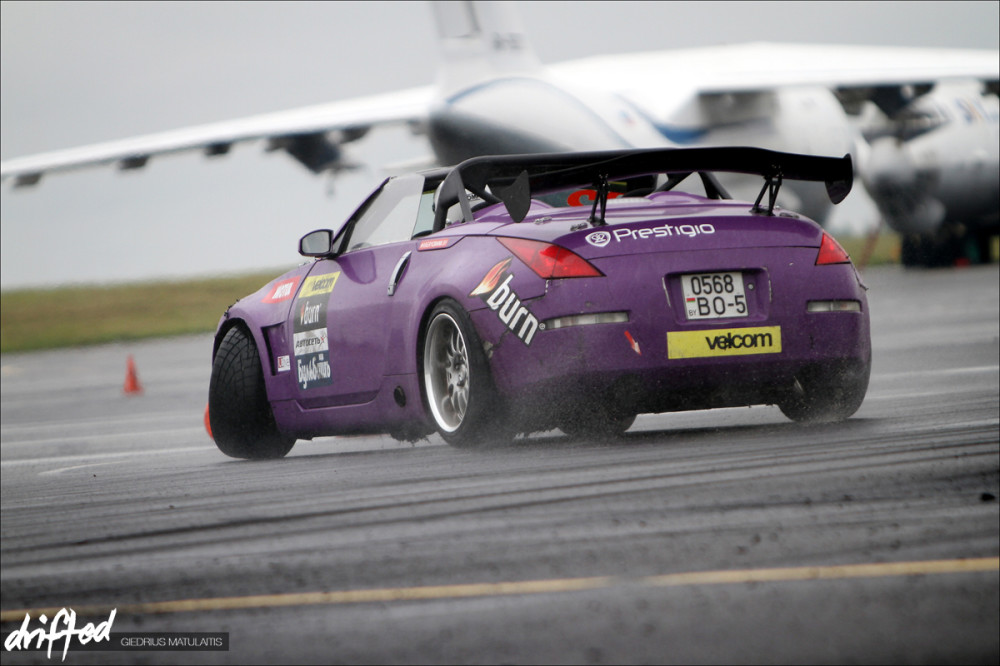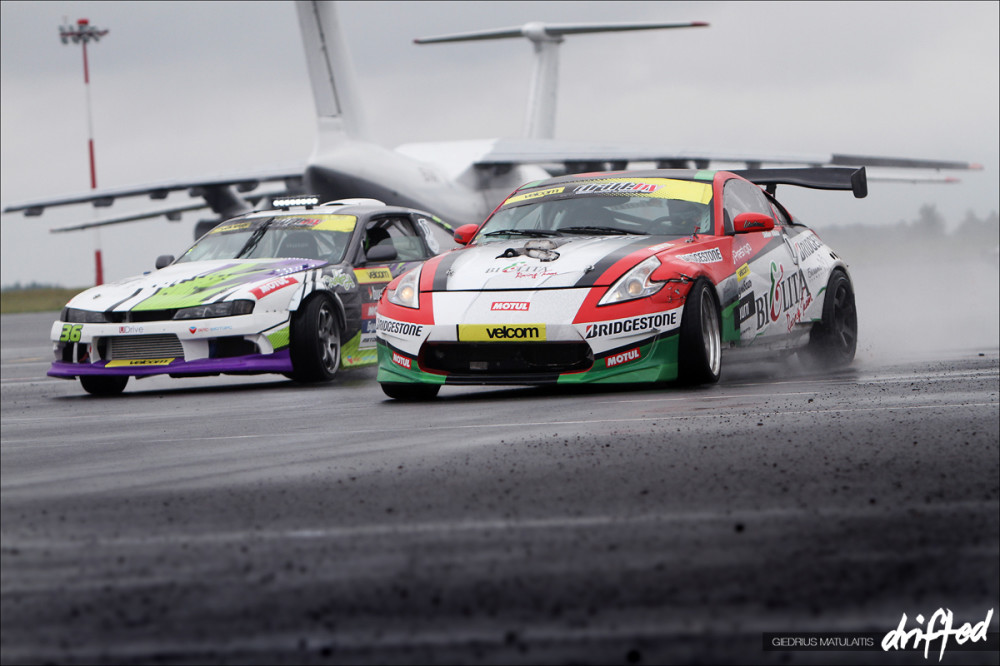 The list of names who filled the top 16 positions were highlighted with sensations and shocks. 16th spot was masterfully filled by the "car" of Vitaly Chernushevich with his E30 V8. Exhausted by the long road from Russian Drift Series finals at Nizhny Novgorod Ring, famous Russian drifter Nikita Shikov made it into 11th place, uncharacteristic for him. Just ahead in tenth was Andrey Piskarev from Drift Legion Team, who had managed to do only one good try at quali and it (with 80 points) was enough to pass on. The remaining places for the bottom half of the order were shared by Max Shatilo and Dima Nagula, who had made it into ninth and eighth respectively.
Seventh went to Andrey Mazin with his Nissan 350Z V8 LS Roadster, a driver most expected to qualify even higher. Sixth place for Ruslan Kurlovich and his BMW E34 S62 V8 was more than solid, showing his effort to get a good start for Sunday's main event. Others in the Top Five included Nima Hedayathi with his Nissan S14, Max Shepetuk and his Toyota Corona, sensational Valentin Borodavko from Drift Legion Team with Nissan S14, and two top Belarusian drivers: Alex Vishnevsky from OBKgroup team, who had lost his own car (Nissan S15 with 2JZ engine) and urgently got a BMW E36 from his teammate Yuri Sploshnoy, along with Sergey Sak from Belita Racing, who came from the finals of Russian Drift Series with Nikita Shikov, and tried especially hard to get the top seed in qualifying.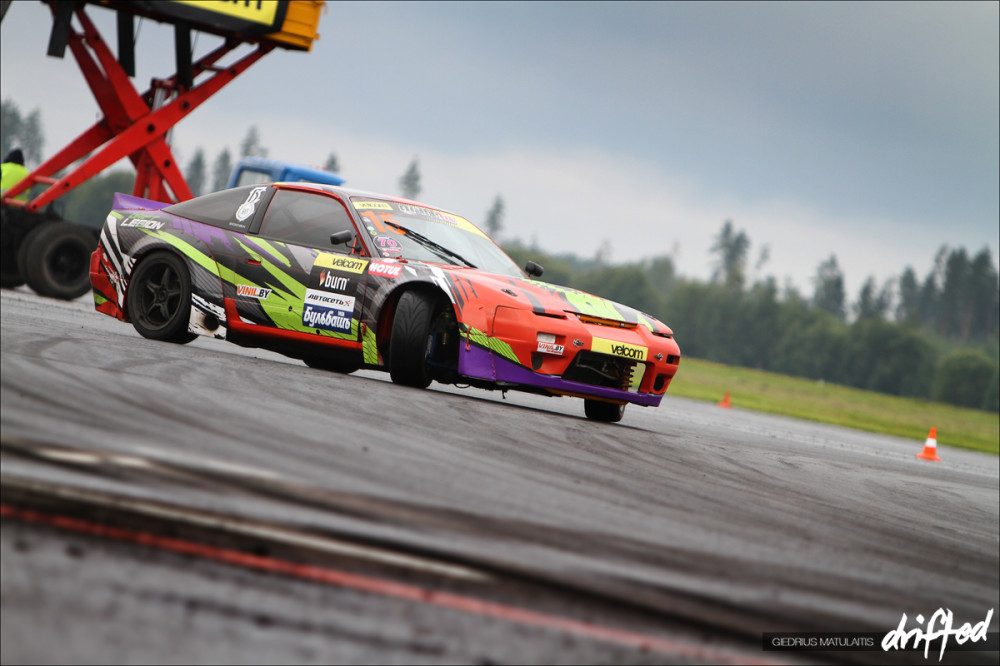 Moving into the tandem battles, two of the hardest fought races were Sergey Sak vs. Vitaly Chernuschevich and Alexey Vishnevsky vs. Ilya Turevich. Despite all the efforts by the slower guys to do their best, it was impossible to pass the leaders of both #driftby seasons, especially when the track had become almost dry and started to give spectators tons of smoke from burned tires.
Kirill Radchenko and Max Shepetyuk race didn't get through without a little door to door action. Despite that, the accident didn't stop the Red Sun Team pilot from moving into the Top Eight.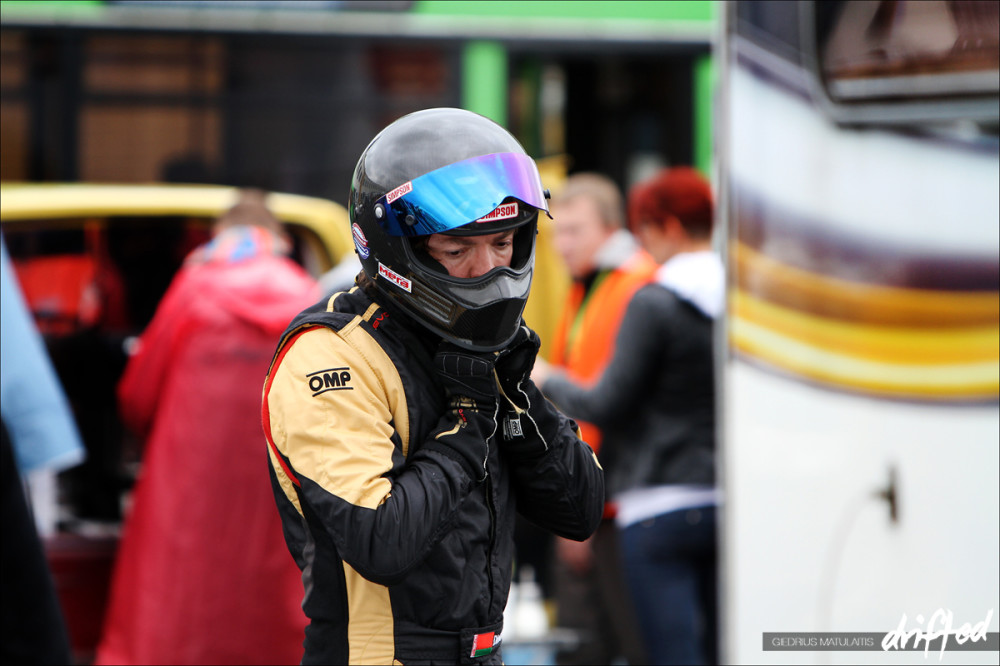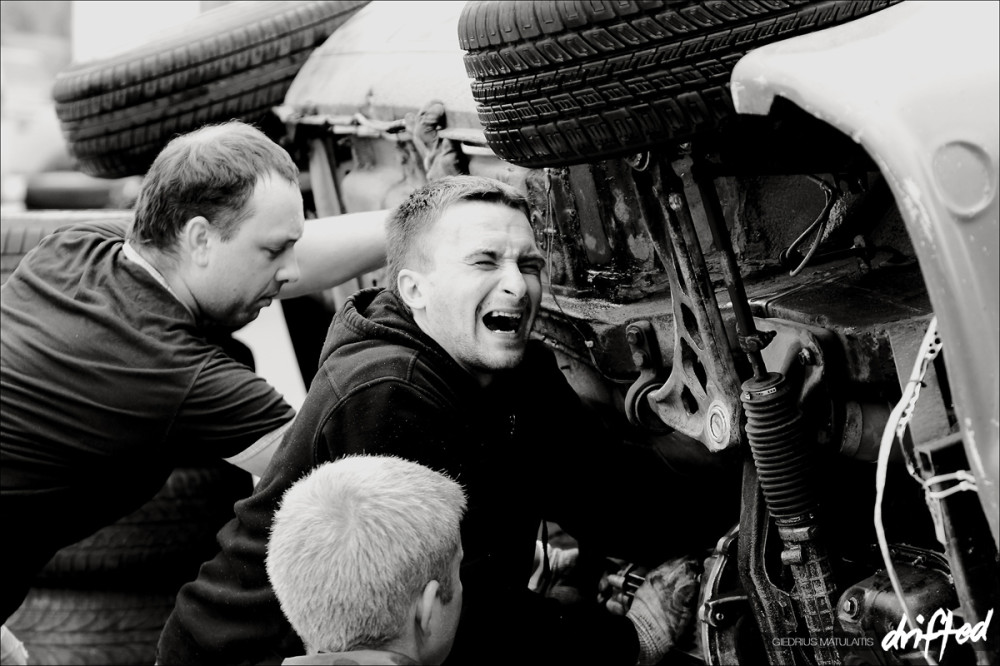 Maxim Krasnopevtsev broke his gearbox during the warm up session before the main event, making way for Nima Hedayathi to move into the Great Eight without a fight. Andrew Mazin continued to show a poor pace post qualifying, and lost out to Andrew Piskarev. In the remaining pairs, Valentin Borodavko who qualified third overall wasn't able to maintain his pace and was beaten by Boris Melenkevitch. Tired and exhausted, Nikita Shikov had a great race against Ruslan Kurlovich, but it was not enough to move on as Kurlovich got the win.
During the Top Eight, Sergey Sak faced off against Dima Nagula. Sak was ahead after the first pass, but in the second run he collided with the rear fender of Nagula's car, causing him to stop in the middle of the track, instantly losing the race. In other competitions Max Shepetyuk had neatly finished with Nima Hedayathi, Alex Vishnevsky had surpassed Andrew Piskarev and Ruslan Kurlovich had sent Boris Melenkevich packing early for Brest.
After the heat of the day all that left was the Final Four. Ruslan battled it out with Vishnevsky, and after a long and fierce debate by the judges, the reigning champ Vishnevsky was declared as the winner of the pair, although some of the fans would have voted for a OMT decider instead. On the other side, Dima Nagula had to deal with Grodno and he was unable to meet the challenge. Nagula lost, moving into the consolation round against Ruslan. In the race for third place, Nagula made ​​fewer mistakes and had a slightly more technologically developed car than Ruslan Kurlovich, helping him nab the final spot of the podium. Claiming the top spot was Alexei Vishnevsky, whose new car didn't have a problem with the drying conditions. The most important thing remains — to win the championship.
Mogilev Stage was a worthy follower to Logoysk, with no discount on atmosphere as well as the level and number of participants. The series continues in Brest on September 28th. We'll see you again there!
Text: #ANGRYCRANK.BY