The British Drift Championship Round 1 – Stowe Circuit, UK
After yesterday's Qualifying Session the UK's best drift drivers gathered bright and early to battle it out for the all important opening points of the BDC 2010.
This is the first season the BDC's Semi Pros have fought it out in the twin drifting format. After the initial warm-up run where Jordan Patton's R32 Skyline and Justin Clarke's S14 collided deep in Silverstone's gravel the judges were concerned that we were in for a day of carnage and spin-offs! How wrong we were! Every Semi Pro driver stepped up to the mark and gave the crowd some amazing twin drift battles. The final results for the Semi Pro class were as follows.
Jordan Patton – R32 Skyline
Matt House – LS1 FD3S
Mike Cooper – Frankenstein R32
Martin Griffiths – Turbo E30
After lunch and keeping the crowd entertained with demos and passenger rides it was the Pro driver's time to shine. The BDC opened the season by running a Top 32 line-up rather than the usual Top 16 format. A driver I have to give dues to at this point is BDC newcomer Jon Smith. Jon and his humble CA18 powered S13 had been drawn against Phil Morrison's 2JZ S15, which had been tuned to a modest 500bhp for the event. Jon held his own and despite going out  to Phil due to a spin in the first run he put in an impressive second run and just about kept up with the Driftworks' purpose-built machine.
The Top 16 battles saw familiar faces Paul Smith and Nightwalker Chris Hackwood go head-to-head, Paul's driving was on form and he went through to meet European Drift Champion Mark Luney in the Top 8. Skylineowners' Keith 'Chief' Hammond went through leaving behind Silverstone Tyres-sponsored Steve Moore, Steve was suffering from gearbox problems for the second time in the weekend after swapping a box out in the pits on Saturday. Simon Perry was driving on point all weekend and ended Japspeed driver Antony 'Google' Cahill's weekend early, meanwhile Team Falken driver Matt Carter took Declan Munnelly's Mk2 Escort to two one-more-time rounds before going through, as did Danny Eyles against Julie Robinson in her R32 4-door. Completing the Top 8 line up was Danny O'Brien in his yellow S14a and Driftwork's Phil Morrison after Team Falken driver Paul 'Polo' Cheshire retired due to mechanical problems.
The Top 8 saw Japspeed's Paul Smith in his 1JZ S15 take on the huge bhp Supra of Mark Luney. Luney took the first run 6-4 but handed Smith the win by spinning on the second run. Smith progresses to the Semis. Simon Perry pressured Keith Hammond into two spins taking the win to join Paul in the finals. Team Falken's Matt Carter suffered damage tackling Danny Eyles' RB25 S15 and sent Danny through to the finals where he would face Phil Morrison, who left MPH Customs' Danny O'Brien in his smoke.
Simon Perry continued his consistent form and progressed through into the finals, meanwhile Danny Eyles became Phil Morrison's fourth victim of the afternoon, Phil going through with a 9-1 initial run followed by a 6-4 second run.
Third and Fourth place play-off saw Japspeed teammates Paul Smith and Danny Eyles going at it. Paul took the first run 6-4 but caught the gravel on his second run, spinning him round and handing Danny third position.
The highly anticipated final saw Phil Morrison leading on the first run, Simon Perry closed in fast and had to straighten to avoid an impact, losing him the run 4-6. In the second run the drivers switched places and Phil replicated Simon's actions from the first run, shallowing his angle and taking it to one-more-time, much to the delight of the crowd! With Phil in front again he managed to pull a substantial lead on Simon and took the advantage 6-4. On the second run Phil went for blood and closed in on Simon's bright pink R33 Skyline, Phil stuck the Simon's door throughout the corners and was awarded a 7-3 score and the win.
Final Pro Class Results
Phil Morrison – Driftworks 2JZ S15
Simon Perry – R33 Skyline
Danny Eyles – Japspeed RB25 S15
Paul Smith – Japspeed 1JZ S15
Some ocular candy from today….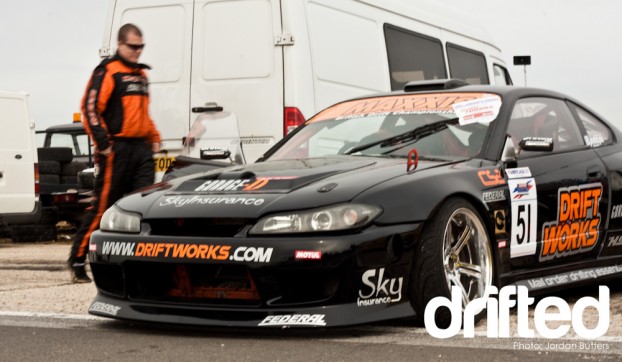 Round 1 winner Phil Morrison walks towards his fully-built S15.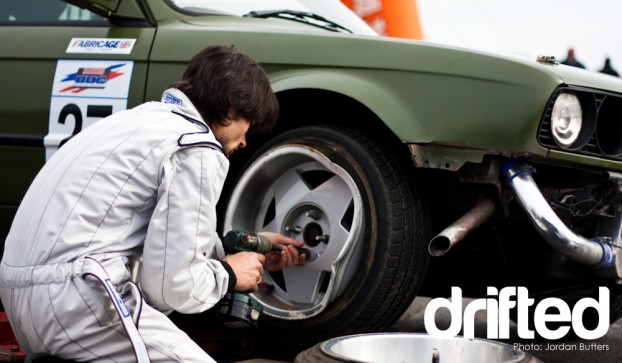 Luke Ellard replaces a heavily damaged front wheel on Martin Griffith's turbo'd E30. Martin dragged the wheel over a raised rumble strip during morning practice.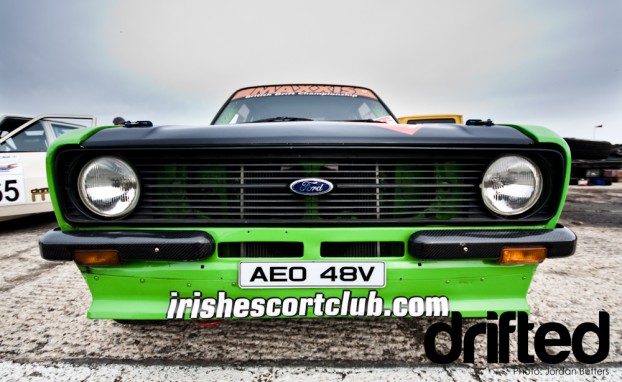 Its so nice to see variety in the pits at drift events now. Declan Munnelly's Mk2 Escort is a breath of retro-fresh-air. Rumour has it that the little Escort has an on/off switch rather than a throttle pedal – it certainly seemed that way watching Declan drive!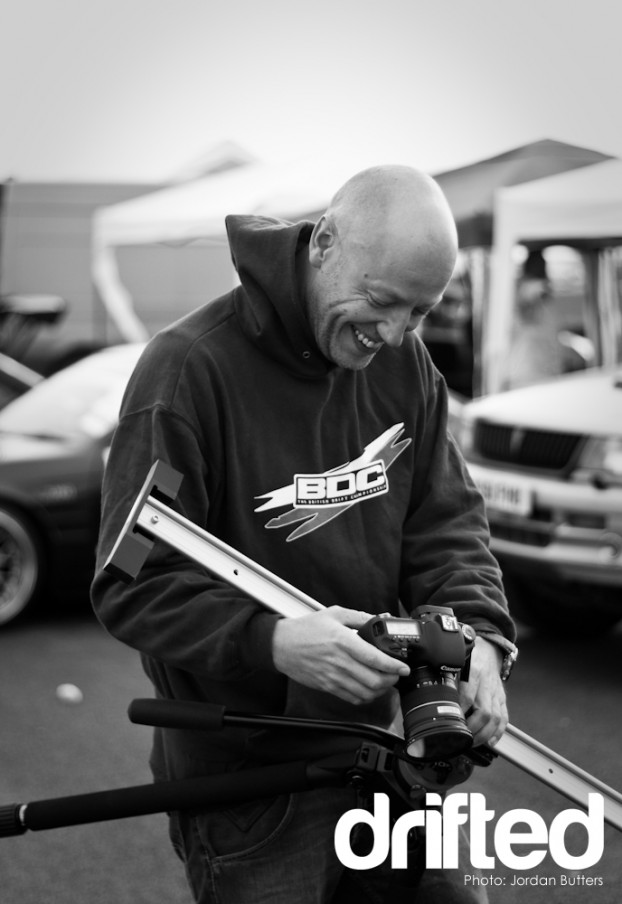 Here's a guy you'll see walking around drift events wearing various cameras, rigs and filming equipment, drifted.com's Stephen Brooks. Keep an eye out over the coming weeks for Brooksie's films from the day.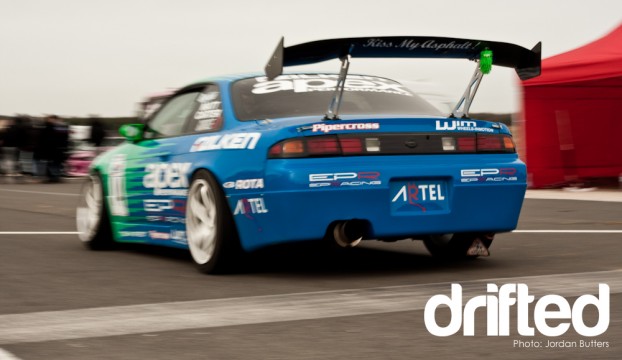 'Kiss My Asphalt', unfortunately Team Green/Falken driver Matt Carter kissed goodbye to two wheels during today's finals after running them over Stowe's unforgiving kerbs.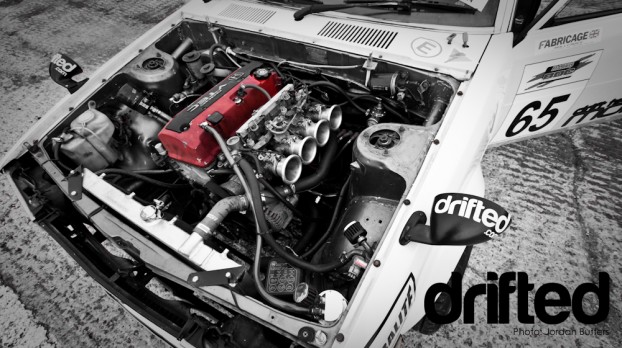 I had lots of e-mails asking for more pictures of Tony Fong's KE70 Corolla so here is a taster. I didn't realise he was rocking an F20C S2000 lump on ITB's! No wonder it sounded so good.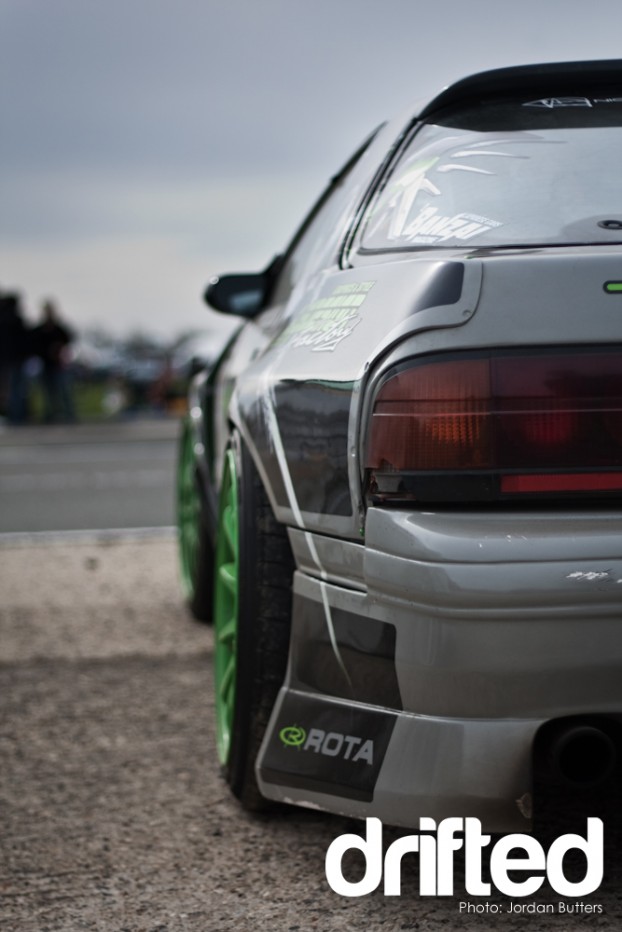 Team Green's Phil 'Flik' MacLachlan had clutch problems all weekend putting him on the sidelines for today's finals. It didn't stop his FC from looking badass and rocking some of the best fitment seen in the pits this weekend.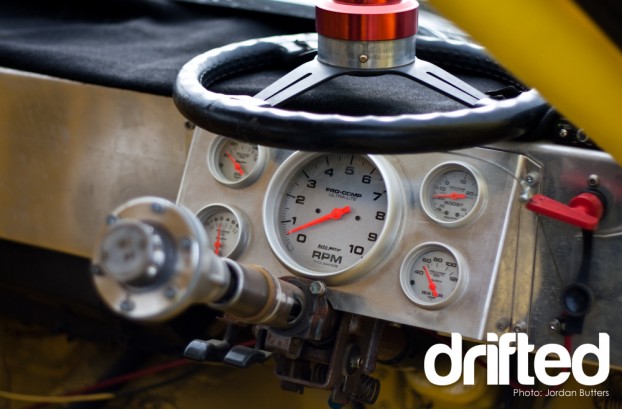 This is where Mike Cooper goes to work. I think the phrase is 'minimal but functional'.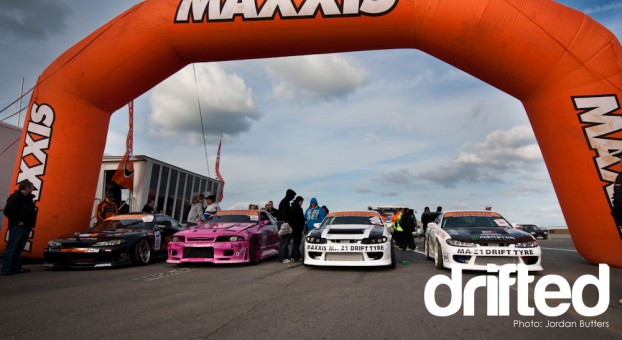 I'll leave you with this shot of the top four Pro cars after the trophy ceremony. Be sure not to miss the BDC Round 2 events, at two venues for the first time!
Semi Pro Class – Llandow Circuit, South Wales – 1st May 2010
Pro Class – Silverstone Full Circuit, England – 23rd May 2010
Check back to Drifted before then to see more photos and videos from this weekend's events.
Tags: BDC, bmw, British Drift Championship, Drifting, E30, FC3S, Jordan Butters, R32, S13, s14, silverstone, Skyline