Honda B Series – Everything You Need To Know
During its 12-year production run, the iconic Honda B Series earned a cult following in the tuning scene. We're looking at what makes them so impressive.
---
Introduction
Love them or hate them, from the 80s to the 2000s, Honda was bossin' it when it came to providing inline four-cylinder engines for tuning enthusiasts across the globe.
Arguably the finest among them all (after many heated internet-based discussions among Honda fans) was the Honda B-Series.
If you're not already of the scale of popularity that the B-Series had on the hot hatch market, we feel it's a worthy comparison to the Chevy small-block era of the '60s.
Whether you love or hate Honda, we do not doubt that you've heard of the incredible potential that these compact engines are capable of producing, which is why we've opted to create this guide, (hopefully) providing everything you need to know.
Although the Honda B Series is certainly not the most sought-after engine when it comes to drifting, it's hard to ignore such an iconic engine that we feel has earned its status as a JDM legend.
We hope that gives some hope to Honda owners that not all drifters share the Honda hate!
Like any engine family, some engines are better than others when it comes to your unique purpose for wanting a B Series motor.
Given the continued popularity of these seemingly everlasting, bulletproof engines, we often get asked specific B Series-related questions, all of which we hope to cover with this guide.
Before we get started, if you specifically have your eyes on the B16, then our Ultimate Honda B16 Guide provides an in-depth focus on quite possibly the most sought-after B Series engine.
However, if you're looking to see how the specs of each B Series engine compare, the tuning potential that each has to offer, and plenty more – let's get started!
---
Honda B Series – History & Specs
Honda's B-Series engine family consists of inline four-cylinder DOHC and SOHC engines produced from 1989 to 2001.
Despite the earliest engines being more than thirty years old, this hasn't stopped their incredible popularity, which continues today.
In the eras where America was known for producing huge-displacement, low-powered engines, the tiny B Series could put many of its far larger competitors to shame by pushing out an incredible 116 horsepower per liter.
Combined with its impressive power output within a small package also came notorious reliability, where the B Series was among the engine families that earned Honda its "bulletproof" reputation.
These incredibly efficient performance-oriented engines brought power and reliability in an affordable package to the masses alongside high-quality Japanese engineering.
The real game-changer for the B Series was the B16, which was the first engine to integrate Honda's soon-to-be-legendary VTEC system within an inline-four, lightweight aluminum block.
With the typically exceptional build quality from Honda, combined with the ridiculous 9,000-rpm redline in stock form, it's no wonder that the B16 became one of the most legendary JDM engines ever produced.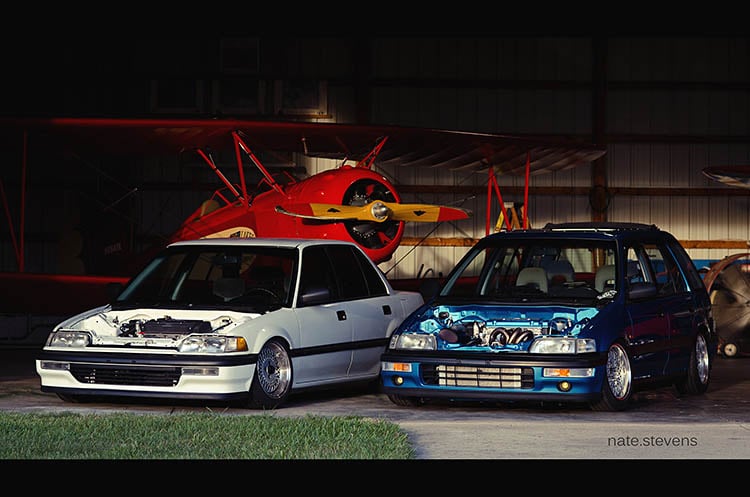 As many B Series owners are understandably eager to push these high-revving powerplants to their limits, they would soon realize that they could go beyond the owners' talents, which is where bargain blocks started appearing in junkyards.
When it comes to deciphering the Honda B Series engine codes, it's the letter 'B' (series/family) followed by the displacement (18 being 1.8-liter, etc.) then a letter to show which generation (A being the first.)
US-spec engines will often end with an additional number at the end to show a revision or update.
As many various B16's and B18's began surfacing on the used market at an attractive price-point, swapping them into previous-generation Civic's and Integra's soon became the common tuner swap of choice in the early 2000s.
While the B18C is often considered the "holy grail" of B Series engines, the chances of finding a DC2 Type R Integra in the breaker yard have become increasingly uncommon.
The scarcity of the B18C is where the likes of the similar-spec B16B, found in the more commonly sourced EK9 Civic Type R, have risen to fame.
Built upon the B16A's impressive foundations, the B16B implements the most desirable aspects of the A, with additional improvements and power gains added into the mix.
Despite the first generation having exactly 160hp (100hp-per-liter), Honda continued their research and development into the B16, enabling them to later squeeze out an insane 185hp from the highly-desirable B16B engines in stock form.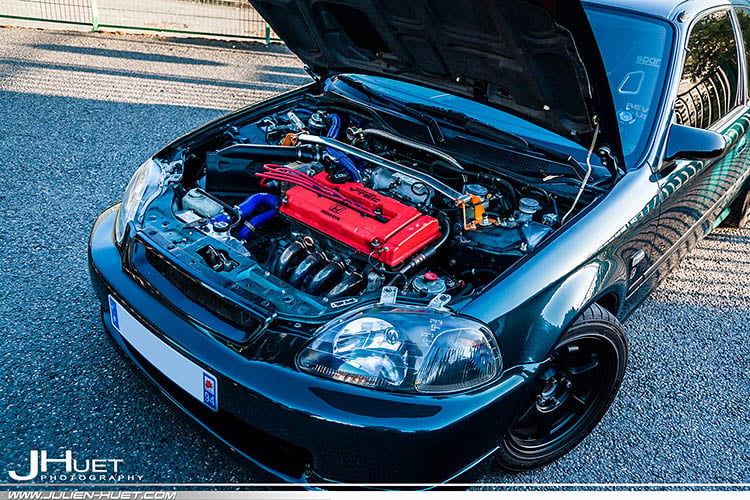 Imagine if some of the huge-displacement American V8 engines were capable of achieving that kind of horsepower-to-liter ratio.
That's before we even get started talking about modifications, upgrades, and the true potential of what these tiny powerhouses are truly capable of achieving.
Honda's VTEC technology, combined with their crazy redlines, enabled them to produce such an epic series of engines, which was a brave move for what was known as the reliable and convenient daily driver.
While some incredible B Series engines, such as the B16, B17, B18, and B20B, the B Series family also birthed some far less desirable options.
When it comes to the B20 and B21A, many Honda fanboys see these as the black sheep, as they use an entirely different architecture, using parts that aren't interchangeable with their siblings.
If you're wondering why there's little information to go on when it comes to sourcing information about these variants, that's likely to be the reason.
Let's look at where it all began for the B Series family as we dive into the various generations and specs that Honda treated their fans with throughout the years.
---
Honda B16 Generations & Specs
Arriving in 1989, the VTEC-powered B16 was the groundbreaking engine that changed the game.
B16A (First Generation)
1989-1993 - Honda Integra
1989-1991 - Honda CRX (EF8)
The B16A SiR 1st Gen was the first-ever B16 engine, first rolling out of showrooms in 1989.
With a displacement of 1.6L (1,595cc), this early engine perfectly hit the 100-horsepower-per-liter ratio.
Featuring a compression ratio of 10.2:1 and VTEC engagement from 5,500rpm, a redline of 8,000rpm, and an 8,200rpm rev-limiter, this first-generation powerplant was a revolutionary gamechanger at the time.
After VTEC engagement at 5,500rpm, it would achieve peak horsepower at 7,600 with a respectable 160hp, peak torque came at 7,000rpm, with 111lb/ft.
B16A (Second Generation)
1992-1993 - Honda Integra (DA6, DA8)
1992-1994 - Honda Civic (EG6)
1992-1993 - Honda Civic Ferio (EG9)
1992-1995 - Honda CR-X del Sol (EG2)
1996-1998 - Honda Civic (EK4)
1996-2000 - Honda Civic Ferio (EK4)
The B16A SiR 2nd Gen was the Japanese equivalent of the B16A.
This generation featured new pistons, which changed the compression ratio to 10.4:1, and used a less dynamic intake camshaft with an increased throttle body size of 60mm.
Although VTEC still kicked in at 5,500rpm, with these upgrades, the 2nd Gen achieved peak power with 170hp at 7,800rpm, with an improved rev limit of 8,200rpm.
B16A1
Honda CRX (EE8) (EDM)
Honda Civic (EE9) (EDM)
Created for the European market, the B16A1 had a reduced compression ratio of 10.2:1.
As a result, this variant provided peak horsepower of just 150 at 7,600rpm and 111lb/ft torque at 7,100rpm, with a rev limiter of 8,200rpm, and VTEC, which kicked in at 5,200rpm.
B16A2
1992-2000 - Honda Civic (EG6/EG9 & EK4) (EDM)
1992-1997 - Honda Civic del Sol (EG) (EDM)
1996-1997 - Honda Civic del Sol (EG2) (USDM)
1996-1998 - Honda Civic (EK4) (AUDM & NZDM)
1999-2000 - Honda Civic (EM1) (AUDM)
1999-2000 - Honda Civic (EM1) (USDM)
1999-2000 - Honda Civic (EK4 sedan) (Philippines)
1999-2000 - Honda Civic (EM1) (CDM)
Utilizing different camshafts, the B16A2 continued with the 10.2:1 compression ratio, thankfully returning to better power figures, with 160hp at 7,600rpm and 111lb/ft torque at 6,500rpm.
VTEC kicks in later at 5,600rpm and continues to the redline of 8,000rpm before reaching the redline at 8,200rpm.
B16A3
1994-1995 - Honda Del Sol (USDM)
Honda created the B16A3 for the Honda Del Sol, with a return of the 10.4:1 compression ratio, providing peak power of 160hp at 7,600rpm and 111lb/ft torque at 6,700rpm.
VTEC kicks in at 5,600rpm and continues to party to the redline at 8,200rpm before hitting the limiter at 8,500rpm.
B16A5
1996-2000 - Honda Civic (EK4) (JDM)
Produced for automatic transmission Civic SiR's, the B16A5 provided improved power, with 174hp at 7,800rpm, but torque remained with 111lb/ft at 6,300rpm.
The compression ratio remained the same at 10.4:1, and the redline was at 8,300rpm.
B16A6
1996-2000 - Honda Civic (SO3, SO4) (Middle East & South Africa)
Based on the B16A2, the B16A6 was produced specially for the Middle East and South African markets.
A compression ratio of 10.2:1 meant the engine achieves 158hp at 7,800rpm and 118lb/ft torque at 6,400rpm, with VTEC kicking in from 5,500rpm.
B16B (Type R)
1997-2001 - Honda Civic Type R
The B16B is the most desirable of all B16 engines and was a revised and improved equivalent of the earlier B16A SiR 2nd Gen.
For this, they opted for a de-stroked equivalent of the Integra Type-R B18 engine, which provided a new height of 212.4mm.
The additional space generated allowed for an upgraded crankshaft, pistons, and longer, lightweight connecting rods, which provided a rod-to-stroke (RS) ratio of 1.85:1.
Alongside these internal upgrades, they also adjusted the intake ports, increased the throttle body to 62mm, upgraded the fuel injectors, added an improved exhaust system, and an upgraded, lightweight flywheel.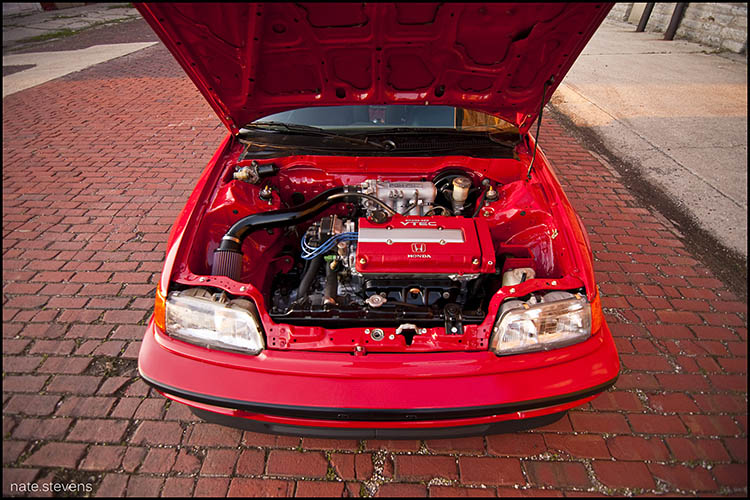 That's not all – the B16B also had upgraded camshafts, lightweight intake valves (which featured thinner stems), and reinforced valve springs.
With this significant revision, and a new compression ratio of 10.8:1, Honda pushed out their most impressive power figures to date, with 185hp (sometimes stated as 187hp), at 8,200rpm and 118lb/ft at 7,500rpm.
VTEC kicked in a little later at 6,100rpm on this engine, but it was worth waiting for before it continued to the redline at 8,400rpm, before hitting the limiter at 9,000rpm.
---
Honda B17 Generations & Specs
The B17 Is one of the rarer of the B Series engines. Unlike the many variants of the B16, the B17 only spanned for a single generation.
B17A1
1992-1993 Integra GS-R (USDM VTEC)
With a displacement of 1.7-liters, the B17A1 was only found in the USDM Integra GSR, and although it didn't reach the B16 popularity, it's a similarly desirable engine.
Providing a compression ratio of 9.7:1, VTEC kicks in at 5,750 rpm the redline at 8,000 rpm before eventually hitting the limiter at 8,250 rpm.
Performance is similar to most B16 range, with peak power achieved at 7,600 rpm with 160 hp and 117 lb/ft torque at 7,000 rpm.
The B17 engine was the first DOHC VTEC B Series sold in North America for export and never sold on the JDM market.
---
Honda B18 Generations & Specs
Quite possibly the most popular members of the B Series family, the B18 features both VTEC and non-VTEC variants, which should undoubtedly become a consideration if you plan to tune your B18.
B18A
You may wonder why we've not mentioned the B18A as the earliest B-Series generation. Mainly because the JDM-only engine isn't typically considered part of the modern B-Series family.
Despite sharing some similarities with the B18A1, and B20A/B21, the old-school engine produces just 99 hp and is rarely found in the US.
B18A1
The 1990-1991 non-VTEC B18A1 has a compression ratio of 9.2:1, providing 130 hp and 121 lb/ft torque with a redline of 6,500 rpm and a limiter of 7,200 rpm.
For the later 1992-93 model, the redline was increased to 6,700 rpm while the redline remained the same. This achieved 140 hp and 126 lb/ft torque.
B18B
With the 1994-2001 Acura Integra came the B18B1, often referred to as the "LS VTEC" for Honda enthusiasts. Using a non-VTEC B18 alongside a VTEC cylinder head, this option provides excellent top-end power.
B18C
The most desirable B Series engine, the B18C, brings all the previous generation benefits into a fantastic sought-after package.
Much like the B16 varieties, the B18C offers many minor amendments along the way, but the most desirable of them all is found in the JDM Integra Type-R.
Achieving the highest power output of all of the B-Series engines in stock form, the 96 JDM Integra Type R engine was capable of a staggering 200 hp at 8,000 rpm, with 134lb/ft torque at 7,200 rpm.
Not bad for a naturally aspirated 1.8-liter engine, huh?!
With a rev limit of 8,900 rpm and an 8,300 rpm redline, it was the pinnacle of proving what the mighty B-Series engine could bring to the party.
If you're eager to have the best engine possible and you're struggling to get your hands on the JDM Integra engine, there is another possibility.
Those willing to settle for a compromise, you may be able to source the B18C found in the SiR-G/GSR, which has a redline of 8,000 rpm, and a rev limit of 8,200 rpm.
With an eventual output of 178 hp and 126 lb/ft torque, it may not match the unicorn Type R engine, but we feel it's a pretty good compromise.
Don't forget there's always plenty of tuning potential if you wish to unlock a few more ponies!
---
Honda B20 Generations & Specs
Despite initially being the least desirable option in the B Series family, this soon changed when Honda enthusiasts began realizing the potential of the LS/VTEC opportunities.
While the first generation B20B's found in the likes of the USDM/JDM CRV's had as little as 126 hp, later models such as the B20Z2 found in the USDM CR-V had up to 150 hp and 140 lb/ft torque.
Although the horsepower output of the B20 was somewhat disappointing compared to some of its predecessors, it made up for it with higher torque capabilities due to the additional displacement, which made it great for the "Frankenstein" engines, which we'll use discuss next.
---
Honda B Series Mods, Upgrades & Tuning
It's no secret that the B Series engines have an absurd amount of untapped potential, which has helped make them one of the most desirable motors ever produced.
Whenever you're tuning an engine, it's essential to ensure you're building upon the best base possible, which is why it's imperative to ensure that your B-Series engine has been well maintained.
Let's face it - most of these engines would've spent a fair amount of time driven hard, and although they're incredibly reliable and able to handle a thrashing, tuning will add increased stress levels, which can quickly end in tears.
If you suspect that there are issues, it may be best to opt for a rebuild initially, using the various rebuild kits on the market.
Assuming you're starting with a decent engine to begin your project, you'll be amazed at the true power potential that can be had from the B-Series.
We would expect a B16 stock engine to reach around 250-300 whp, with 300-350 whp a reliable possibility from a B18 LS/VTEC swap.
With the B20, you're going to be limited to around 250 whp.
When you start to look at crazy power figures (and budgets), a full-blown sleeved block, forged bottom-end, B Series engine with a big turbo kit can eventually be capable of over 1,000 whp, but expect to pay big bucks to get there.
Since most of you won't have the budget for a 1,000 whp build, that doesn't mean you're not able to unlock some more ponies from the B Series easily.
As always, breathing mods will be the best starting point when it comes to getting the engine flowing correctly.
As you've probably guessed, the first convenient bolt-on upgrades to consider would be the following:
4-1 exhaust manifold – One of the common swaps is from the B18C, but it's often easier to buy a new aftermarket equivalent
Uprated exhaust system – Opt for a larger bore to get the gases flowing and also to make your B16 sound a little more impressive.
Cold air intake – Another vital upgrade, but make sure you buy a decent CAI, as some of the cheap options on the market are likely to suck in hot air, which certainly isn't what you want.
Remap – If you're planning to stick with these upgrades, then good tune here can help make your B16 more efficient and use the new upgrades to the best of its potential.
These are the simplest mods, but if you're looking to take things further, you can take a look at some additional upgrades, such as:
Cams
Ported/polished head
Uprated fuel pump
High-flow injectors
Sports pipes
From there, things get a little more serious and costly:
Forced induction (turbocharging/supercharging/twin charging)
Pistons
Heads
Valves
Race cams
Lightened flywheel
Throttle body
Bearings
Head studs
Valves/guides/springs/retainers
Spark plugs
Uprated oil pump
Oil cooler
ECU upgrades
If you're considering the forced induction route, then make sure you check out our Turbocharger vs Supercharger guide.
On top of the possibilities, you also have the Frankenstein LS/VTEC swap, allowing you to mate a non-VTEC engine with a VTEC cylinder head, which is often a cheaper alternative to buying the VTEC-powered engine.
---
Conclusion
Let's face it – when it comes to reliability, there are very few engines out there that can match the B-series family.
So assuming your engine hasn't bounced off the redline every trip without any care or maintenance, we have no doubt it'll serve you well.
When it comes to choosing the most desirable B Series engines, it's the B18C that remains the holy grail.
However, with fewer than ever opportunities to get your hands on these, alongside an ever-soaring price tag, it's led Honda enthusiasts to hunt for potential alternatives.
While many will make the B16B their next consideration, you certainly shouldn't restrict yourself to holding out for just these engines, as the B Series family has a lot more to offer.
If you're looking to go down the forced induction route, many will argue that the B18 or B20 engines are better suited due to the increased displacement and reduced stress.
With that said, if you're willing to put in the time, effort, and cash, then the B16, B18, and B20 engines are all capable of achieving four-figure horsepower outputs with the correct upgrades and tuning.
If you're concerned that you may regret not opting for a more substantial displacement further down the line, then fear not, as you can always bore out your B16 to 1.8L if necessary.
With bolt-on mods, forced induction, Frankenstein swaps, and B20V upgrade opportunities, the B-Series family continues to prove itself as one of the most incredible engine families ever produced.
If you're not entirely sure whether the B Series is what you're after, why not check our other guides to see what Honda's D16, K20, and K24 engines have to offer?
So, there we have it! We hope that we've covered everything you could want to know about the Honda B Series in this guide.
---
Thank you for reading our Honda B Series guide.
If you enjoyed this article, please share it with the buttons at the bottom of your screen. If you've found this information useful, then please take a moment to share it with other Honda enthusiasts. We appreciate your support.
---
Photography credits
We thank the following entities for the use of their photography in this article: