Ultimate RSX Turbo Kit Guide
If you feel like your RSX is underpowered, a turbo kit provides the perfect solution. We're putting the ultimate choices on the market head-to-head in this guide.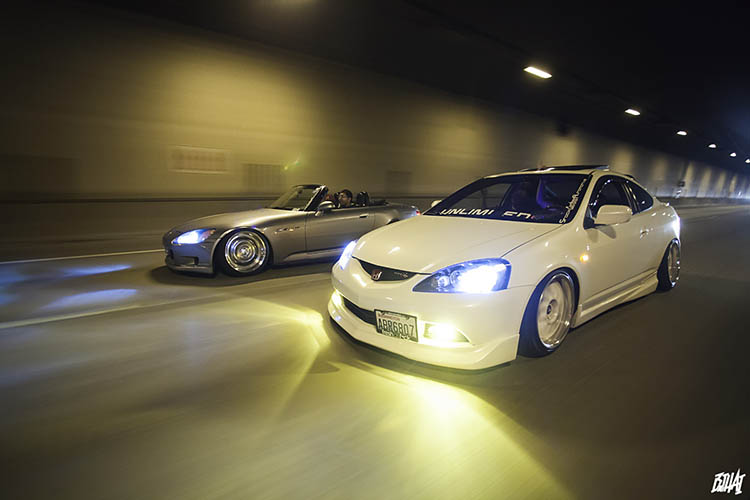 ---
In a hurry? This is our RSX Turbo Kit summary
| Budget Choice | Drifted Choice | Premium Choice |
| --- | --- | --- |
| | | |
| Turbonetics Turbo Kit | CXRacing Turbo Kit | Full-Race Turbo Kit |
| 🔥🔥🔥🔥 | 🔥🔥🔥🔥🔥 | 🔥🔥🔥🔥🔥 |
| Buy Now | Buy Now | Buy Now |
There's no question that drifting is our number one priority, but we can still fully appreciate the FWD culture, especially when they're great looking, and best of all - JDM.
We recently took an in-depth look into a range of Honda's most popular automotive engine types frequently used for RWD swaps, such as the K20, K24, and also the B16.
Since we've had great feedback from our newly-found Honda/Acura fanbase, we're going to be exploring some of the best products on the market for the Acura RSX.
We previously took a look at the best Acura RSX Coilovers on the market, which we think is an absolute must to prioritize over your turbo ambitions, even if your main intentions for going fast are in a straight line.
Coilovers will help keep the car planted and put the extra horsepower down better, and handling is always a much-welcome benefit when it comes to tackling the twisties.
Forced Induction
Deciding which forced-induction route you want to take isn't always easy, so we highly recommend checking out our turbocharger vs supercharger guide before you commit to your choice.
Once you've decided that the turbo kit is going to be best for your needs, it's time to choose from the wide variety of kits on the market.
A lot of RSX Turbo Kit information online is now seriously outdated, and almost none of the kits are in production, so we'll help you explore the best choices that are currently available.
This great video from TheSmokingTire where they get behind the wheel of a 375hp RSX Type S gives you a great idea of what you can expect from your soon-to-be turbocharged RSX:
Turbocharging your RSX
Since you're already here, you're most likely aware that turbo upgrades are no joke, and with a bad setup, you'll soon need to start planning the inevitable funeral for your currently healthy engine.
Sure, there's the option to go ahead with a custom build and professional tuning, and if you're a highly experienced mechanic, then this may well work out as the best option.
However, DIY builds can often come with unforeseen issues, and with an original design kit, you're going to have a real lack of support when things don't go as planned.
Custom setups can often end up being a real time-consuming headache, where you're likely to end up throwing far more money than you'd initially planned with ironing out the niggles.
For this reason, we typically recommend the easier route, especially for beginners in DIY mods as these tried-and-tested kits are built and refined to achieve the utmost performance over the years, take less time for installation, and come with fast response customer service support. We've created this guide to help you find the best off-the-shelf choices.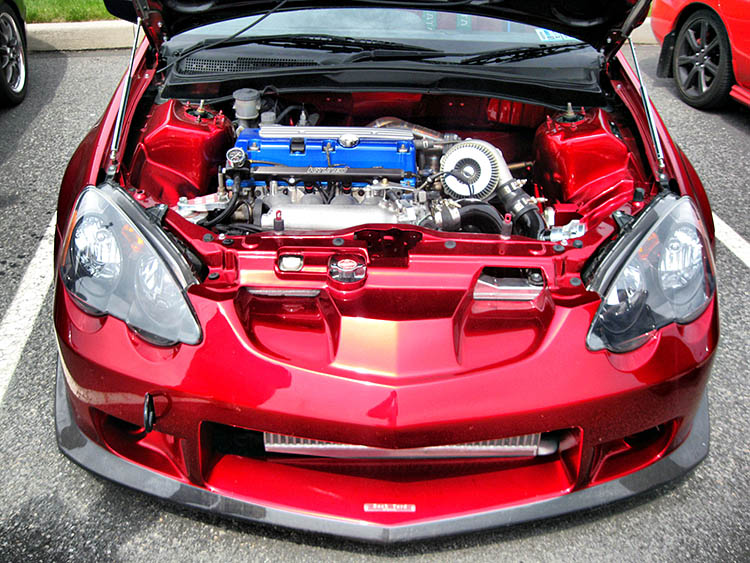 Whether you have deep pockets, or you're looking to carry out a budget-build with a few buddies in your garage, we've got the perfect solution, whatever your needs.
We'll be taking a look at the options that are still currently for sale with the best long-term reputations and reliability.
When it comes to the Acura RSX, the Type S is typically the most turbo-friendly choice, and many owners have achieved around the 300-350hp bracket with a turbo kit and some simple bolt-on mods.
The K-series engine is capable of some impressive figures, and some enthusiasts have achieved over 500hp from the stock block on high boost pressure.
Although this may well be the case, you'll need to look at swapping out a lot of parts such as the transmission and oil pump, which isn't very likely to make for an enjoyable, reliable, highway vehicle.
Traction is also going to have to be a serious consideration when it comes to putting significant power down in an FWD car.
For that reason, we always recommend that you decide what your end goal is likely to be when choosing the best aftermarket part or turbo kit for your specific needs.
Are you merely wanting some sensible additional power? Or are your plans to build one of those dedicated race vehicles which you'll trailer to and from each track racing event?
As always, we highly recommend ensuring that the base engine that you intend to turbocharge is running healthily, and the best way to do this is with a compression test.
Once that all checks out, let's move on and decide which turbo kit is going to be best suited for your goals!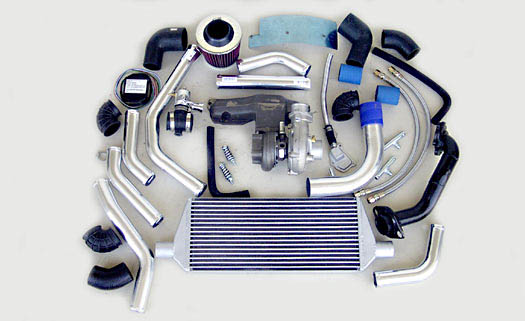 Manufacturer: Turbo Specialties
Fitment: Acura RSX 2002-05
Value for money:

🔥🔥🔥
Our comment: With our first option, Turbo Specialties brings two choices to the market, with their T25, and T28R ball-bearing kits.
We're very familiar with these turbos from their inclusion on the Nissan SR20DET engines, with the T28R ball-bearing turbo being the superior choice with good spool characteristics, which came with the late model Nissan Silvia S15.
We've seen several successful installations with these kits, but they are likely to need a small amount of tweaking.
Turbo Specialities aren't one of the most popular choices on the market, and many people think that their kit is overpriced for what you get.
It's worth considering, but we do believe that there are certainly options out there for the money.
Manufacturer description: "If you are looking for the ultimate in high performance – the extreme performance packages are for you".
"Providing the maximum horsepower for the very discriminating and still providing dependability for daily driving. Incorporating all the high performance equipment in the superior performance packages, these extreme packages all include an intercooler, pop off valve, extra injectors, and injection control unit, (The Brain)".
"This offers complete control for your system, increased fuel delivery, and cooler temperature gas air mixture for better burning. The addition of this system can add as much as an additional 20 percent increase in horsepower above and beyond the superior turbo packages".
Turbo Specialties RSX Turbo Kit Features:
Ex.Manifold, Ex.Outlet, Down Pipe, Hardwares
Air Intake System, Intercooler, Charge Pipe
Oil Return Hose / Feeding Line Kit, Oil Pressure Sus Stainless Braided Hose
Cold Water Stainless Braided Hose
Icu401 Box, If201, Fpr140, Map-5P
Bp9901 Blow Off Valve
All hardware, pressure lines, hoses, stainless steel t-clamp, and high pressure silicone couplers included
---
Our comment: There's no question that this kit is capable of serious power, with Humble Performance labeling it as their '600HP Budget Turbo Kit' for stock K20/K24 engines.
We don't usually put '600hp' and 'budget' in the same sentence, but the guys at Humble Performance have earned themselves an excellent reputation in the tuning scene, so we have no reason to doubt them.
They've even put down a proven quarter-mile time of 10.46 sec at 135mph.
Warning! Although this looks like the perfect choice, it's aimed directly at competition vehicles for drag racing, off-road or drifting scenes, and we wouldn't recommend opting for it on a daily driven car.
If you're looking to build a big-power, higher PSI drag racing setup, this could well be the ultimate choice.
Although it looks like an incredible bargain, you'll need to add the piping and fuel kits on top, which quickly racks up. Regardless, it's still a fantastic price for what you get.
Watch this impressive video, as they build a stock(ish) K24 EK, before achieving over 600HP on the dyno. And what about that aggressive sound out of the exhaust?
Manufacturer description: "Introducing a turbo kit built using all genuine parts to make 500-700HP on a K Series Engine! We've notoriously used this same setup on multiple 500-600WHP Stock K20/K24 setups with great success".
"This kit includes a Precision Turbocharger, Precision Wastegate, Precision BOV, Vibrant Oil Lines, Sandwich Plate, Intercooler, and KLM Sidewinder Manifold".
"This kit has been proven to 10.46 @ 135MPH and we plan on going faster soon!
---
Our comment: There's no question that this is one of the highest quality design kits out there for the RSX. However, it does come at a price.
Although the 270hp and 201lb/ft torque that UR achieved from this kit doesn't sound too impressive, they're known for their very stable operation and keeping things safe & reliable, so it comes as no surprise that they haven't pushed the kit to its limits.
Despite this being for sale at Vivid Racing, we've heard reports that Ultimate Racing has discontinued production, so we'd double check before ordering.
For those of you that only want the best quality products for your RSX, this kit is certainly worth considering.
Manufacturer description: "An incredible looking sport compact off the dealership lot, the RSx just needs a little more under the hood to get it really going. For the performance enthusiast demanding more than just 200-hp from their 2.0L, i-VTEC engine, Ultimate Racing has designed a Turbo Kit made specifically for the RSx Type-S".
"Building upon the experience gained in the development of the S2000 Turbo Kit, Ultimate Racing has been continually developing and testing a similar turbo kit to push the RSx to a whole new level".
Ultimate Racing RSX Turbo Kit Features:
Garrett T04E/T3 Custom Spec Turbocharger with Polished Aluminum Finish Exhaust Heat shield
Ultimate Racing 2.5 inlet size Stainless Steel Downpipe
Ultimate Racing Custom Heavy Gauge Tubular Steel Turbo Manifold
Large Spearco Front-Mount Intercooler Kit with 2.5 Polished Stainless Steel Piping
HKS Super Sequential Blow-Off Valve (SSQV)
Ultimate Racing 3 Stainless Steel Air Intake with High Flow K&N Filter
Turbosmart External Wastegate
Ultimate Racing Custom 600cc High Impedance Fuel Injectors (Direct Replacement)
Ultimate Racing Pre-Programmed Electronic Fuel Controller
All Hoses, T-Bolt Clamps, Lines, and Fittings Required for Installation
---
Our comment: Turbonetics don't have the most outstanding reputation out there, but their kits are undoubtedly great value for money, and many RSX owners have been happy with their kits for the price.
These cheaper aftermarket universal turbo kit setups often get a bad reputation for being 'Chinese' rip-offs, but we've seen their quality improve drastically in recent years.
They're always a little bit of a gamble compared to some of the more expensive kits made by advanced players in the game, but at around 1/3rd of the price of the common alternatives, you have to expect some trade-offs somewhere.
RSX owners have told us that you may need to carry out some slight modifications to the wastegate elbow and downpipe to get around the oil inlet and return line correctly, so you may need to prepare for a little extra cost if you're not handy with a welder.
Although it's not likely to be perfect out of the box, it's still an excellent consideration for the money if you're happy to carry out a few minor tweaks.
Turbonetics RSX Turbo Kit Features:
K20A Cast Manifold
Direct Bolt on Strong Aluminum Piping for Rsx Intercooler (With Silicone and Clamps)
Intercooler
Turbonetics T3T4 .63 AR Trim Turbocharger (Good for 350-400 HP) (Journal Bearing)
38 mm Wastegate (7PSI / 11PSI / 15PSI)
Intake Piping and Intake Cone
Wastegate Dump Tube
Turbo Oil Feed Line, and Turbo Oil Return Line Kit
Stainless Steel Turbo Elbow
3″ Stainless Steel Turbo Down Pipe
Note: Recommend Upgraded Injectors + Upgraded ECU Management.
---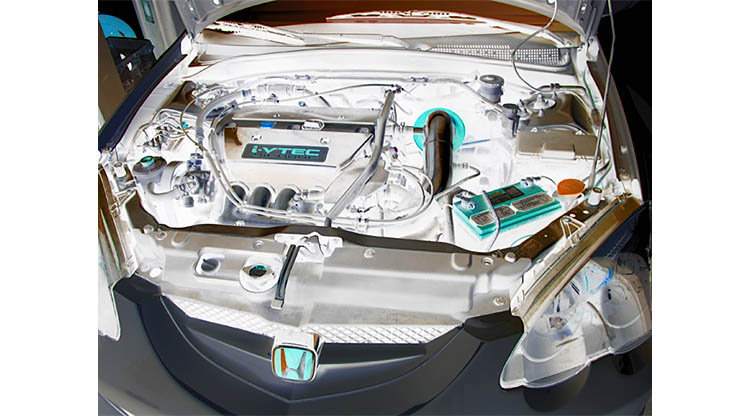 Manufacturer: CXRacing
Fitment: Acura RSX 2002-05
Value for money:

🔥🔥🔥🔥🔥
Our comment: We've reviewed many CXRacing products throughout our various guides now, and as always, they're controversial, yet extremely underrated.
CXRacing often gets thrown into the 'Chinese knock-offs' category, but our experience, combined with reports from many happy RSX owners, prove that this isn't entirely the case.
CXRacing puts extensive R&D into its products, and they've even produced three different easy mount turbo kits specifically for RSX owners.
RSX enthusiasts are beginning to appreciate the value that CXRacing brings to the market, and there are some constructive threads on various owners' clubs to help you get the most out of this kit.
Many happy RSX owners have achieved over seven-years (and counting) of reliability out of this kit when correctly fitted and maintained.
We highly recommend doing your research on this complete install kit, as we feel that it provides the best overall package between quality, and affordability, with various options available to suit your needs.
Manufacturer description: "This is CXRacing's Newest Products for RSX DC5. All Parts are Developed from Ground Up, Designed and Built Specially for the K20. It is One of the Most Complete Kits Available with the Most Competitive Cost. Kit is Bolt on Fit and Easy Install."
"These products may contain chemicals known to the State of California to cause birth defects or other reproductive harm".
CXRacing Acura RSX GT35 Turbo Kit Thick Manifold Features:
GT35 Turbo – 4″ Air Inlet, 2.5″ Compressed Air Outlet
Standard T3 Turbine Housing Flange
Sidewinder Design Manifold, Perfect Fitment, No Cut or Removal of Stock Parts.
3″ Downpipe
Turbo Oil Line Kit with Oil Pan Plug Adapter
Turbo Intake Filter
38 mm Wastegate (8PSI) with Dump Tube
3″ Turbo V-band Clamp
61.3 /82 mm Compressor Wheel
---
Manufacturer: Full-Race
Fitment: Acura RSX 2002-05
Value for money:

🔥🔥🔥🔥🔥
Our comment: Full-Race provides what is arguably the most impressive kit on the market for RSX enthusiasts.
If money's not an issue, and you're looking for the ultimate powerful setup, look no further.
Full-Race is well known and regarded as one of the most impressive companies in the tuning scene, and their kits come with an impressive range of options to suit any requirements that you may have.
Using incredible equipment, and some of the finest experts in the field, these guys are capable of producing anything you need to build the ultimate-spec RSX.
Although the price quickly adds up, their K-Series turbo system will undoubtedly be worth the money if you can afford it.
Manufacturer description: "We are The Turbo Experts. With clients in over 90 countries around the world, our turbos, intercoolers, intakes and exhausts set the standard for turbo systems and components. Our customer base ranges from professional race teams to OEM manufacturers to grassroots enthusiasts".
"Working with high level partners like BorgWarner, Garrett, Ford Motor Company, MHI, Honda of America, Toyota NA, Sierra Sierra/Cosworth, T1 Race Developments and Papadakis Racing helps us to lead by example and remain on the cutting edge of turbo performance innovation".
Full-Race EFR Twin Scroll Turbo Kit (External Wastegate) Key Design Features:
Full-Race K-Series EFR T4 Turbo Manifold
Full-Race K-Series EFR T4 3″ Downpipe
Full-Race K-Series Vertical Flow Intercooler
Full-Race K-Series Charge Piping, Couplers and Clamps
Full-Race Turbo Installation Kit Box
Additional options:
BorgWarner EFR Turbo charger
Deatschwerks / Walbro Fuel Pump
Deatschwerks / ID Fuel Injectors
Full-Race Dual External Wastegates
2000 Degree Ceramic Coating
---
GReddy Turbo Kit
Manufacturer: GReddy
Fitment: Acura RSX 2002-05
Value for money:

🔥🔥🔥🔥

Purchase link: Discontinued
Our comment: Given that the GReddy kit is the most popular choice out there for the RSX, we couldn't leave it off our list. However, it is worth noting that GReddy has now discontinued production.
Although this is a highly-regarded kit, which has stood the test of time, there are insane amounts of comments regarding cracked manifolds.
Unfortunately, this seems to be a matter of 'when' rather than 'if'.
Given the lack of support now that it's discontinued, it lost its potential opportunity to earn the 'Drifted Choice' award this time around.
With that said, there's undoubtedly going to be a lot of spares available on the used marketplace, and alternative tubular manifold parts are available.
This GReddy offering is a sensible kit, boosting horse power to around 250-300hp, and has stood the test of time, being one of the oldest RSX kits out there and often being passed around several owners.
Although this could be a solid choice, we wouldn't possibly opt for a discontinued product. Although we've found a source that claims to have it in stock, we'd proceed with caution before buying.
Manufacturer description: "The Acura RSX Type-S Turbo Kit is the first of GReddy's new evolution of bolt-on turbo kits. Including a pre-programmed "e-manage" engine control unit along with the provided larger injectors for smooth, reliable, horsepower increases. The kit also includes all of the necessary hardware".
"The basic kit in street-style trim adds a very drivable 50+hp at 6.5 psi boost, but with 400hp max potential in the T517Z with high psi, the kit is very upgradable".
GReddy RSX Turbo Kit Features:
T517Z actuator turbo
440cc Injectors
Plug-in Ultimate E-Manage
Cast manifold
Airinx air intake
Aluminum piping
Downpipe
Heat shields
---
Our comment: GReddy's JDM rivals, HKS, brings another excellent kit to the market.
However, this again appears to have been unfortunately discontinued. For this reason, we would once again advise proceeding with caution if you're considering purchasing.
As you would expect from HKS, this is another reliable, great fitting, excellent quality, daily-driver friendly kit.
Don't go expecting instant horsepower gains in wild numbers, but 250-300hp is most likely going to be easily achievable again. Although they're well-constructed, the manifolds become somewhat restrictive if you're hunting down larger power figures.
Out of the two, the GReddy is the more popular option, but you really can't go wrong with either choice if you intend to go down the JDM route.
Just ensure that if you do opt for either kit, that they have them in stock, and that the company you're purchasing from has a good reputation.
Manufacturer description: "High levels of performance, craftsmanship and reliability is what you can expect with the HKS Bolt-On Turbo Kit. Each component in the kit is race proven for maximum power output and constructed for durability even under extreme weather and driving conditions".
"The HKS Bolt-On Turbo kit will consist of an HKS signature upgrade turbo, a precision crafted exhaust manifold, HKS internal wastegate, flange exhaust downpipe, suction pipe, blow-off valve (some applications), HKS suction air filter (some applications), engine management (some applications) and all associated hardware for a complete and detailed installation".
HKS RSX Turbo Kit Features:
GT2835 HKS Ball Bearing Turbo
HKS Internal Wastegate
HKS Cast Exhaust Manifold
HKS Downpipe
HKS SSQV
Additional hardware for installation
---
Our comment: The Tuningsworld turbo kit for the RSX is made using high-quality cast-iron material which provides maximum strength, stability and durability. It comes with a T3/T4 turbocharger which the manufacturer claims can boost horsepower figures over 400.
Oh, and did we mention that the lightweight aluminum piping of this kit has a sweet anodized look?
Although Tuningsworld might not be a household name like GReddy or HKS, we think this kit is worth taking a look at.
Manufacturer description: "Capable of Boosting Horse Power up to 400+ HP. Turbine housing uses ductile iron QT450-10 Can withstand temperatures up to 700 ℃. Steel Turbine Wheel made from the special K418 alloy to achieve high oxidation resistance and stability under high temperatures up to 900 ℃".
"Cast aluminium blades with good gas tightness and corrosion resistance. Accurate boost control with a precise click.Gives the best cooling performance on your turbo and long-lasting life. Easily adjustable to prevent both permature boost leakage and compressor surge. Fast response One For Low And High Boost Pressure".
"Need modifications-Professionals ONLY (This is an aftermarket universal turbo kit for DIY purpose, and it's recommended to advanced players but not for beginners.). We will not be responsible for man-made installation damage".
Tuningsworld Turbo Kit Features:
T3/T4 Turbocharger
Manifold
Intercooler with Strong TIG welds will support high PSI levels
Intercooler pipe
5 Blot Turbo Downpie Flange – Turbine Trim: 74.2 / Turbine Inducer Diameter: 64.8 mm
Fuel Pump: 255 LPH Flow Rate and Fuel Pressure Regulator:Adjustable 0-140 PSI(0-10kg/cm) for maximum fuel pump capacity
8.5 Blot Turbo Downpie Flange
---
Our winners
Now that you have met all of our turbo kits, it's time to decide on which is the best kit for your RSX:
Drifted RSX Turbo Kit Choice
Our Drifted Choice winner goes to the CXRacing RSX Turbo Kit
GReddy was close to taking our Drifted Choice award, but since they've now discontinued production, we've opted for the product that we feel provides the best value for money in the market right now.
There may be mixed opinions on CXRacing, but we highly recommend talking to owners of the kit from recent years, as their quality and R&D has come on leaps and bounds.
When it comes to finding a reasonably priced turbo kit for your RSX, CXRacing provides the ultimate solutions, with three excellent choices to suit your individual needs.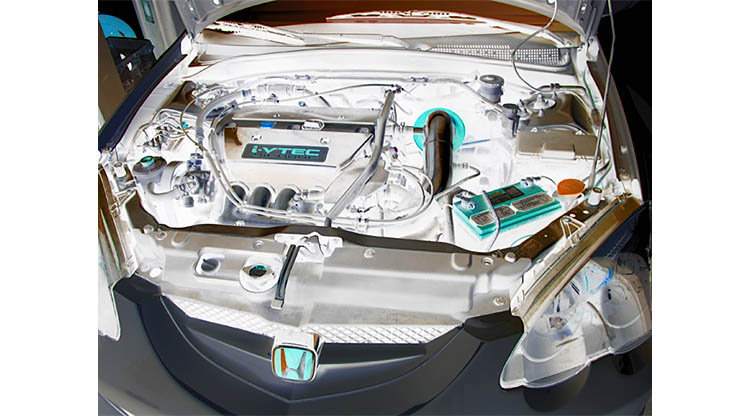 ---
Budget RSX Turbo Kit Choice
Our Budget Choice is the Turbonetics RSX Turbo Kit
Although the CXRacing kit is also budget-friendly, a great alternative is the Turbonetics kit.
We wouldn't expect the quality to be quite as impressive as CXRacing, but it may well tick the right boxes for your needs, especially considering the value proposition.
Turbonetics is a solid contender that provides a lot of kit for the price.
---
Premium RSX Turbo Kit Choice
Our Premium Choice is the Full-Race RSX Turbo Kit
There's no real question that Full-Race takes the win here.
For those of you that have the cash to splash, we don't feel that there's a better choice on the market than the Full-Race kit, but it certainly comes at a price.
If you're building the ultimate turbocharged RSX with high quality appearance features, then this is the perfect choice for you.
---
Thank you for reading our Acura RSX Turbo Kit guide.
As you can see, there's a wide range of options out there for RSX owners that are looking to go down the turbocharged route.
We hope we've found the perfect product for your needs. If you've got any feedback or queries, then don't hesitate to contact us, and we'll happily assist.
Looking for an aftermarket exhaust for your RSX? Then our RSX Exhaust guide was written just for you.
---
Photography credits
We would like to thank the following sources for the use of their images:
If you enjoyed this article, then please share it with the buttons at the side and bottom of your screen. Find this information useful? Please post a link to it on your car owners' clubs. We appreciate your support.