Ultimate Forza Horizon 4 Split Screen Guide
Looking to enjoy a spot of split-screen in Forza Horizon 4? We explore your multiplayer options in this popular racing game.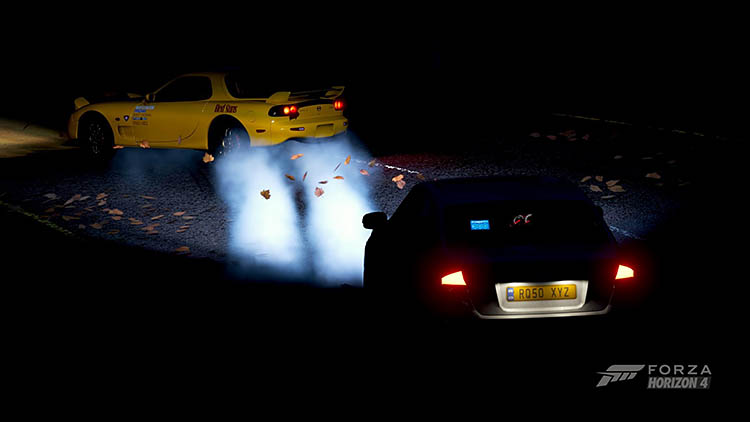 ---
Introduction
If you've got your friends over and there's an opportunity to have a man-to-man chat, and petrolheads are likely to bring their favorite racing games into the conversation.
Chances are, the best-selling Xbox racing game of all time, Forza Horizon 4, is likely to be a hot topic.
With the eleventh title in the Forza series arguably being their best offering yet, it's been impressing gamers since it launched onto the market in 2018.
Combining the tight and twisty scenic B-roads with endless miles of country hills in the British countryside provides the perfect playground and ideal varied terrain that'll put your racing skills to the test.
A few minutes later, you find yourselves arguing about who's the better player, and you soon realize there's no option than to go head-to-head in the battle for victory.
As you prepare for war, you start thinking through your game plan.
After all, there's no better gaming cheat than knocking the controller out of your rival's hand just as they're about to cross the finish line to steal their almost-certain victory.
We've always loved the social aspect of gaming, and having your competitor sat next to you is far more enjoyable than having to talk through a headset, even if things can get a little heated!
Over the years, we've faced off with some of our closest friends in the likes of Gran Turismo, Mariokart, and Colin McRae Rally.
With the gaming world evolving so much in such a short space of time, it's the perfect opportunity to make the most of what they have to offer.
So, as you both get your controllers ready and prepare for battle, you reach the menu screen with the tension building, frantically searching for split-screen mode.
As you continue searching for what feels like a lifetime, you end up yelling, "Where the hell is the split-screen option?!"
---
Split Screen in Forza Horizon 4
We hate to bring the bearer of bad news, but unfortunately, Forza Horizon 4 doesn't offer any split-screen features or capabilities.
Many Horizon fans have been left disappointed by the lack of local multiplayer options in the games over the years, and it was the same case in Forza Horizon 3.
Unfortunately, the fourth game in the series is no exception.
It almost seems like a step backward when you realize that we can't enjoy gaming in the same way that we used to in the early 90s, despite gaming having evolved for two decades since then.
Although you're able to play with an incredible 724 vehicles in the game, merely wanting to use two of those to compete with your friend next to you isn't going to be possible.
Sadly, it's the same story whether you own an Xbox Series X, Xbox One X, Xbox One S, a standard Xbox, or even a high-spec gaming PC.
Playground Games has opted to do without the feature for the game, and with no comments or suggestions surrounding the inclusion of split-screen, we can only assume that it won't be possible.
Split screen is a dying feature in modern-day gaming and one that we're desperately keen to see make a comeback.
It seems that the progression of incredible graphics is the main reason behind the lack of split-screen, with the latest games being more graphically-intensive than ever.
As gamers continually demand ever-improving graphics, the developers are forced to push the consoles to their limits, and rendering two copies of the same game at once is seemingly an impossible task.
Online multiplayer means that multiple systems are running the same game simultaneously, providing the opportunity for up to 72 players to enjoy the same session at once.
Yes, you read that right – seventy-two!
At the same time, however, local co-op is entirely unsupported.
It's a common trend that is becoming increasingly common in modern gaming. We have to give Nintendo credit here, as they appear to be the only creators focusing on keeping local multiplayer split screen gaming alive.
However, fear not Forza fans – it's not all bad news!
Thankfully there are several viable alternatives out there, one of which is Forza Horizon 4's track-based sibling – Forza Motorsport 7.
That's right - you can enjoy Forza Motorsport 7 with a fully-supported split-screen mode. We feel it's a good compromise, and the best thing is - FM7 is even more challenging!
---
Alternative Split Screen Racing Games
Although it's disappointing that Playground Games haven't managed to provide split-screen gaming modes in Forza Horizon 4, there are some fantastic alternative options out there for console and PC gamers.
Forza Motorsport 7
As we mentioned, Forza Horizon 4 may not have split-screen capabilities, but, thankfully Forza Motorsport 7 comes to the rescue for those of you that are looking for an ideal local multiplayer stage for battle.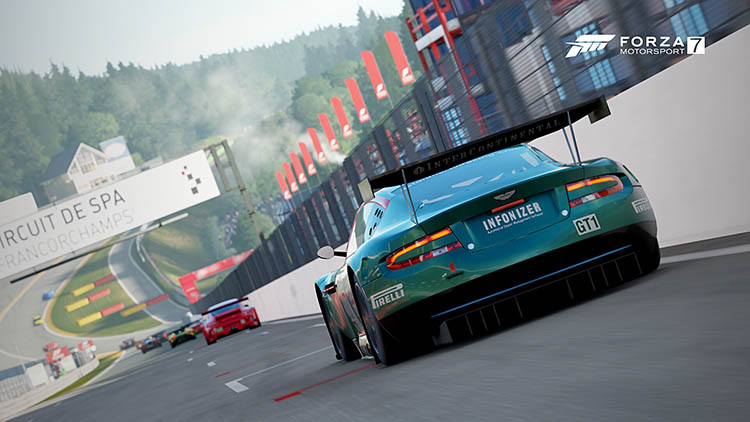 Activating split-screen multiplayer in FM7 is thankfully convenient, and it's probably located in a similar place within the menu that you'd hoped to find in Horizon 4.
Firstly, navigate to 'Free Play' mode from the game's main menu, and in the bottom-right corner, you'll see the option for 'Split Screen'.
After clicking the Split Screen option, ensure the second controller has logged in, and then the game will prompt the second player to press the 'Start' button on their controller - just like the good old days!
If you're stuck, then you can copy the process shown in this video:
Once signed in, you'll have the opportunity to enjoy the best of Free Race mode, featuring some of the greatest tracks from around the world, alongside an insane roster of 830 cars.
Forza Motorsport 7 is still the latest game in the series, although the Forza Motorsport 8 is due to arrive shortly, and we're desperately hoping they'll stick with split screen for the upcoming game, too.
The only downside of split-screen in FM7 is the inability to play with AI racers, but it certainly adds to the tension against your local rival. Grrr.
DIRT 5
If you're not tempted by Forza Motorsport 7, and you enjoyed the off-road capabilities of Horizon 4, then DIRT 5 is going to provide the perfect alternative.
We've got a tremendous amount of respect for Codemasters for pulling this one out of the bag, and it's a true testament to what modern consoles are capable of achieving.
Not only have they managed split-screen mode, but they've also managed.. Erm, quad screen?
That's right, you and three of your buddies can enjoy the full potential of DIRT 5 all at the same time, without having to be located in different parts of the world. Imagine that, huh?
This mode will undoubtedly be the ultimate test of friendship and takes us right back to our Mario Kart days.
With all four players being treated to the game in 60fps simultaneously, it certainly makes you wonder why Horizon couldn't even manage a traditional split screen.
Many Forza fans were disappointed that Forza Motorsport wasn't a launch-day feature for Microsoft's new Xbox Series X console, but DIRT 5 came through with the goods when it comes to local multiplayer.
Could this potentially provide some hope for the future?
WRC 9
If DIRT 5 isn't of interest, then you may want to take a look at its main rival - WRC 9, which also features split screen multiplayer.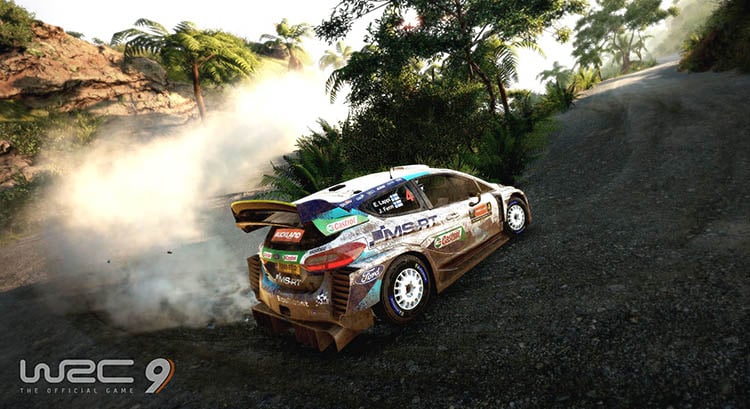 Classed as the most in-depth rally game on the market, you can guarantee that WRC 9 will be a fantastic platform for going head-to-head.
WRC 9 is also available for the PC and PS4 platforms.
F1 2020
If rally racing isn't of any interest, then F1 2020 is another extremely challenging game to fight for victory.
One of the most exciting things about the split-screen mode in F1 2020 is that it's the first time in nearly ten years they've included the feature in the F1 games.
This addition undoubtedly gives some hope for the future of split-screen gaming - Playground Games, take note.
If you wish to take part in a Grand Prix in the game alongside your buddy, and soon-to-be local rival, then you'll need to follow these steps.
From the 'Home' tab on the games main menu, you'll find a 'Splitscreen' in the bottom row. Alternatively, you can also head to the 'Multiplayer' tab to find it there.
At this point, you'll need to ensure that the second controller is both turned on and logged in and then press the 'Start' (well, 'Menu') Button.
You'll then have the choice of F1, Classic, or F2 2019, and you'll have the opportunity to choose your favorite car, driver, in-game assists, and the number of laps.
---
Forza Horizon 4 Co-Op Mode
Although we're sure you're disappointed by the lack of FH4's split-screen, the online co-op mode may be of interest if you're looking to play with friends.
In Co-Op mode, you'll be able to either team up with up to five other players and head to Forzathon Live events or invite them to ad-hoc co-op races.
It's not identical to the concept in Forza Horizon 3, where you were able to participate in a private free-roam game, but you're able to play the game with all the races, stories, and showcases in co-op mode.
One of the additional benefits here is that it's possible cross-platform, so it won't be an issue if one plays on an Xbox console and another on a PC.
To head to co-op on an Xbox console, firstly add someone to your convoy by entering the in-game player list or through the Xbox Dashboard (or Xbox app for PC gamers).
Then, when you head to any race icon in the game, you'll see the option to do so in co-op mode.
If you're planning to venture online, you'll want to make sure your vehicle is up to the task of competing alongside the 12-million other online players.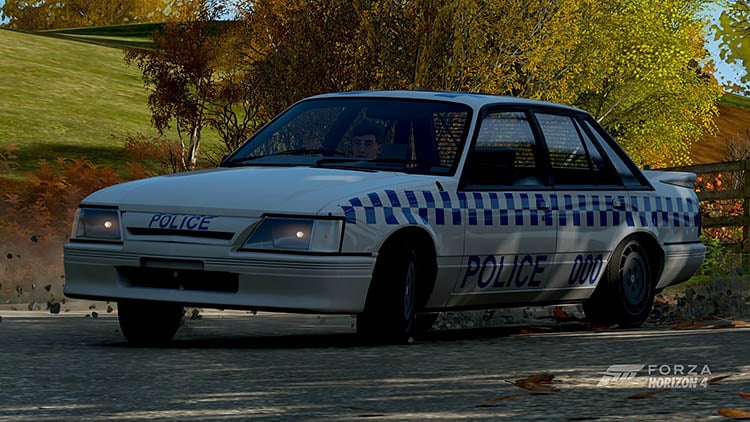 We recommend checking our Horizon 4 car list to choose the ultimate ride for your needs.
We've got a specific guide for the fastest cars in the game, as well as engine swaps, and a tuning guide to ensure your car is pushing out its maximum potential.
If it's a drag race, make sure you check out the fastest drag racing cars first.
Or, if you want to show off to your friends, choose the perfect drift car, then implement our base drift tune before refining your skills with our how to drift guide.
If money is an issue, then don't panic – our money glitch guide provides the ultimate solution.
---
Will Forza Horizon 5 Have Split Screen?
Forza Horizon 5 is still yet to be officially confirmed, and there's no definite news from Playground Games regarding a split-screen mode yet.
However, with Codemasters implementing split screen for the first time in over ten years for their most recent F1 release, it does provide some hope that developers haven't entirely given up on the future of split-screen racing.
In the meantime, we can only hope. When we've received official confirmation from Playground Games, we'll be sure to keep you updated.
---
Conclusion
It is likely to disappoint many Forza Horizon fans that they have opted to exclude the split screen mode from their games, but given the sheer size of the open-world game, it's not entirely surprising.
With some of the modern games on the market continuing to provide split-screen and even quad-screen modes, it certainly provides some hope that the next-generation consoles may be capable of delivering more than the current-gen.
It's fantastic to see F1 2020 re-introduce split screen, and it certainly provides some hope for the future.
With Forza Motorsport 8 (well, Forza Motorsport) coming soon, we think it's incredibly likely that they will once again implement split-screen compatibility.
As for Horizon 5 – we'll have to keep our fingers crossed!
We hope that we've covered everything you could want to know about split-screen gaming in Forza Horizon 4 in this guide.
---
Thank you for reading our Forza Horizon 4 Split Screen guide.
If you enjoyed this article, please share it with the buttons at the bottom of your screen. If you've found this information useful, then please take a moment to share it with other Forza enthusiasts. We appreciate your support.
If you want to enjoy FH4 on both your Xbox and your Windows 10 PC, you would not want to miss our Forza Horizon 4 cross platform guide.
If you're looking for other racing games with split screen view, try Gran Turismo 7.
---
Photography credits
We thank the following entities for the use of their photography in this article: