Drift Car Building – Everything You Need To Know
The options can get a little overwhelming when drift car building, so we're breaking down everything you need to consider into ten simple steps.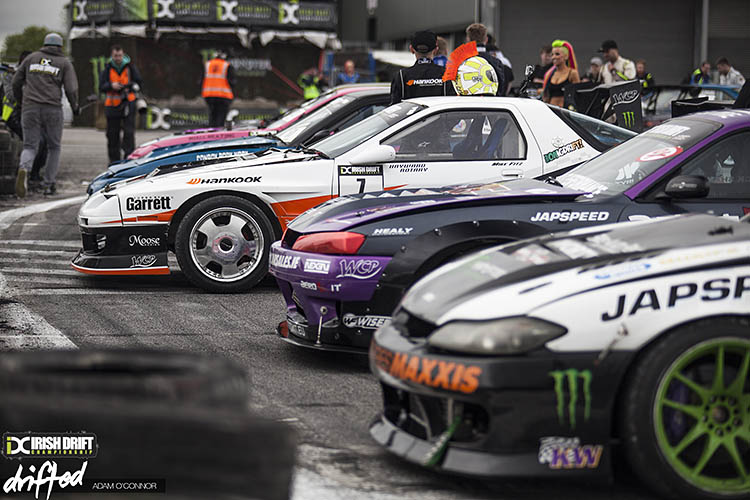 ---
Introduction & Initial Considerations
If you're like us, you've probably seen an inspiring drift build online, and you're wondering what it'll take to carry out your very own drift project.
As you may have guessed, there are various ways to build a drift car, and it'll mostly fall to time, knowledge, and budget.
While some of you may wish to start drift car building to fill up your time on the weekends, aiming to finish the project sometime in the future, others will want to consider the quicker, easier route.
Of course, there's the option of building a pre-built drift car, but where's the fun in that?
When it comes to drift car building, you get to take pride in your creation and potentially learn a wealth of knowledge along the way.
With guides like this, combined with just about every video you could wish for available on YouTube, there's been no better time to get started with drift car building.
So, what are the basics you'll need to get started?
Choosing a car
Seems pretty obvious, huh? You certainly won't be getting any rewards for guessing this one!
Despite the obviousness, what's not so blatant is the ideal platform to choose as a base for your drift build.
While the likes of Ken Block's Gymkhana series have highlighted the potential of AWD cars, along with some of the craziest beasts on earth shredding all four tires at Gatebil, they've proven that AWD drifting isn't impossible.
Likewise, cars such as the Toyota MR2, which feature a RR (rear-engine, rear-wheel-drive) layout, have also proven their capabilities over the years, even if snap oversteer is likely to present a fresh challenge.
When it comes to sticking to the tried-and-tested drift car platform, there's a clear winner that is the chosen method in drift competitions across the globe.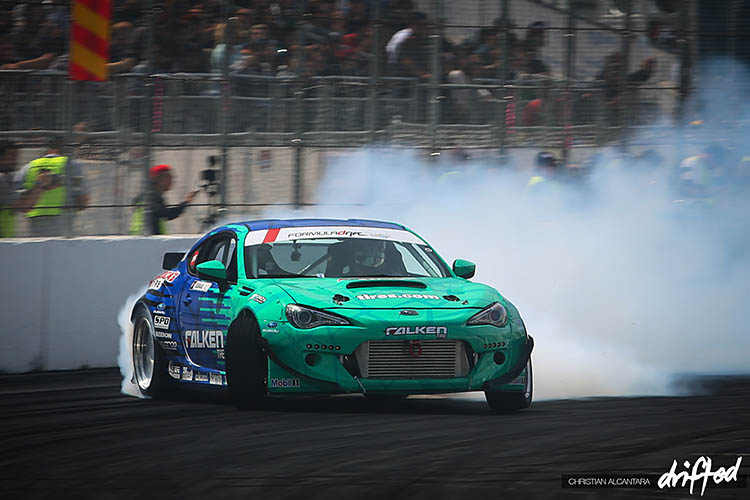 As you've most likely guessed, it's the FR (front-engine, rear-wheel-drive) layout that is the clear winner, which will undoubtedly provide the most potential for your upcoming drift car build.
If you've not already purchased your future drift car, then make sure you head over to our Best Drift Cars For Beginners and Ultimate Cheap Drift Cars guides to see our top FR picks to get you started.
Calculating a realistic budget
Once you've chosen the perfect base for drift car building, you'll need to consider whether you're looking to create a budget street build or perhaps planning to go competition-spec.
If you've got a bunch of friends with tools, knowledge, and heaps of spare time, then this is the perfect scenario when it comes to building a drift car on a budget.
Then, when the homies decide it's time to start their drift car build further down the line, you can return the favor.
On the other hand, if you've got limited knowledge of the mechanical aspect of cars and very little in the way of space and tools, you may need to factor in the cost of labor along the way.
Unfortunately, this can rack up into big bucks pretty quickly.
Either way, you'll want to make sure you set money aside for the most important aspect here - seat time!
Keeping the end goal in mind
We've seen far too many drift builds reach the final stages of completion, only to realize that the savings pot is now empty.
Before you know it, you'll recognize your buddies' familiar ride on your social media streams, along with a price tag.
For this reason, we feel it's crucial to remind budding drifters that completion and seat time are the most vital aspects of drift car building.
Don't worry if you've not yet unleashed the full power potential. It's far better to enjoy the power that you have currently while learning to drive the car properly.
Never forget that the Drift King, Keiichi Tsuchiya, began drifting with around 120-horsepower in his Toyota AE86!
If required, additional power gains can be unlocked further down the line, and they'll feel even more satisfying when you've reached the skill level where you'll genuinely be able to use it to your advantage.
So, whether you've chosen to go down the JDM route, with the likes of the Nissan 350Z, Mazda Miata, or perhaps even the Lexus IS300…
Or perhaps the Euro route, with a BMW E36 or E46 – we're sure that these ten steps will provide you with the ultimate steps when it comes to drift car building.
---
Ten Steps of Drift Car Building
Now that you've calculated a realistic budget for your drift build, it's time to look at what else you're going to need to consider.
If your end goal is to keep things simple and enjoy shredding tires in your missile car while knocking doors with your buddies at the weekend, then you won't need to consider all of these upgrades.
However, suppose you're looking to throw down some epic skids and potentially consider competitive drifting in the near future. In that case, it's worth checking out all of these steps to see which are best suited for your requirements.
---
1 – Interior
What?! No 2JZ swap?
That's right. We're starting from the basics here, and although a ridiculously sized engine may be the end goal, we would first focus on the essential aspects.
For starters, those fancy leather heated seats you have? It's time to put them on your favorite auction site, as the only thing they'll only end up launching you into your passengers' lap when you throw your drift car sideways.
Not to mention all the excess weight that comes with OEM seats and the luxuries that go with them.
It's time to get rid of the luxuries and take your drift car back to the bare essentials. That includes any unnecessary interior panels, potentially the rear seats, and even the headlining and carpet.
All of these things will weigh an astonishing amount, and by stripping out as much as you can from your drift car, you're provided with free weight savings.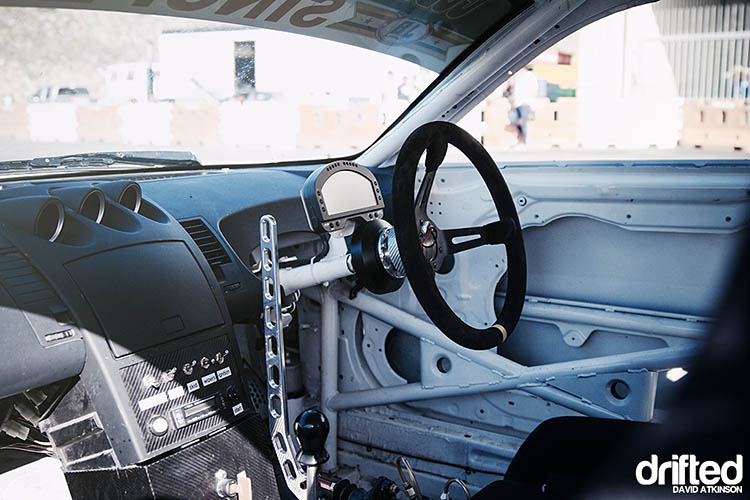 Who knows – you might even end up with a tidy profit in the process!
Once you've ripped out all of the overweight stock parts, it's time to get yourself a lightweight racing seat.
We've also created specific guides to help you find the perfect match for your Mazda Miata, Honda S2000, or Nissan 350Z.
As well as saving weight, these seats hold you firmly when throwing your drift car down sideways, alongside providing additional protection and the ability to add a racing harness conveniently.
Once you've got the ideal seats, we recommend swapping out your stock steering wheel for an aftermarket upgrade, which will be far more enjoyable when it comes to drifting.
---
2 – Suspension
When it comes to bang-for-your-buck when getting the most out of your cars' suspension, you'll want to go with a coilover kit.
Some owners may opt for lowering springs instead, but there's a clear winner for the ultimate drift setup – coilovers.
Whether you're going for a sensible ride height or a street-scraping stanced drifter, coilovers provide just about every adjustment required.
If you need to go beyond their possibilities, you may wish to consider an angle kit, such as Wisefab, to achieve maximum lock.
On top of this, you can also consider opting for uprated tie rods or steering arms if you're on a quest for the ultimate setup.
---
3 – Wheels & Tires
While upgrading these may not be essential just yet, it's worth considering what route you want to go down with your setup.
Lightweight wheels not only look good but come in a far superior selection of sizes and often provide significant weight savings.
If you're going to be opting for a widebody kit, the chances are you're going to need wheels such as the Work Meister's to fill out your arches.
Alternatively, if you're opting for an old-school build, then the Work Equip range will undoubtedly provide the perfect finishing touch.
It doesn't get much better than the Work Emotion catalog for stunning wheels or the likes of Volk TE37's, for timeless designs.
If you've opted for a Nissan 350Z or a Mazda Miata, then you're in luck – we've created wheel guides specifically for you!
Now that you know what wheels you're looking for, it's time to find some rubber.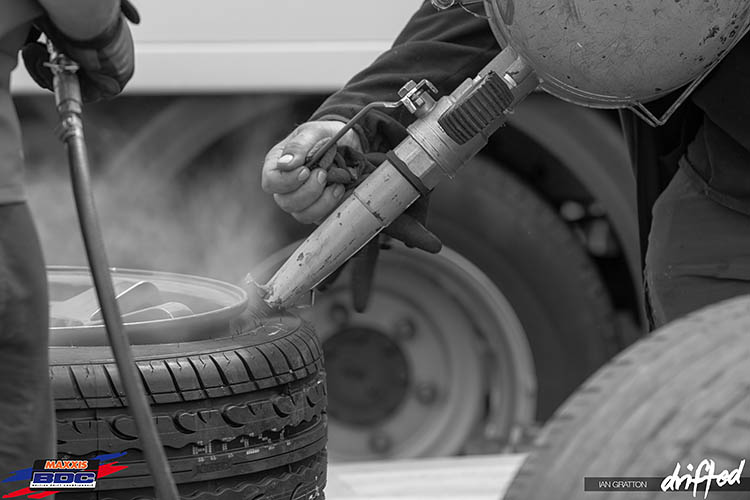 If you've got decent power, you'll want to opt for some chunky, grippy rubber along with low tire pressures.
However, if you're sticking with a low-powered setup, for the time being, some skinnier wheels and even part-worn tires could potentially be enough for now.
Either way, it's worth considering getting some spare wheels, as it means less time waiting on the tire guy and more time on the track. In addition, it's the perfect opportunity to utilize the space you created by stripping out the interior!
Once you've carried out your suspension and wheel upgrades, it's well worth heading to your local specialist to get a four-wheel alignment carried out to ensure you make the most of your drift cars' handling.
---
4 – Hydro/eBrake
While this isn't an essential upgrade, and it may even be a better idea to do without while learning the basics of drifting, it can become increasingly beneficial as you refine your skills.
If you're unsure where to start when choosing the ideal option, make sure you head over to our hydraulic handbrake guide, where we explain everything you need to know.
---
5 – Differential
If you've currently got an open differential in your car, then you'll probably realize as soon as you throw it sideways that it's time for an upgrade.
When it comes to drifting, the optimal choice is an aftermarket mechanical clutch plate differential, typically either a 1.5-way or 2-way.
With this, your rear wheels will both be capable of spinning at the same speed, where an open differential would stop this from happening.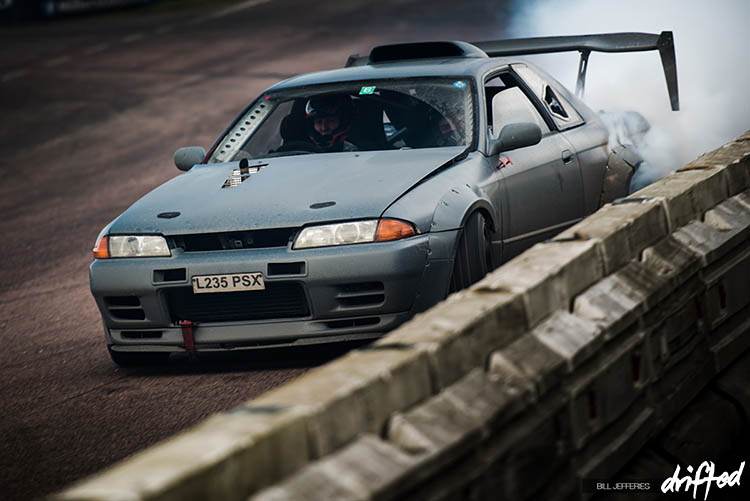 While a 2-way differential is the preferred option for drifting, it may not suit those of you that daily drive your drift car. We explain more in our Limited Slip Differential vs Open Differential guide.
If you're on a budget, and a 2-way diff isn't at the top of your priority list, then welding your open differential provides a far cheaper alternative.
---
6 – Gearbox/Clutch
No doubt you're getting impatient with us getting to the power stage by this point – but hear us out.
We feel that deciding on your gearbox and clutch will need to be accounted for in the budget before power upgrades.
We've seen it way too many times, where big power goals have been the main aim, only for a gearbox or clutch to derail the plan.
For that reason, we recommend deciding on a gearbox/clutch setup that will handle your future power goals before deciding how much power you wish to throw at the engine.
Modern-day gearboxes can be exciting, and those with substantial budgets should check out the sequential boxes on the market.
---
7 – Power Upgrades
FINALLY!
Being completely honest, we would potentially consider doing power upgrades at an even later stage – but we know you're getting impatient by now!
We've written an enormous selection of tuning guides when it comes to power upgrades, and there's such a vast selection out there that you're likely to be spoiled for choice.
Admittedly, some engines are more tuner-friendly than others, which is why the likes of LS swaps have become so popular over the years.
If you're considering a swap or not sure what car/engine combo is best for your needs, then be sure to head over to our engine guides section.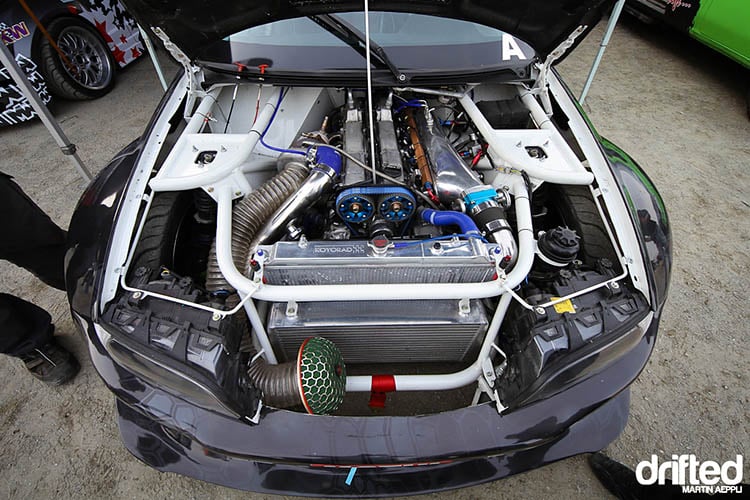 Your total budget is going to have to be another consideration here, as big-power setups can potentially come with huge costs, and not to mention the tires you'll end up burning your way through at each event.
With that said, the likes of forced induction, methanol injection, and nitrous can completely transform your drift weapon into an entirely different beast.
Since some engines are turbo-ready from the factory, it can be an excellent opportunity for impressive, cheap power gains.
Don't forget that cranking up the power will require additional cooling, so that will need to be your next consideration. If not, it could end up being an expensive mistake!
---
8 – Chassis
For many, chassis upgrades will come far earlier in the drift car building stages, but many of these upgrades will only apply to those looking to compete.
While simple additions such as bash bars, roll cages, and strut bars should be considered for most builds, there are also far more options to consider.
Since most drift competitions allow for substantial chassis improvements, it's worth checking out the specific competition rules to see how far you can take your upgrades.
Stiffening up the chassis with additional reinforcement, such as seam welding, limits the car's ability to flex and deform under the extreme pressures of drifting, providing the ultimate handling.
While it's an expensive option unless you're able to do it yourself, it'll be worthwhile when it comes to competing at the highest level to keep up with the competition.
---
9 – Brakes
Although brake upgrades aren't going to be at the top of the list for many, it's going to be increasingly necessary when you start getting serious with your drifting.
Sure, you won't be pushing the brakes to the limit while doing donuts and figure of eights in the local parking lot, but when it comes to wanting pinpoint precision while tapping on your homies' door, it's time to upgrade.
Although the hydraulic handbrake is the most vital, you'll no doubt find yourself cooking your stock brakes when it comes to pushing your drift build to the limits at the track, where an upgrade provides far more consistency to have faith in your left-foot braking abilities.
---
10 – Weight Distribution
Now that you've decided on your upgrades, it's time to ensure that it's likely to work when it comes to weight distribution.
Let's face it – if you've opted to throw a diesel truck engine into the hood of your lightweight coupe, you're likely to have your work cut out.
Although we're hoping you haven't gone quite that extreme, it may be worth getting your car weighed before you apply the finishing touches, especially if you intend to compete at the highest levels.
Despite 50:50 being the typical ratio for 'optimal' handling, many professional drifters opt for more weight in the rear, along the lines of 48:52.
Having more weight in the back allows a huge-power drift build to have more weight over the rear wheels, pushing them down to create additional grip, which could potentially become an issue.
With the ability to locate most things to the rear, such as the battery, fuel tank, oil-cooler, and perhaps even a dry-sump system, it's well worth considering as the final piece of the drift car building puzzle.
---
Conclusion
As you're probably starting to realize (if you haven't already), drift car building can be an expensive game.
Is it worth the time, effort, and cost? We certainly think so!
When it comes to upgrades, we highly recommend not getting too carried away with wanting all of the shiny, premium temptations and ensuring that seat time stays at the top of the priority list.
You'll soon realize that there's going to be a lot of additional costs along the way, and as your build gets more impressive over time, you may even need to factor in the price of a trailer to get it to events.
When it comes to taking things to the next level, you'll need to consider additional safety equipment, such as a racing suit, gloves, shoes, and helmet.
If you feel that the cost is all adding up too quickly, but you're keen for a hobby to tide you over until you can begin building your dream drift car, there are other options to consider.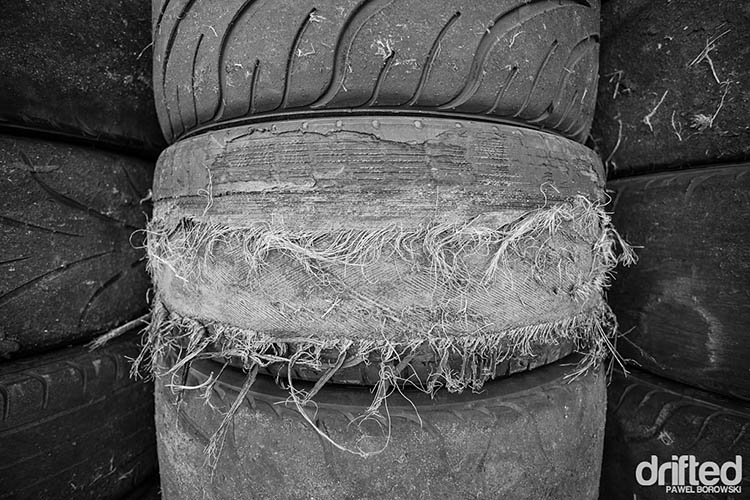 Games such as Forza Horizon and Forza Motorsport are fantastic opportunities to get you started.
If you're craving a more realistic experience, then there are few better options out there when it comes to drifting than Assetto Corsa.
Alternatively, why not check out the best RC drift cars, or if you're limited on space – micro RC cars?
So, there we have it! We hope that we've covered everything you could want to know about drift car building in this guide.
---
Thank you for reading our drift car building guide.
If you enjoyed this article, please share it with the buttons at the bottom of your screen. If you've found this information useful, please take a moment to share it with other drifting enthusiasts. We appreciate your support.